Owner of Directory of Ezines (DOE), Charlie Page provides a free traffic mini course on how you can use Ezines to promote with in order to increase sales by driving highly targeted traffic to literally ANY offer.
He also claims that it is 100% affiliate friendly.
"What Are Ezines?", you ask.
Well, Ezine stands for electronic magazines, which are delivered to subscribers in email.
Ezines can be of different sizes; from as big as newsletter or as small as a daily journal.
And, subscribers can sign up for these informative Ezines for FREE, as they usually provide quality information on a particular topic, so that their subscribers will want them.
Page makes claims that by advertising golf clubs to golfers you will make sales.
However, marketing those golf clubs to those who want to learn to cook and you won't do nearly as well.
When your information gets sent to those who are already interested in what you are offering and… VOILA!
My review here will cover the following:
See My #1 Recommended Way of Making Money Online:


What is Free Traffic Mini Course?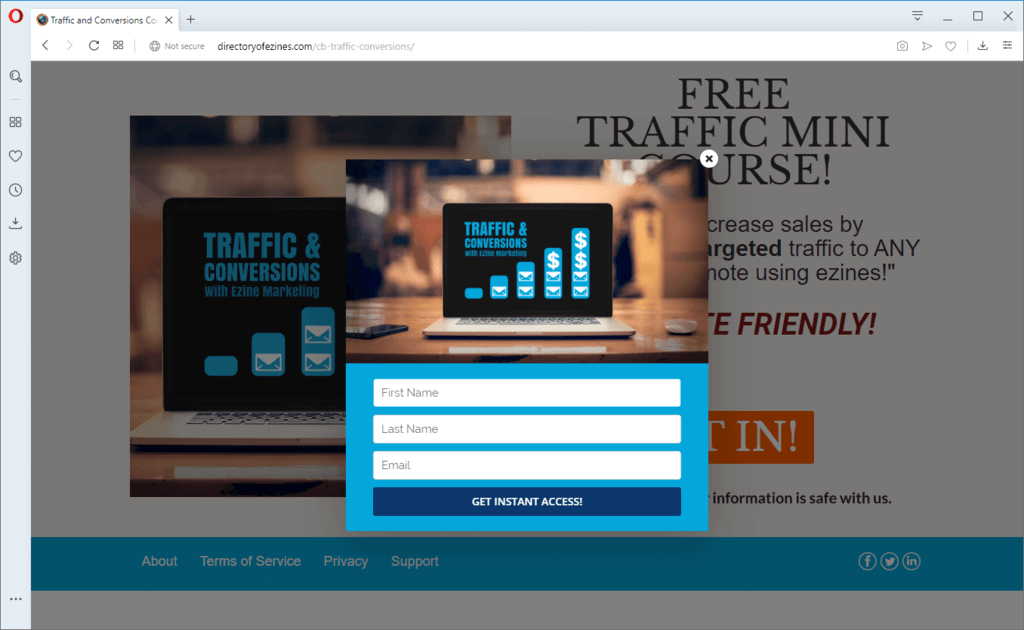 Program Name: Free Traffic Mini Course
Website: http://directoryofezines.com/cb-traffic-conversions/
Price: Free to sign up for the training, but $197 US funds to join as a lifetime member
Recommended? YES, with reservation (explained below)
Rating:
---
Charlie Page asks you if you need an advertising source that is affiliate friendly and doesn't penalize you for just being an affiliate marketer… that is squeeze page friendly, and actually helps you build your own mailing list… and, does NOT require a huge advertising budget.
He says, if that sounds like what you want, he wants to share with you the proven and affordable world of Ezine marketing.
Page claims that the world's first and best resource for Ezine advertising and marketing. Since 1997, it has been their mission and has been to help members succeed with Ezine marketing.
He claims that there are three ways to succeed with Ezine marketing:
) Highly targeted Ezine advertising, which is very highly targeted, niche by niche.


) Content marketing with Ezines – Did you know that most Ezine publishers do not write their own content? They rely on their contributors to do that, and when you become their contributor article goes out in their Ezines.


) Joint ventures with Ezine publishers. These are the men and women who have the mailing list and can reach the audience that you want to reach, and when you do a joint venture with them it can be very powerful.
Ezine advertising is not just solo ads, it is much more than that.
Why Choose Ezine Advertising Method?
) Highly affordable
) Highly targeted audience
) It is literally email marketing, which brings in the highest return on investment (ROI) of any other type of marketing online.
) Many ad types to choose from and NOT just solo ads
) Affiliate friendly
) Capture page friendly – Page explains by saying that no Ezine publisher is ever going to say to you that your capture page doesn't meet our standards so you can't advertise with us. They want to help you build your mailing list.
) Scalable
You are then informed that "how to do it" videos on all of this and more are offered to those who sign up to join the Directory of Ezines (DOE) as a paying member.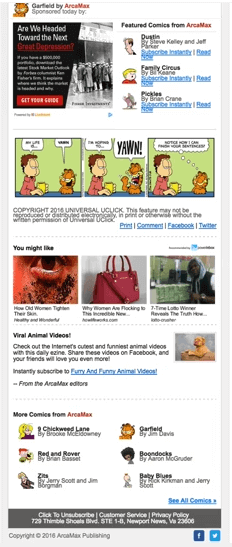 Page shares a sample Ezine, that of the screen print on the right.
And then he zooms in to the top portion of this Ezine and brings to your attention the dark coloured ad on the top left side of the screen print of the Ezine, explaining that this is a banner ad inside an Ezine.
Taking a closer look, Page claims that Garfield (the Ezine on the right) has 202,000 subscribers.
That banner ad at the top left side of this Ezine, costs $70 US funds to place.
Ezines are published by companies and individuals, which means that you can reach almost ANY niche with your marketing message.
Many Ezine publishers offer ad space for VERY low rates.
Ezine readers are email-centric consumers who buy things.
Then Page asks you, "How many mailing lists are you on? Have you ever bought based on an email you received? Ezine readers do too!"
This is why Page says, they need to be receiving your ad in their inbox.
Inside the DOE, Page says that he will show you how to know WHO reads specific Ezines, so that you can target your perfect prospect.
Targeting is only ONE reason why advertising in Ezines is such a powerful marketing method.
---

How Free Traffic Mini Course Actually Works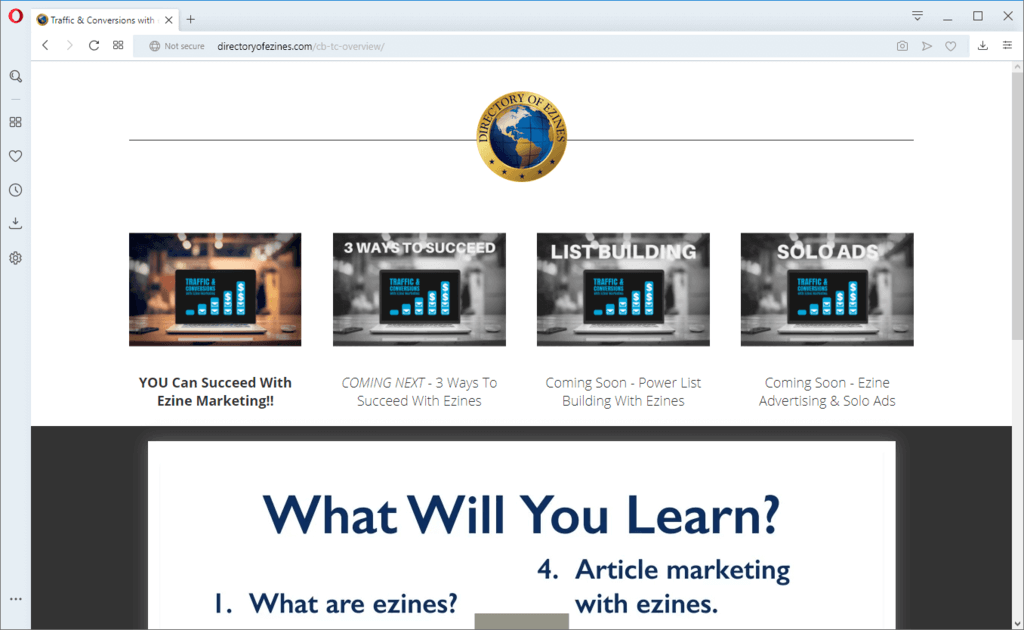 For me, the free training is like getting access to one very lengthily webinar that has been broken down into convenient tiny pieces so not to consume your day, while providing you with the necessary information so that you can make your decision.
Video 1, titled You Can Succeed with Ezine Marketing, is 3 minutes and 25 seconds in length. Charlie Page simply introduces himself to you and talks about the company, Directory of Ezines, that he purchased. In this video, he covers six important areas.
) What are Ezines?
) How to do list building with Ezines.
) Ezine advertising which is not just solo ads (5 other ways!).
) Article marketing with Ezines.
) Joint ventures with Ezine publishers.
) Your Ezine marketing action plan.
Video 2, titled 3 Ways to Succeed with Ezines, is 5 minutes and 34 seconds in length.
In this video, Page tells you how to properly enunciate the word ezine (like e-zeen), and then he explains that Ezines are NOT spam, and that subscribers should need a double opt-in method so that you will know that they really do want to receive the Ezine.
SIDE NOTE: what is provided in his Free Training videos 1 and 2 is basically a repeat of his introduction with a tidbit more details added to each.
The 3rd video has a tiny bit from the introduction and a lot more additional information.
Video 3, titled Power List Building with Ezines, is 7 minutes and 45 seconds in length.
Having been previously inaccessible, the day after I signed up for Page's Free Training, I received an email with a link to this video… in which Page speaks about how to setup your Ezine to your advantage.
He calls it, "sell the click and not the product".
He also claims that Ezine are list building friendly.
Video 4, titled Ezine Advertising & Solo Ads, is 8 minutes and 4 seconds in length. On day 2, after signing up to have access to Page's Free Training, I received another email.
This time, with a link to this video. Page discuss in more detail as to what you should and should not use Ezines for.
Video 5, titled Content Marketing with Ezines!, is 6 minutes and 25 seconds in length. On day 3 from signing up for the Free Training, another email was found in my inbox with a link to this video.
Pages asks you to leave a comment below if you are enjoying the training… but… there is no comment form available to do so. Then he continues to discuss the advantages in using Ezines.
Video 6, titled Joint Ventures with Ezines!, is 7 minutes and 32 seconds in length. On day 4 from signing up for this Free Training, yet another email was received, containing a link to this video.
And in this video, Page speaks on how to gain joint ventures (JVs) by promoting your own product… or someone else's product with your own unique bonus package.
Who Will Joint Ventures Work For?
) Product owners are perfect candidates for JVs.
) Two tier commission programs when you sign the ezine publisher up with you.
) Products you promote for which you have a proven front-end funnel.
) OR… a very special bonus. For example, if you promote a product you don't own and provide a related product that you do own as a bonus.
Then Page provides you with the step by step process of landing your very own JV with a publisher.
Video 7, titled YOUR Ezine Marketing Action Plan!, is 17 minutes and 14 seconds in length.
On day 5, I received a link to this video in another email from Page. In this video, he speaks about knowing your avatar, your advertising budget (what YOU can afford to spend) and, have your ad copy ready BEFORE you start.
PROS
To my way of seeing this, Affiliate Marketers are provided the BEST method for gaining truly targeted traffic that even social media could not possibly provide you, especially given the decrease in the posts from Facebook fan pages being shared on your page's followers newsfeed anymore.
If you are ready to start buying advertising for your affiliate offers, this might be the best option for you to start with.
CONS
Not recommended for use with advertising local businesses as Ezines is NOT geo-targeted.
This is NOT a magic bullet for affiliate marketers and requires working at learning what works and what doesn't and then creating your ad copy to improve clicks.
---

Is Free Traffic Mini Course a Scam?

NO, I do NOT believe that Free Traffic Mini Course is a scam. In fact, I believe the exact opposite, and I DO highly recommend Free Traffic Mini Course!
As to the decision on paying for a lifetime membership with the DOE, that will depend on your budget.
However, in checking other options, I could only find options for purchasing a monthly membership from other sites offering similar services; so personally, I believe that the DOE offer is the least expensive.
---

Get Targeted Traffic Without Advertising to Make Money Online
A great way for you to START getting targeted traffic without the cost of advertising to make money online, is an option that I would like to share with you here.
The training platform that I am anxious to tell you about is one that I have been a member of since 2016.
This platform can teach you how to create your very own profitable business, and how to attract your potential customers without advertising.
What a perfect way for starting up your own business, right?
I'm sure you have heard that the more knowledge you gain the better your chances are that you will succeed.
And, given that the alternative of NOT learning, where you would never be able to succeed, then learning is what successful entrepreneurs are always eager to do.
So, what I have to share with you about this platform, first you need to understand that this is NOT a get rich quick scheme, as you will need to be prepared to focus your time and attention on building your very own business.
Even when you are offered a wealth of information and loads of opportunities, these would be worthless if you don't act on what you learn within any lessons that you are taught.
So, persistence and patience are key to becoming successful as an online business owner, as this does NOT happen overnight.
Now, if you are ready to learn MORE about this platform, then simply click the button below and get reading… or simply stay here and continue reading.

Still here? Okay… I get it, you want to know more about this platform. Well then, here goes…
You can sign up as a member of this platform for FREE!
Once you have uploaded your profile image and completed your profile so that all members will know who they are talking to once you begin to participate and receive your coaching… then you need to get started straight away with taking the 10 FREE lessons that you will have access to, but for only 7 days.
So… don't dilly-dally!
You will be able to create a website FREE of charge, in which you will be creating one of those websites while taking the training.
Stick with the training and do NOT deviate from what the instructor tells you to do… then, before you know it, you will be succeeding.
Stray away from the lessons or skip ANY of the lessons because you think you know best and you only stand to delay your success. Believe me, I know because I did that myself!
PLUS, there are so many business tools that will be included in your membership that you will need when creating your new business that I will not be listing them here, but you can check out my guide for full details.

In my guide, be sure to make note on how YOU can get ME as your premium coach!
If you found this review to be helpful with your making a decision, I do hope you will be sharing this with your friends.
Please DO feel free to leave me a comment below should you have ANY question regarding if Free Traffic Mini Course is a scam, and I will be responding in a timely manner.
Thank you for dropping by,