Stoica B. and Vlad M. are the founders of Scriptelo, and Stocia asks you if you've every tried to sell a product online and failed.
He says that you don't need to worry because you can fix that with only a few clicks.
And, Stocia claims to be the number one seller on Clickbank, in the E-business & E-marketing category, which he claims is the heavy weight category.
He goes on to say that last year, they sold over five million dollars worth of digital products online. And he says that he'll let you in on a secret…
Stocia goes on to explain that they have an in-house app that gives them an unfair advantage.
Too often, over the years, he claims that he has seen exceptional products failing miserably, simply because they didn't deliver the right sales message.
He states that they lost all that money, time and effort that they had invested in the product.
Stocia then explains that the problem is that copywriting is not an easy skill to master… that you really need to read and study books and courses from the experts, and this involves a lot of trial and error.
Plus, spending thousands of dollars split testing different scripts.
Then Stocia shares what they spent last year on their ads, split testing their sales copy templates.

The total displayed is $1,121,097.75, and it is said this was to ensure they perfected their templates, to get the absolute highest conversions possible.
Until now, Stocia says that if you wanted to have a high converting sales video, you only had two options.
To write your sales copy on your own, which is super hard, and unless you have years of marketing experience behind you, he claims that you will fail.

He says it's as simple as that.
Hire a professional copywriter, and he's been there done that.

Stocia continues by saying that if you can afford to spend a couple of thousand dollars for them to write your script, you'll never be 100% happy with the results.
The good news Stocia then shares, is that now there is option number 3: Scriptelo.
My review of Scriptelo here will cover the following:
If You Don't Want to Waste Anymore of Your Time on Scams,
See My #1 Recommended Way of Making Money Online:


What is Scriptelo?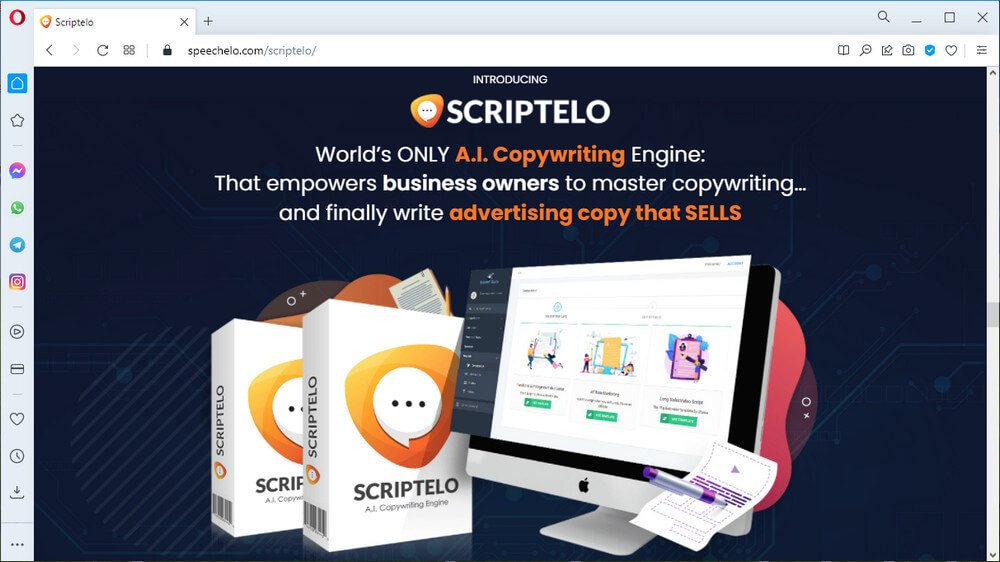 Program Name: Scriptelo
Website: https://scriptelo.com/
Price: $47 US funds, PLUS, 2 upsells, 1 downsell
Recommended? NO
Rating:
---
According to Stocia, Scriptelo is the most advanced A.I. copywriting software on the market.
And, with only a few clicks, he claims that you'll get a top-notch script, as written by the top copywriters in the field, and that everything is done for you.
To generate a high-compelling script, Stocia says you just have to answer a few simple questions like:
What is your product name?
Who your product is for?
What your product does?
After that, he says you just have to click on the Generate button and the Scriptelo engine will customize their proven to convert templates for you.
Stocia goes on to explain that they have multiple templates for:
Video ads
Long VSL scripts
Upsell scripts, and even
Scripts for selling affiliate products
Apparently, all of the templates have been perfected and tested across multiple niches, with multiple products.
Stocia states that they guarantee amazing results for any product or service that you choose to sell using Scriptelo generated sales copy.
Then he announces that this exact video script used in their landing page video was generated using Scriptelo's A.I. engine.
Once you listen to their video, he's convinced that you will see just how compelling the Scriptelo templates really are.
Probably, right now you're asking yourself: how much does Scriptelo cost?
Stocia says that if you visit the home pages of Scriptelo right now, you will see that the regular price for Scriptelo is a monthly recurring subscription that adds up to over $500 a year.
But right now, he says that they're running a special founders offer for the first 1000 members to join.
Stocia claims that this will allow you to get your copy of Scriptelo for a single, one-time payment with no monthly fees.
He says, if you want to lock in on the price, buy now. It doesn't matter if you are selling:
Digital Products
Physical Products, or even
Services
Stocia states that they are absolutely confident that Scriptelo will be exactly what you need to finally get the results you've been looking for.
In fact, he's quick to add that they are so confident that they will let you try it risk-free for 30 days.
If for any reason you don't like Scriptelo or you don't see a huge increase in the results that you're getting, and Scriptelo hasn't paid for itself, he says that you can ask them for a full refund.
So, Stocia asks: What are you waiting for?
He says to buy now and you'll be able to log into their cloud-based dashboard.
Then , fill in the blanks and in minutes, have your first professional sales script downloaded on your computer.
---

How Scriptelo Actually Works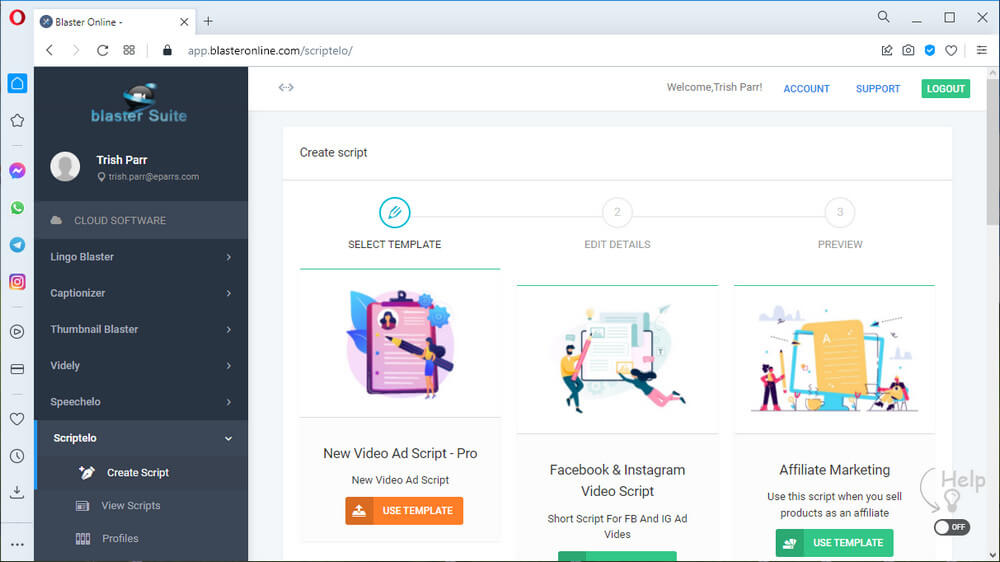 Once you are inside the Scriptelo dashboard, a popup window appears with their training video (08:45 minutes), and you will want to watch that before beginning to use Scriptelo.
The options under Scriptelo from the left-hand sidebar are as follows:
1.) Create Script – you will be able to choose a template, edit the details of your selected template and preview your work.
Select Template
New Video Ad Script – PRO template, is an upsell offering
Facebook & Instagram Video Script template
Affiliate Marketing template
Headline Generator – PRO template, is an upsell offering
Before-After-Bridge – PRO template, is yet another upsell offering
YouTube Ads Script 2 – PRO template, is the 4th upsell offered
Pattern Interrupt Video Ads – PRO template is the 5th upsell offered
Upgrade Order Script template
Scriptelo FE template
Long Sales Video Script template
2.) View Scripts – this is where you will find your saved scripts, where you can find the options to preview, edit it further if you like, or delete.
3.) Profiles – is where all your profiles that you create are stored.
4.) Training – is where you will find their training video that was mentioned above.
PROS
Could find none.
CONS
Their training video needs updating, to reflect the changes they've made with the software.
For me, there is so much editing to be done when using their "templates" that I do not believe this software to be worth wasting your time and money with.
---

My Take on Scriptelo

I do not believe that Scriptelo can write sales copy and ad scripts on autopilot.
As I have stated under CONS above, I found that far too much editing is required in making their generated script moderately usable. For me, it would be much faster working from scratch.
So, do NOT fire YOUR copywriter!
Below is my video review of Scriptelo by Stoica B. and Vlad M.


Summary
I was honestly disappointed with my findings with Scriptelo, as I truly believed that the founders may had released another magnificent software.
Sadly, that was not the case, as I found this software to be a total waste of my money and my time.
Should you have any questions regarding can Scriptelo write sales copy and ad scripts on autopilot, please do leave them in a comment below, and we will discuss this further.
Great Copy Works,