John Newman and Cynthia Benitez claim to have discovered a real autopilot push button solution where they click one button to one link, a lazy copy and paste system that makes them $227 pay days in less than 60 minutes.
They have three questions for you:
Have you ever wanted to make an amazing living doing something you actually love?
Do you ever feel like just quitting your job?
Do you wish you could just have the freedom to do whatever you want?
Then they say that you are going to want to pay very close attention to their presentation.
Newman claims to be an affiliate and an online marketer. He says that if you've ever felt frustrated and like nothing seems to work out that he can relate because not so long ago he was in the exact same position as you.
He goes on to say that before he discovered this secret hack, he was always struggling online. Newman states that he suspected the gurus knew something he didn't but he didn't know for certain. That he had this nagging feeling that he was being kept in the dark but everyone was always saying how powerful online marketing is.
In a few minut4es, Newman is going to reveal his secret system. He says that you're going to discover why this is the simplest and only real push-button solution to fill your account.
Then Newman says, finally he will show you why his Supreme Payday System will send you all the buyer traffic you will ever need.
He says to watch now or miss out, while going on to claim that this information is very controversial in nature. Therefore, he says that he can't guarantee it will be around forever.
Newman says to watch his presentation or you might never discover these secrets on your own. But if you thought your frustration in the past was bad, think of it like this, he claims that nothing will prepare you for the future if you don't unlock these secrets.
My review will cover the following:
If You Don't Want to Waste Anymore of Your Time on Scams,
See My #1 Recommended Way of Making Money Online: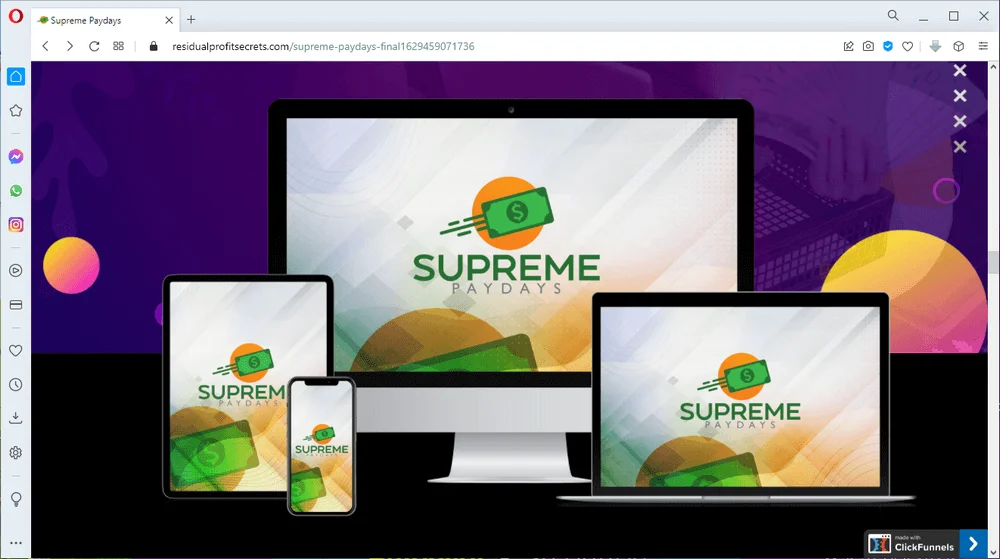 Program Name: Supreme Payday
Website: https://residualprofitsecrets.com/supreme-Paydays-final1629459071736
Price: $12.95 US funds + 5 Upsells with Downsell popup offered
Recommended? NO
Rating:
---
John Newman claims that he saw that ordinary people were really getting fooled by misinformation, and he wanted to help by sharing what works for him.
He says that he decided to outline this secret blueprint for you, solving all your problems with Supreme Paydays is easy, as all you need to do is copy and paste his method and you're all set. Then, he says, just click one button to one link and all the hard work is done.
Newman says that with Supreme Paydays, you can never worry about an empty affiliate account again. He continues saying that Supreme Paydays comes packed with great features like:
Autopilot Supreme Paydays A-Z System – Over the shoulder, step-by-step videos showing you exactly how to easily set up your payday system, fast. Beginner friendly, just copy what you see on screen and you're all set.
Supreme Traffic Blueprint – Traffic is the life-blood of any business but is what most newbies struggle with. Tap into their evergreen traffic sources for instant traffic on demand, then just click one button for instant results.
DFY Offers – (Done For You) No need to reinvent the wheel, just use what already works. They show you the best offers proven to convert and even give you DFY offers ready to profit from day one.
A real-world case study – Just duplicate their results and you're all set.
And much, much more.
Click their buy button to get Supreme Paydays for a low one-time fee. Newman says, don't take their word for it. Apparently, the following is what their Beta testers are saying:
Keiron says: "Wow, Supreme PayDays was just what I needed to get more traffic to my offers! It has made a huge difference to my online business as a result."
Jay-Lee says: "If you've been struggling to get your online business moving, then Supreme PayDays really is a game-changer."
And, Ozkar says: "You can call it a masterpiece!
Newman claims that he often gets the question: How do I know Supreme Paydays will work for me? And, he claims that the truth is, this system has consistently worked for 100% of Beta testers.
Apparently, Newman also gets the question: Can I really do this? And, he claims that in reality, almost everyone can with even hardly any effort at all.
Newman goes on to claim that this is as push-button as you'll ever see online. Though apparently, there's more to Supreme Paydays than what he has already told you.
He claims that as a valued customer, you will get access to a private members area with VIP support and that he will also fully guarantee your purchase by giving you a 365-day guarantee.
Newman says that the price for all of this is normally $47 per month, but today it's just $12.95 US funds. And he goes on to say that in fact, if you are quick, you might even get this even cheaper on an early bird special.
He goes on to say that they've also added some great bonuses:
Bonus #1 – OLSP Traffic Domination Group: Underground private group shows you how to dominate traffic. Claimed value $997
Bonus #2 – Profit Force: Premium training course on how you can boost sales and conversions on any list size and practically "force" commissions into your account. Claimed value $297
Bonus #3 – YT Velocity: Premium YouTube course on how Newman gets free buyer traffic from YouTube without even showing your face on camera. Claimed value $297
Bonus #4 – Buyers List Bonanza: Premium list building course on how Newman grows his email list with free buyer traffic, fast. Claimed value $197
Newmans declares that this offer is going to be around for a limited time only. That they may close the offer after 200 people get access, and it will be returning to a monthly fee after this launch period.
Imagine, says Newman that knowing you had the opportunity to tap into this Supreme PayDays System but didn't. He says that an opportunity like this is once in a lifetime.
And, Newman goes on to say that if you want to really create a life of freedom, the time to take action is now.
He claims that the main reason newbie and intermediate marketers struggle is not having a system they can easily follow and Supreme PayDays solves this with spades. Then Newman reminds you that you get:
The autopilot Supreme PayDays A-Z System
The Supreme Traffic Blueprint
Set and Forget Traffic Automations
And, DFY offers
PS: Here's a recap of everything you're getting. According to Newman, you're getting the easiest and fastest way to fill your affiliate account with their lazy copy and paste set up then you click one button to one link.
He goes on to say that this is as push-button as you'll ever see online that actually works. And he claims that you also get the step-by-step tutorials and 4 premium bonuses. Buying now to lock in their lowest price possible, is his final suggestion, and they'll see you on the inside.
Newman claims that the time to create your life of freedom is now.
---

How Supreme Payday Actually Works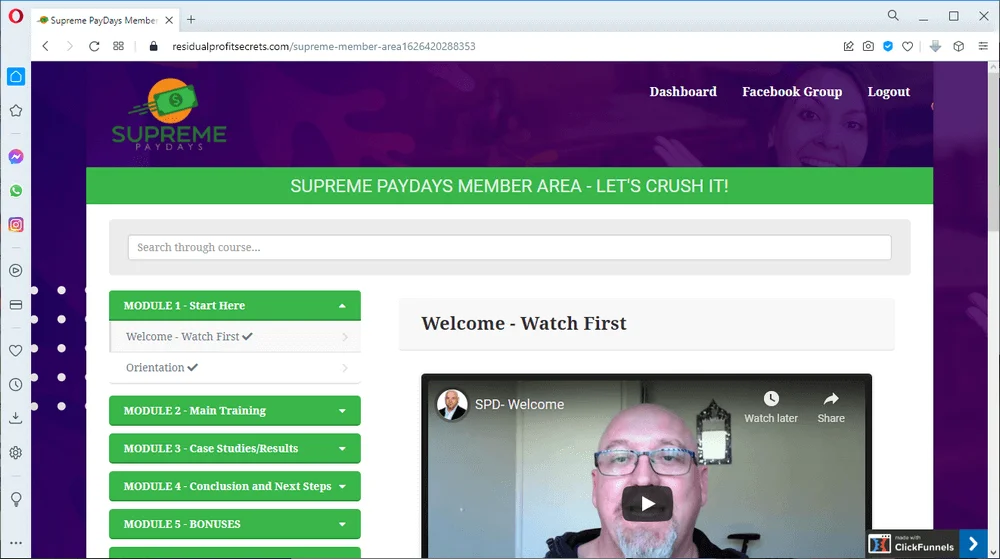 From inside the members area, you will find the following:
Module 1 – Start Here
Welcome – Watch First video (00:03:09 minutes) – John Newman welcomes you briefs you on what to expect.
Below this video, you will find links to:
1.) Sign Up For The Advanced Training Call – takes you to an affiliate link to sign up for a webinar titled "How to Make a Consistent $5k/Month from Home in the Next 22 Days.
2.) Claim Your Fast Action Bonus #1 – takes you to "The Commission-Loop System", where you will find 4 short videos on "How to get paid every month to build your email list".
3.) Claim Your Fast Action Bonus #2 – sends you to Messenger.com to sign up for a separate from Facebook account.
4.) Subscribe to my YouTube Channel Here button – this takes you to John Newman's YouTube Channel.
Welcome from Cynthia video (00:02:02 minutes) in which Cynthia welcomes you to the members area.
Below this video is a link to Subscribe to Cynthia's YouTube Channel.
Followed by 3 buttons:
1.) Ditch Your Old Website – an affiliate link to create your ClickFunnels account.
2.) Learn About Traffic For Free – an affiliate link to Traffic Secrets in which you can buy a free book titled DotCom Secrets by Russell Brunson where you will be asked to pay for shipping this book.
3.) Exclusive Free Training Call – which is a link to a full replay of a webinar titled "Watch Us Build a $10k Per Month Business Live in 20 Days and Then Hand You the Exact Blueprint to Replicate it.
On the left-hand sidebar are three options:
Need Any Help? John Newman offers you a link to his Facebook group titled "Financial Freedom Warrior: Make Money Online Affiliate Marketing", as well as an email address you can use to reach him.
Below this are 2 affiliate links:
1.) Expert Secrets – which offers you an opportunity to receive yet another copy of another Russell Brunson book, this one is titled Expert Secrets.
2.) DotCom Secrets – is the same book by Russel Brunson noted above.
Orientation video (00:02:33 minutes) – John Newman reviews the members area options that are available, and informs you that you should send support questions only to his email address that is below on the left-hand sidebar, and NOT in his Facebook group.
Module 2 – Main Training
Method Overview video (00:05:01 minutes) Newman details a basic sales funnel, and talks about how it works.
Finding Hot Offers to Promote video 1 (00:09:20 minutes) Newman shows you how to pick offers on Warrior Plus, and how to get approved to promote them.
How to Get Approved to Promote on Warrior Plus video 2 (00:10:07 minutes) Newman goes into more detail on how to do this as a beginner.
Building Your Rotator video (00:07:53 minutes) Newman shows you how to build a rotator using ClickMagick.
Below this video is his affiliate link to ClickMagick, offering you a Free 14-Day Trail account.
Building Your Funnel video (00:06:44 minutes) Newman briefs you on how to create a funnel using ClickFunnels.
Below this video is his affiliate link to ClickFunnels, offering you a Free 14-Day Trial account.
Below this is a link to his Done-For-You funnel to be used inside your ClickFunnels account, once you sign up.
Integrate Your Autoresponder video (00:03:10 minutes) Newman shows you how to connect your ClickFunnel page to your chosen autoresponder.
Below this video are 2 affiliate links to:
1.) Create A Free Aweber Account
2.) Create A Free Get Response 30-Day Trial
Set Up Your Email Followups video 1 (00:07:12 minutes) Newman builds out a followup email for you to watch him over the shoulder.
List Creation & Importing Campaign video 2 (00:05:12 minutes) Newman quickly goes over building out your list and importing it to your ClickFunnel page.
Below these videos, you are offered:
1.) a Followup Series code to use
2.) 4 steps on "How to Add Your Followup Series to Aweber"
Below this is a link to a PDF file with Email Swipes for offering Supreme PayDays.
Testing Your Funnel video (00:02:38 minutes) Newman walks you through the testing. Below this video is a NOTE as to what he had done wrong and how not to do what he did.
Getting Traffic video (00:07:33 minutes) Newman offers you advice on Solo Ads.
Below this video, are:
1.) his affiliate link to Udimi Solo Ads form for you to use in signing up.
2.) A link to buy his offer to legally stealing all the traffic from their sales pages for the next 365 days. ($197.00 US funds, with popup offer of $100 discount when/if you go to leave the page)
Our Top Converting Traffic Source video (00:03:37 minutes) Newman talks about what he claims is their top converting traffic source that is offered by Wayne Crowe.
Below this video are 3 links:
1.) what appears to be an affiliate link to Wayne Crowe's Solo Ads training.
2.) a link to a page to sign up for Wayne Crowe's free Facebook Group that shows you how to earn commissions every day. You have to provide your email address even before you get to see the Facebook group.
3.) a link to Newman's Traffic Rolodex ($9.00 US funds).
Monitor and Scale video (00:05:57 minutes) Newman briefs you on how he does this.
Free Traffic Method video 1 (00:14:18 minutes) Newman talks about using your Facebook account.
Free Traffic Method video 2 (00:04:56 minutes) Newman talks about using your Instagram account.
DFY Offers and Money Page video (00:03:50 minutes) Newman talks about how to get approval as an affiliate to Supreme PayDay.
Below this video are 6 buttons offering links to the following:
1.) Get Your Supreme PayDays Affiliate Link
2.) Access Your Done-For-You Money Page – a link to bonus page generator
3.) Get Your Profit Force Affiliate Link
4.) Get Your YT Velocity Affiliate Link
** followed by a tip as to what to write in your request notes **
5.) Get Your Perpetual Income365 Affiliate Link
6.) Get Your Super Affiliate System Link
Module 3 – Case Study/Results video (00:03:44 minutes) Newman shows you a quick case study of his results with Udimi Solo Ads, and what didn't work for him.
Module 4 – Conclusion and Next Steps video (00:02:05 minutes) Newman congratulates you on making it all the way through his training.
Below this video are 3 buttons:
1.) Upgrade to Pro – Newman's upsell
2.) What the Advanced Free Training Webclass (detailed above under Introduction)
3.) Join Ministry of Freedom – appears to be an affiliate link to another vendor's product
Module 5 – Bonuses – which offers you 6 different links as follows:
1.) OLSP Traffic Domination Group – Wayne Crowe's Facebook group mentioned above
2.) Profit Force – a sign up form to join the members area
3.) YT Velocity – a sign up form to join YT Velocity Member Area
4.) Buyers List Bonanza – a sign up for to join Buyers List Bonanza Members Area
5.) $10k/Month From Home Live Training – webinar replay mentioned twice above.
6.) Free Targeted Autopilot Traffic Software App – a sign up form to join the FE Members Area
Module 6 – Unannounced Bonuses – provides you with 6 different links, as follows:
1.) Newman's affiliate link to Wealthy Affiliate's free training.
2.) 27K Blueprint PDF – a link to sign up for a Messenger's account for access outside of Facebook
3.) Instant Affiliate – a link to free access to "The Conceptual System"
4.) Link Up – an affiliate link to a sign up for access to the members area.
5.) AffiliSystems – an affiliate link to a sign-up form to learn the secrets to being an efficient affiliate marketer.
6.) Kickstart Boost – an affiliate link to GrooveSell.
Module 7 – Resources – 15 different and repeated affiliate links to other vendor's products
Module 8 – Upgrades – links to 5 different upsells Newman offers
PROS
I could find none.
CONS
In my opinion, this training is simply a copy of Mark Barrett and James Fawcett Resurgence training. DO read over my review on their product so you can see for yourself, BEFORE giving serious consideration to buy Supreme Paydays.
Never did discover the secrets that were claimed to be offered in Newman's presentation.
Getting lots of traffic is not as important as gaining targeted traffic. Simply gaining traffic could cause your site's bounce rate to increase once the traffic realizes that your site doesn't offer them what they thought it would. Targeted traffic means your site gets only those who are looking for what you are offering.
Personally, I feel there are far too many affiliate links provided (even the bonuses!) and too little quality training.
---

Due to a total lack of uniqueness of training, I believe that Supreme Paydays is NOT an autopilot push button solution but rather a total waste of time and money.
Below is my video review of Supreme Paydays by John Newman and Cynthia Benitez.

If you are serious about wanting to learn to do affiliate marketing from the pros, then I would like to introduce you to a training platform that I have been a member of since 2016.
The owners of this platform are so confident that you will appreciate and agree that the training is definitely world-class that they have even provided you with the first 10 lessons for FREE!
All you have to do is sign up as a starter member, complete your profile with a brief introduction of yourself, and upload a recent image of yourself. You WON'T even be asked for a credit card.
Once your free profile account has been completed, scroll down below your profile and you will find comments offering you guidance as to where to start from.
You will have FREE access to the FIRST 10 lessons for 7 days, so don't waste time. Get started straight away.
Should you have questions, you can ask the entire community for help in understand whatever your issue might be. The community is available to you to get help from 24/7, for 7 days.
PLUS, you will be able to build your very own first online business, for FREE!
AND… your online business will be protected by a FREE SSL certificate, once you turn it on. This will help your online business to rank better, because this certificate will help protect your visitor's devices, and Google will love you for that.
Getting my free guide will help you decide further if this training platform is what you've always wanted, so be sure to click the button below and get reading now.

Should you have any questions regarding, is Supreme Paydays really an autopilot push button solution, please feel free to leave them in a comment below where we can discuss this further, if you wish.
I do hope I have helped you to decide by answering this question for you.
Looking forward to meeting you,