Mike Mckay, Radu Hahaianu and Calin loan's landing page video narrator says to imagine that from seconds from now, you could automatically create high converting sales copy and scripts for virtually anything in any niche, and have it be 100% unique content that you can use for yourself or sell to clients.
All apparently, with zero work and all 100% done-for-you by a piece of what they claim is smart software that is said to use its own proprietary artificial intelligence neural engine in order to create engaging, highly converting, 100% unique:
Sales copy and scripts
Emails
Video sales letters
Regular articles
Blog posts
They claim that it would enable you to finally fire your copywriter or content creator and never have to pay for content again.
Plus, it is said that you finally get to tap into the 400-billion-dollar copywriting and content marketing industry at a time when businesses cannot get their hands fast enough on quality content that converts.
Apparently, top copywriters can charge anywhere between $2,000 and $10,000 for a single sales page, and it is said that they still get more customers than they know what to do with.
They claim that it is because good marketing, good content and good sales scripts sell.
But why should only seven figure copywriters have all of the fun, and how could you compete yourself if you don't have such a big budget to begin with?
These vendors claim that today they are changing all of that from the ground up by offering a cost-effective and lightning-fast solution to create your very own 100% unique instant high converting sales scripts – out of literally think air.
Sales pages and scripts
Video sales letters
Email swipes
Upsell pages
Online and offline articles
That would be created especially for you… they claim is out of think air, so that you can use it for yourself or sell as a service to other people.
They claim that it's so easy to use that a 5-year-old could start their own copywriting business with it.
My review will cover the following:
See My #1 Recommended Way of Making Money Online:


What is Profit Writer?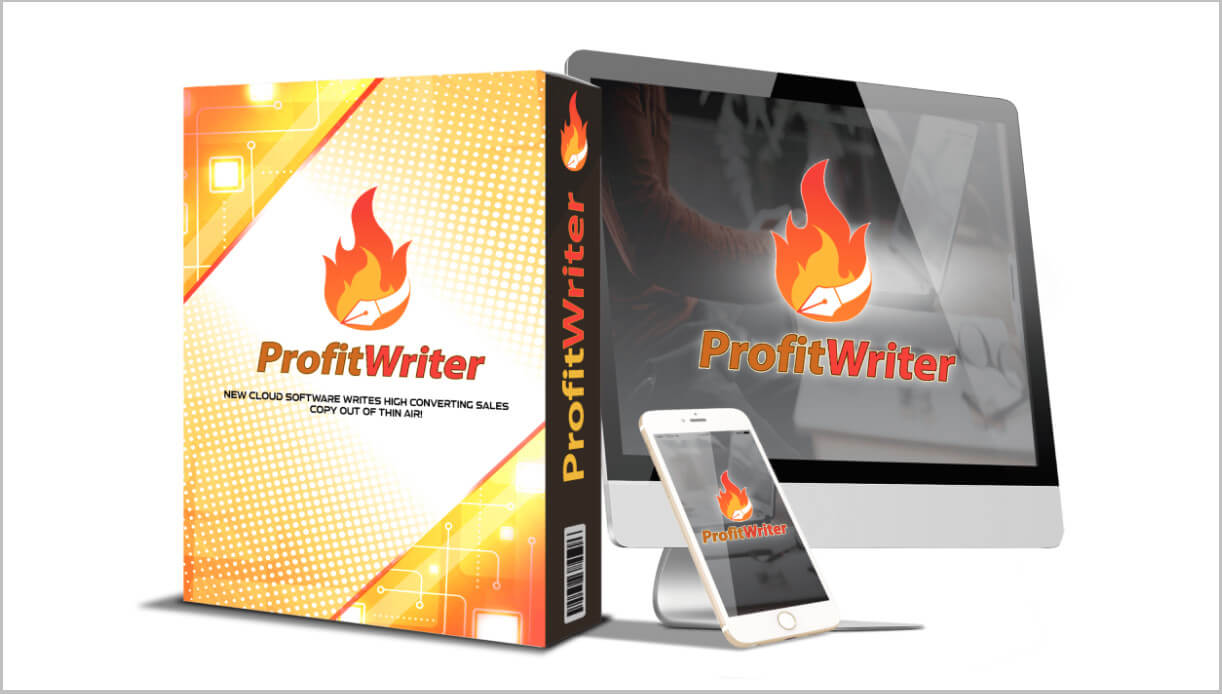 Program Name: ProfitWriter
Website: https://getprofitwriter.com/regular/
Price: $16.93 US funds + 5 Upsells and 5 Downsells
Recommended? YES
Rating:
---
Apparently, Profit Writer is a fully cloud-based software that creates custom, high converting unique sales content that they claim you can use for yourself on your own sites or products or sell for HUGE profits.
They claim this is all with:
No limitations
No monthly fees
No coding required
No headaches
Creating your own sales copy, they claim that in fact has never been easier.
Step 1 – Login to the cloud interface
Step 2 – insert your niche and product name
Step 3 – have a sales-pumping money-making script come out in 60 seconds
Yes, they claim that it is that easy.
They say that you can use it for yourself, to:
Create sales pages, upsells, sales videos, emails, articles and more, or
Sell copywriting services for hundreds or thousands
Get better results in your marketing with zero extra effort
Tap into sales templates written by 7-figure copywriters just for you
And of course, use it to create sales pages for offline businesses that you can then sell to them for $500 – $1,000 each.
The bottom line, they say, is this…
You get all of the benefits of content creation and copywriting, without any of the restrictions or downsides, they claim; all without having to spend a dollar yourself.
They also claim that with ProfitWriter that you are in control, and with built-in end-to-end SSL encryption you are safe as well, so your content always remains yours.
They quickly add, not to mention that they do all the SEO optimization for you so that your copywriting and content will show up high in the search results.
You're told to not wait any longer and click their buy button, to get access to their ProfitWriter during the early bird launch that apparently includes a massive $100 discount, and you get their platform with lifetime access.
---

How Profit Writer Actually Works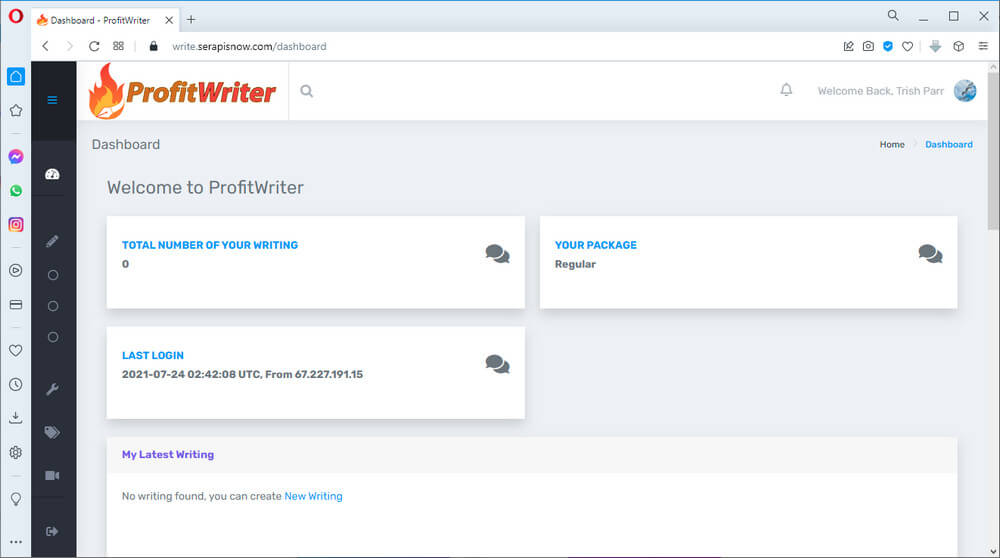 Once you have paid, your browser will be taken to a Thank You For Investing in ProfitWriter web page which contains instructions on getting started, along with a 53 second video where Calin loan thanks you for purchasing Proof Writer, and walks you through creating your account.
Below this video is a button titled Login Here!, which when clicked on, takes your browser to the login page for their cloud-based software.
Below this button are 10 images in which you can click on, and they each will take your browser to affiliate links of other's products they claim are perfect companions to Profit Writer.
After which they claim are 2 unannounced bonuses.
Once logged into the cloud-based ProfitWriter Dashboard, you will see empty box-like areas titled:
Total Number of Your Writing
Your Package – Regular
Last Login
My Latest Writing
Documentation
The left-hand sidebar is activated when you mouseover it, and retracts once you move your cursor away from it.
The options provided for in the sidebar are as follows:
Dashboard
Automatic Writing

New Writing
My Writing
My Preset

Tools

My Profile
Change Password
My Notification

Support – which takes you to an entirely different web page, where you will need to create an account to submit a ticket for help of any sort
Training – which also takes you to an entirely different web page(the Thank You… page mentioned earlier). Details of the training below.
Sign Out
Let's start with Training, which when clicked on from the sidebar, takes your browser to a new tab where you will find the following videos:
Step 1 – Creating Your Account (00:00:54 minutes)
Step 2 – Using the Text-to-Speech Feature (For PRO + USERS) (00:02:07 minutes)
Step 3 – Using the Automatic Writing Feature (00:02:31 minutes) Calin loan tells you that you can even use this for jobs on Fiverr.
New Writing
You are provided with 2 fields:
Give a name to the writing – so I used a title I had created
Select a catalog of the writing, which provides you with a drop-down list in which you choose one of:
Sales Copy
VSL
Email Swipes
Articles
From which I chose Sales Copy, and the third textbox titled Select a template of the writing automatically filled with Sales Copy 1.
However, when I clicked on the gray down arrow it activated another drop-down list of 7 different Sales Copy templates and 5 different Upsell templates to choose from.
After checking through all of the templates, I preferred Sales Copy 1, and then clicked on their button titled Next Step that is at the very bottom of the template, which takes your browser to Step 2 of 2 in the New Writing option, where you need to read the 3 instructions under Notice.
The first two fields are auto-completed from Step 1 of 2, and below that are the following textboxes that you are recommended to complete.
Product Goal (Optional)
Benefit 1 (Optional)
Benefit 2 (Optional)
Benefit 3 (Optional)
Benefit 4 (Optional)
Niche (Optional) your product's niche
Testimonial 1 (Optional)
Testimonial 2 (Optional)
Testimonial 3 (Optional)
Testimonial 4 (Optional)
Problem 1 (Optional) What problem your product solves
Problem 2 (Optional)
Name (Optional) Your Name
Problem 3 (Optional)
Problem 4 (Optional)
Proof1 (Optional) Proof of your product's efficiency
Proof2 (Optional)
Productname (Optional) Your product's name
Description1 (Optional) Description of your product
Description2 (Optional)
Description3 (Optional)
Productvalue (Optional) Your product's value (not the price it sells at, but what it usually costs)
At the bottom of this form, you will find 2 buttons to choose from:
Once you have completed this form, click on the Create Writing button, which will take your browser to a web page where you can View | Edit Writing.
Apparently, one of the upsells offers users Text-to-Speech function. So, you might want to give serious consideration to at least the first upgrade ($46.93 US funds).
---

My Take on Profit Writer

Having taken this cloud-based software for a test drive, I came up with my own title (this is a VITAL step when it comes to copywriting), and filling as many fields in Step 2 as I had information for, and I have to admit, I am impressed.
Having said that, if you are thinking of actually doing to this for a living, you might want to reconsider that idea.
This software has a limited number of templates which means you STILL need to know what you are doing in order to tweak the Writing produced by their software.
During my test drive, it took me 2 hours to polish the script to the point of being closer to being usable then when I started.
Claiming this creates "unique marketing scripts in minutes" is a bit of an exaggeration.
The script you receive in minutes, you would definitely NOT want to use as is, or you would lose business.
Because of this, I do not believe this software to be newbie-friendly at all, as a newbie might find themselves worse off depending on the script's accuracy for their use.
That being said, I do believe these vendors have a great tool for those who have been doing online marketing for awhile now, and so that you will have a better-quality script to send to your copywriter, if you do have one on staff.
Getting rid of a copywriter is NEVER advisable, if you can afford one. At least, not at this point in time.
Because this software has several limitations, I will give them a 3 out of 5-star rating.
Checking out many vendors' product pages recently, I have noticed that a LOT of them are beginning to sound a LOT alike.
After taking ProfitWriter for a test-drive, I can guess where they may be getting their scripts from, as MOST of the templates are more for IMers (Internet Marketers) use than say, local businesses… and, the Sales Copy 1 template script initially sounded very much like the scripts I've noticed several marketers using lately.
Another major "fail" for me with this software is that it is cloud-based.
My concern is wondering how many months will users have full access to this software before it disappears for whatever reason, which is anyone's guess.
Below is my Review of ProfitWriter by Mike Mckay, Radu Hahaianu, and Calin loan


Summary
This software was fun to play around with to see what all it could do for me.
Though I think I would give serious consideration to take several lines from each one of the template scripts in order to make any ONE script usable for my own purpose.
However, my test-drive results now provides me with a basic script to hand over to my copywriter so that at least I look like I know what I want in the way of a story for my local business landing page.
Do hope the question of: is Profit Writer really and A.I. content creator that writes a 100% unique marketing scripts in minutes has been answered in my review here.
It will take you longer than mere minutes to simply complete the form that helps create your "unique" script, never mind the time you will need to edit the script this software creates.
Should you have any questions regarding is Profit Writer an A.I. content creator, please leave them in a comment below where we can discuss this further. All comments are responded to in a timely manner.
Tools Are Just That,