Mark Barrett and James Fawcett are the vendors behind Resurgence.
In their landing page video, Barrett says he's sure you are excited and that he is pumped to show you what Resurgence is all about.
Barrett claims that this is a super affiliate method that results in a minimum of $1,000 US dollars per day, into their accounts.
He says he knows that these sound-like big numbers, big claims but he will back it up soon.
He goes on to say that there is a little bit of a story behind why Resurgence was built, and why this method was built.
Barrett says that probably three to four years ago, and first up he's been in this business for a very long time.
He says he is 33 now, and that he's been doing this since his early twenties.
So, Barrett says, for about 12 years he's been in this business now.
And, like everyone else, he says he struggled at the start and then unlike everyone else, he says he was able to see a lot of success.
He goes on to say that probably about four years ago, he was cruising along on a million dollars a year, young and in his late twenties.
He says that he spent money left and right, like it didn't matter.
Barrett says, long story short that he ended up after a series of bad investments and some changes in how his business ran, he claims that he ended up losing everything, and ended up back in a job.
Barrett says that everything that he thought was important to him, like sports cars, brick and mortar company, all sorts of stuff, he had to sell the lot of it just to get back to paying the bills.
He says that after living the high life at a million dollars a year and getting a fat taste of this business for it to be all taken away was quit honestly a real shock to his system.
He goes on to explain that he pulled himself and his family through a really tough time where he ended up back in a day job for a few weeks.
And, he claims that after licking his wounds and a few weeks in his day job, and he decided that he has some skills that he needed to have a look at.
Barrett says that he needed to look at what did he do that never failed him in the business, and what could he do again to setup a system so that he'd never again have to see the struggles that they are going through right now.
He claims that his wife was begging him to do something to get back to a fraction of what they were doing.
So, he says that he set about getting back to work; that he had a chat with a few people over the years and he just dove down into what worked for him religiously all day every day.
After a bit of trial and error, Barrett claims that he obviously had some experience and Resurgence was born.
My review here will cover the following:
If You Don't Want to Waste Anymore of Your Time on Scams,
See My #1 Recommended Way of Making Money Online:


What is Resurgence?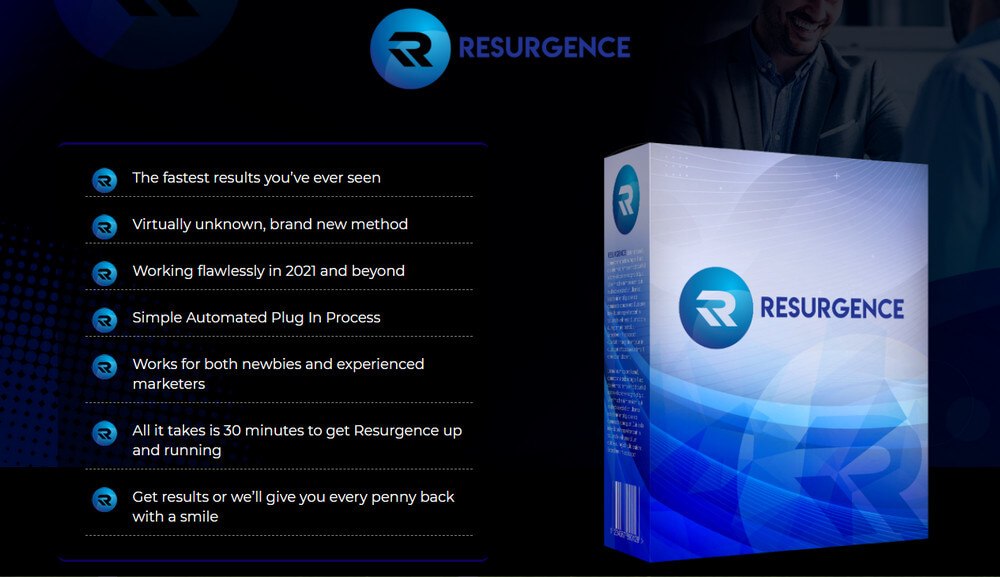 Program Name: Resurgence
Website: https://grabresurgence.com/resurgence-front-end48635561
Price: $12.99 US funds… BUT with their promised $5 discount, $7.99 US funds + 6 upsells
Recommended? NO
Rating:
---
Mark Barrett has created training he calls Resurgence.
Barrett claims that before he knew it, he was pumping a thousand dollars all day every day. He goes on to say that he knows this sounds like "a what?".
So, he shows his cell phone with what he claims is his earnings, only ten minutes into his day and they already got $19.11 pay.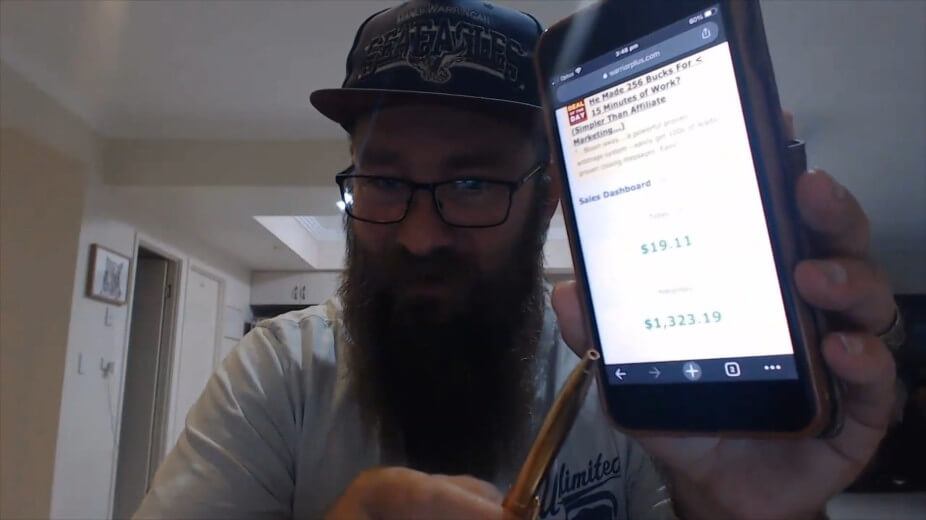 And he says, but you can see yesterday $1,323.19 US dollars. He goes on to say that's nothing unusual, and quite honestly, he claims this is the norm.
Barrett says that the real power in this business knowing that he's a family man, with four children, a house to pay, bills to pay, you know, all that adult stuff.
Reliability, Barrett says, is the number one factor that he needs in a business model.
He goes on to say that we've all seen fly-by-night stuff that comes and goes or something that might work for awhile.
But he says he needs something that works religiously, as Barrett says he assumes do you, and that's the reason you came to his landing page.
Barrett says he's been doing it successfully now for over three years, without fail all day every day.
He claims that he gets in 30 minutes of work each morning, then he get out and the business takes care of itself, and they make that constant $1,000 dollars a day.
This he claims this is his holy grail number. Barrett claims that's $30,000 US dollars a month.
And, he goes on to say that he's in Australia obviously, and that's quit a bit more with the exchange rate, but that's his holy grail all day every day that's coming in.
He claims that everything is covered and that he has that absolute peace of mind weight off his shoulders, knowing that if a bill comes in, he can say to his wife, just pay it mate, and it's done.
Everyday things are all taken care of. Barrett says that they can vacation whenever they want to outside of the coast.
Barrett says that life in general is pretty good. He says you can't see it but he's actually right on the coast now.
It's not his own house, he says that it's a rental but he pays quit a bit of money to be right there and right on the coast, so the kids play on the beach most afternoons.
To him, Barrett says this is what success is about. He says it's not about Lamborghinis or sports cars, but rather it's about the freedom and the stability that this business can bring you.
Barrett says that his process worked for so long that he decided to… other people started asking him about it and he says that he decided to package it up and put it together and he gave it to James.
He goes on to say that he's been creating products for a long time, and the truth of the matter is what he does with the method doesn't mean anything.
He claims the power in a product is what it can teach other people how to do it. He says that he gave it to James, wrapped it all up and said here's everything I do, step-by-step, and he told James to have a look at it and see if you can do it.
Barrett says, here's what James was having to do with it.
At this point in his landing page video, he has James Fawcett talk about some of his proof and results that he got with Resurgence, literally just that day (27 May 2021).
But he does state that NOT all of his daily stats shown in his screen prints are from Resurgence.
He then goes on to say that he just grabbed a few random products from WarriorPlus that convert really well, and as of the day he was speaking of, he earned $1,485.02 but he ALSO states that NOT all of this was earned using Resurgence.
Fawcett than goes on to say that he got just over $600 using Resurgence that day and that the best thing about Resurgence is that you can promote multiple amounts of products at once.
He than goes on to show you another product that he promoted with the majority of the results he shares with you are for Resurgence.
He says this has acquired him just over $1,000 using Resurgence for him that day.
Fawcett claims that Resurgence is "a very solid platform to use and method ever for newbies starting out to get going, very easy, very simple, newbie-friendly", and he says to be honest he was pretty astounded by the results that he got on May 27, 2021.
He says to get a $1000 in one day is obviously pretty stellar in anyone's eyes. Fawcett says it's definitely worth jumping on… the different methods it reveals, you will be able to leverage that and start generating results.
Barrett comes back on to say that hopefully you can see from James' results that the system works, and for a product and a system to be any good it needs to be easily replicated by anyone who does it with a clean and 'concisive' instruction.
And, Barrett claims that this is what you are going to find inside of Resurgence product.
He says that essentially that is it NOT a software, it's an information [training] product that has videos showing:
do this, do this, do this,
here's why we do it,
here's why it's successful,
and here's how you can replicate our success.
Barrett says that if you find yourself waking up most days and you're checking your inbox to see what's on offer today, to see how to grow your business, you are a customer, you're a consumer not a business owner.
He says if you are not seeing this type of thing in your inbox all day long… as he holds up his cell phone to the camera to show a list of WarriorPlus products, he claims several different totals from each item listed.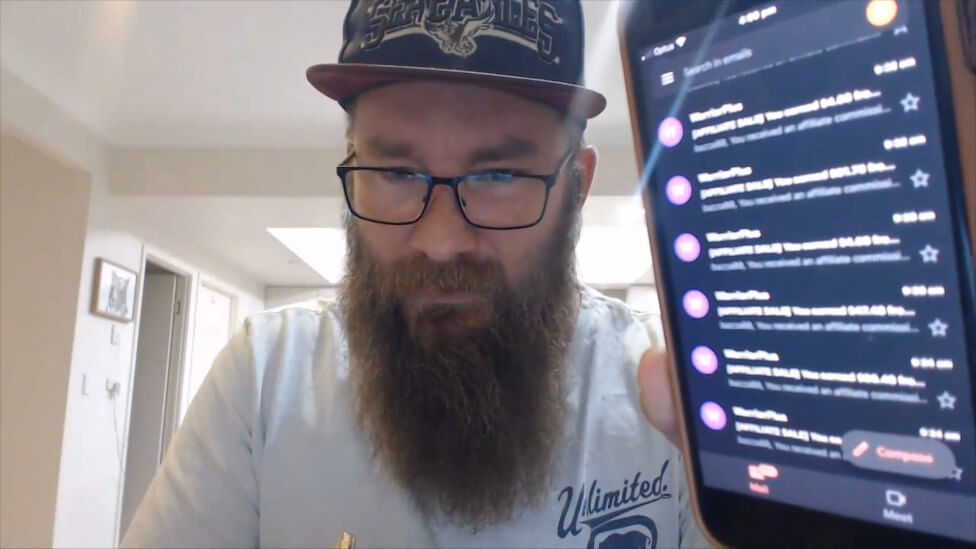 $96, $47, $4.68, $81.78, $4.68, $243, $22, $47, $60.98… Barrett says that you get the point, right.
He says it goes on and on and on, all day and that's because the system is simple, it just combines a simple little affiliate marketing process with the power of the internet, which is like having a shop run open 24/7 that you can sell to everyone in the world that's interested.
Barrett says that now you can see how the business can start rolling forward into serious and significant income.
He says that he's actually doing this on the low end, and that James has even scaled this to be even higher and faster than what he has done.
Barrett goes on to claim that James has seen $2,000 and $3,000-dollar days.
He then assures you that this is a simple system, that honestly, he and James are not in this business and creating products to make money.
He says that clearly, they make money in other ways.
Barrett says that their whole mission is to put methods in front of you that actually work. He claims that they believe that everyone deserves to get that weight off your shoulders that we experience on a daily basis.
He says that you might still be skeptical even after seeing a lot of proof. He claims that they've done two things for you.
They have a full 30-day money back guarantee, so you can jump right in and try out Resurgence, and if for any reason you are not happy with it, just hit up their support desk and they will get you refunded.


They've priced Resurgence at an absolute steal so what they want is everyone to be able to have access to this information.
He claims the business is big enough that they don't mind sharing what works for them because it also works for many, many other of their high-ticket students, and it's working for a lot of people.
Barrett says that if their guarantee and their low price isn't enough for you then you're probably in the wrong business.
Barrett says that in all seriousness, this is what they do for a living, he says they make affiliate commissions all day every day, and they experience that $1,000 a day every day.
He says the whole process is inside this product for under eight bucks with his five-dollar discount.
Barrett says he has a question for you, "If all you were to achieve was 10% of what they do, you would still be able to pull in $100-$200 per day in extra income, what would that do for your life and for your family?"
Truthfully, Barrett claims that everything they do to make that $1,000 a day is inside of this course.
He says it'll take you thirty minutes to check it out, set it up, and you could be on your way to making the same top cash they do on a daily basis.
---

How Resurgence Actually Works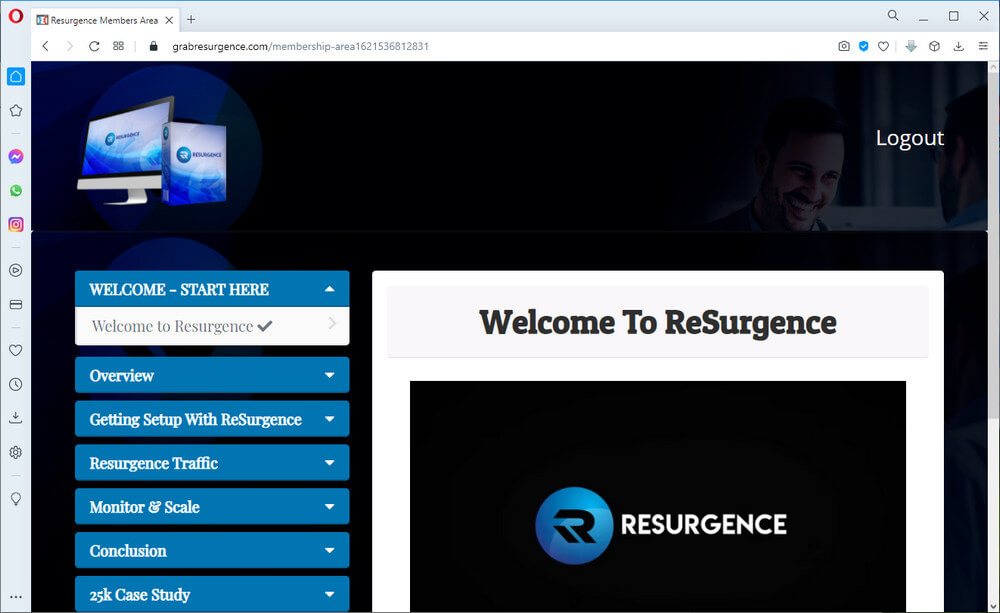 Once you sign up for access to Resurgence, you will land in their membership area where the training begins.
Welcome to Resurgence video (00:02:30 minutes) Mark Barrett welcomes new members.
Below this video is a button "Click here to chat with James & Mark – 6 Week Affiliate Mastery (Limited Spots – Real Results), which takes you to a landing page where they tell you all about their coaching. Price $697 US funds
Overview video (00:04:39 minutes) Barrett briefly walks you through their training.
Getting Setup with ReSurgence [6 sub-sections]
Finding Top Offers
How to Find Hot Offers to Promote video (00:11:23 minutes) and, below this video is a button "Grab 100% Commissions on all Our Products" subtitled "Get guaranteed approval to earn commissions using resurgence!", which takes you to an upsell page.


Build Rotator
Build Your ReSurgence Rotator video (00:06:48 minutes) and, below this video there is a button "Grab your rotator software here" that appears to be an affiliate link.


Building Funnel
Using Clickfunnels video (00:06:16 minutes) and below this video a button titled "Grab your free trial with Clickfunnels here", which appears to be an affiliate link.
Below this, your given an option if you don't want to build the funnels yourself. DFY Resurgence funnels are apparently ready to go for you.
You are presented with a button "Grab the Resurgence done for you funnels here", which takes you to their second upsell offer.
Below this button is another video…
Using Groove Pages video (00:06:24 minutes) a free alternative, with a button offered below this video "Get your free Goovefunnels account here" which also appears to be an affiliate link.
Groove Funnels Integrations – Integrations of Groovefunnels video (00:03:22 minutes)
Cloning Funnels From Clickfunnels to Groove – CG Import to Groovefunnels video (00:03:23 minutes)


Integrate Autoresponder video (00:03:36 minutes), below which is a button, "Get free access to GetResponse here" and an alternative to GetResponse "Get 30 days free access to Aweber here" which both of these appear to be their affiliate links.


Set Up Your Resurgence Follow Ups video (00:07:30 minutes), below which is another button, "Grab your DFY profit automators here" which is a link to their first upsell.


Test Funnel – Test Resurgence Funnel video (00:02:08)
Resurgence Traffic – Traffic – Traffic Source video (00:05:15 minutes), below this video you are asked "Need a consistent source of buyer traffic?" then below that is a button "Get the ReSurgence unlimited traffic here" which is a link to their 5th upsell.
Below this, "Our top traffic sources below Little Black Book 2.0" and below that sub-title is a button "Bonus – Little Black Book of our top traffic sources" which is a link to this product, which offers training videos.
Monitoring & Scale video (00:09:55 minutes)
Conclusion – Conclusion to Resurgence video (00:03:32 minutes)
25K Case Study video (00:03:35 minutes)
Resurgence DFY Funnel – DFY Funnel – BONUS: DFY RESURGENCE FUNNEL – A statement informing you that training is offered inside the funnel training section of Resurgence, to guide you in setting up your bonus funnel properly, followed by a button, "Download your bonus funnel here" which takes you to Clickfunnels, which I'm sure is their affiliate link.
Resurgence Bonuses
#1 – Guaranteed Approval To Resurgence – you are provided with a code to use to ensure that you are approved.
#2 – The Little Black Book 2.0 – a link to this bonus was also provided earlier in the training.
#3 – – Resurgence 3 Day High Converting Follow Up – which is a Google doc of Follow Up Swipes.
#4 – Resurgence List Of Offers – which is a Google doc of a list of WarriorPlus and ClickBank offers, which appears to be using their affiliate links.
#5 – Free Clickbank Training – which is an affiliate link to John Thornhill's upcoming webinar.
Resurgence Upgrades – provides you with 6 different links to his 6 upsells.
Support – you are provided with a support email address to use should you need support.
First Section – nothing is listed.
PROS
The rotator site that they share with their students, randomly issues recommended products to your list that MIGHT be of value.
Though I hesitate to think so, simply because they seem to be recommending products willy-nilly with no forethought as to the real value of the products, and most of those recommended products listed in the training appear to be totally unrelated.
Doing marketing in this manner will only hurt your reputation.
Mark Barrett admits that "funnel" is just a fancy name for a squeeze page.
CONS
The course is very brief with their instructions, and not really as newbie-friendly as it could have been.
Have seen better quality FREE training offered on many other platforms (including YouTube) then what is provided in this training.
In my opinion, they have reduced their price on this training in hope that you will be clicking on at least one of their many affiliate links within their training.
---

My Take on Resurgence

Though Mark Barrett may have meant well, I do not believe that using their training for this rotator idea would generate this size of income for the long-term.
If you were to follow the training and start recommending low quality products, how long do you think before your reputation is destroyed?
In good conscience, no one should recommend a product that they themselves have never purchased and used.
Not only that but, many countries in the world may deem $12.99 to be a week's wages.
Not everyone in the world has the luxury of the income levels that most North Americans, Australians, those from the UK and many European countries have.
My video review on Resurgence is offered below.


Summary
If you are serious about wanting to learn how to create your very own online business doing affiliate marketing, what if I can tell you that you can start learning for FREE right now, on a world-class training platform?
Not only that but you will have access to all of the necessary tools to get you started, like creating your very on FREE website that comes with a SSL certificate.
This certificate makes your website safer for your mobile visitors. This could make it so that Google will love your site more.
Starting right now, you can sign up as a starter member for FREE and you won't even be asked for a credit card.
I have been a member of this training platform since 2016, so I am recommending something where I am involved as an active member. Perhaps I'll see you there!
So, if you want to know more about this awesome training platform, get my FREE guide and learn all about this platform.

I do hope you can understand easier now why I do not believe that anyone can really make $1,000 daily passively using Resurgence over the long-term.
And to make money short-term by destroying your online reputation is never a good idea.
Should you have any question regarding can Resurgence really make you $1,000 daily passively, please leave them in a comment below and I will promptly respond.
Don't Waste Anymore Money,