First thing Mathew Tang promises you in his landing page video is a "special free gift for you", even before he introduces himself.
He says that if you are still able to watch his landing page video it means that in the next 5 minutes, what you are going to receive can change your life.
Tang says that some of you may know him as the "Daily Profit Maker" and he claims that why he decided to share this message with you is that he set himself a goal to help at least 100 ordinary joes to lead the life of financial freedom.
This he says, will be done all by teaching you the same proven system that turned him form a low-waged accountant into an online multi-millionaire.
Tang claims that it is the same system that he is going to give you.
Then Tang says that he bets that you've gotten pretty skeptical about all these promises of instant riches.
And he says that the truth is that a little healthy skepticism can be a good thing, because he claims that he has fallen for many of these scams too.
That's why Tang claims that he is going to show you live, verified, iron-clad proof of how anyone can start generating their first paycheck online.
However, he adds that if it's the millions that you are gong after then he would like you to exit this page right now.
Tang says that it would be an outright lie, if he promised you that you will become a millionaire overnight.
But, he says, if you are looking for something that can help you generated income online in the days to come, you have come to the right place.
He claims that this system that he is going to reveal to you is something you have never seen before. On top of this, he says that it is 100% legal and ethical.
And, Tang says to let him assure you that this has nothing to do with Bitcoin, Forex, Amazon and paid surveys.
Tang then adds that it is definitely not some MLM or some pyramid scheme BS
NOTE: Until you have watched several minutes into the video, you won't be able to see his "Click Here to Get Access" button.
My review here will cover the following:
If You Don't Want to Waste Anymore of Your Time on Scams,
See My #1 Recommended Way of Making Money Online:


What is Click Wealth System?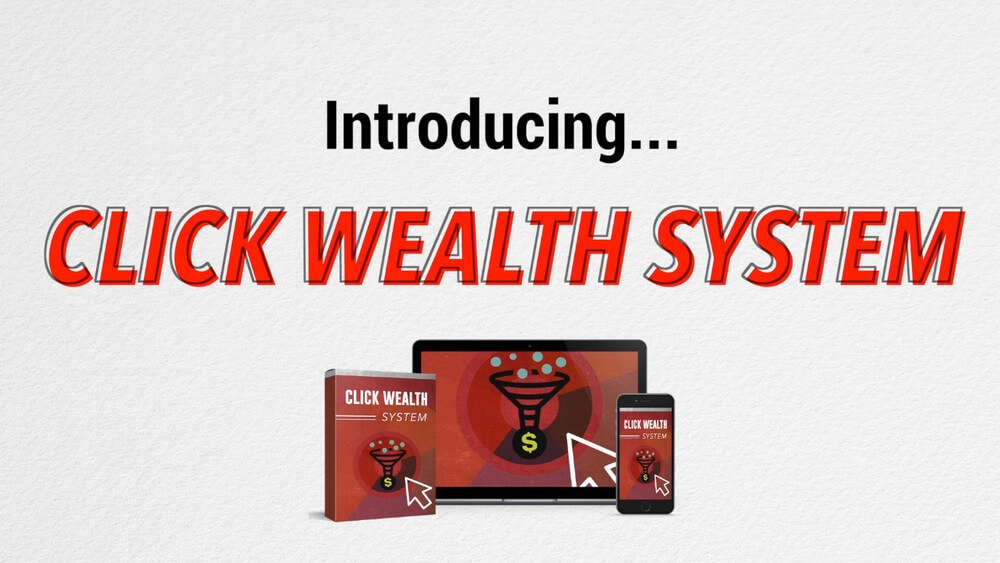 Program Name: Click Wealth System
Website: https://clickwealthsystem.com/
Price: $9 US funds + 3 Upsells & 2 Downsells
Recommended? NO
Rating:
---
Apparently, this is a comprehensive system that breaks down the entire concept of Customer Middleman Arbitrage into simple, actionable steps.
A system Mathew Tang claims is so simple that anyone can use it to get fast results, even if they have never made a dollar online.
But he claims that the system is not for everyone.
He says that:
this is not for people who get excited being stuck in the rush hour traffic on the way to work;
This is also not for people who love working their a$$ off for someone else;
And, this is definitely not for people who think that there is no money to be made no the internet.
Tang says that if this is you then just close his landing page right now and give this opportunity to someone who needs it more.
Then he says… if you are still there, it only tells him on thing; You're serious about making money online and changing your life for the better.
Here's what Tang claims is what he would like you to know:
It doesn't matter how many times you've failed before.
It doesn't matter if you have zero computer technical skills.
In fact, it doesn't even matter if you have never even made a single penny online.
Tang claims that once you get access to the system that he is about to share with you in just a moment, you will start having control of your financial future, and that:
You can start paying off all of your debts.
You can start deciding what kind of lifestyle you want to live.
And, Tang says that this is why in the next few minutes you will definitely want to pay close attention to every word that he is about to say.
You see, he says that this money-making system wasn't created out of pure luck, but out of necessity.
He claims that just a few years ago, he was working as an accountant in a local manufacturing firm. Tang says that everything was good until one day, his boss told him that he had to go.
He says that it was because of the economic downturn that the whole accounting division was going to be shifted to India.
Tang says he was shocked, and that never in his mind would he have thought that this could actually happen to him.
He claims that he was good at what he did. In fact, he says that he was aiming for his next big promotion that year.
But in the end, and because of the economy, Tang says he fell prey to the company's dreadful layoffs.
He says that years of solid sacrifices and dedications still were not enough to protect his corporate job.
Tang says that from that incident, he gained a realization that no matter how hard you dedicate your life to slave for a company, your job will never be 100% secure.
He says that he just knew that there must be a better way out there; A better way to give his family the lifestyle that they deserve, so he searched the web.
Apparently, he even paid thousands of dollars to learn from 'Internet Gurus' on how to make money online.
Tang says that he cannot tell you how many times that he was cheated, throwing his savings away on poor quality courses that just don't work.
He claims that whenever he asked for support that they were always 'uncontactable'.
Or, he says that immediately after he had paid for the course, these 'Gurus' just vanished into thin air.
Tang then says to let him tell you one thing…
Believe it or not, it was worth it.
Why?
Tang claims that after years of trying and failing, he managed to sneak his way into the elite ranks of the wealthy.
He says, in other words that he discovered the one single method that the internet millionaires are using to make money.
He says that it is the one way that they would never tell the average joes, because they want to keep all the profits to themselves.
So, Tang says… what is this one method?
Apparently, it is called Customer Middleman Arbitrage.
Tang claims that many corporations like Amazon, eBay and Clickbank are willing to pay people to bring customers to their sites.
And, he says… that's IT.
He says that what this means is that:
You don't need any product.
You don't need any marketing expertise.
You don't even need to have prior experience in making money online.
Tang claims that all you need to do is be a middleman, and bring the right customers to the right website.
He says that after knowing this, he was able to use the exact same method and make his first paycheck online.
Tang claims that he can still remember the exact amount… $137.15.
And yes, Tang admits that amount was small.
But it was his first ever win in making money online.
But he goes on to say that after months of tweaking and learning the ropes, he was able to hit his first $10,000.
And soon after, Tang says that he made over $50,000, and before he knew it, he was generating income month after month, and that eventually he became financially free.
Again, Tang claims that he was shocked.
This time because he had never made so much money in his life, even though he claims that he was working ten times less compared to his full-time job.
One day while laying on the beech, Tang claims that he thought to himself… there are many people in the world who are still struggling financially, and here he is making more money than he could ever spend.
If only he could find a way to share this opportunity with more people.
Tang says that he is sure that they would benefit from it too.
He says that you might be wondering, why would it be a challenge to share the system with more people?
Tang claims that it wasn't as simple as sharing the system and anyone can start making money automatically.
He claims that he was paying over $1,000 a month on overhead costs, such as website hosting servers and tracking systems.
Plus, he adds that the system was so complex that the average joe probably wouldn't be able to follow it.
That's when Tang claims that he remembered his friend Joe, his high school friend, who was a programmer.
Tang claims that he asked him if there is any way to create an easy, all-in-one software that can leverage on the Customer Middleman Arbitrage to help people make money.
Apparently, after nights of research, Joe told Tang the answer, which was yes, and that he could do this but it would cost $20,000.
Tang says that if he was his old self, a low-waged accountant staff, $20,000 was a lot of money and that he would have instantly said no.
But, being financially free, Tang claims that he knows how much cash it would generate for anyone using it, it was an absolute yes for Joe to work on the software straight away.
He claims that after eight months of hard work, the software was finally completed.
Tang claims that making money online with Click Wealth System can be summarized in just three steps.
Choose a verified customer source from their insider list.


Create a website using their cloud software with less than 5 clicks.


Become the middleman by directing the customer source to your website.
And that's it, says Tang. You can finally sit back and relax as you bank in the profits, day by day.
He claims that once you start using the system that you will have access to everything you need to start generating a steady stream of income.
He then asks you if this sounds to good to be true, and provides you with testimonies which he claims are 100% verified proof from people who have already tested the Click Wealth System.
Sheryl, a Click Wealth System member who is said to be 65 years old, apparently sent Tang an email recently (notice the vendor's notification on the bottom right corner on all 3 screen prints below) the following: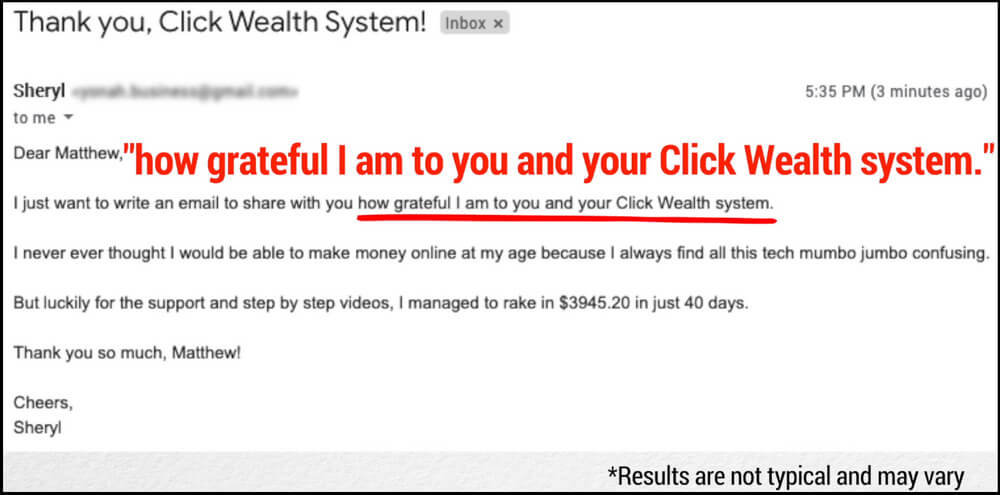 Tang goes on to say that also, Donny Woodward, who posted this on Facebook.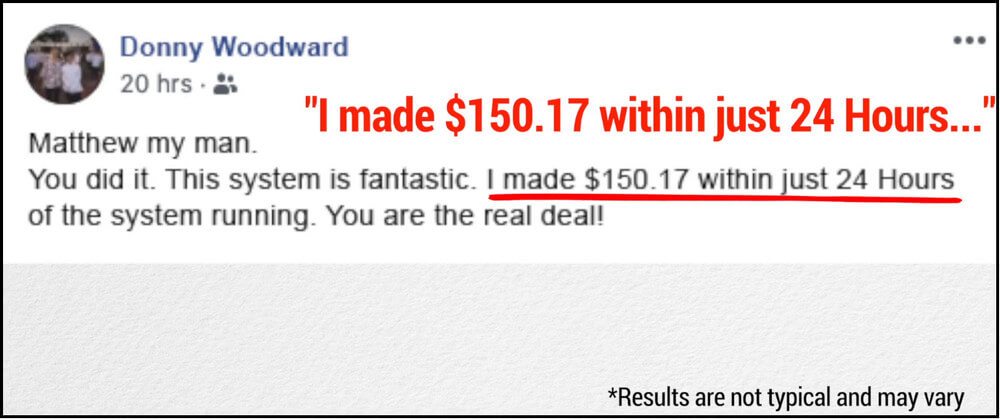 Tang continues with, here's another testimonial and this is from a member who joined 5 days ago.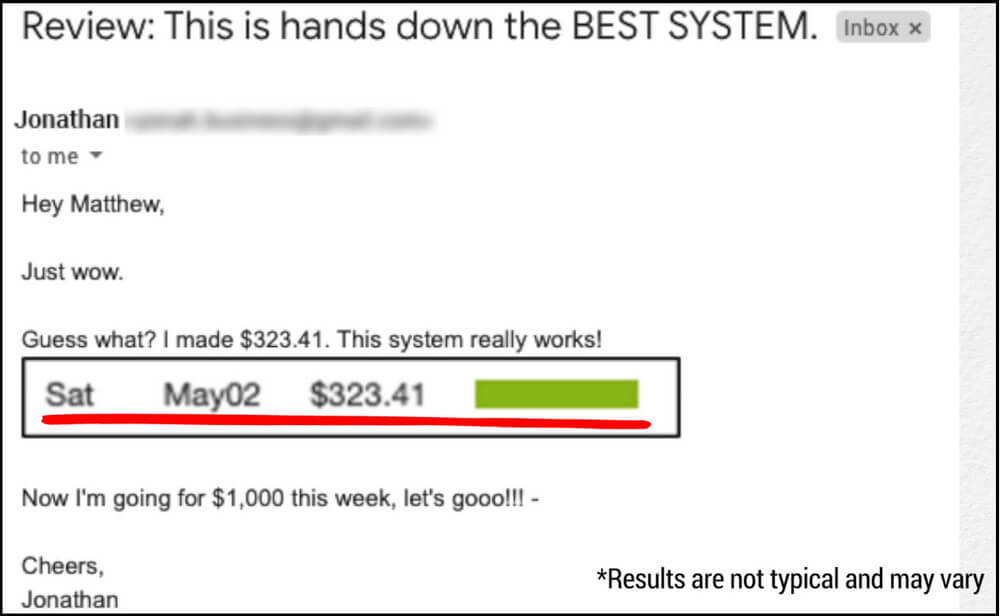 You see, Tang says, most people think that they have to spend countless numbers of hours and huge cash investments to succeed in making money online.
Then he says that thanks to Click Wealth System, it has enabled him to achieve financial freedom while working just 30 minutes day.
He claims that literally nothing will be left out as he reveals his closely-guarded secrets for the very first time.
Tang states that everything is explained in detail to ensure that you learn exactly how to do the things the right way from the start.
Tang says that when you consider that Click Wealth System is a complete step-by-step income-generating machine, it's easy to see why it could walk off the shelve for $297, $497 or more.
In fact, Tang says that he could even package this as a high-end coaching program, put everything into a big box and whack a price tag of $1,997 on it.
And, Tang claims, people would STILL be willing to pay for it.
But he says that those who know him personally will understand that is not how he likes to do things.
He says to remember that he made this system to give back as much as he can and he is certainly not going to stop now.
Tang claims that he has already made all of the money that he needs in life, and that now he finds it more fulfilling if he could help someone else to do the same.
This is why he says that if you get the system right now, you won't be paying $297 for all these valuable contents.
He says you won't even be paying $197.
In fact, Tang says that if you click his "Get Access" button right now, you can test drive this unique system for a super low price.
He claims that all you need to do is to pay a small investment to cover the cost of the server fees, and the 24/7 support staff that is going to be attached to you.
Like Tang mentioned earlier, his system won't be on the market forever.
Once his system hits full capacity, this opportunity will be closed.
And, to prove to you that this program works, and because he wants people to get their hands on this with zero risk, he is also giving you a 100% "make more money" guarantee.
He says that this means you can put his Click Wealth System to the test, study the secrets, try out all of the methods, and if you don't experience an increase in your income.
Then all you need to do is email him at the address provided in the members area and he will refund you every single cent, with no questions asked.
Tang says, to accept his risk-free deal, and become a part of their Click Wealth community, buy now.
He says that you might not know it yet, right at this moment, as you are watching his video, you're at a fork in the road, and the way he sees it, you only have two options right now.
You can ignore everything he has just said and continue to spend your money on programs that won't generate you a single cent.

You can carry on looking for the next "shiny" system that brings you further away from achieving success.
OR…
You can take this chance and be one of the many people to live a life of financial security and freedom.

You see, he claims that he is giving you this incredibly simple, affordable and quick way to switch over to the other side of life where he claims worries are few and fun is a-plenty.
Tang says that your decision whether to participate will not affect him or his lifestyle one bit.
He says, if you choose to do nothing, then nothing happens. He claims that he won't live any differently then he does now.
He claims that he will still be enjoying the income he is making every single day.
But… he says… your life could change dramatically, if you take advantage of this rare opportunity for him to help you.
And, he says you will get everything you need to make you rich. Look, he says, you've everything to gain and nothing to lose.
Tang says that you've paid your dues in life, that you have worked hard for your bosses, so now it's your time to get your payback.
He claims that he'll be waiting for you on the other side to welcome you as a new member of Click Wealth System.
---

How Click Wealth System Actually Works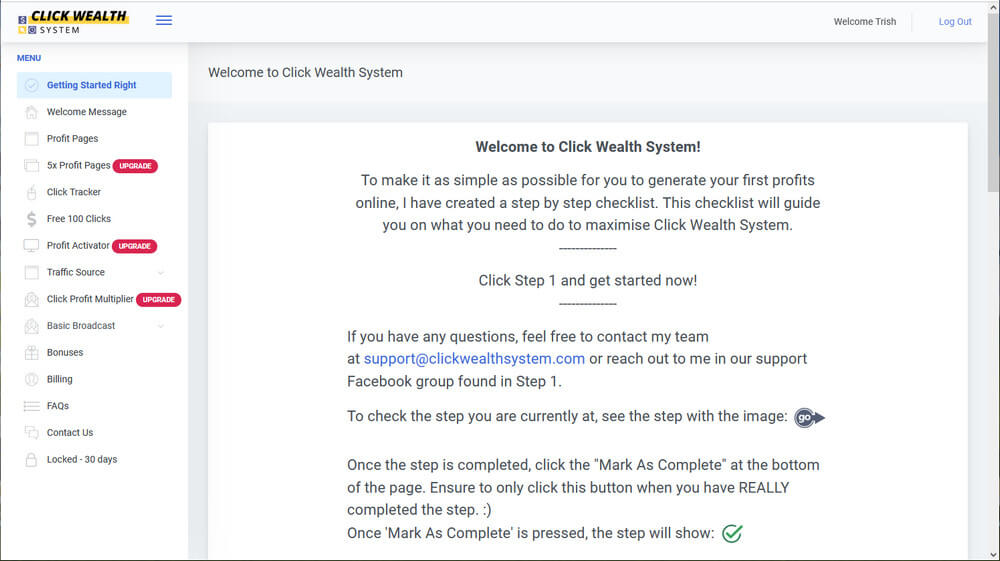 Once you are logged into the members area, you are greeted with instructions. There are 9 steps to this system.
Step 1: Watch the welcome video (00:07:23 minutes) and join their Facebook community.
On his welcome page he has linked a 7-page PDF file titled 5 Tips to Master the Click Wealth System & Generate 10K/Month.
TIP 1: Avoid the Grass is Greener on the Other Side Curse.
TIP 2: Willingness to Learn and Start Anew
TIP 3: No Question is a Stupid Question
TIP 4: Cost vs Investment
Tip 5: More Efforts, More Profits
Step 2: Create & Sync Your Clickbank Account
Step 3: Create & Sync Your GetResponse Account
Step 4: Set Up Your Profit Pages. On this page you will find a 6-page PDF titled How to Set Up Your Profit Page
Step 5: Set Up Your Click Tracker
Step 6: Get Your Free Traffic
Step 7: Get Your Verified Influencer Traffic
Step 8: Send Emails with Broadcast (Basic) OR Send Emails with Click Profit Multiplier (If you have purchased)
Step 9: To collect commissions, wait for Free clicks to come in via Step 6. Also wait for traffic to come in via Step 7. Remember, how much commission you can make depends on how much effort you spend on Step 7. Also ensure that you send emails daily (Step 8).
Profit Activator is an upgrade
Click Profit Multiplier is an upgrade
5x Profit Sites is an upgrade
From the left-hand sidebar you will find the following:
5x Profit Pages – is an UPGRADE.
Click Tracker – which provides you with a 4-page PDF file titled How to Use Click Tracker.
Free 100 Clicks – to reward you for placing your trust in Matthew Tang, he will provide you with 100 clicks FREE.
All you have to do is click the button below to enable. [NOTE: not sure if that button is the one at the very bottom of the page].
Profit Activator – is an UPGRADE
Traffic Source – has two sub-sections:
Influencer Traffic (Recommended) – offers you a 13-page PDF file titled: How to Purchase Influencer Traffic, along with a video (00:04:52 minutes) titled How to Make a Purchase on my Website, and links are provided to two different websites that sell Solo Ads.
Free Traffic Sources – provides you with a:
14-page PDF file titled How to Generate Traffic with Pinterest,
51-page PDF file titled Affiliate Power Group: 30 Ways to Get Free Website Traffic in 30 Minutes or Less,
video (00:14:29 minutes) titled Free Traffic from Twitter,
the Get Personal Training for Just $1 (Optional) no longer offers a link,
3-page PDF file titled Generating Free Traffic on Facebook Method 1
14-page PDF file titled Generating Free Traffic on Facebook Method 2
7-page PDF file titled Generating Free Traffic from Blog Commenting
the Get Personal Training from 7-Figure Expert Fergal when clicked offers the following prompt.

Click Profit Multiplier – is an UPGRADE
Basic Broadcast – has two sub-sections:
Send Basic Broadcasts – an 8-page PDF file titled How to Use the Broadcast Feature (Basic), along with written instructions, and a video (00:12:21 minutes) titled How to Use Broadcast Feature.
Basic Broadcast Messages – "Here's a list of your sent broadcast messages. Clicks refer to how many people clicked the links in the email."
Bonuses – "How would you like us to hold you by the hand as you launch your first (or next) funnel!" – which links to OneFunnelWay.com and is an affiliate link.
Billing – Provides instructions should you wish a refund.
FAQs – provides you with 4 questions answered.
How do I claim commissions I generated?
ANSWER: They use Clickbank to collect and pay your commissions, so you can see your number of sales generated inside your Clickbank account.
I completed all 7 steps, what should I do next?
ANSWER: Now it's time to start sending traffic to the program.
I can't click on Step #2, please teach me how to proceed.
ANSWER: You are provided with a URL to a demo gif file showing you how to mark your steps off as completed.
I don't want to join or use Facebook. Can I still use Click Wealth System?
ANSWER: Yes, you can. It's not compulsory to join the Facebook group.
Contact Us – provides you with the support email address, and a live chat option (which is a link to Facebook Messenger) should you have an urgent question.
Locked – 30 days – Days Till Unlocked: 27. Apparently this is for advanced users to generate more profits. Profit Autoresponder Rotator. Bonus will be activated after you master the Click Wealth System.
---

My Take on Click Wealth System

In my opinion, the only one that Click Wealth System works for is the vendor himself.
For me, the mere fact that he infers a couple of Solo Ad vendors are "Influencers" while offering you links to their sites, waves ared flag. In NO way could any Solo Ads vendor EVERY be called an influencer.
And, it would not surprise me in the least if Matthew Tang is using his affiliate links to those Solo Ad vendors sites.
The following is what Wikipedia explains as an influencer.
Influencer marketing is a form of social media marketing involving endorsements and product placement from influencers, people and organizations who have a purported expert level of knowledge or social influence in their field.

Source: https://en.wikipedia.org/wiki/Influencer_marketing
Not only that, but you are provided with instructions on setting up a landing page on this vendor's access to a web server.
What happens to your landing page if Tang decides to discontinue his offering this access?
You would be much safer paying for your very own website hosting in order to assure yourself that your landing page will exist even if Click Wealth System no longer exists.
To top this off, Tang teaches you to sell ONLY his Click Wealth System.
PLUS: Selling less that the best products on the market will only work to damage your online reputation.
Below is My Honest Review of Click Wealth System.


Summary
If you are truly interested in learning how to do affiliate marketing the best way is to NOT have to pay for any ads.
The training platform that I have been a member of since 2016, teaches members how to build a website, and they provide you with the means of creating your very own website for FREE!
Plus, when you sign up as a Starter Member, you pay ZERO dollars… and, you won't even be asked for a credit card either.
The training platform supplies any and all of the business tools that you will need to get you started at creating your very own online business.
You will even have other members of which many of them are professionals, and members help each other out on the platform so you can get help 24/7.
As a Starter Member, you will have FREE access to the first 10 lessons for 7 whole days.
So, you will want to get started on the lessons once you have your membership profile setup.
Be sure to check the comments BELOW your profile for greetings from other members, along with a link to where you need to start your FREE lessons from.
If you want to know more about this training platform, be sure to get my FREE guide.
I do hope that I have answered your question, does Click Wealth System really work, helping you make your decision whether to purchase this product or not. Hopefully you won't waste your money.
Should you have any questions regarding my honest review of the Click Wealth System, please leave them in a comment below and I will get back to you in a timely manner.
Learning Should be Fun,