The founder of Daily Traffic Machine James Hicks claims he gets "thousands of top quality visitors every month from Twitter" without paid advertising.
Then he shows chart from what he claims is traffic to his first (followed by two other blogs) blog that he says doesn't even rank in any search engine.
Hicks claims that this sort of traffic comes in every day without him lifting so much as a finger. He goes on to say that he has figured out how to "extract only the best prospects from Twitter in a way that is completely automated".
Apparently, this means he gets the best quality prospects visiting his sites daily.
Hicks says that you will literally turn Twitter into a Traffic Generating Machine that will send traffic, leads and even sales to your website readily for years to come.
In my review here, it is my intention to share with you what I discovered, in the following sections:
See My #1 Recommended Way of Making Money Online:


What is Daily Traffic Machine?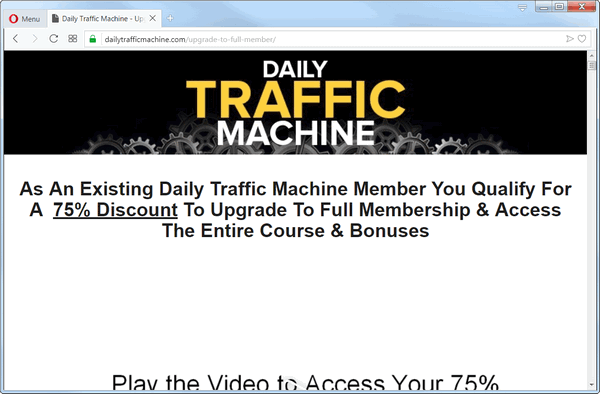 Program Name: Daily Traffic Machine
Website: https://dailytrafficmachine.com/secrets-onlist
Price: $7 US funds for a peek, followed by an upsell of $197 US funds – followed by second chance $243.75 US funds
Recommended? NO
Rating:
---
James Hicks claims that it doesn't matter how great your products and services are without traffic. He goes on to inform his listeners that sales won't magically fall from the sky.
He claims he has created a step by step execution plan that will transform your traffic stats from nothing to hundreds, giving you daily traffic without paying for advertising.
Hicks claims his plan will allow you to get high quality traffic and leads every day from Twitter. He claims that he came up with this idea when Google made changes to their search algorithm making it so that he had to quickly find another source of traffic.
After a lot of testing and tweaking, Hicks claims that he has systematized his entire process of extracting high quality traffic and leads from Twitter. And, he claims, this system works for any business.
Hicks claims that his Daily Traffic Machine will teach you to control the direction of your business while traffic and leads are delivered to you automatically, every day, with little or no input from you, and even better, without having to pay for advertising.
He says that it all starts with a correctly set up Twitter Traffic and Lead Generating Machine that is profitable right from day 1. Hicks goes on to say that from there, you can copy and paste his formula to an automated system, extracting traffic and leads from Twitter.
---

How Daily Traffic Machine Really Works
Inside the membership area, I received access to the introduction by James Hicks, followed by his module 1. In module 1, Hicks informs his viewers to NOT take notes but rather to follow along with his instructions and do as he is showing you.
Next, Hicks provides his rules, which are;
Don't take notes, take action
Remember Twitter is a social media platform
Always provide good, great, or awesome value in your tweets.
Ensure all of your Twitter profiles are different – meaning your profile and header images, bio links and description
Then he shows you his Twitter accounts of which he states he has four that he will show you. This, he claims, is to show you how each of these four accounts are totally different.
For 27 minutes of his 40:45 minute training, Hicks shows you how to setup your Twitter accounts. He even walks through setting up a different email address, which he mentions that you need a different email address for each Twitter account.
Hicks warns you that Twitter does not like duplicate accounts which is why he states to use different profile and header images, as well as different bio links and descriptions for EACH Twitter account that you setup.
He even walks you through his using Canva to create his header image for the Twitter account he is creating in this module.
This is followed by instruction on how to use Bitly for your description links, and then he shows you how to verify your Twitter accounts should you find your accounts locked out. Apparently this can happen more regularly now, especially on new Twitter accounts.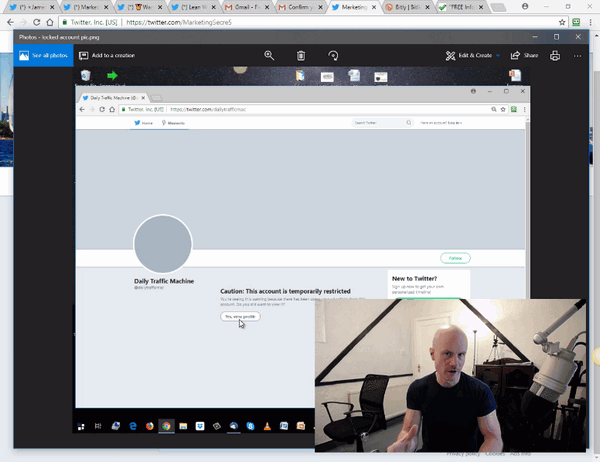 When you see your account looking like that shown in the screen print above, he shows how you can easily unlock your Twitter account.
Hicks goes on to recommend that you purchase a cheap cell phone and one SIM card for EACH Twitter account, in order to provide a different mobile phone number for each Twitter account. It is at this point in module 1 that he states, "you might be asking at this point, well James, how many accounts do I need? And my question to you would be, how much traffic do you want?"
Then he explains that only four of his Twitter accounts are used to produce hundreds of visitors per day.
PROS
Some great tips are offered in Hicks' module 1, such as adding emoticons before and after your Twitter profile name, as well as a few within your description. He also offers great advice on wording your Twitter bio description.
CONS
There is NO guarantee or your money refunded for this training.
Once I was done viewing module 1, my access to the membership area was denied.
Hicks tells his viewers that you don't need to read the Twitter rules as he will tell you the "stuff you need to know."
---

Is Daily Traffic Machine a Scam?

I do not believe Daily Traffic Machine is a scam but rather training on using more than one Twitter account to gain more traffic.
The peek I was allowed for my $7 offered no new information than can't be glean from YouTube videos on setting up Twitter accounts, etc. Therefore I cannot recommend Daily Traffic Machine.
---

Where You Can Find Similar Tips for Free
You can find free training here…
1.) Twitter Rules: https://help.twitter.com/en
2.) How to Get Twitter Verified: https://twitter.com/verified
3.) Verify Twitter Account: https://help.twitter.com/en/managing-your-account/locked-and-limited-accounts
Twitter Tutorial for Beginners
Should You Have More Than One Twitter Account?
Why Have More Than One Twitter Account?
Twitter Age Lockout Solution
Is there training on Twitter that you would love to see that is not offered in this short list? If so, check to see if it available by Google searching it… or check out YouTube's training.
If you want to add emoticons on your Twitter profile name, here's a great website to use in selecting and copying the emoticons from: https://www.piliapp.com/twitter-symbols/.

Should you have any questions regarding whether Daily Traffic Machine is a scam or if you simply want to share your take on this topic, then please feel free to leave me a comment below. All comments are answered by me in a timely manner.
Quit Wasting Your Money,