Jenny Lewis starts off promising that you could earn $300 to $1500, day in and day out. This does sound a little too good to be true, and in all intents and purposes, might be a tad over exaggerated… or is it?
Yes, I'm sure that over time, if you are good at what she has to offer that you could possibly earn such an income… but in your pajamas… really?
Lewis goes so far to say that she will reveal her little-known secret to generate a meaningful side-income from home, using nothing but you and your laptop. Then she says that you have probably seen all sorts of web pages promising you extra money from home, even promising you the pleasure of staying in your pajamas all day long.
My review here will offer you the following information:
If You Don't Want to Waste Anymore of Your Time on Scams,
See My #1 Recommended Way of Making Money Online:


What is VO Genesis?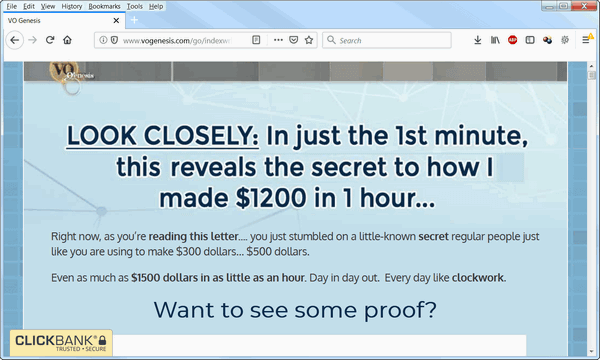 Program Name: VO Genesis
Website: https://useyourpassion.com/VO (my affiliate link)
Price: $39.95 US funds + 3 upsells
Recommended? YES
Rating:
---
Lewis' promises of sharing something that is in "sky-high demand right now", is then followed by a claim that this demand is getting bigger each day, and that people all over the world are doing this for as little as an hour a day earning an income.
After a heartfelt story about how Lewis suffered personal humiliation and the near break up with her husband. She claims that it all started when she found a 'work from home opportunity' online that she was crushed by disappointment when she found out what this opportunity really entailed, simply because she would only get paid if her friends signed up too.
About 7:50 minutes into her landing page video, Lewis finally starts to share with you what her "secret" is. Her friend Faye had "tripped over a legitimate way to make extra money from home."

Lewis even goes on to say that Faye's voice is not exactly "velvety-smooth" either; definitely not like a voice you would hear on a TV commercial. She claims that Faye's voice is a bit husky and she stumbles over words and makes mistakes all the time.
But apparently that doesn't matter because it all depends on the needs of each opportunity. It seems there is a big demand for all sorts of different types of voices. In fact, Lewis claims that the more unique your voice is, the more unusual it sounds… the more you get paid.
---

How VO Genesis Really Works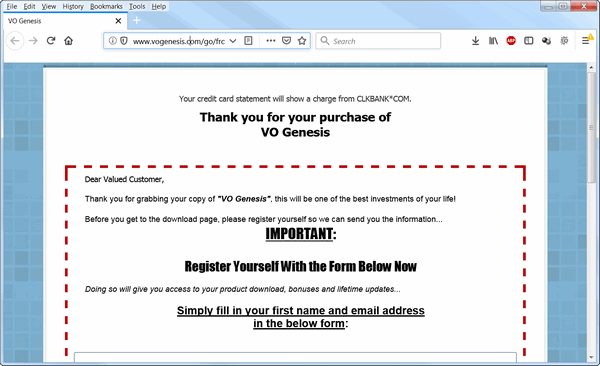 The "Thank you" web page offers a sign up form, which once you have completed it and you click on the "Click Here to Have VO Genesis Sent To Your Email" button, your browser will be pushed to an upsell.
Once you click on the "No Thanks…" link at the bottom of the upsell page you will find your browser then arrives at the product page where you can download the PDF files and video files.
Once you arrive at the product page, Lewis offers you a download link that leads to her 93 page PDF file of her VO Genesis ebook. Below that link are 15 links to her video series, titled the VO Genesis Starter Kit.
Lewis' ebook, I found to be very informative. She suggests that you will need to find your voice niche as there are several different ways you can perform a voiceover.
She also claims that a voiceover career is very easily learned (which is why I strongly suggest that you hold off purchasing any of her upsells… of which 2 appear to be totally unrelated to voiceover).
Three different types of voiceover jobs Lewis discusses in her ebook are; narration, marketing video and audio books.
There are several minor editorial boo-boos that I noticed in her ebook (page 7, 4th paragraph; page 5, 5th paragraph; and page 14, last paragraph, to mention a few), but that shouldn't hurt the quality of information offered.
Lewis also suggests that if you are serious about following voiceover as a career that you should give serious consideration to hiring a voiceover coach. She also frequently warns her students that you cannot be all things to all people so you need to be prepared to find your voice and learn what you are good at.
There are 11 skills detailed, among a lot of other enlightening information offered in the ebook.
In the Starter Kit Series
Video #1 – 11:10 minutes, detailing on how to get started on freelancer.com
Video #2 – 8:48 minutes, offers you a brief description on technical needs for recording voiceover. Windows and Mac instructions are provided.
Video #3 – 8:14 minutes, teaches the 4 tones that will be needed in your showcase and why.
Video #4 Part#1 – 3:20 minutes, a basic interface walkthrough about free software you can use to edit your audio files with. Demo uses Windows version of the software.
Video #4 Part #2 – 5:09 minutes, teaches how to clean up a recording by removing unwanted sounds.
Video #4 Part #3 – 2:08 minutes, covers how to cut, paste and trim your audios.
Video #4 Part #4 – 1:53 minutes, demonstrates how to use the Equalization tool in the free software.
Video #4 Part #5 – 1:55 minutes, shows how to export your audio file and which version is best.
Video #5 Part #1 – 2:35 minutes, how to win more voiceover auditions.
Video #5 Part #2 – 2:08 minutes, how to tug at your listener's heartstrings… or simply sock then right in the gut. In other words, learn how to draw out emotion in the listener.
Video #5 Part #3 – 2:40 minutes, advice on how to sound when doing your audios.
Video #5 Part #4 – 1:21 minutes, a bite-sized tip on how to increase intensity in your voice without increasing the volume.
Video #5 Part #5 – 2:32 minutes, shares a technique that will help improve your voiceovers dramatically.
Video #5 Part #6 – 2:04 minutes, teaches you how to breathe properly while reading.
Video #5 Part #7 – 4:40 minutes, reveals 3 key things you need to remember when you are recording voiceover commercials.
The videos are very professionally created and the instructions even include difficulties that you might find and if so, how to get around certain issues. I found the video series easy to understand and it even offers you a step-by-step process with finding voiceover jobs that pay good money.
PROS
These video series definitely will show you how to sound authentic and believable without sounding like you are trying to sell something in your voiceovers.
The training will provide you with a better understanding of what to expect in your new career as a voiceover talent should you decide to venture forward. Who knows for sure… you really could find end up being the next big voice on a major commercial some day.
Once you have gone through the entire ebook and video training series, you should know whether this is a career path that you need to continue following… or not.
CONS
You might be very tempted to purchase some or all of the upsells being pushed at you, especially the VO Genesis Accelerator. However, I highly recommend that you bookmark any of the 3 upsells that you THINK you might want, for purchasing at a later date.
Remember, Lewis said it herself, "Learning how to use technology and the right equipment is a necessity for a voiceover career that can easily be learned." So you can always go back and purchase the other upsell AFTER you are sure this is a career path that you wish to continue with.
BONUSES
There are two bonus ebooks that come with this training. How to Get More Voiceover Gigs Than You Can Handle (19 pages of great insider tips) and How to Triple Your Voiceover Fee$… Even if You Hate Negotiating (19 pages).
So, now if you are ready to learn to do voiceovers and start in a career of showing the world what you've got click here to get started (my affiliate link)!
---

Is VO Genesis a Scam?

VO Genesis is most definitely NOT a scam, and is worth the price asked in my opinion.
It is a legitimate means for teaching you the basics for doing voiceovers. This is why I can unquestionably recommend VO Genesis for those who want to learn to do voiceover as a career or even as a means of making money online part time.
Lewis' bonus ebooks are like icing on a great cake. There is plenty of information in VO Genesis to help you decide if this is the right career path for you.
Heck, I have now learned a few new techniques to use when creating my next "how-to" video thanks to Lewis' training.
---

Other Business Ideas You Can Do From Home
Should you discover that voiceover really is not for you, there are plenty of other business ideas you can do from home, of which many of them I have offered reviews to right here on this website.
Feel free to check out the many options under "Offline Ideas" and "Online Ideas" from the menu bar of this page… but, if you want to learn the best method of making money online that I do myself then you might want to read through my free guide.
You can find out what my online business is all about and how it all works in my free guide here:

In my free guide, you will discover an offer to a FREE Starter membership; one where you won't even have to provide your credit card number to join.
I joined this platform over 2 years ago now and it is NOT a get rich quick scheme by any sense. In fact, you need to understand that this is only for those serious about making money online, as the training teaches you.
You will need patience and you will need to be dedicated to your online business.
Any business worth doing is worth doing right. My free guide will show you how you can develop your very own online business with the right training offered by this platform.

If you have any questions regarding whether VO Genesis is worth it or you simply want to share your opinion, please do not hesitate to leave me a comment below. I always respond in a timely manner. 🙂
Ready to Learn to Earn,