Venkatesh Kumar and his partner Visves are the vendors of Cartoon Creator. They tell you that visual assets and videos are the lifeblood of any online/offline business, but often times it's a headache for you.
Then you're asked if you know why. Followed by an explanation that freelancers on Fiverr often demand a hefty amount for a single 3D character or even a video.
Using copyrighted visuals and characters will get your videos penalized, so they say that it's really tough to find good copyright free visual assets.
Creating original 3D characters and videos requires a lot of skills and talent.
And, according to the partners, creative subscription services charge hundreds of dollars every month.
They claim that they're sure that you are faced with any or all of these problems, so apparently, they spent years of time creating a solution for this, and it is said to change the game of video marketers.
You're told to imagine if you're being able to:
generate your own 3D characters,
make unlimited stunning videos without any skills,
sell unlimited 3D characters and videos to your customers, and charge any amount,
have access to thousands of pre-made videos along with an advanced video editor
no need to pay hefty payments to freelancers anymore
They say that if this sounds unbelievable, they're introducing you to Cartoon Creator.
In my review of Cartoon Creator by Venkatesh Kumar and his partner Visves, I will be cover the following:
If You Don't Want to Waste Anymore of Your Time on Scams,
See My #1 Recommended Way of Making Money Online:


What is Cartoon Creator?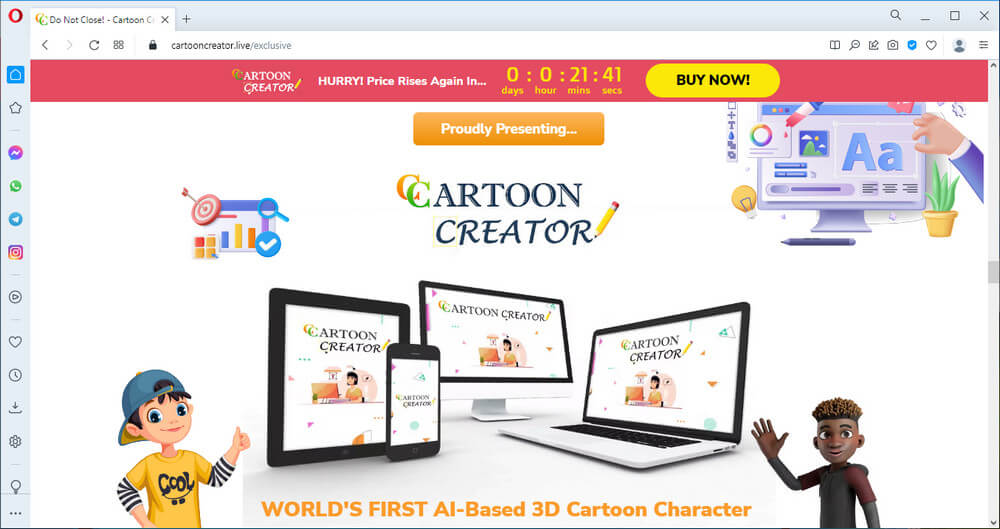 Program Name: Cartoon Creator
Website: https://cartooncreator.live/exclusive
Price: $14 US funds + a $5 popup DISCOUNT offer, PLUS… 5 Upsells with their own 5 Downsell popup offers
Recommended? NO
Rating:
---
They claim that Cartoon Creator is the world's first AI-based 3D cartoon character generator platform, to create unlimited stunning videos in any niche, in just 30 seconds.
Plus, you're promised thousands of pre-made video templates with unique angle video editors.
They claim that with Cartoon Creator, you are just three simple steps away from starting your own 3D characters assets and video agency.
Step 1 – Log in and select any character category from one million plus templates.
Step 2 – AI will automatically generate unique 3D characters, based on your selected category
Step 3 – Play or download in one click.
They also claim that you can create unlimited videos and use if for yourself or sell to your clients, and keep the profits.
And, with Cartoon Creator, they claim that you don't even need to pay ongoing monthly fees, because right now, for their special launch of Cartoon Creator, they're offering you an unlimited, lifetime access to everything for a tiny one-off fee, just sixteen dollars and sixty cents.
Apparently, Cartoon Creator lets you join the elite group of the worlds:
leading video marketers,
influencers,
authors,
world-renowned speakers,
consultants,
coaches,
and many more leading leaders from around the world, harness the power of video marketing, and now you can too.
But you're told to hurry, this exclusive, incredible, unlimited lifetime access offer is only available for a short period.
They say to grab your lifetime access to Cartoon Creator right now and you can start creating world-class animation videos in minutes.
Bonuses promised upon your purchasing are as follows:
Bonus #1 – AppsCreator
Bonus #2 – PuzzleProfitz
Bonus #3 – Elevate
Bonus #4 – KingPin
Bonus #5 – 100k Traffic
Bonus #6 – Facebook Group
Bonus #7 – StockHub
---

How Cartoon Creator Actually Works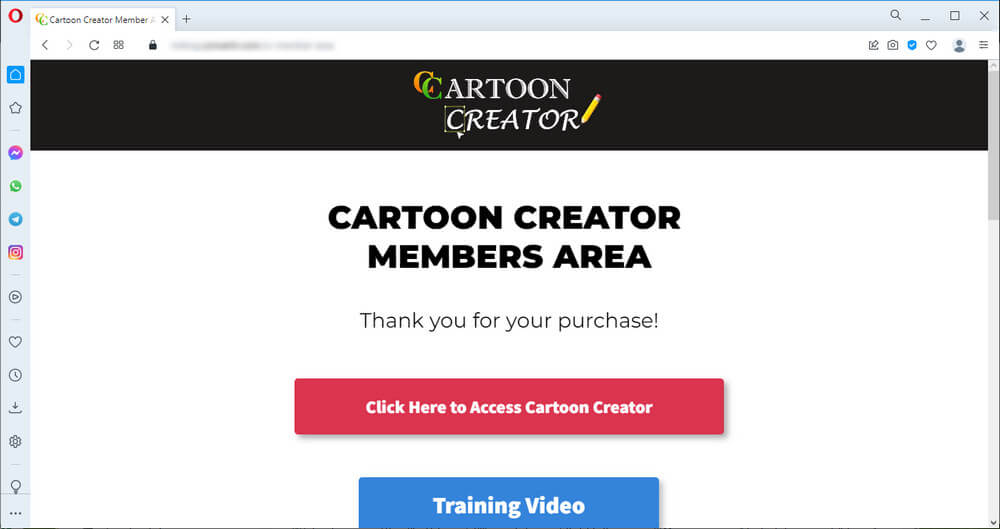 From the member's area, you are thanked for your purchase, and provide with linked buttons to:
Access Cartoon Creator – link takes your browser over to their app registration form where you will need to create your account, in order to get started using their platform.


Training Video – link will take your browser to a page that offers the exact same demo video found on their landing page.


Cartoon Creator Bonuses – link takes your browser over to a Google doc with links to their promised bonuses.
And below these are links offered to their 5 different upsells.
Also, you will find their support email address to use should you have any issues.
Once inside the Cartoon Creator app…
Dashboard – illustrated in the screen print above.
Characters Library – only one option is available in the basic price of Cartoon Creator.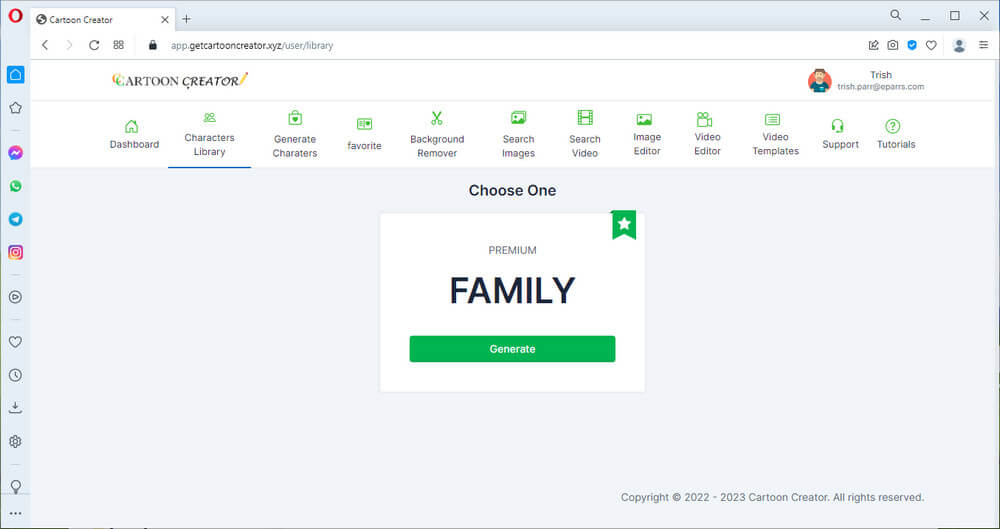 Generate Characters – you're provided with 2 options to generate characters.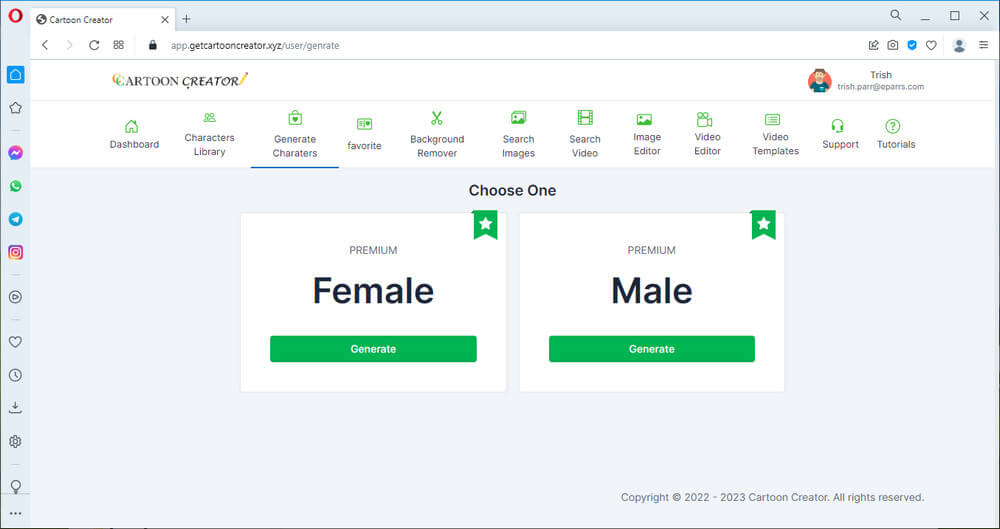 The favorite option – is void of anything at the start, as it is to keep track of your favorites once you get started using the app. Upon trying to Generate the Characters, you will have the option to Add to Fav in each of them.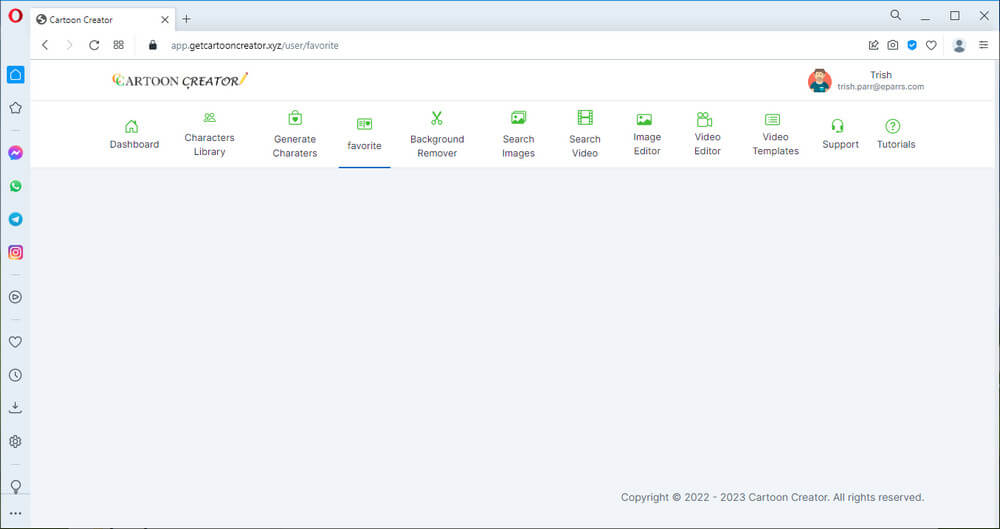 Background Remover – provides you with an option to remove backgrounds in your image(s).
Search Images – provides you with a textbox search feature, that appears to bring in images from sites like Pixabay.com, and the same feature is available under the Search Video option.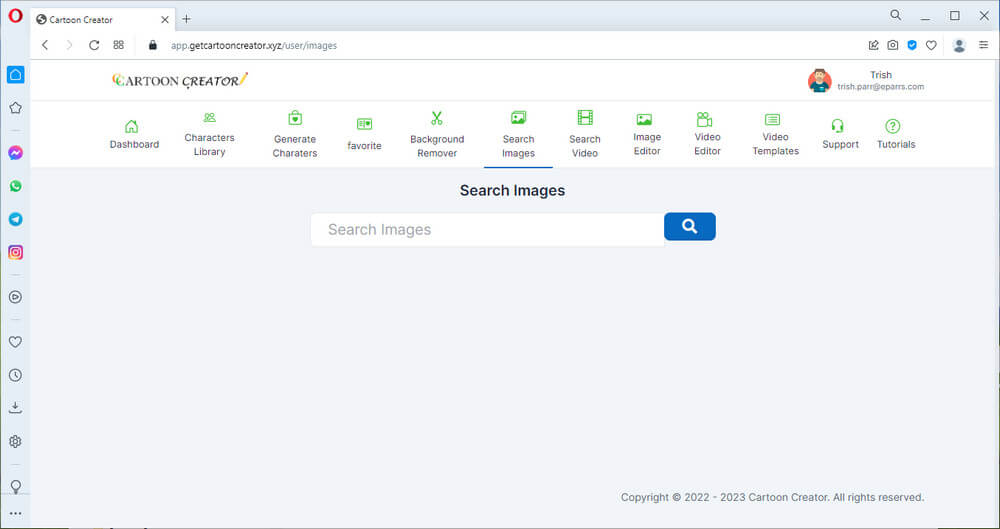 Image Editor – allows you to edit your images.
Video Editor – provides you with options, depending on your OS (Operating System) to download an executable files called OpenShot.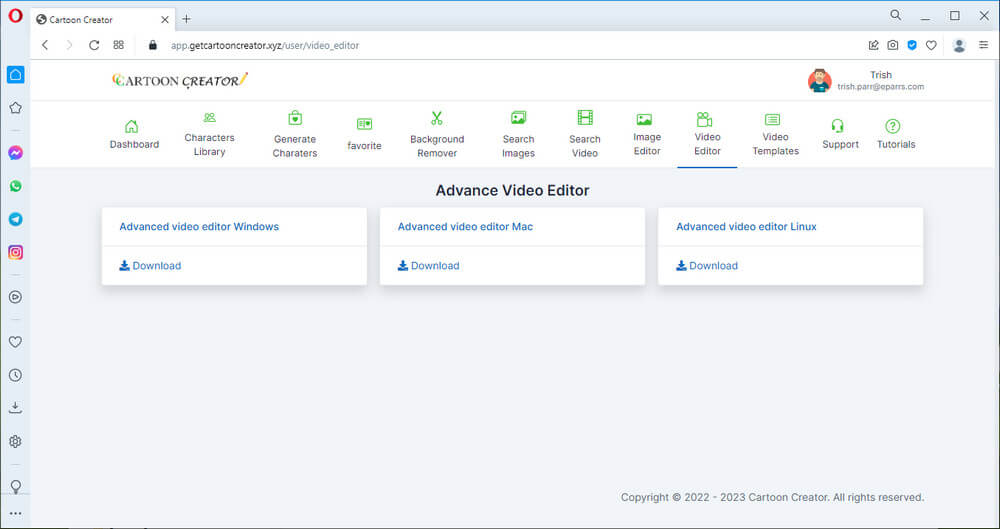 Video Templates – provides you with 12 different template files to download and unzip.
Mix
Animated Video Templates
eCom Video Templates
Parallax Video Templates
Presentation Video Templates
Titles Video Templates
Cinematic Video Templates
Logo Intros Templates
Logot Outros Templates
Instagram Video Templates
Promo Video Templates
Facebook Cover Templates
And, each of these links will take your browser over to a Google drive where you will need to download several different zipped files inside most of the template links.
Support – when clicked, will give you the following prompt – "An Error Was Encountered The URL you submitted has disallowed characters."
Tutorials – takes you to the 2 minute DEMO video that is on their landing page.
PROS
Could find NONE!
CONS
There are no step-by-step tutorials, and no instructions showing you how to create the stunning videos they promised you could create.
The templates appear to be the same templates that came with another vendor's product.
Every option inside Cartoon Creator appears to have been imported from other vendor's previously sold products.
The cartoon characters are 2D NOT 3D and in PNG format, so creating a 30 second video with Cartoon Creator is definitely an overstatement.
The FREE website that offers users to remove backgrounds can be found at: https://www.remove.bg/
OIE provides a FREE online image editor. And, even Canva offers a FREE Online Photo Editor with NO watermarks and even allows you to enhance, add effects and add filters, if you wish… with a mobile app available.
---

My Take on Cartoon Creator

Can Cartoon Creator create unlimited stunning videos in any niche in just 30 seconds?
NO, it cannot! Therefore, I do not recommend Cartoon Creator.
I'm sure that Venkatesh Kumar and his partner Visves, meant well, but it could take you many days to simply download all of the files that you'll need in creating the cartoon characters they promised you could.
Then you'll need to actually put all of the necessary images together so that your characters perform well, and choose the perfect background from their templates.
Plus, the poor-quality of their landing page video speaks to how low a quality video you can expect to create with the options you're supplied inside Cartoon Creator.
Below you will find my video review of Cartoon Creator by Venkatesh Kumar and his partner Visves


Summary
Creating videos for any business is definitely a great idea but simply offering customers download links to:
free editing software that's offered free online,


a variety of 2D-PNG images of cartoons to download each one separately, and


video clips that being offered from another vendor's online account, does not make it easy for you to create unlimited stunning videos in 30 seconds.
Before you toss in the idea of creating cartoon videos, why not check through the FREE offerings online to see if there is something of a higher quality being offered elsewhere, first?
Free Animated Video Maker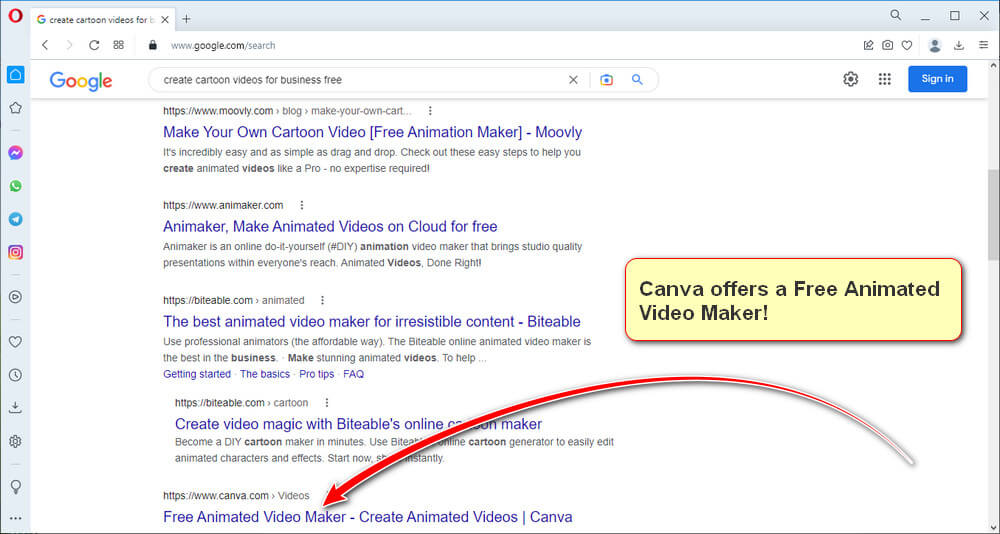 Knowing that Canva offers you a Free Animated Video Maker, who in their right mind would need to pay for access to Cartoon Creator, right?

Should you have any question(s) regarding can Cartoon Creator create unlimited stunning videos, please leave them in a comment below, and I will respond to you in a timely manner, as I value my visitors.
Save Your Money,