Have to say that I have been very curious about starting a podcast lately. Heck, I've even started saving information on my Podcast Pinterest board.
Thankfully, after reading an eBook, I was saved from making major podcast mistakes.
Those mistakes, I will gladly share right here with you in hope that you too will know what to watch out for.
Recently, I had been thinking it might be a good idea to start my own podcast, you know, creating audio files… maybe even audios of my posts
So, when I came across veteran broadcaster Holland Cooke's eBook on podcasting, I jumped at the opportunity to buy a copy and read it.
Podcast means programming on-demand.
Hmmm, don't know about you, but I never even wondered what podcasting meant, but now that I know, it makes perfect sense. Right?
Now we each have an opportunity to become our own broadcaster if we wish to be one. Only there are a few problems with that thinking.
Seemingly evangelist Paul Riismandel suggests that you make sure that you are providing something useful and of value to listeners with each and every episode.


Apparently, director of programing PodcastOne Rich Boerner recommends that those creating podcasts know your listener's likely time for being able to listen to your particular podcast.
 
An example was given of someone who takes a 20-minute drive to work while listening to their favourite podcast. He recommends that you would then make sure to keep your podcast lengths to no more than that time limit.


It has been said that Boerner also recommends you maintain a strong social media presence to allow you to engage with your audience on a regular basis.


Holland Cooke suggests you do NOT underestimate just how much work creating podcasts really is.


Someone else suggested that you have at LEAST 30,000 downloads per EPISODE (that's ONE podcast) BEFORE reaching out to advertisers and/or networks. In other words, BEFORE you think of monetizing your podcasts.
Many posts recently claim that you can monetize your postcasts, but these pros say otherwise. Become known THEN monetize does seem logical.
After reading these 5 great suggestions, so much for my thinking that podcasting was as simple as providing an audio of me chatting away to you by simply providing an audio file of my posts.
Podcasting really is a serious endeavour (much like logging regularly) if you want your podcast taken seriously, then you need to be creating podcast episodes on a regular basis.
So, now you know why I said that learning this was how I was saved from making major podcast mistakes.
Now I know that I need to leave podcasting to those who are serious about broadcasting a specific message while I continue with blogging as my chosen medium.
And being easily accessible on social media is definitely out of the question for me too.
Though I do have a presence on social media, at times I could be as long as 24 hours responding to a question.
And from the way Cooke and the others who understand podcasting, you need to be available a lot more readily then, say, every 24 hours.
5 Podcasting TIPS to Gain Subscribers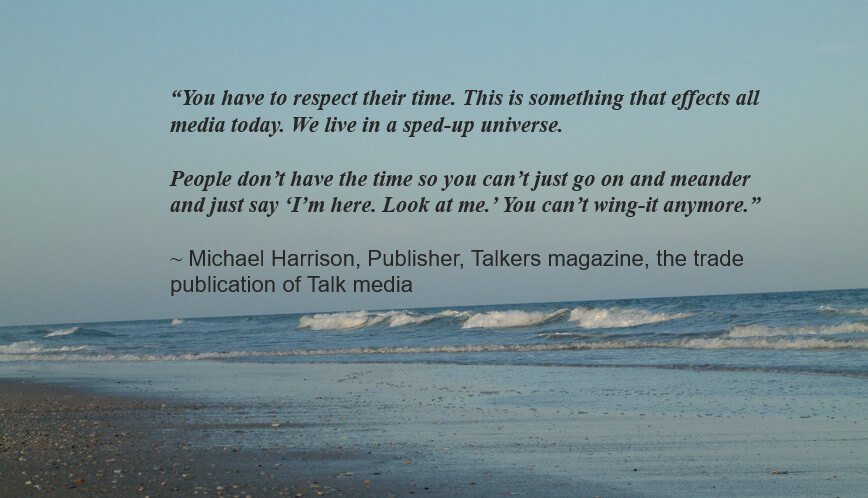 Michael Harrison says to respect your audience's time because we live in a sped-up universe.


Use the "magic words: you, your" instead of "I, me and my", and never call your audience "everybody" or "all of you". You need to remember that podcasting is a one-to-one medium, says Holland Cooke.


Format is important, so be sure to pick one and stick with it.
 
Not sure if you've had the opportunity to watch the 2 seasons worth of the now cancelled TV series, Good Friended Me or not; but the main character Miles Finer (played by Brandon Michael Hall), had his own personal podcast where his talk was about how he being an atheist had received an invitation from someone on Facebook calling themselves God.
 
That became Miles Finer's format… to discover who was behind the God account.


The use of cursing during your podcasts. You need to know if your potential audience are apt to be listening to your podcasts while driving with children in their vehicle. If so, you may want to re-think your use of expletives or stand to lose your potentially loyal audience.


Keep your social media posting positive. Negative Nellys become boring rather quickly. Twitter allows short audio clips now, so you could share intriguing clips of your podcasts in hope of gaining subscribers rather than samplers.
Suffice it to say that podcasting should be taken as seriously as internet marketing, IF you want to succeed at it.
Podcasting obviously involves a lot more than simply reading out loud though reading a post to someone like I had thought I could provide.
Those would simply be audio versions of my blog and NOT podcasts.
Well, that saved me forking out a lot of money for equipment I really don't need, now that I know that audio versions of posts are NOT podcasts.
Therefore, I can simply use the free software Audacity to start providing audio versions of my blogs in order to help those of you who have little time to stop and read.
This way you could listen to the audio versions of my posts and that you and your friends could then share with other like-minded individuals.
So, now that you know how I was saved from making major podcast mistakes, perhaps you might want to read through Holland Cooke's eBook yourself.
His eBook cover is pictured to the right here, and is titled Multiply Your Podcast Subscribers Without Buying Clicks.
In his eBook Cooke shares with you how to get your podcasts actually HEARD and not just sampled or downloaded and never listened to.
In reading his eBook, you will soon discover some other valuable tips that can even help you in other forms of media too!
For me, those lessons alone made the cost of $9 US funds well worth the purchase.
If you are truly interested in starting your own podcast, you may find the following post well worth reviewing too: How You Can Improve Your Online Podcasts.
So, have you started or are you thinking about starting your own podcast?
If so, I would love to hear from you in a comment below.
Podcasting certainly is an intriguing topic and it really does offer a great means for many of you to communicate with the world like you have never been able to do before the age of the internet.
My rating of for Multiply Your Podcast Subscribers Without Buying Clicks by Holland Cooke is as follows:
Credit for Header: Image by Manuel Alejandro Leon from Pixabay