The team said to be responsible for creating Genie is: Billy Darr, Dipanjan Goswami, and Justin Opay.
The male narrator in their landing page video never identifies himself. For the sake of ease, I shall call him Billy.
Billy asks viewers, "What if you could click one button and blast any link of your choice to 20 free traffic sources for unlimited visitors in sixty seconds or less; Would that change your life?"
Then you are told that if your answer was Yes, that you are going to absolutely love what they have for you.
The narrator claims that his team and him are proud to bring to you a unique, and never seen before solution.
He then introduces Genie, as the "World's 1st 20-In-1 Mass Traffic APP". 
He goes on to claim that Genie gets you free buyer traffic from combining multiple channels that have billions of users… and he adds that you are not to worry, as this has nothing to do with ranking or recording videos… or anything else that requires you to have a rocket science degree.
Billy claims that they created this software because they know the number one problem the market faces is the ability to drive real laser targeted free traffic that actually buys.
And he goes on to say that Genie is the most powerful traffic software to ever hit the market.
This review will cover the following:
If You Don't Want to Waste Anymore of Your Time on Scams,
See My #1 Recommended Way of Making Money Online:


What is Genie – VIP Edition?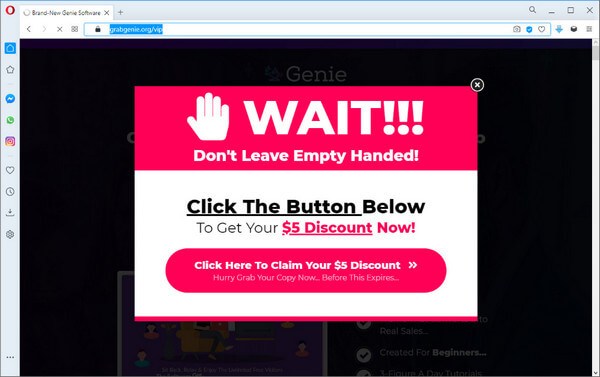 Program Name: Genie – VIP Edition
Website: https://grabgenie.org/vip
Price: $17.08 US funds + Upsells
Recommended? NO
Rating:
---
The male narrator in their video Billy claims that you simply tell their software where you want traffic sent… that it could be any link, website, or offer and watch as the traffic starts rolling in… in as little as sixty seconds.
He says that Genie is easy to use, newbie friendly and that you do not need any technical skills.
He says that now you are only three steps away from getting free traffic. Following are steps he tells you to take.
Step #1 – Purchase. Get your copy now before the price increases.
Step #2 – Activate. Log in and enter any link that you want traffic sent to.
Step #3 – Relax. Sit back, he says, and relax and enjoy the unlimited free visitors the software gets for you in sixty seconds of less.
He says that you are probably thinking that this never before seen software is very expensive.
Then he goes on to say; although, it would be easy to charge you $197 a month for this, they won't, because they want to level the playing field so that you too can get results.
During their exclusive launch period, he claims that they are doing something very special, which means that you are not going to pay $197 a month.
You're not even going to pay $97 a month. In fact, you're not going to have to pay monthly at all.
By hitting their buy now button, you will get instant access to Genie for a heavily discounted one time only payment. BUT… he says that it gets better.
When you act now, you will get 5 money-making bonuses worth thousands absolutely free. The details are on their landing page as follows:
Bonus #1: Exclusive invite to $1K a day virtual event.
Bonus #2: Discounted UPSELL offer.
Bonus #3: Agency License.
Bonus #4: Get Money Now Campaign. 25 Done-For-You campaigns you can use with Genie so you can get sales.
Bonus #5: $100 A Day Case Study. To prove to you that their First-Of-It's-Kind software really produces results. They tested it themselves and were able to generate over $100+ using it.
And to make this a total no-brainer for you, they claim that there is absolutely zero risk to you with their unheard of 365-day money back guarantee.
But wait, he says, it gets even better. If you put the software to use, and you still don't get results, not only will they send you a complete refund, but they will send you $500 right out of their pocket.
This way, he claims that the only way you lose is if don't take action on this amazing deal right now.
Then he claims that the price really goes up every 60 minutes. So, if you want unlimited, free buyer traffic and sales in as little as 60 seconds… then he tells you to click the buy now button and lock in your discount, and get instant access to Genie, at a mind-blowing, one-time price.
---

How Genie – VIP Edition Really Works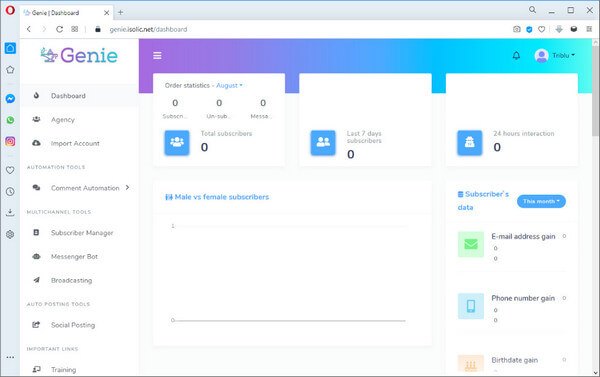 When I first purchased this software in hope of learning a new method for gaining buyer traffic FREE, I only ever received an invoice from PayPal, but NOTHING from the vendor.
So, I had no way of obtaining access to this software. Then I decided to email then vendor using the email address shown on my PayPal invoice as shown below: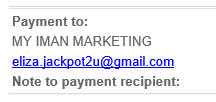 Being sure to provide my PayPal transaction number and date of purchase… and asked for clarity as to whether I had purchased their software or not, and if not, to please refund me.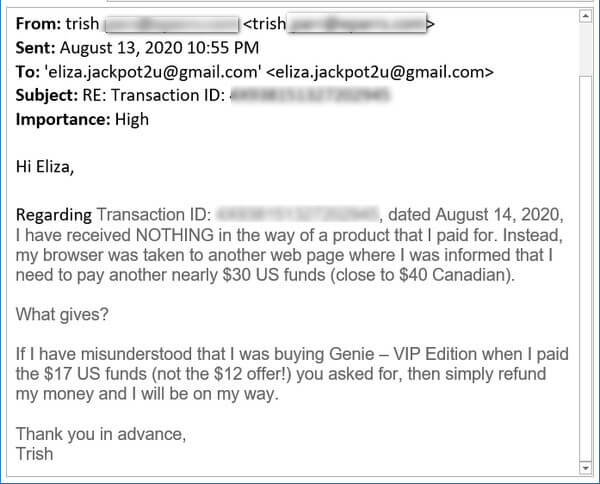 After not hearing back from this Eliza person by the 15th of August, I went about following up on another software that I had purchased.
One such software that required me to sign into Warrior Plus in order to access it for further details.
That is when I noticed that Genie – VIP Edition was ALSO a Warrior Plus product, so in fact I DO now have access to Genie – VIP Edition. Needless to say, I immediately followed the link from there.
Once signed into the Private Member's area, I signed up for the Live Training immediately, but never did get to see the webinar as no invitation was ever issued to me by email.
In checking over the training, I discovered that this software is NOT
unique and a never seen before solution
the most powerful traffic software to ever hit the market
and, cannot supply you with laser-targeted traffic free with ONE click in 60 seconds
In fact, the 5th lesson of 9 that are provided as training has yet to even be created.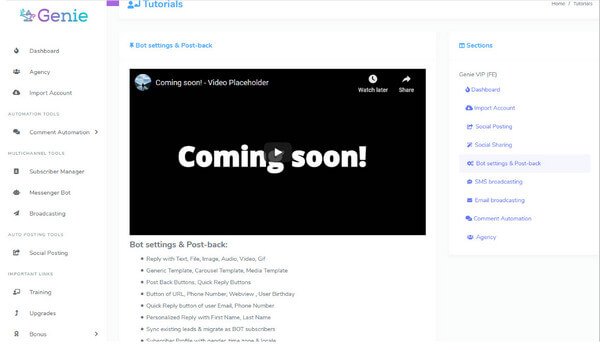 This software is only providing the users with a method of auto-posting your website links to social media accounts that YOU setup and have full access to.
This "solution" is already available from MORE THAN 25 other sources, making Genie NOT a unique solution at all.
Buffer
Hootsuite
Workflow
SocialPilot
IFTTT
Sendible
Later
Tailwind
CoSchedule
Post Planner
Iconosquare
Agorapluse
Crowdfire
Socialert
BuzzSumo
…to name but a few of them.
Having already purchased and setup my own personalized auto-posting tool, I have learned the hard way that Facebook despises their users using this type of BOT software, and I have had to discontinue auto-posting.
Twitter, Pinterest and Instagram also prefer their users to post manually or not at all. Though others using auto-posting software seem to have no difficulty auto-posting in these.
So, after checking over all of the training and finding NO benefit for using this software, I refused to even take if for a test drive.
In fact, I deem this platform could potentially cause a major security issue if I were to link my social media accounts to their Genie server given that they have ignored my cry for assistance. This platform appears to be unattended.
To top this off, their bonuses provided were as follows:
Bonus #1 & 8 – Registration form for free live webinar [never did receive access to]
Bonus #2 – you have to provide email address to access InstaBot, which they claim is "The Next-Gen Beginner Friendly Software Gets You BUYERS For FREE In 45 Seconds Or Less."
Bonus #3 – Band New Case Study – you have to provide email address to access, "How I [Billy Darr] Make 10, 20, 30 Even 100 Affiliate Sales Every Single Day!"
Bonus #4 – Super Affiiiate Class – A Thank you video that is 1:21 minutes in length. Nothing else.
Bonus #5 – Done For You Campaign – access to several old files on Google Drive.
Bonus #6 – Link to Billy Darr's Facebook group "Helping Beginners Build a 4-5 Figure Per Month Online Business".
Bonus #7 – Discounted upsell access to Zing, which they claim will "UNLOCK: 2000x More Free Traffic in Just 1-Click!"
Additional Bonuses that were offered were several different links to the vendor's affiliated products.
Nearer the bottom of their Private Member's landing page, I noted the following WARNING: "If you open a dispute it will automatically void the money-back guarantee. If you have a support query kindly don't go to PayPal it will void your guarantee."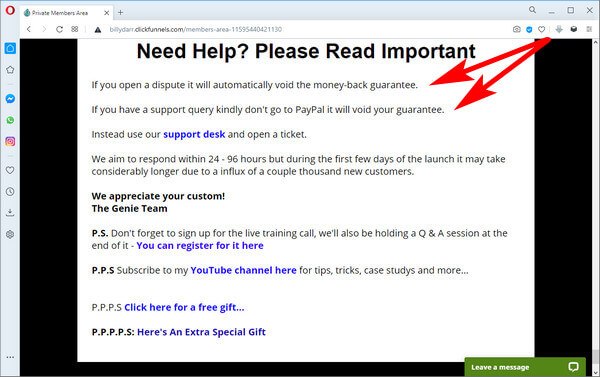 That alone is against PayPal rules, I'm sure. However, I did place a request for a full refund through their Support Desk and did wait the 48 hours for their response.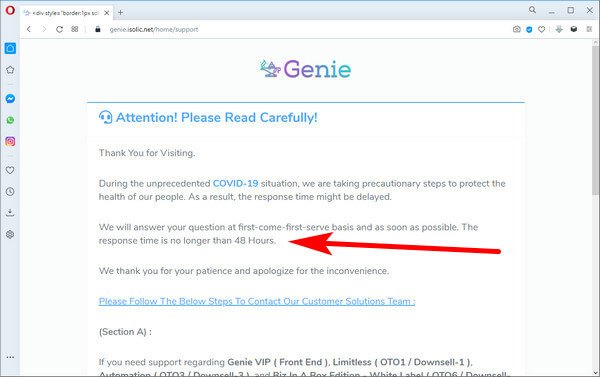 PROS
I could find NONE.
CONS
Due to their threat if I sought a full refund from PayPal, I issued them a second email using BOTH addresses they provided on their Support page. That email too was ignored. By the 3rd day, I sought the help of PayPal in order to gain a refund.
This product appears to have been deserted by the vendor and the support staff.
---

Is Genie – VIP Edition a Scam?

No, I do not think Genie VIP Edition is a scam, though I do feel that their many exaggerations to be unnecessary and disappointing as I found at least 3 (shown below).
Genie VIP Edition is NOT:
unique and a never seen before solution
the most powerful traffic software to ever hit the market
and, cannot supply users with laser-targeted traffic free with ONE click in 60 seconds
plus, their ignoring emails sent to the email addresses they supplied (no support appears to be offered)
Therefore, I do NOT recommend Genie VIP Edition.
If you truly want to auto-post your content to social media, use a well-known, well-recognized software or website. The list I provided above is NOT a complete list by any means.
---

I do hope you now know the answer to, is Genie VIP Edition a scam and that you are ready to reconsider your choice of auto-posting software.
Should you have any questions regarding this product, please do leave me a comment below and you will hear back from me. That I can assure you, and you will be notified once I have responded.
Save Your Money,