Apparently, Skip McGrath is a well known author selling his books on eBay and Amazon. He claims that there is literally billions of dollars worth of gold sitting around collecting dust, and that all YOU have to do to get your piece of the pie … is to ask.
Skip says that unscrupulous gold dealers like the ones on TV and radio are typically paying somewhere around 10% to 20% of the value of gold at the time of dealing. While he claims pawnshops pay out about 30% to 35%.
Skip goes on to say that legitimate gold dealers pay out between 40% and 65% of the value of gold at the time of dealing. Then he reminds you that the gold bought has to be smelted, refined (removing all unwanted elements), assayed (to determine the quality), and poured into ingots before it can be resold.
Nine factors driving gold prices
Global Crisis (crisis commodity): A crisis is when the population of a country lacks confidence in their governments or financial markets. A good example is that gold prices went up after Russia moved into the Ukraine, causing people to become uncertain about the world's political stability in the region.


Inflation: Holding gold is usually the reason for people to insure against inflation. Gold values remain more stable over long terms where currency values tend to fluctuate.


The US Dollar's Value: As the world's dominant reserve currency, the strength of the US dollar and gold has an inverse relationship. A good example is back in early September 2014, when the US dollar index rose by nearly two points, it softened the price for selling gold.


Central Back Instability: When banks fail causing irregular economic policies this makes buying gold seem more of a safe haven for investing.


Interest Rates: Gold prices habitually reflect increases and decreases in interest rates. When rates are up, gold prices tend to come down because people tend to sell off their gold to free up funds. Low interest rates tend to make buying gold more attractive though prices are usually higher at this point in time.


Quantitative Easing (QE): QE refers to a central bank's strategy of buying securities to increase the supply of money. Larger money supplies tend to cause interest rates to drop. When NOT done correctly, this could cause inflation … another signal that gold prices will go up.


Government Reserves: Central banks and federal reserves hold gold and paper currency in reserve. Apparently, the US and several European countries have been buying more gold lately. When they buy greater quantities of gold it will drive the gold prices up … due to scarcity of gold … a good example of supply verses demand.


Jewelry and Industry: The demand on gold jewelry for whatever reason … and the world's industries need for gold in things like computers, GPS (Global Positioning System), and even medical devices like heart stints. More demand means prices go up.


Gold Production: As production costs increase, miners sell off their gold in order to preserve their profits. Higher costs like this means that ALL minted gold coins (no matter HOW old!) cost more to buy.
Skip says that the gold business has ALWAYS been a GOOD business … BUT since 2008, when the economy was in trouble and gold prices were rising, people started selling their gold off. He says it was really easy to find these sellers. All you needed to do was to setup a hotel room, advertise in the local papers or even on the radio, direct mail door hangers could be sent out … but he claims that none of these methods work as well as one simple, low cost advertising method he can show you in one of the free bonuses he offers when you buy from him.
Throwing gold parties are becoming very popular. Skip says he can show you how to do this. When people attend this type of party … instead of costing them money, they will MAKE money! He claims that you could buy several ounces of gold if you can get 10 people to your gold party. Skip claims that you could even get someone to host your party for you, offer them 10% and STILL make 45% on EACH ounce.
Apparently, Skip's system includes complete instructions on hosting a gold party of your own and how to market gold parties to others. Along with that, he says he's including flyers, brochures, ads AND invitations that you can use. They come in Word documents so that you can add your contact information and simply print them out.
Various types of gold to buy
A list of only SOME of the gold items you could buy every day:
jewelry out of fashion
broken or bent items
chains
rings
bracelets
pins
broaches
watches
lost matching earring
Does this mean that I only buy jewelry?
Not at all!
Skip says he'll show you how to make money with discarded electronics like: cell phones, stereos, computers, microwave ovens, and a whole lot more. He claims he has even gone dumpster-diving (having received permission, of course) to retrieve such items.
With only 30 minutes and a screwdriver, Skip says he recovered nearly $200 worth of gold from just two items. Apparently, there are plenty of people making over $1,000 a WEEK collecting and taking old electronic pieces apart, and sending the parts to a refiner who will pay 80% of the present gold price.
What is the cost of starting up this business
Wow, Skip says he'll show you 2 ways to start up your buying and selling gold business with no cash at all, 'bootstrapping' your way to the first few sales.
Here's is what you get:
a downloadable ebook that can easily be printed if you want
a bonus package containing the ads, flyers, etc., mentioned earlier
a list of Skip's refiners who pay between 92% and 96% for gold
another bonus, a report on tools of the trade
and yet, another bonus, sandwich board advertising
wow … and STILL another bonus … a report that will show you a fail-safe, low-cost, local advertising method that could generate GENEROUS returns for EVERY dollar you spend
In case you might be doubting such a business might be feasible, please feel free to go through this beautiful, glossy, 4-page colour brochure that was delivered to my mailbox this past September 2016. Note that there is not even so much as a damaging fold in this magazine-sized brochure … the care that was taken when whomever delivered it to my mailbox.
All of this AND a 100% satisfaction guarantee or YOUR money back!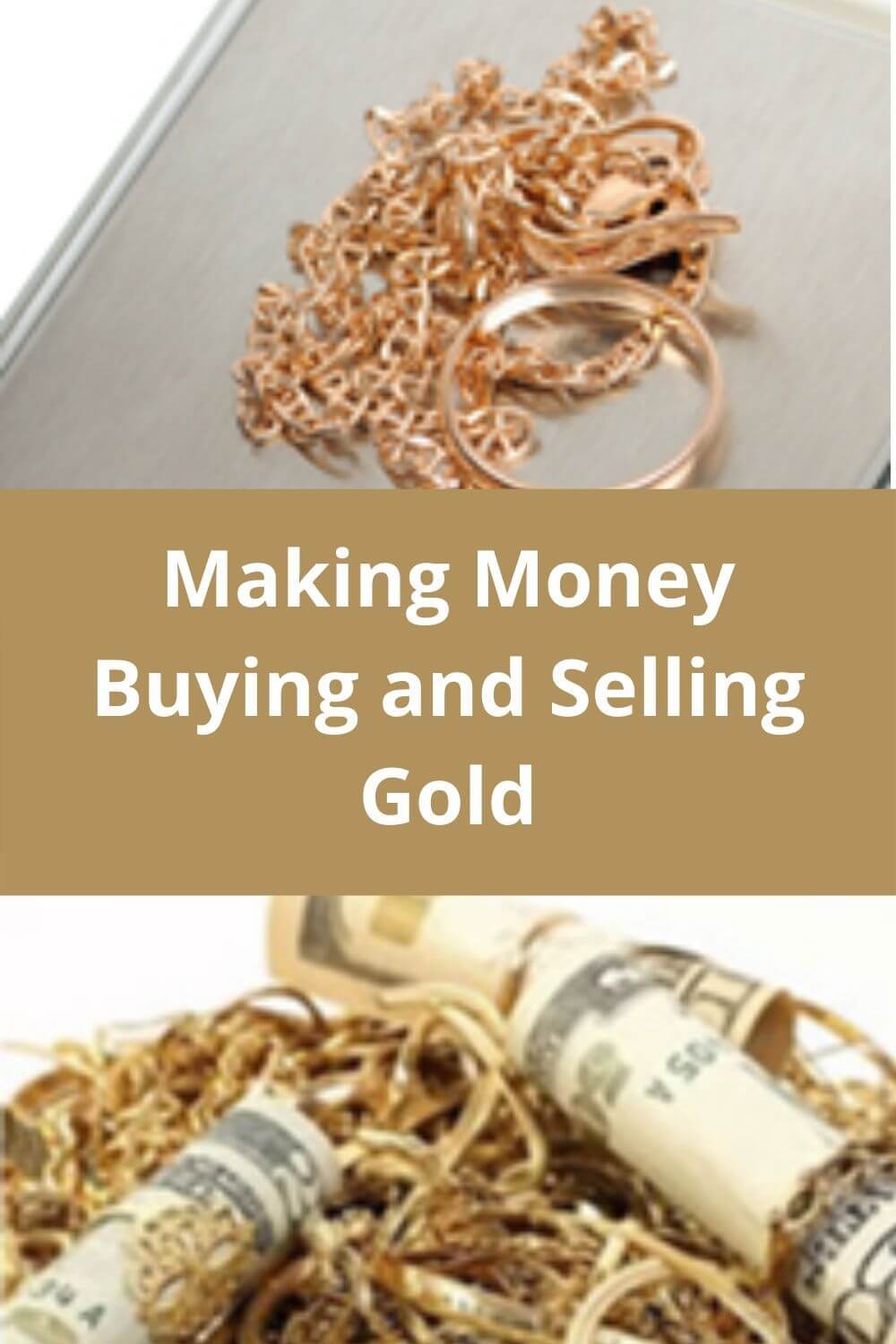 Credits for Header (on the left): image by © Zhaubasar | Dreamstime.com – Jewelry Scrap Electronic Scales Photo