Author Jim Edwards informs his listeners in his landing page video that eBooks are not dead and that they are actually a bigger business than most realize.
He informs you that Amazon is now the leading retailer in eBooks now.
Edwards claims that too many people are still failing at creating profitable eBooks because they are either:
targeting the wrong market,
have chosen the wrong topic,
failed to write a great title, and/or
don't understand the eBook business model, and

how to exploit it in their chosen subject, in order to make the real profits you crave.
He then claims he has a new solution on how to write and publish your own eBook in as little as 7 days.
In my review here, I intend on informing you of the following topics:
See My #1 Recommended Way of Making Money Online:


What is 7 Day eBook, Really?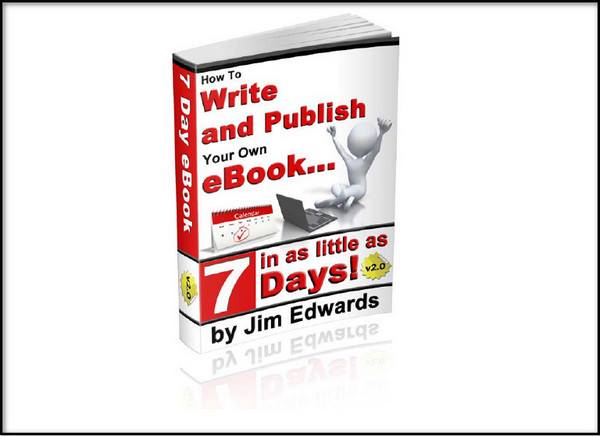 In this eBook, author Jim Edwards tells you that his version 2.0, he offers new, updated techniques based on ten years of experience (he claims to have been selling eBooks since 1997), includes information on such publishing platforms as Amazon, and also includes his proven 72-hour eBook creation model.
In his landing page video, Edwards claims that he has taught "tens of thousands of people" how to do what he claims he does.
Edwards says he will tell you the truth about the eBook business and how you can use it to create your own realm instead of just a hobby (meaning how you can leverage it for auto-pilot profits), as well as four ways you can create unique eBooks with original content (not PLR).
He promises to teach you how to price your eBooks, what you should charge and why, in order to gain the utmost return on your investment. Edwards goes on to say that he will teach you how to find and analyze your competition, how to prevent your eBooks from being stolen, and some facts about your eBook cover that you will need to know about.
Then there are the different means of distribution that as an author, Edwards claims he will share with you that you can use to get your eBook out there in front or your potential buyers faster.
On top of that Edwards promises to show you how you can title your eBooks to radically increase buyer's attention, in order to increase your cash flow. This training, Edwards claims is the most complete, realistic, in depth, actionable eBook creation and publishing training on earth.
Edwards states that if you want to make real money with eBooks his course is the one you will want, as he offers you no fluff or BS when it comes to writing, publishing, and selling eBooks.
He then goes on to list and describe several free bonuses that you will receive upon purchasing his 7 Day eBook V2.0 eBook.
Product Name: 7 Day eBook V2.0
Website: http://7dayebook.com/
Price: $47 US funds + 1 upsell
Recommend: Yes, with reservations (explained in Pros and Cons)
Rated:
---

Information You Can Expect in 7 Day eBook V2.0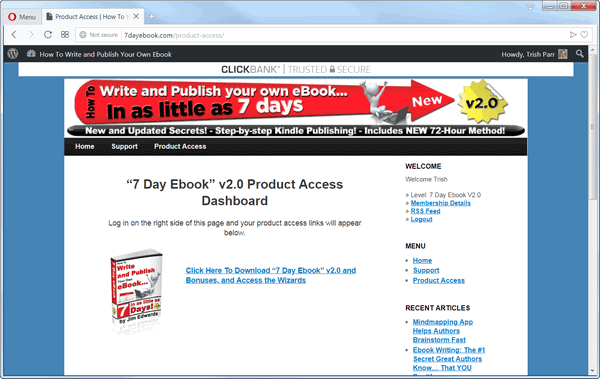 Edwards suggests things like making sure your eBooks contain from 60 to 80 pages, and making sure that your prices are giving your buyers no reason to hesitate in purchasing your eBooks… by pricing them within, what Edwards refers to as a "no-brainer" price, and he is also quick to explain why.
Other suggestions he makes are things like making sure you are prepared to be active in promoting your own eBooks.
He claims that authors who promote the heck out of their eBooks, make real money selling their eBooks.
The technique of using a funnel in your promoting your eBooks is discussed in depth, as well as establishing relationships with your readers so that by your 3rd eBook you will start making real money.
Edwards informs you of the three most important questions that you need to ask yourself before selecting your topic for your eBook. He claims this technique has helped him immensely in creating eBooks that sell well.
Researching and understanding keywords is discussed in full within Edwards' eBook, as well as how to create an attention getting title and description, and he explains why that "title" and "description" are KEY to help assure your eBook sales are plentiful.
Along with his eBook, Edwards provides his buyers with the following:
How to Take Every Major Credit Card on the Planet – PDF report
Jim's "Killer Ebook Title Wizard" – software accessible only online that will help you create keyword-rich, money-making titles for your writing
Jim's "Ebook Description Wizard" – software accessible only online that helps you by providing a proven format, flow and wording for great descriptions that will help entice buyers.
10 Ways to Have Your Ebook Done by Next Friday – a webinar replay accessible only online
10 Ways to Have Your Ebook Done by Next Friday Q&A – key questions are answered in this webinar replay that is only accessible online
BONUS: Ebook Success Blueprint – another webinar replay only accessible online
BONUS: eBook Success Blueprint Q&A – a replay offering insights to use with your own eBooks, and is also only accessible online
Ebook Keyword Research Update – another webinar replay
---

Pros and Cons of 7 Day eBook V2.0
Okay, this is where I promised you that I would explain why I recommend this training WITH reservations.
PROS
Many of the principles and the mindset techniques offered throughout the author's eBook definitely would be advantageous for those of you who are brand new to writing, even an article.
The 7 Day eBook V2.0, contains 522 electronic pages. However, the "meat" of this eBook starts on page 8 and ends on page 115, which is then followed by several pages containing comments, and questions & answers from the original webinar this eBook appears to have been transcribed from.
CONS
This eBook appears to be a transcription of a webinar that took place back in 2017. Why I say this is that on page 52 of his eBook, the author clearly states the following:

In my opinion, the text in this eBook is far tinier than it should be, and the images appear to be all screen prints from what looks like slides from the webinar that I am certain this eBook may have been transcribed from. The images make it a little difficult to navigate through the eBook using a mobile device.
As of page 48, you are offered the first dead link which is to Google's keyword research tool, along with outdated screen prints with outdated instructions for using Google's keyword tool now.
The author forgot to mention that if you want to use Google's keyword tool you need to have a gmail account and you will need to be logged into that gmail account, in order to access the tool.
On pages 54, 57, and 58, you are offered a link to a website that is now being discontinued… and, in the not so far future, could end up being a second dead link in this eBook.

One of the examples this author points out as being too long of a title, as well as pointing out that this same book is offered as a Kindle book but by a much shorter title (a critical error, so he claims), he promises to explain why he stated this later in his training, and then he failed to include that explanation.

Due to the many CONS listed above, I can only recommend the training offered in 7 Day eBook V2.0 with reservations, as the majority of information would still definitely be of use, especially to those who are new to writing.
---

Making Money Online Training that Works!
However, if you are of a mindset to really want to learn to make money online, then I would love to share with you what I have learned that works GREAT. For the past just over two years now, I have been a member of a grand learning center.
This platform offers top quality training for those who wish to operate and own their very own online business. You can even learn to do email marketing if that is your wish.
The training offered here will show you how you can become an authority in your chosen type of business; one where you won't even have to pay to get people to come to your business. Instead, they will be flocking to you!
The technique is much like the one I have used right here that brought you to my review without my having to spend any money whatsoever on advertising.
If you are ready to discover what that platform is, then simply click the button below and read on.

If you are thinking that this might be a 'get rich quick scheme', I can assure it is NOT. You will be expected to work at creating your business by being diligent with the amount of time expected to make your business a success.
This training will show you how to create a long lasting, long term business that you can be proud of. And, in this platform you can become a starter member for FREE! All you have to do is sign up, create a profile, and start taking the FREE lessons that are offered in Level 1.
When you sign up for your free membership, you will NOT be asked for any form of payment… that's right, no credit card number will be required. Think you can find that anywhere else? I hardly think so.
So, if you are ready to learn to setup your very own online business then it is time for you to…

Making Money Online Training awaits you!
Should you have any questions whether is 7 Day eBook V2.0 real or if you only want to contribute to the conversation, I hope you will seriously consider leaving me a comment below.
Thanks for dropping by,