Mark Hess and Michael Thomas claim to have developed WP Click Engage.
Mark explains that WP Click Engage can be use to send your website traffic to absolutely anywhere.
He then proceeds to show you one of the icons that you can use; while explaining that when a person clicks on the animated icon, you can send them to wherever you want them to go.
Mark claims that these small click magnets work like crazy and that they are physiologically proven to get a ton of clicks.
Then he shows you another type of icon used on a sales page, where when it is clicked on, it takes you to the check out page.
He goes on to explain that you can put one of their icons on your blog to build out your list, so that when a person clicks the icon, they will be sent to a page offering them a form to join your mailing list.
Mark even claims that you can also build social profiles by using another one of their icons, that when clicked on will take your viewer to your chosen social profile.
He claims that WP Click Engage is really, really clever and super easy to use. Mark then takes you inside WordPress to show you the settings that you will need to use.
My review of WP Click Engage will cover the following:
See My #1 Recommended Way of Making Money Online:


What is WP Click Engage?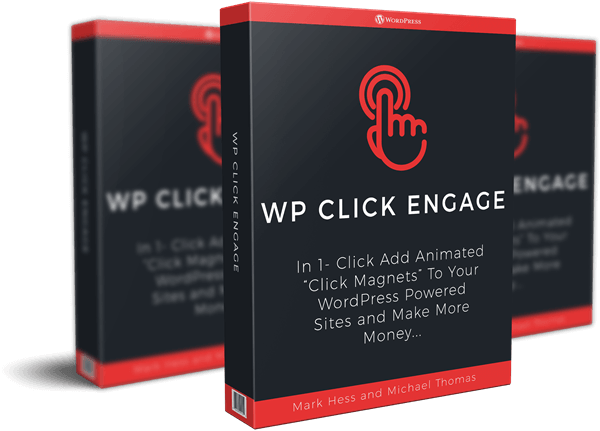 Program Name: WP Click Engage
Website: https://imincomelab.com/wp-click-engage/
Price: $12 US funds Single Site License or $12.97 US funds Unlimited Site License, PLUS 1 Upsell and 1 Downsell
Recommended? YES, but with reservations mentioned in My Take on WP Click Engage
Rating:
---
WP Click Engage is a WordPress plugin that allows you to put animated icons on your website to attract clicks to your offers.
Mark Hess claims that the settings are super simple, and he says that you also get a box under each page or post on your edit screen.
He then demonstrates the Location that your chosen animated icon can be place as follows:
Top Left
Top Right
Top Center
Bottom Left
Bottom Center
Center Left
Center Right
The Animation you can select to use are listed as follows:
None
Bounce
Flash
Rubber Band
Shake X
Shake Y
Head Shake
Swing
Tada
Wobble
Jello
Heart Beat
Then Mark shows you that you can choose to Display on:
And then you can choose the icon that you want to use from their selections of icons.
Mark says there are a ton of these built in, to choose from, or you can search using their search field at the top of their Select Icon form.
Once you've selected your icon, then you can change your Background Color as well as the colour of the Icon itself, to match your website.
Below that is an adjustment for the Size of your chosen icon, which allows you to simply drag a toggle right or left, until you reach the size you want used.
Then you are given a textbox in which to enter the URL you want your viewers to go to when they click on your icon.
Mark says it can be an affiliate link, a check out, a squeeze page, absolutely anything.
Mark then shows you that you can even use an Amazon icon for your Amazon affiliate links. He says there's a ton of ways to use this plugin with Facebook or absolutely anything you want to do.
Once all of these steps are complete, Mark explains that you need to click the Update button (top left of the WP Click Engage settings). Then simply refresh your page, click the icon to test.
Mark says:
it's a super simple plugin to use,
it's really, really effective,
you can drive traffic anywhere, and
it tracks clicks
He then says that this is something you should install on all of your WordPress websites. He claims that there are a ton of different uses for it.
Mark announces that right now, you can pick up a copy and get unlimited access, meaning that you can use it across all of your sites.
He says, there is a 30-day money back guarantee, if you're not happy for any reason they will gladly refund your money.
According to Mark, you guys are going to absolutely love using the WP Click Engage plugin on all of your sites.
---

How WP Click Engage Actually Works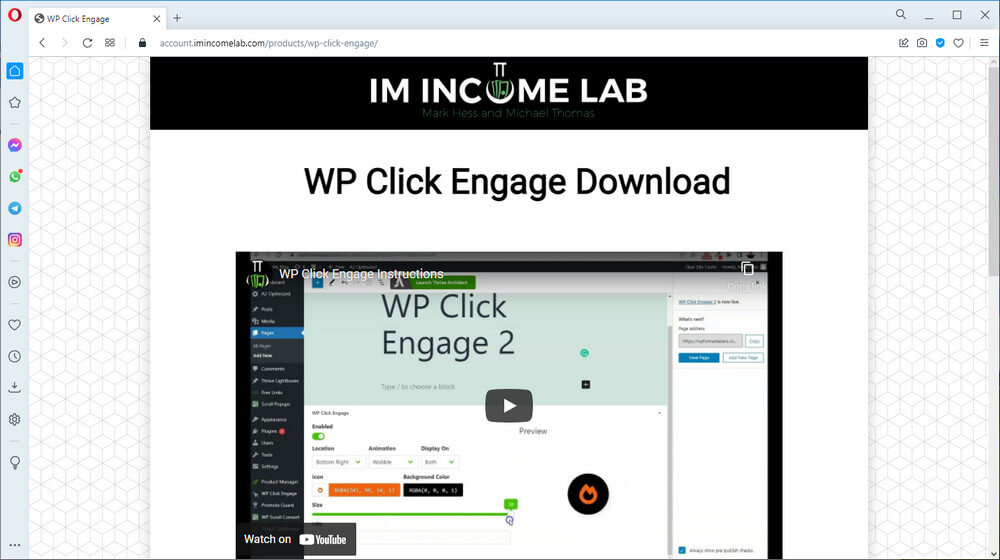 You are offered video Instructions (04:46 minutes) with a large button below the video that is titled with "Download The WP Click Engage WordPress Plugin" that once clicked, will download a zip file of their plugin.
In the Instructions video, Mark shows you how you can set your chosen icon to be displayed on your entire site or set for individual pages and/or posts.
He also suggests that if you have any issues to feel free contact their support [which is at the bottom of the Download page].
Mark also suggests that should you have an issue with this plugin, that a lot of times it is due to your website cache; and that you should clear the cache to see if that solves any issues.
Above their CONTACT SUPPORT link is the following statement:
"Problems Accessing Your Purchase or Need Some Help?
IMPORTANT: Please Read Before Submitting Your Support Request:
We strive to provide a high level of customer support.
All support requests are answered in the order in which they were received.
So, if you sent us a support request recently, we may have not gotten to it yet but we will.
An invalid email address is a common issue we encounter when trying to correspond with our customers.
Make sure when you submit a ticket you are using a valid email address and double check before submitting your ticket for any mis-spellings of your email address.
Make sure to watch the video at the top of this page as it relates to licensing, downloads, and training before submitting a ticket.
For the fastest resolution of any technical issues, provide us with access details to your site when you first submit a ticket.
This prevents some back-and-forth and allows us to better serve you in a timely manner."
---

My Take on WP Click Engage

Whether WP Click Engage really is a click magnet or not would certainly depends on what you use it for. Providing a gift icon would attract freebie-seekers, I'm sure.
Would this plugin intrigue someone to click on it if, let's say, an Amazon icon were used to send your visitor to your Amazon affiliate link?
Probably not, as Amazon's text links have been said to be the link of choice that visitors tend to click on most.
Burdening a WordPress website with yet another, not-so-necessary plugin, might not be in your best interest when a website's loading time is so very vital in keeping your visitors from bouncing.
I'm sure that you are aware that the more plugins a WordPress site uses, the less likely the site will load as fast as it should.
My 2-star rating is for the fact that this plugin COULD be used for a limited time, gift giving offer that a viewer would need to sign up to an email list in order to receive.
Will I be using this plugin?
Not in the foreseeable future, no.
Below is my video review of WP Click Engage by Mark Hess and Michael Thomas


Summary
Though this plugin is not as easy to use as it should be to setup, it can be a "cute" (though, an unnecessary) option for your website.
You could also use it on a temporary basis, such as seasonal usage, or a limited time gift idea.
If you're ready to stop looking for that pot of gold at the end of every rainbow, and thinking that there must be an easy way to get rich, then you may be serious about learning to earn an income from home.
Saying that describes you, then I have a really great training platform to introduce you to that not only TEACHES you how to setup your very own online business., but they ALSO supply all of the things you'll need to create your very own business.
You can even start for FREE!
That's right… I did say FREE. This way you can test the training out for yourself, as you will have full access to the first 10 lessons.
Oh… and you won't even be asked for a credit card.
How's THAT for an offer?
Bet you won't find that offer anywhere else on the internet today.
To top THAT off, you get to create your very own website for FREE while you take those first 10 lessons.
This way, you can decide if the level of training meets with your expectations… and if they do, you can EASILY continue building your online business using the same site, if you would like to.
When I said that all the things are included, I really mean that. Your FREE WEBSITE comes with a SSL certificate for FREE too. Plus, you'll have access to a keyword search tool.
Then, if you decide to become a paying member, you will receive a discounted first monthly payment, so that you can continue building your online business while following the rest of the world-class training.
If you're ready to learn more about this training platform, then get my free guide here and it will tell you all about it.

Should you have any question(s) regarding: is WP Click Engage really a click magnet, please do leave them in a comment below so that we can discuss this topic further.
Time To Learn,