James Robertson personally guarantees his video will be the most important video his listeners will see this year.
In this introductory video, he goes so far to say things like… this means that if you have access to this video right now, you are highly qualified to succeed with this program which means you could bring in $11,510, $14,250 or even $17,520 in your very first week.
That exaggeration right there is enough to bring out the "Doubting Thomas" in me. But, in order to present you with an honest review, I purchased his product and set out to review it for you.
My review will discuss the following:
If You Don't Want to Waste Anymore of Your Time on Scams,
See My #1 Recommended Way of Making Money Online:


What is Wealth Project?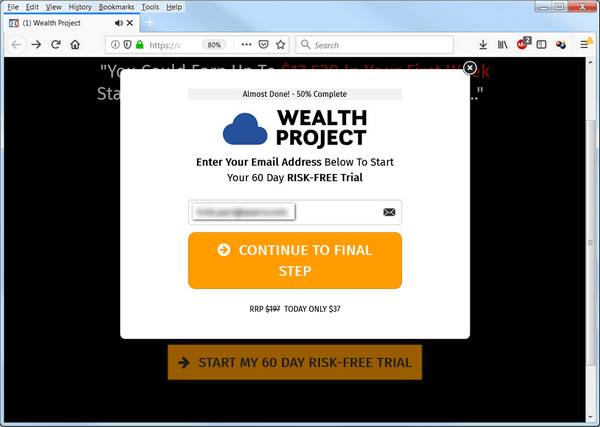 Program Name: Wealth Project
Website: https://wealthproject.net
Price: $37 US funds + 1 upsell + 2 downsells
Recommended? NO
Rating:
---
Robertson makes claims like the following: Wealth Project member Kevin, a 21 year old student from Canada made $9565.55 last week… and Julie, a 37 year old single mother from the United Kingdom got her first payment of $12,317 directly into her bank account… and Brian, a 68 year old who lives in South Africa who made $15,126 last month using the Wealth Project system.
He goes on to claim that over the last 3 months, the Wealth Project has helped 135 ordinary people to make figures of $11,510, $14,250 and even $17,520 in their very first week. Most of these people, he states, had no previous online experience, and only had access to a laptop or a Smartphone. Very few of them had made money online before.
Then he goes on to say…
If I think I've seen this before, I'm to think again, as this has nothing to do with surveys or investing in crypto currencies or anything black hat or illegal. This, Robertson claims, is an evergreen opportunity to make life changing income from the comfort of my own home.
Robertson claims he is going to reveal everything I need to earn serious money online and bring in up to $17,520 in my first week.
---

How Wealth Project Really Works
When trying to sign up for the 60 Day Risk-Free Trial, my real email address was refused after I provided the necessary CAPTCHA information requested. So, then I provided a seldom used email address.
It was an Aweber prompt, and I am not sure why my real email address was refused.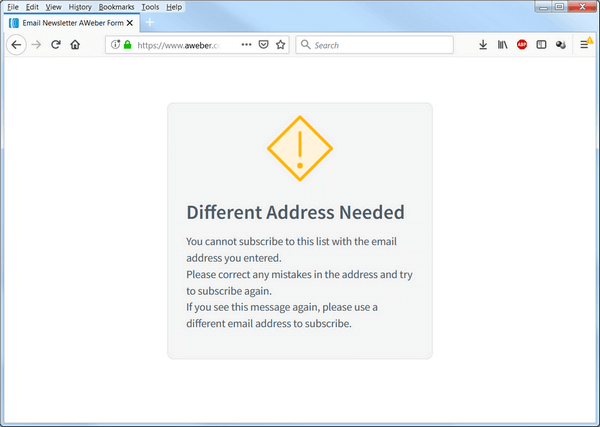 Yet, once my seldom used email address was accepted, the PayPal screen opened up with my real email address fully loaded in the proper Email textbox.
Once I paid my funds using PayPal, I was sent to a Welcome to the Members Area where I then setup an account.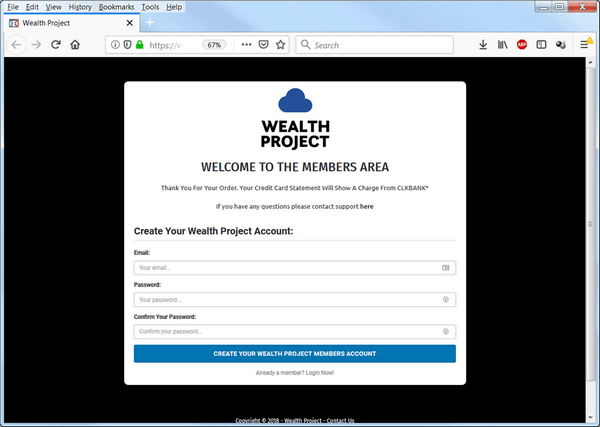 Once this was completed, the membership area was made available to me. Here is what I saw: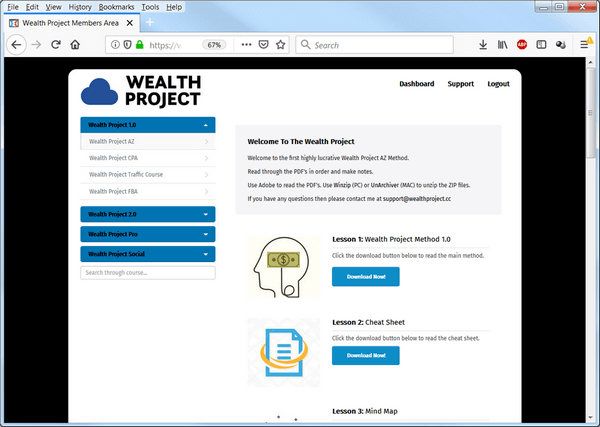 When I arrived at the dashboard, I was SHOCKED to say the least. It was laid out identical to another training product that I had just finished reviewing, called Smart Money.
After searching through all that was offered here, I discovered the items were mostly identical to those offered in Smart Money, though there were some variations in that a few more goodies were included.
Even the one missing file (that I had made no mention of) in Smart Money was ALSO missing in Wealth Project. Under the PRO subtitle, the Social Media Marketing (4th zip file) that was to provide Social Media Sales Videos was linked to the zip file titled "prosales" that was offered under a previous lesson on the same page.
Wow, talk about redundancy or what. This makes me wonder if James Robertson and Mark Foster know each other… and who copied whom. Or worse… are these people even real or simply fictitious names?
The initial eBook, cheat sheets, mind map and resource report are all identical to those offered by Smart Money… including the lack of information that would be necessary for any newbie.
If you are interested in learning the full details, please check out my review on Smart Money here, as I feel it is unnecessary to repeat it here.
---

Is Wealth Project a Scam?

No, I do not believe Wealth Project is necessarily a scam, but rather offering low quality training, as I have already stated in my review of Smart Money.
There are far too many disadvantages in the training offered in Wealth Project for newbies to benefit from, especially if they have had no previous online training.
The same upsell and downsells that were offered in Smart Money were also offered by Wealth Project. And, once again, though I turned down both of the upsell and downsells offers, I still had full access to all of the training without having paid for those options.
I have to conclude that I do not recommend Wealth Project.
---

Best Method for Making Money Online
There is a much better quality training platform that I can introduce you to. This platform is world renowned for being the most inclusive and best training available online to date. The training offered here is perfect for those with online skills… and, best for those with no previous online training.
You will have the opportunity to learn how to start your very own online business that you can develop into a successful income generating business. Not only will you be provided with top notched training, but also a FREE website and business tools to help you create your online presence.
The training will show you how to gain FREE traffic too. That's right… you won't have to pay for advertising simply because you will be shown how to get visitors to want to come to your website.
Not only this, but your website hosted here too, will be kept safe from hackers and you will be given a SSL certificate making mobile device users happy to visit your website. You'll have an entire community around you with like minded people too.
What are you waiting for? It only takes a few minutes to check out the option I want to share with your here.

Don't go thinking this is a "get rich quick scheme" either, because it is NOT. You will need to be dedicated to learning and developing your business. You will need to learn to be patient as it takes time to build any business.
Long lasting, long term incomes are not created in a day… unless perhaps you win a lotto. No successful business that is built to be long term is created instantly. Far from it.
This training platform even offers you 7 whole days of FREE access to the first 10 Lessons so that you can decide for yourself if the training is worth what I am telling you it is. And, not only that… but you will NOT even be asked for a credit card to gain the FREE access either.
If you are tired of wasting your time and money, searching for the best options available online today, then you're luck has paid off by your being here today.
Check out my FREE guide here:

There is one more goody I'd like to offer you as a bonus… one that you can learn alllll about in my free guide, so don't delay… find out how you can get ME for YOUR Premium Coach.
Looking forward to receiving any questions you might have regarding Wealth Project being a scam… or you can leave your thoughts on this topic in a comment below this, and I assure you that I will respond to you in a timely manner.
Time to Make Money Online!