In the introduction video, Matthew Neer states that he and his partner Desmond Ong earn over $10,000 a month on the internet, doing nothing more than uploading a few simple files to a few secret websites and allowing them to sit there and generate this passive income over and over again, building their email lists and generating free traffic that allows them to earn affiliate commissions.
Then he proceeds to log into one of his affiliate accounts and show his profits, soon followed by Desmond who comes in and shows off screen prints to his earnings.
The first very important thing that no one really likes to tell you about is the income screen prints. When you see screen print earnings like these, you need to understand that this business is not all profits. This is something that you really need to recognize from the beginning.
If these types of offers were to show you their NET profits they would be a lot more transparent and thus trustworthy.
This review will be covered in the following segments:
If You Don't Want to Waste Anymore of Your Time on Scams,
See My #1 Recommended Way of Making Money Online:



What is Operation $10K?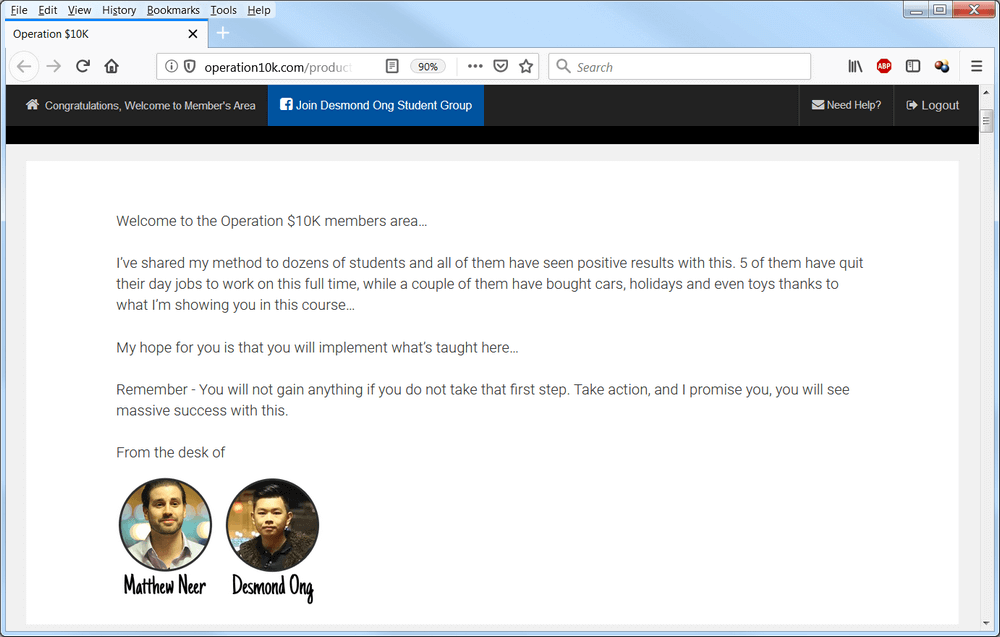 Program Name: Operation $10K
Website: http://operation10k.com/
Price: $19 US funds + 2 upsells
Recommended? NO
Rating:
---
Matthew and Desomond go on to claim that you need no experience and that all you need is a computer and internet access, in order to experience the kind of profits they shared in their screen prints.
They are quick to insinuate that by simply clicking a button you can launch your campaign and make money straight away today.
Both men claim they will show you how to set up campaigns… and Matthew says you can set up as many campaigns as you like. All of this while claiming these campaigns will cost you virtually nothing to create, and they take only a few minutes to set up. Each of these campaigns apparently gives you a new stream of income.
---
How Operation $10K Really Works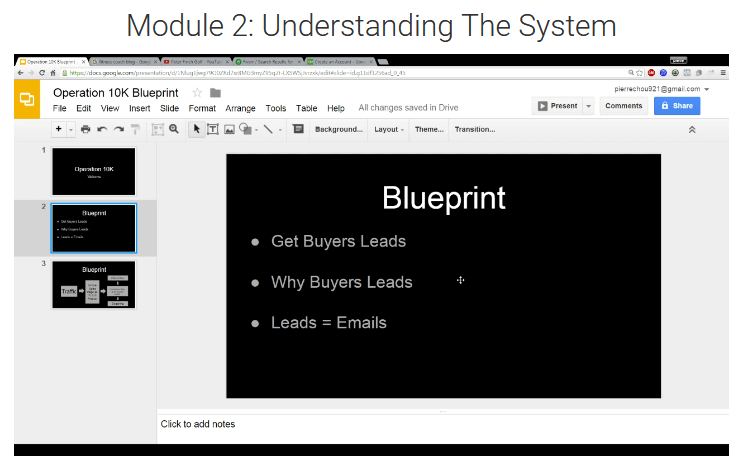 The first video training, Module 1: Planting The Seed for Income Domination, is a well done mindset video by Desmond that lasts 7:31 minutes. It is very true that success truly does depend on the proper mindset, so, congratulations for Desmond's motivational video.
The training actually begins with Module 2, and the course titles are as follows:
Module 2: Understanding The System – 7:31 minutes where Pierre Chew takes you through the training, initially giving you what is labeled as a blueprint and what he calls an overview talking about; get buyers leads (people who have already purchased from you), why buyers leads, and leads equals emails.
He goes on to discuss how to hook buyers with a low priced product, $5 to $10 and then offer upsells.
It seems the users get a lot of overviews of how to do things, as Pierre clearly states in many of his videos.
Module 3: The Covert Money Blueprint – 13:39 minutes discusses how to over deliver to your buyers, engage them… meaning that you want your buyers to talk to you and find out what they need, and then monetize or sell to your list using Clickbank related products.
Module 4: Identifying Your Cash Machine – 8:57 minutes offering tips on finding your niche.
Module 5: Value Creation – 8:10 minutes on researching the product you have decided to create using Clickbank, Udemy, and Amazon.
Module 6: Cash Cow Creation – 7:42 minutes on creating your product. The options reviewed are:
ebook (lowest value),
video (good value), and
software (best value)
… and this all depends on the niche you have decided on too.
Bonus Video: In-depth Creation – 13:56 minutes elaborates more on how to create your product.
Module 7: Making It Work Hands Free – 9:12 minutes on other methods for creating your chosen product. Topics discussed are as follows:
Interviewing an expert,
find a YouTube channel, and
hire outsource
Module 8: Money Magnet Asset Generation – 9:16 minutes discussing sales funnels.
Module 9: Tying Everything Together – 3:27 minutes talking about different platforms to sell your product, like Clickbank (his most recommended platform) and Warrior+Plus was also mentioned.
Module 10: Leveraging Top Marketers – 7:32 minutes discussing how to find the marketers who will do alllll the work for you; In other words, how to find affiliate marketers to pitch your product for you.
Disadvantages of Operation 10K
That all adds up to a grand total of only 1 hour, 29 minutes and 22 seconds of training.
No follow up method of any sort are offered. No means of asking questions in order to gain clarity for those who might find themselves being confused with some of the terminology used in the training.
---
Is Operation $10K a Scam?

Personally, I do not believe that Operation $10K is a scam, but it is not a training that I would recommend simply because much of the information can be found online for free, though true… offered by several different websites.
Besides this, newbies to this sort of business might find themselves very frustrated before reaching the end of this training. Especially, given that there is no means of receiving answers to technical questions that may need to be answered.
Because this training lacks a most fundamental feature, such as learning support that other training platforms in this same market provide, in my opinion, it is not very newbie-friendly.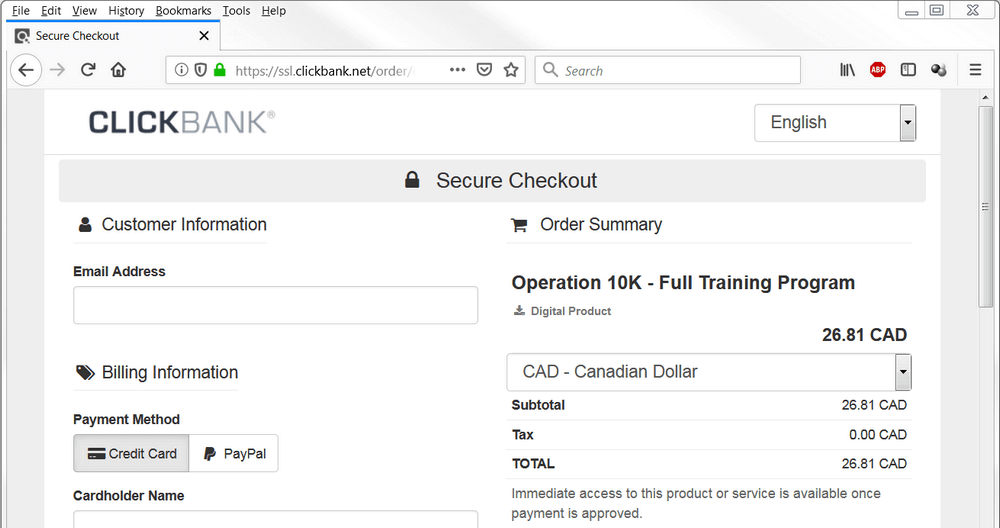 Though this product only cost me $26.81 CAD funds, I feel it is a total waste of money that could go to better use elsewhere.
---
A Better Long-Term Money Making Strategy
After finding and trying so many of these types of offers over the years, hoping to find the answer to learning to make money online long-term, I finally found the best training platform and joined it over two years ago now.
On this training platform, you can learn to create your very own online business. Your online business could eventually make you an authority in your chosen field, and as such you would gain the trust of your visitors. This is vital to anyone's online business success and this you will learn how to do with the training platform I am a member of.
You will be shown how to gain lots of targeted traffic to your website for FREE! Just like how you found my review here, right now. All this happened without my having to spend any money on ads or targeting email lists either.
Go ahead; take a few minutes of your time right now, to discover what this training platform I am speaking of is all about.

If you think this might be a "get rich quick scheme", think again… it is NOT.
Actually far from it! You will need to work at being dedicated, persistent, and patient while learning to build your new money making business. It takes time to grow a business properly.
To top off this offer, the platform that I recommend… you can sign up as a Starter member for FREE so that you can check out the quality of the training before making any financial commitment whatsoever.
As a Starter member, you will be allowed full access to Level 1, which contains 10 lessons and you will NOT be asked for credit card either, meaning NO financial commitment will be asked of you at your start.
So now, are you ready to stop wasting your time and money, and start to learn to build a quality, long-term online business to make money?
Click here to get my FREE guide:

Oh… I almost forgot to mention… there is another bonus that you can learn about in my free guide… on how you can get ME as YOUR Coach.
Hope you will feel free to ask me any questions as to whether Operation $10K is a scam or if you want to simply share some thoughts on this topic, then please feel free to leave a comment for me below. You will receive a response in good time.
Time to Stop Wasting Money,