Marc Gray and Trevor Carr apparently teamed up together in creating this 30+ video course.
And, the first thing their landing page video asks you is: if you have ever wondered what it is exactly that you need to be concentrating on if you want to start making regular money online.
Some say the money is in the list, then that it is video that you need to be concentrating on, Facebook, SEO (search engine optimization), CPA (cost per acquisition), ads, Instagram, Pinterest… and the list goes on.
Trevor Carr says, it is no wonder that you start to feel overwhelmed and end up not having a clue as to which way to turn.
He states that until he went full time as an internet marketer, less than two years ago, his life was full of stress and worry.
Carr goes on to say that he had to do something drastic to change his situation, and fast.
That's when he took a huge leap of faith and went full time into internet marketing. Fast forward to today, Carr claims that for the first time in a decade he has peace of mind, and his favourite four letter word… HOPE.
Then Carr goes on to claim that in just the last five days, he has managed to pull in on average about a thousand dollars per day in affiliate and vendor commission.
And, he says that what he learned in his two years of apprenticeship is that there is a <beep> ton of money to be made online, if you know what you are doing.
Carr says it is not one thing, it's a few. In fact, it's five, and that he was blissfully unaware of the power of this until recently when his buddy Marc Gray introduced him to his secret system.
My review here will cover the following:
See My #1 Recommended Way of Making Money Online:


What is The Big Five?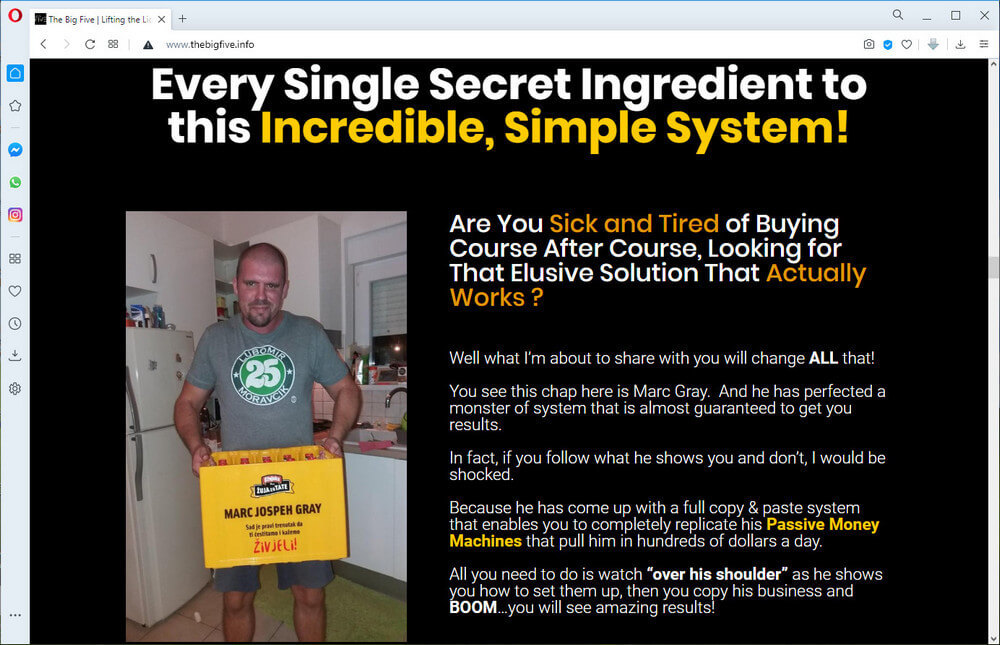 Program Name: The Big Five
Website: http://www.thebigfive.info/
Price: $67 US funds + 4 upsell
Recommended? YES …with reservations, explained later on
Rating:
---
Trevor Carr says that he was blown away by the simplicity of this and shocked by the results he (Marc Gray) was getting.
He went on to say that it was as if he built his very own ATM cash machine. Apparently, this gave him and Marc a big idea.
They decided to create a brand-new training course for you at which they would teach you from scratch not the one thing you would need to do, but all of the things you need to do.
He says that is so that you can hit the ground running, rather than continuously live for the next shiny object to make zero progress.
Carr states that they call this training course The Big Five, and that inside you are going to learn everything Marc has been working on behind the scenes over the last couple of years that is almost guaranteed to get you consistent results.
He says that they are going to reveal the secrets strategy that they use to powerfully leverage the five core parts of their business, by connecting them in such a simple, yet clever way, resulting in you finding the savings cash injections rather than staring at zeros.
Apparently, they will also teach you everything that you need to do in easy to follow, step by step videos that you will find a breeze to follow, even if you are a complete beginner, or have not previous experience.
Carr goes on to say… Plus, you'll learn a foolproof method that will enable you to set up a "cash on demand" business that even allows you to create a passive income stream that continues to pay you, regardless of what you're doing.
Then Carr tells you to look at Marc.
Apparently, Marc was recently off sick for three weeks and the money continued to pile in. So, he claims… The Big Five is possibly the very best training course you'll ever buy. It's the most comprehensive, case study packed course, you've seen, and will finally get you on the road to success.
But, Carr says, don't just take their word for it, then he provides what he deems as top affiliate marketer's take on their training. The following are those whom Carr shares their comments on their training:
Jonas Lindgren
Bauke Vreeswijk
Samuel Cheema
Bobby Dolcee
Jono Armstrong
So… Carr says that you now have two choices:
Click away from his page, and go back to your endless pursuit of that special shiny object that is going to work for you and bring the cash in…
or
Click on their buy button right now, and breath a huge sigh of relief and know that your search is now finally over.
---

How The Big Five Actually Works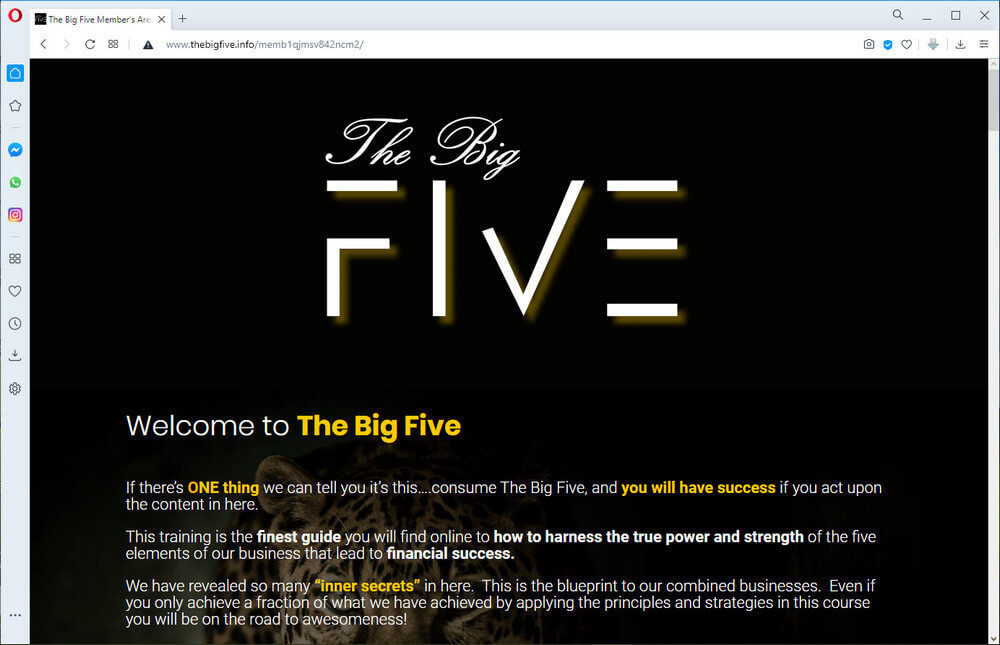 Inside the member's area, I found 6 different modules, each with different levels of training.
Module 1
The Big Five Introduction
The Big Five Roadmap and What to Expect
Case Study 1 – FB Group post. Promoting a year-old software
Case Study 2 – Driving Traffic from YouTube only
Case Study 3 – Using More of our Big Five
Branding – Niche & Domain
The Big Five Workshop webinar replay
The Big Five Documents (summaries of videos)

The Ultimate Ranking Guide.pdf
Branding & Some Important Links.pdf
Legal pages and robot.txt file.pdf
Module 2
Connecting You Domain to your hosting
Installing WordPress
Setting up our SSL quickly and easily
Connecting Our CDN for Security and Speed
Everything you need to know about plugins, safety and keeping people on your site
Choosing a theme and getting ready for must have pages
Creating Must Have Pages and Setting up a Custom Menu
Verifying All 4 versions of our site
Custom Permalink and site structure complete with SEO Sitemap
SEO Sitemap Submitted and Customised SEO robot.txt file uploaded and confirmed
Optimising Google Analytics and recapping what we have done, and the next steps
Module 3
Creating and Growing our Main Social Media platforms
Creating and Optimizing our YouTube Channel
Creating our FB Group, building trust and adding lead magnets and creating lists within FB
Growing your Facebook profile and FG Group, making friends and potential customers
Module 4 – Your List
Creating Our POP up and exit Pop up to start building our list
Driving new subscribers from our list to our FB Group using Lead Magnets
Module 5 – SEO
An Introduction to SEO and Getting Organic Traffic
Perfect on Page SEO, Creating SEO Traffic sucking images and full on-page Optimization
Massive Power of Web 2 0s, building them to increase DA and adding the right content
3 Step Off Page Ranking plan and blowing past your competition
Finalising the last points, congrats on building your business and what to do next
Module 6
Button to request to join Marc's Facebook group
Introduction from Trevor
Product Creation

Step 1 – Welcome to step one of the creation process.
By creation I mean this could be a product, it could be a lead magnet, it could be a bonus you give away. In fact, any product that you create can be all three, depending on how you want to use it.


Step 2 – Branding
And relax, this is way easier than you might think!
When you can brand, you can really enhance your results, and increase the perceived value.


Step 3 – In this video I show you how to actually create your product, that you can use as a product to launch, or as a lead magnet or as a bonus.
You don't need to go out and buy any fancy equipment. This is all done with free tools. And this is the exact process that I personally use to create my own assets.




PROS

Definite additional information that even a seasoned affiliate marketers can learn from.

Cost of the training is quite reasonable.

Great advice and tips provided.

CONS

Training may not be updated as the years go by. The training was uploaded to YouTube in 2018, and fore the most part is still quite relevant.

There is no support unless you use Marc's Facebook group, should you have ANY questions regarding his training.

No community to keep you motivated, therefore you NEED to be a self-motivated individual to make a successful business only having this training made available to you.

No tools provided.

---


Is The Big Five Bogus?

No, I do NOT believe The Big Five is bogus. In fact, quite the opposite.

The ONLY thing I recommend to ANYONE interested in purchasing this training is to not let this training be your ONLY training necessary in helping you create a successful online business.

That is why I stated earlier that I recommend this product with reservations.

Once you have continued to read what I have shared here, you will understand better. So, before you ask me… please do read on…

---


Do Affiliate Marketing Along-Side Like-Minded People

What if I could show you a training platform that will help you create a winning, online business, as well as supplying the tools you will need to build and maintain your very own business?

Would you be interested?

Then, do read on…

The training platform that I have been a member of since 2016, has provides you with not only world-class training but also provide you with the necessary tools in order to create and maintain a well-designed, online business.

Being with a group of like-minded individuals has many advantages.

Many members who are creating their own online businesses are also helping each other not only stay up-to-date with changes that are taking place online, but also able to help you out whenever you are in need of help.

Oh, and you can sign up as a Starter member too… for FREE! This is so that you can take your membership for a test drive.

As a Starter member, all you are asked to do is create a profile name, upload a profile image, add a short story to introduce yourself to all of the active members, and then get started on your FREE access to the first 10 lessons that you will only have 7 days to view.

Technically, you could be a Starter member for a very long time.

However, I'm sure you will want full access to all of the training (2 different courses!), as well as other goodies that are only available to Premium members only.

As a Starter member you can create a website for FREE, you can ask questions of the community and you can continue to build your FREE site for as long as you want.

Shortly after you have completed your 7 days of free access to two different types of training, you will receive an email offer, providing you with a substantially reduced monthly payment.

This is meant to encourage you to become a Premium member, and to provide you with a means of completing the training.

If for any reason, you wish to discontinue your membership at any time, you can. There's even a video to show you how to do that.

The training platform is NOT a get rich quick system, so you need to be prepared to actually work on building your online business.

Only those who are persistent, ambitious, and determined to succeed will be able to gain from being a member on this training platform.

So, if you're ready to start creating a winning, online business right now, then get your copy of my free guide so that you can become fully aware of all of the great tools, and advantages of being a member on this training platform now.

Hope to see you there.

Hope this review has answered the question, "is The Big Five bogus" for you, as I have enjoyed learning from their product while being able to provide you with this fair review.

Should you have ANY question regarding this product, please DO leave me a comment below. Once I receive your comment and reply, you will receive notification of my response.

Thanks for dropping by,