Matt Garrett and Alex Copeland are listed as the vendors of MAT1 YT Empire Building, and they are offering you a method to help you build YouTube channels quickly that generate true, sustainable income like clockwork.
Matt claims that with YT Empire Building you can get results fast, with no monthly fees, and 100% beginner friendly.
Then he asks you, how you would like to be offered one billion dollars for building a YouTube channel.
That may seem a little far out there, says Matt, and he's by no means saying that you'll receive that offer for putting up a few videos.
Apparently, that's exactly what happened to MrBeast.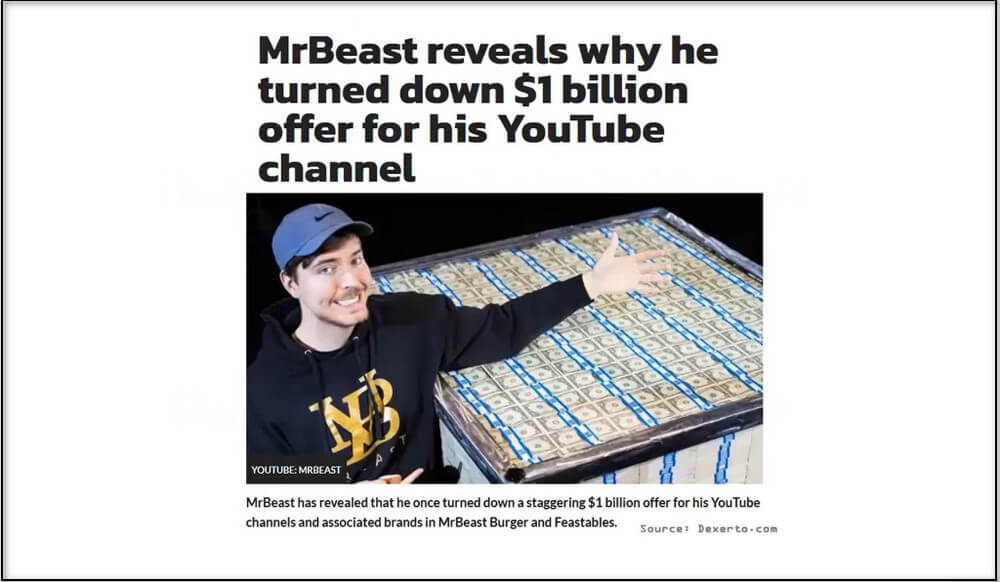 Matt goes on to explain that because the popularity of his channels, he was legitimately offered a billion dollars, and he turned down the offer, as he believes that it's actually worth more.
He states that YouTube is now the second largest search engine, and they'll happily pay you to build a channel on that platform, just like they're doing for others like yourself.
In fact, Matt is quick to add, that there are so many success stories from people making income from their channels.
Apparently, some go as high as in the millions while others just make thousands.
Matt claims the following:
Alexis Eldredge was able to grow her income to $3,667.03 per month with a small channel of subscribers.


WillisFX has been able to earn at least 100 pounds per video on his channel. Some of them have earned him as much as $900 per video!


Erica Boucher, took her passion of creating candles to YouTube and turned it into a full-time income.


MassageASMR makes anywhere from $6,5000 to $10,000 per month with ASMR videos.
And he claims it isn't slowing down. And then Matt says that as a matter of fact, it's going to increase.
Since the pandemic, Matt explains that people's viewing habits online really have changed and that video views are up like never before.
Apparently, people are consuming video content left and right, and it's only going to continue.
According to oberlo.ca "82 percent of the global internet traffic will come from video…"

According to thesocialshepherd.com, "14.9% of Millennials watched 10-20 hours of online video per week."

According to Matt, the average consumer now spends 100 minutes per day watching videos.

The demand for video content is increasing as 54% of consumers want to see more video content from brands they support, according to oberlo.ca.

And, according to eubusinessnews.com, "Brands that are utilising videos get 66% more qualified leads per year.

Matt claims that this is actually good news for you, as you can now be the "middle man" and get paid handsomely.
He goes on to explain that they need you to build on their channel, in order for the model to work.
And, Matt says, for doing so they'll happily let you share in the ad revenue while using your videos to promote other items for the monetization too.
There is one problem though, he says that YouTube has made it harder now to succeed.
Matt claims that it used to be that anyone could start a YouTube channel, get up and running quickly and start getting paid. But since some people ended up scamming the machine, YouTube has instituted barriers.
He goes on to explain that for example, now you need a certain level of subscribers and viewers before you can unlock some of the benefits like monetization.
Matt says that while this is a bummer for most, it won't be for you.
He then states that they have reverse-engineered the success pattern that lets anyone get incredible results building YouTube channels.
Matt says that he's been in the trenches, even with all of the updates and changes YouTube has made.
He's successfully navigated the platform, and continues to get results with his channels, and in fact he has helped others to do the same.
Matt claims that it's not all that challenging if you know what to do and what to look for.
The problem is that normally you would have to spend weeks or even months trying to piece together the workflow that gets results on demand, he says.
My review of MAT1 YT Empire Building by Matt Garrett and Alex Copeland will cover the following:
If You Don't Want to Waste Anymore of Your Time on Scams,
See My #1 Recommended Way of Making Money Online:


What is MAT1 YT Empire Building?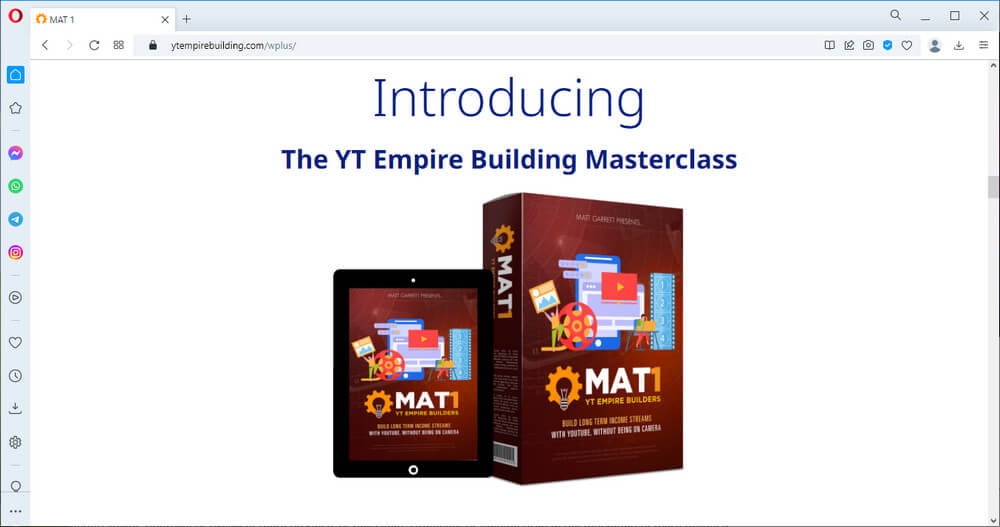 Program Name: MAT1 YT Empire Building
Website: https://useyourpassion.com/YT-Empire-Building (my affiliate link)
Price: $16.94 US funds, PLUS 5 Upsells and 1 Downsell
Recommended? YES
Rating:
---
Matt Garrett states that he's done all the hard work for you, and he's put it all together in an easy to follow, step-by-step video and cheat sheet training course.
He calls this training the YT Empire Building Masterclass.
No expensive studio tools necessary
No need to be on camera
Training can be learned in a weekend
No previous experience needed
Works for ANY niche
Paced learning fits around your schedule
Exact blueprint to all video formats
30-day refund guarantee
Matt says that it's time for you to start building your profitable YouTube channels in 3 simple steps.
Step 1: Sign up today, go through the training, and create your content.
Step 2: Follow the step-by-step instructions to start getting views, traffic and subscribers.
Step 3: Monetize your videos how you wish and get paid.
He claims that once you understand this formula you will be able to build successful YouTube channels for life.
You don't need to be an expert, Matt says, just follow our step-by-step process.
He states that he put together over 40 videos that show exactly what you need to do from this point moving forward, so that your results can practically be guaranteed with nothing left out.
Matt says that once you finish, you'll be a true, profitable YouTube channel building machine.
He asks that you please check over his sales page (URL stated above) for a full list of what he covers in the tutorial videos.
Matt claims that it's time for you to take charge of your future today; Get YT Empire Building right here (my affiliate link), and right now!
He explains that this is the right way to kick start your online income and build a better future, and you're covered by their 30-day refund guarantee.
Matt says that they're confident that you will find massive value in YT Empire Building but if for any reason you don't, then simply let them know within 30 days for a full refund with no quibbles.
You'll also get Matt's in-depth case study for ranking multiple videos on the first page of YouTube, with a brand-new channel.
He says that you need to act now, as this is a limited offer and they will be pushing the price up after the special introductory launch offer.
So, this is your chance to change your online future starting today, adds Matt.
He says to remember that you can check out the full details and conditions on his sales page, including all of the video tutorials and cheat sheets that you get. Secure your copy today.
---

How MAT1 YT Empire Building Actually Works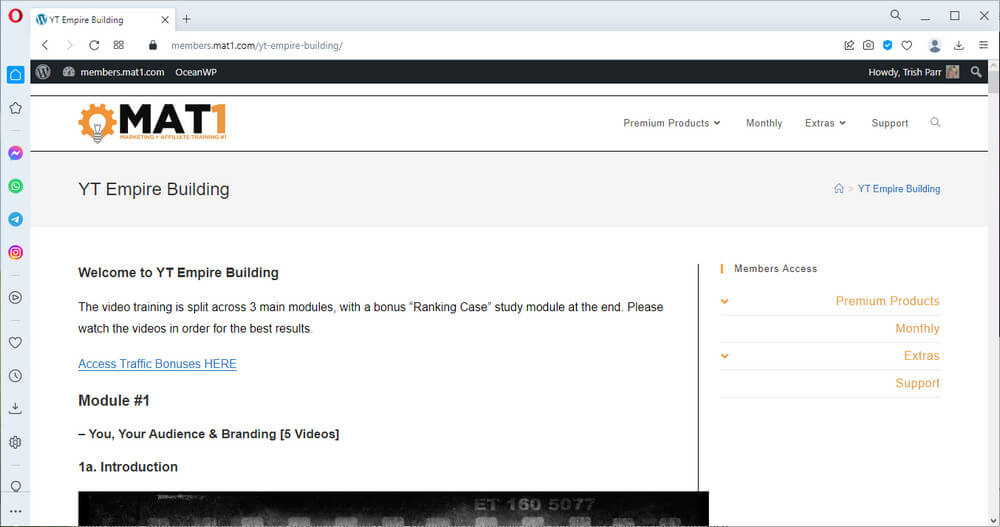 Inside the YT Empire Building training you will find the following:
Module 1
You, Your Audience & Branding [5 Videos]
1a. Introduction (02:05 minutes)
1b. Who is Your Audience? (07:32 minutes)
1c. How Will Branding Help Your YouTube Business? (05:21 minutes)
1d. What Do You Need to Consider With Regards to Your Audience? (01:07 minutes)
1e. What's Required of You? (+ Your Turn Action Steps) (04:34 minutes)
Module 2
The Top Types of Videos That Work In Any Niche [8 Videos]
2a. Videos Types Introduction (57 seconds)
2b. Vlogger Videos (03:31 minutes)
2c. Product Reviews, Unboxing Videos & Comparison Videos (02:56 minutes)
2d. Tutorials (How to Videos) (01:43 minutes)
2e. Some Other Ideas Pt1 (02:42 minutes)
2f. Some Other Ideas Pt2 (03:45 minutes)
2g. Other Ideas Pt3 (04:32 minutes)
2h. Top Video Formats (04:06 minutes)
Module 3
Show Me the Money [5 Videos]
3a. Show Me the Money (06:38 minutes)
3b. Sell Your Own Products (03:49 minutes)
3c. Sponsorships (04:22 minutes)
3d. Memberships (02:58 minutes)
3e. Donations (05:15 minutes)
Module 4
Building Your Channel [5 Videos]
4a. Building Your Channel (05:10 minutes)
4b. Video Length (04:31 minutes)
4c. Selecting a Title (06:46 minutes)
4d. Crafting Your Description (04:07 minutes)
4e. Like, Share Subscribe (02:25 minutes)
Module 5
Advanced Tips & Tricks [10 Quick Tips Videos]
5a. The Subscriber Boost (02:53 minutes)
5b. The Super Star Strategy (02:20 minutes)
5c. The Animated Advertiser (02:24 minutes)
5d. The Abrupter (01:50 minutes)
5e. The Profit Automizer (03:22 minutes)
5f. The Profitable Premier Strategy (02:06 minutes)
5g. The Piggyback (02:18 minutes)
5h. The View Amplifier (02:29 minutes)
5i. The Enhancer (02:13 minutes)
5j. The Open Book Strategy (02:30 minutes)
Bonus: Module 6
Ranking Case Study on New Channel [4 Videos]
6a. How To Optimize Your Youtube Channel For Traffic & Get Your Channel Monetized (09:29 minutes)
6b. How To Use Keyword Research Tools To Rank Your Youtube Videos (07:48 minutes)
Below which you will find a link to the tool offered
6c. How To Rank Youtube Videos With SEO (16:16 minutes)
6d. How To Rank Your Youtube Video On The First Page – Ranking Case Study With Proof (05:36 minutes)
Below which you will find a notice, informing you what has happened since this video was recorded.
6e. Underground YT Ranking Tool (00:00 minutes) – *Video Pending*
Extra Resources – Here's a few extra resources to accompany the videos:
YT Empire Building Course Checklist – 11 pages PDF file
YT Empire Building KIT Checklist – 12 pages PDF file
Access Traffic Bonuses HERE [not available to those who purchase only the basic access to this training]
TubeBuddy Free Trial HERE
PROS
The training is definitely very helpful for beginners and intermediates internet marketers alike.
CONS
Could find none.
---

My Take on MAT1 YT Empire Building

Matt Garrett and Alex Copeland definitely created a true masterclass inside MAT1 YT Empire Building.
The training is not only beginner friendly but a requirement for anyone wanting to gain the knowledge that it now takes to create a successful YouTube channel.
Below is my video review on MAT1 YT Empire Building by Matt Garrett and Alex Copeland
As promised in my video review, here's my affiliate link.


Summary
Having created a YouTube channel years ago now myself, I only wish that I would have had Matt's masterclass training available to me back then. But never mind, I've got it now, so look out world, Trish is here!
It is my goal to increase subscribers on my YouTube channel simply by following Matt's instructions inside the YT Empire Building Masterclass.
Should you have any question(s) regarding is MAT1 YT Empire Building beginner friendly, I hope you will feel free to leave them in a comment below so that we may discuss this further.
See You Inside YouTube,