Alessandro Zamboni presents what he calls his definitive course about journals, zero-content books that are selling like crazy over Amazon.
He goes on to say that this is born to show you how to create your own journals for free, and how to bring them to first Amazon positions.
Zamboni claims that in a 20-minute session, you could have your new journal up for sale on Amazon.
Then he says to imagine how many of these journals that you could create over a year, if you consider in one day that you can make two or three of them.
And, he claims that journals are a "solid trend" nowadays and that people love to buy them and collect them.
That they are a tool for inspiration and people love to write on their pages.
Zamboni says that if you want to be a part of this growing niche, he will show you all of what he learned in a year and half since he launched the original Journals Empire.
The following is his brief overview:
The top 5 niches for creating hot journals, uncovered for you.
The steps to create each one of the 5 journals.
How to find new journal niches.
Three secret tools to test your niches before publishing.
The secret to dominate Amazon SEO.
Where to find and steal the keywords of the already bestselling journals.
How to create fantastic covers for your journals.
How to publish your journals on KDP.
Ways to sell your journals like crazy.
…and more.
My review covers the following:
What is Journals Empire 2.0?
How Journals Empire 2.0 Actually Works
My Take on Journals Empire 2.0
Summary
See My #1 Recommended Way of Making Money Online:


What is Journals Empire 2.0?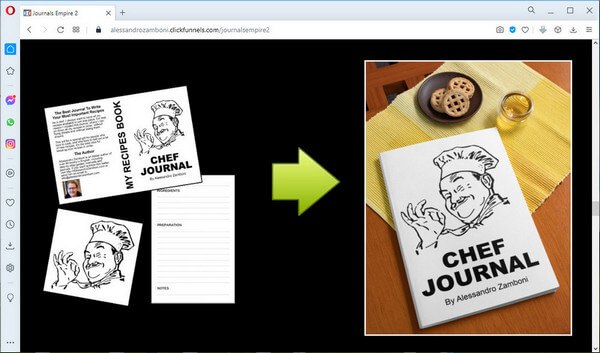 Program Name: Journals Empire 2.0
Website: https://alessandrozamboni.clickfunnels.com/journalsempire2
Price: $27 US funds + 3 upsells
Recommended? YES
Rating:
---
With Alessandro Zamboni's online video course, he claims that this is your opportunity to enter a solid niche that is growing like crazy year by year.
And, he says that you can do this even if you hate to write, because it is zero-content.
Zamboni stresses that you won't want to lose the chance to have your journals listed on Amazon and selling like crazy.
He claims that most of the Kindle methods being offered are not so beginner-friendly as his training is.
Zamboni claims that he will guide you step-by-step in building your very own customized journals in as little as 20 to 30 minutes for each one.
Zamboni claims that people want easy ways to jot down important things that they want to remember in order to organize their days.
And, he goes on to say that even with document editors on your computer and cell phone, it is normal to want to write in a journal as it is your moment of peace.
These journals, Zamboni says, also make great gifts for friends as that has happened to him many times.
And, he claims that there are a lot of secrets in creating and selling top journals, and he says that he will share them with you.
You can now become a part of knowing how to create and sell top-selling journals.
---

How Journals Empire 2.0 Actually Works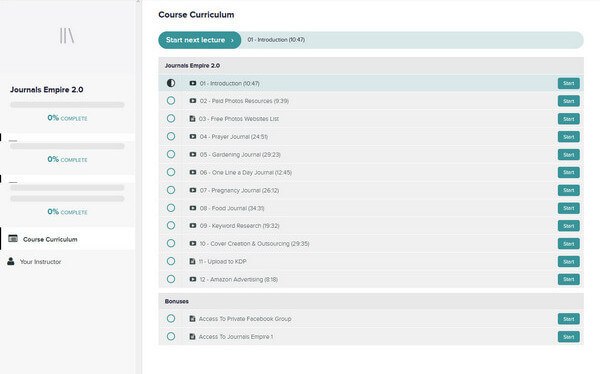 Alessandro Zamboni actually is the one who provides you with the training.
Journals Empire 2.0
01 – Introduction (10:47) – examples are even provided so that you will get to learn straight away, and he shares an awesome tool with you, called KDSPY, which is available as a browser addon (link opens in a new window).
02 – Paid Photos Resources (9:39) – Zamboni shares 2 websites where you can find graphics that you can use in making your creative journals.
03 – Free Photos Websites List – is a Word document where Zamboni shares over 20 different websites offering free images.
SIDE NOTE: Please, DO read the small print at EACH of these sites BEFORE using the images as some may state something like "personal use only".
In that case, you would NOT want to use their images for journals you are planning on selling.
There are American law firms who scout the internet on a regular basis, for images being used improperly.
Once they find a site using an image improperly, they will issue the website owner a law suit.
Even if you are in another country, you will NOT be protected from these law firms, as American lawyers will and can crush anyone they target financially, anywhere in the world.
04 – Prayer Journal (24:51) – Zamboni walks you through how to search Amazon for examples of journals and he explains why. This way you will learn how and why to choose your niche. And, he suggests layouts that work, after which he then takes you inside Canva and shows you how to use this software in creating your journals. Then he shows you how to prepare your journal for selling on Amazon.
05 – Gardening Journal (29:23) – More training is provided for you by Zamboni. He shows you how to find the different journals for sale, using Amazon. Analyzing a niche is important, so you will need to pay close attention. Then, back inside Canva, Zamboni shares some additional creative ideas with you in creating yet another journal.
06 – One Line a Day Journal (12:45) – This is the third type of journal being discussed by Zamboni, and he is using Amazon to discuss this with you. Then once again, back into Canva to show you how you can create your very own journal for this niche, to sell on Amazon.
07 – Pregnancy Journal (26:12) – In this video, Zamboni is showing you how hot this niche is and once again, using Canva, he shows you how you can create your very own journal that you could offer for sale on Amazon.
08 – Food Journal (34:31) – Each video, Zamboni provides you with different, unique ideas in creating your journals that you may find very useful. This training will provide you with that too.
09 – Keyword Research (19:32) – Using Amazon, Zamboni shows you how to analyze if you are using the correct keywords to list your journals for sale. You may find some of his secrets very useful.
10 – Cover Creation & Outsourcing (29:35) – Zamboni offers you several options to consider (depending on your budget) when creating your covers. You will even be shown how to create your cover from scratch.
11 – Upload to KDP (15:21) – Zamboni shares with you how to share your journal (including the cover) to the KDP platform and prepare your journal for sale.
12 – Amazon Advertising (8:18) – This is Zamboni's suggestion to be used ONLY if you do not see results in sales of your journal in about 4 weeks.
Plus, BONUSES are provided.
Upsell 1: Are example journals of 7 niches, in which Zamboni promises to show you their secrets and keywords, how much each niche is earning, and the step-by-step instructions in creating these. Plus, an exclusive bonus would be yours for purchasing this upsell.
At the time of writing this, this upsell is $27 US funds.
Upsell 2: Five journal page templates, with each template provided in three different formats, which are as follows:
5.5″ x 8.5″
6″ x 9″
8.5″ x 11″
Plus, two bonus pages will be waiting for you about books Zamboni showed you in his course on creating journals.
Apparently, these templates are available to you in PDF, JPG and PNG format when you purchase this upsell.
This upsell is being offered at $27 US funds, at the time of writing this.
Upsell 3: Provides you with a set of journals that are ready to be published. All you will need to do is add your name to the journal. These journals are as follows:
Gardening Journal
One Line a Day Journal
Pregnancy Journal
Unicorn Sketchbook
Zamboni claims these were created as "state of the art journals" in their given category, after studying the available journals in each of the categories.
Each journal is said to be over 120 pages, with different sections, lines, images, and special pages.
Should you get offered this upsell, you will be able to see screen prints of some of the pages that have been created for these ready-made journals.
With this upsell, it is said that purchasers will be provided with PLR rights for $47 US funds. (only 16 of 25 remain available, at the time of my writing this).
---

My Take on Journals Empire 2.0

By all means, this course is NOT a get rich quick scheme, and you should NOT be considering purchasing if you think that you will get rich by simply creating and offering journals for sale on Amazon.
However, this course is jam-packed with quality training that I am certain can be used in creating other unique products to offer in other types of books too.
Apparently, this product was $10 less when first launched last year, but is still well worth the $27 US funds for the Journals Empire 2.0 online video course.
The most creative among you will only need to purchase access to the training without the upsells.
By simply following the training properly, and do the necessary work shown in the videos in order to create great looking journals, this should be all that you really need.
Also, try Google searching for things like "free templates for journals" (without the quotation marks, of course) before contemplating paying for layouts. Personally, creating your own unique layouts could have your journals standing out from the rest.
For those of you who are less creative, the upsells will have you covered. Either way, I truly believe you get a LOT MORE than you pay for when purchasing Journals Empire 2.0.
This offer to Zamboni's training is topped off with a 14-day 100% money back guarantee if you are not happy with the training that he provides you with.


Summary
I'm very happy with my purchasing Journals Empire 2.0. And, I have even been able to think of creating another type of journal that seems to have disappeared from the marketplace, as I cannot find this one type anywhere, online nor offline.
Do hope that my review of Journal Empire 2.0 by Alessandro Zamboni helps you make an informed decision as to buy or not to buy.
Again, if you are a creative person, I do believe you will be very impressed with this training. I know that I sure was impressed.
And, if you REALLY want to know how to create a profitable store on Amazon, you may find the following post to be most helpful to you: How to Create a Profitable Store on Amazon.
Should you have any question regarding my review on Journals Empire 2.0, I do hope that you will create a comment below and ask it.
All comments are responded to in a timely manner as my way of proving to you that I am a real person offering you this information, and not some silly bot software.
Time to Make Money Online!