Al Cheeseman, David Kirby and Kenny Tan claim that this is the world's most fully automated software that harnesses 24+ sources for free buyer traffic, with a single click of a mouse.
The male narrator in their landing page video claims that even if you are a complete newbie with no tech skills, you can finally have all of the traffic you need within 60 seconds from your start in using their software.
This person goes on to say that Eezeytraffic is an amazing newbie-friendly traffic software that allows anyone, regardless of their experience, to effortlessly get buyer traffic on demand to generate huge profits online.
Then he shows you an image of a bunch of different, fancy styles of charts, while saying for you to look at their results from the buyer traffic they are getting with a mouse click.
He says that once they activated Eezetraffic, the free buyer traffic just kept coming in on autopilot and makes them profits day after day.
He goes on to say that now you can get money making buyer traffic like this in just two simple steps, and that you will finally be ready to potentially generate huge profits just like they do.
Apparently, Eezeytraffic is beginner-friendly and suitable for all ages, and he goes on to claim that what is really amazing about Eezeytraffic is that it is seriously all you need to succeed online.
He says that it's a must-have for anyone who wants to generate huge profits online.
This man says that you don't even need to worry about all the usual technical setup because it's simple and it works at the push of a button… and that you don't need anything else because Eezeytraffic is incredibly powerful.
My review here will cover the following:
If You Don't Want to Waste Anymore of Your Time on Scams,
See My #1 Recommended Way of Making Money Online:


What is Eezeytraffic?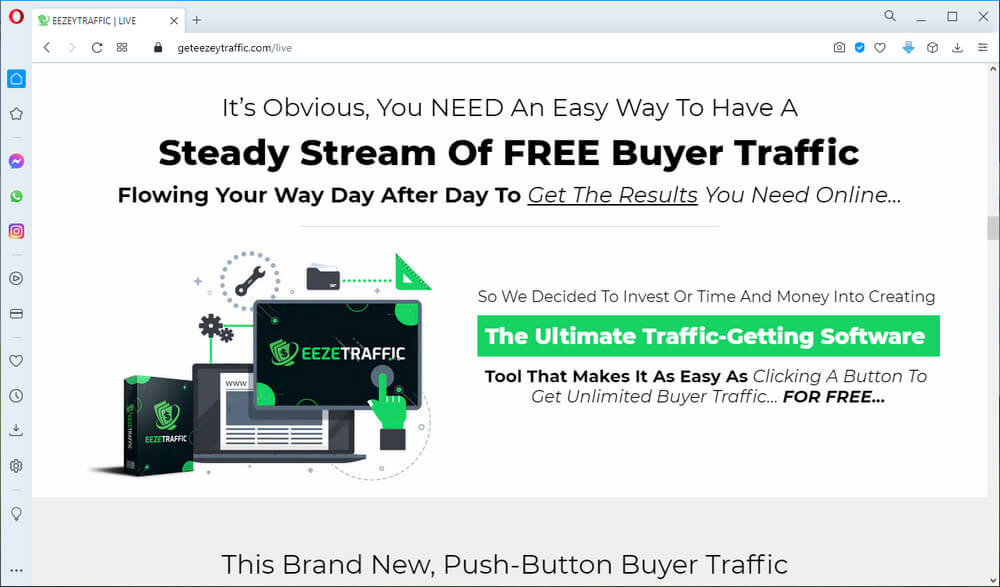 Program Name: Eezeytraffic
Website: https://geteezeytraffic.com/live
Price: $16.42 US funds (go to leave the site and you'll be offered a $3 discount pop-out window) + 8 Upsells, each offering a pop-out window discount
Recommended? NO
Rating:
---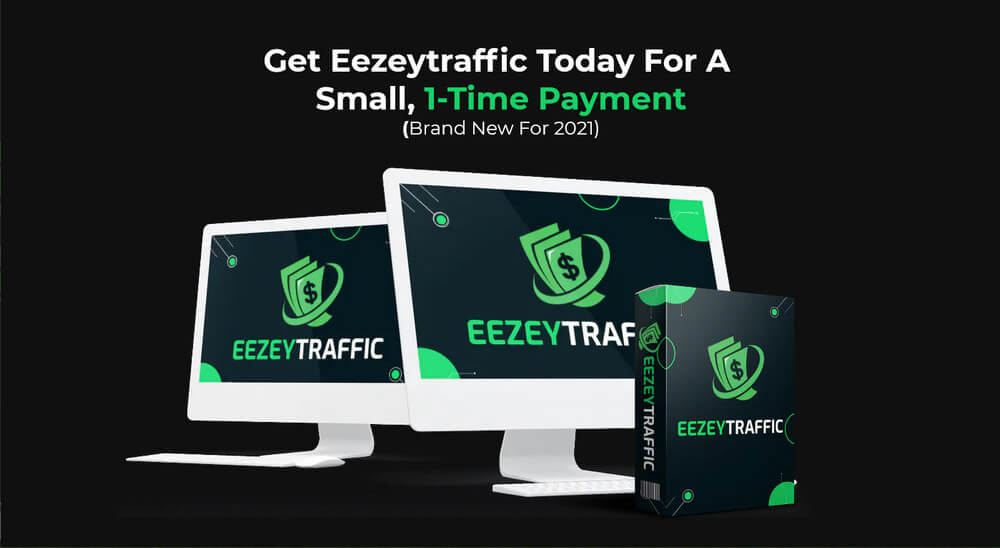 Again, the male narrator in the landing page video claims that you can start making money in just two simple steps. He claims the steps are as follows:
Step 1: Grab Eezeytraffic for an incredibly low one-time price.
Step 2: Click your mouse one time and Eezeytraffic will send automated free buyer traffic from twenty-four plus sources to any link, offer, or sales funnel within a few seconds.
He goes on to say that Eezeytraffic instantly allows you to live the true laptop lifestyle and that you can finally get sales consistently, without any skills or experience required.
Apparently, you can work smarter by using their exact software that does it all for you. He goes on to claim that you can fire your boss, take back control of your life, and enjoy complete freedom.
Then he says that okay, you maybe thinking that Eezeytraffic is seriously expensive, and he says that it would be fair to charge $197 per month for this, and that you would still be getting huge value even at that price.
However, he claims that you are not going to pay anywhere near that today. He says that in celebration of their launching Eezeytraffic, they are discounting the price and removing the monthly free for a limited time.
He says that this means that when you get Eezeytraffic right now, you're not going to pay $197 per month to access this astonishing software. In fact, he says, you're not going to have to pay monthly at all.
By hitting the buy button right now, he claims that you get instant access to Eezeytraffic for a single, one-time investment.
But he says to wait… that it gets much better… and that when you act right now you will also get five premium bonuses worth thousands absolutely free.
Then this man says to let him assure you that you will get everything you need with Eezeytraffic, but when you grab at least 3 upgrades, they will also give you full access to all of their incredible traffic and sales Apps to get you started at ten times the speed, worth over fourteen thousand dollars, also absolutely free.
To make the offer what they claim is a total no brainer, with a single click of a mouse you are fully protected by their no-questions-asked, 180-day money back guarantee, so apparently, there is absolutely zero risk to you.
That is how confident they claim they are that you will love Eezeytraffic.
And to totally blow your mind and further eliminate any worry or risk, when you act now, the male narrator claims that you will also get their "Get results or Get TRIPLE your money-back guarantee."
He claims that in fact, the only way you lose here is if you do not pick up Eezeytraffic today.
He goes on to say that you win either way; you either walk away with results or you walk off with TRIPLE your money-back.
He says that is not bad at all for taking Eezeytraffic for a test drive, so he says for you to click the buy button to lock-in your one-time-discount, and get instant access before their price increases.
He says to act now because the price goes up every 60 minutes, so if you wait, you will pay more.
---

How Eezeytraffic Actually Works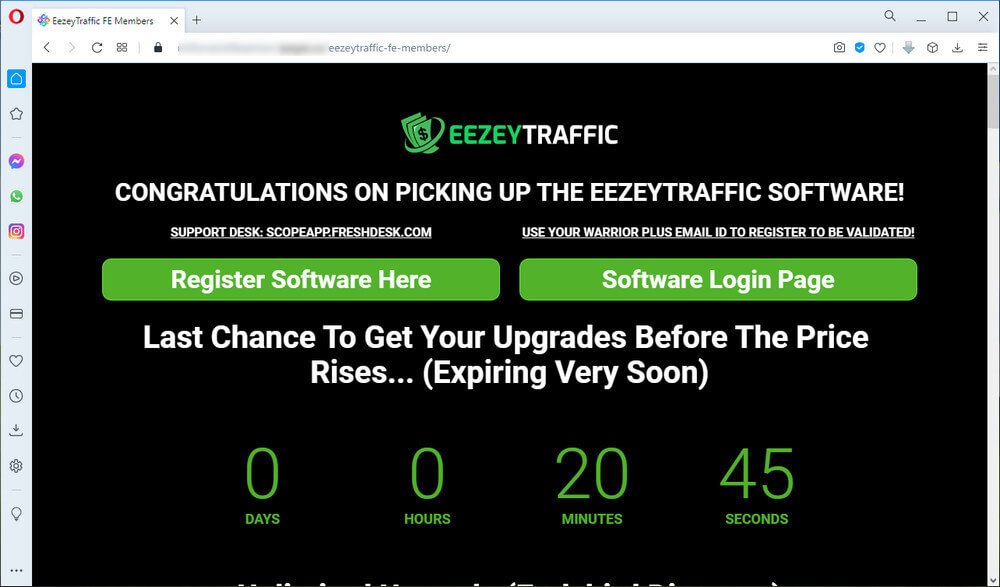 At my start, I found their software was not functioning properly and a support ticket was required simply to register with so that their software could be logged into.
Once I finally had access, I noted the following:
The Dashboard, where it appears that once a user sets up the software, you might have information at a glance.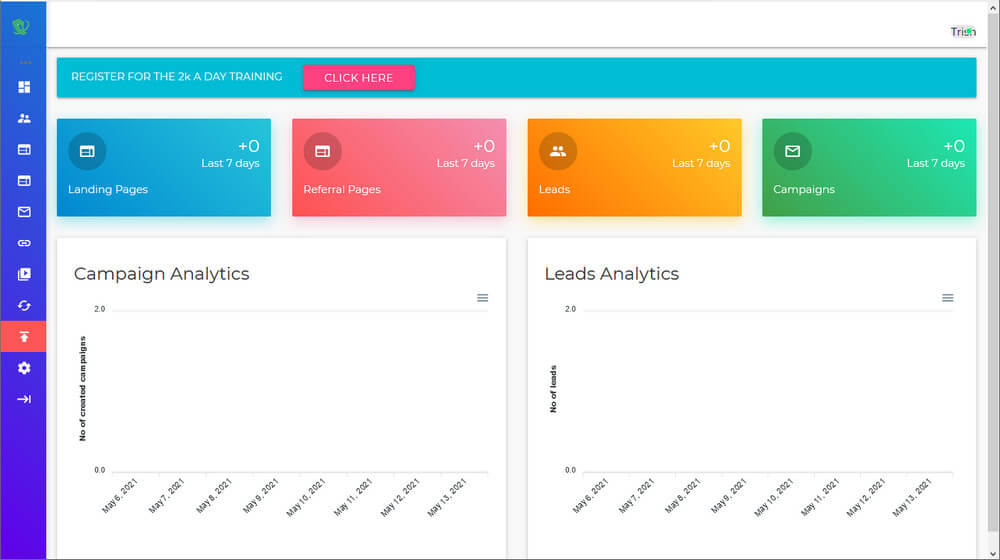 Along the left-hand, you'll notice a purple strip which is their navigation bar. To activate the navigation bar so that you can see your options, you need to place your cursor over top of the purple strip.
When you move your cursor from that area, the navigation bar vanishes once again.
Below is a screen print of the options provided to users.

Next screen print is the Leads page.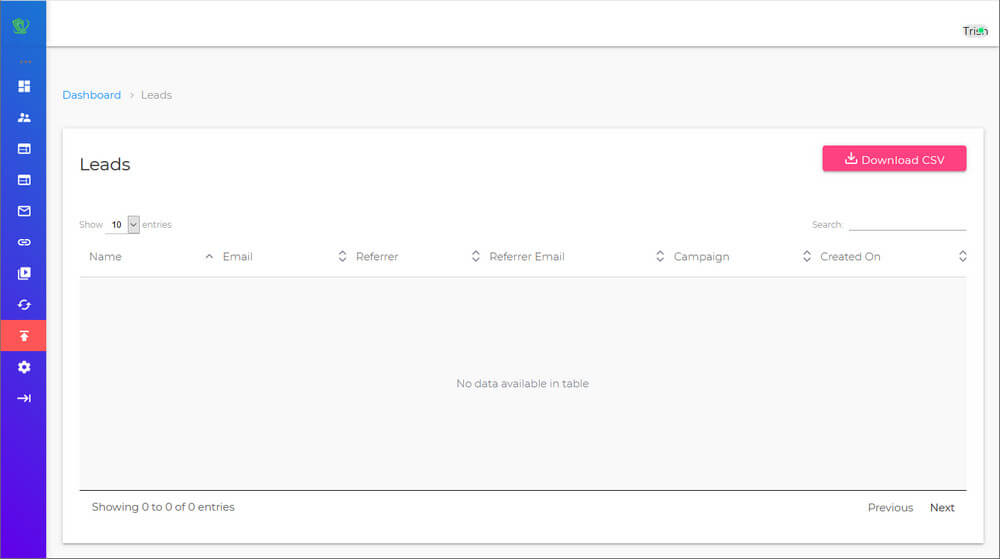 Followed by Squeeze Pages.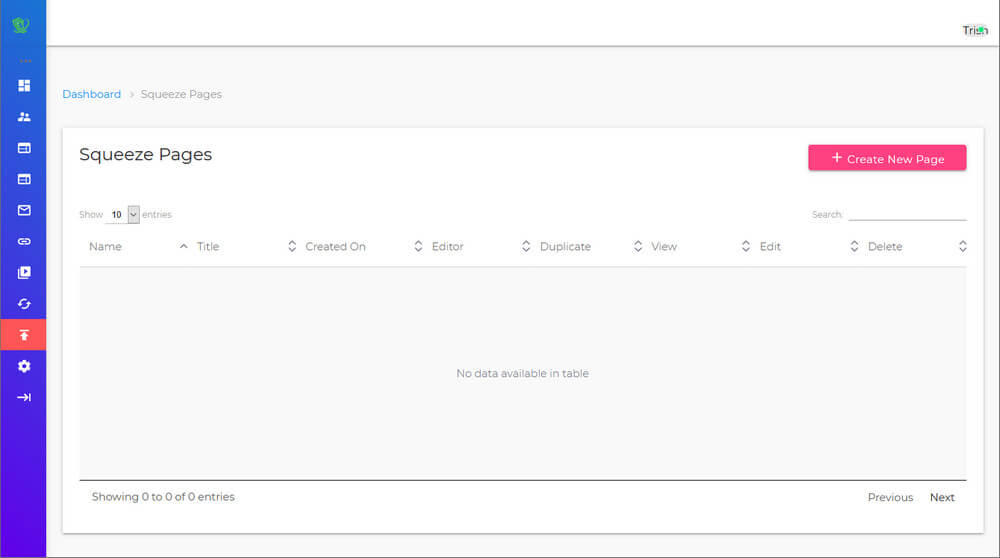 Which is followed by Traffic Pages.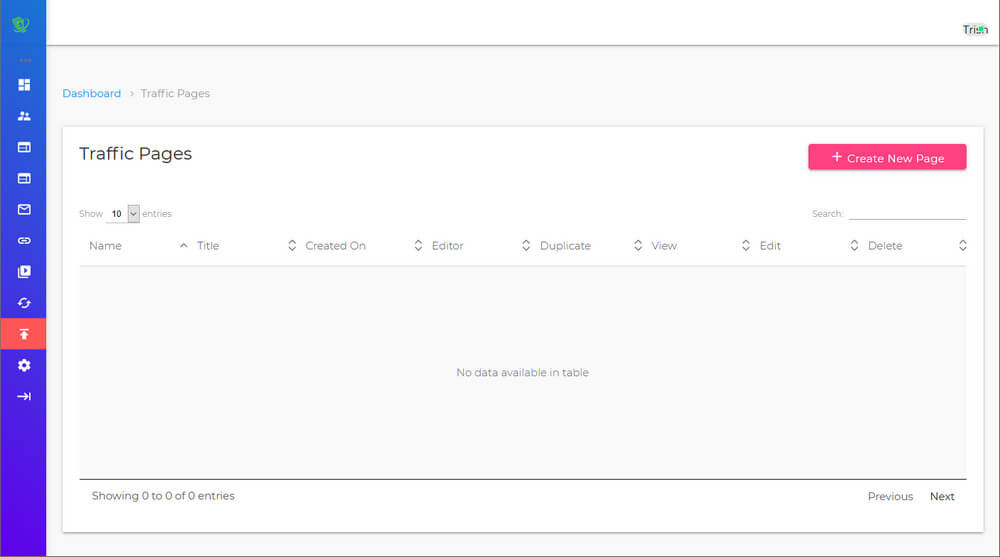 Then Profit Streams.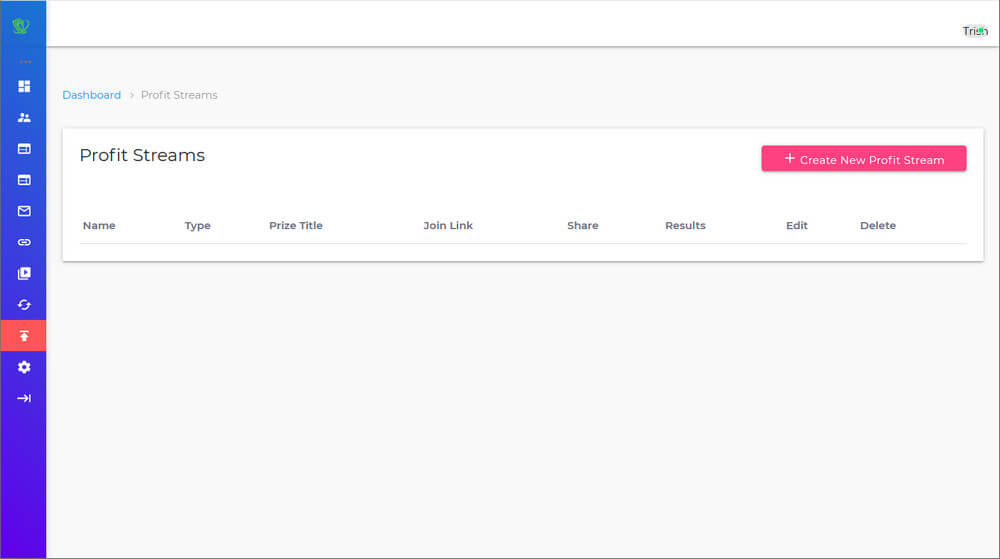 And, then by Affiliate Links… which offers only the vendor's products.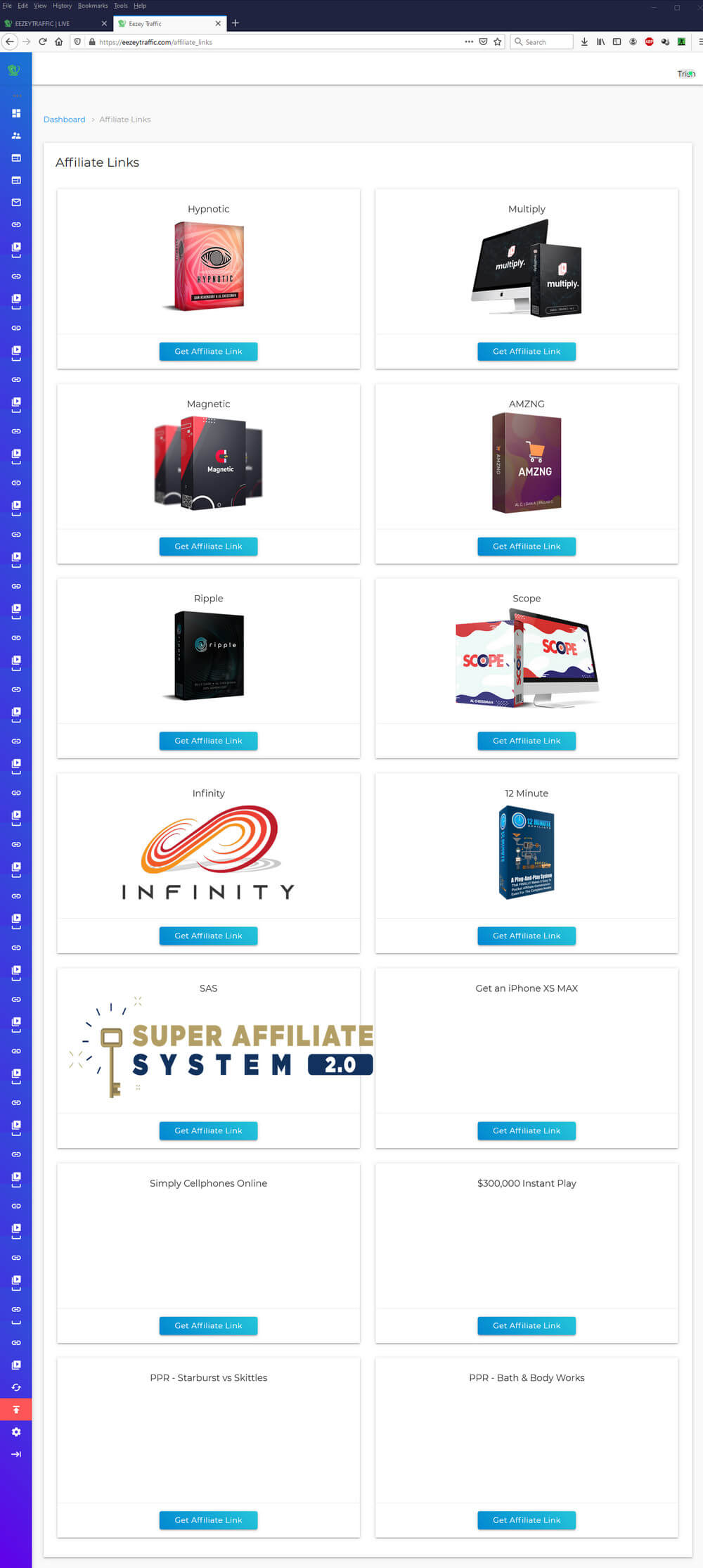 Then, we come to their Training.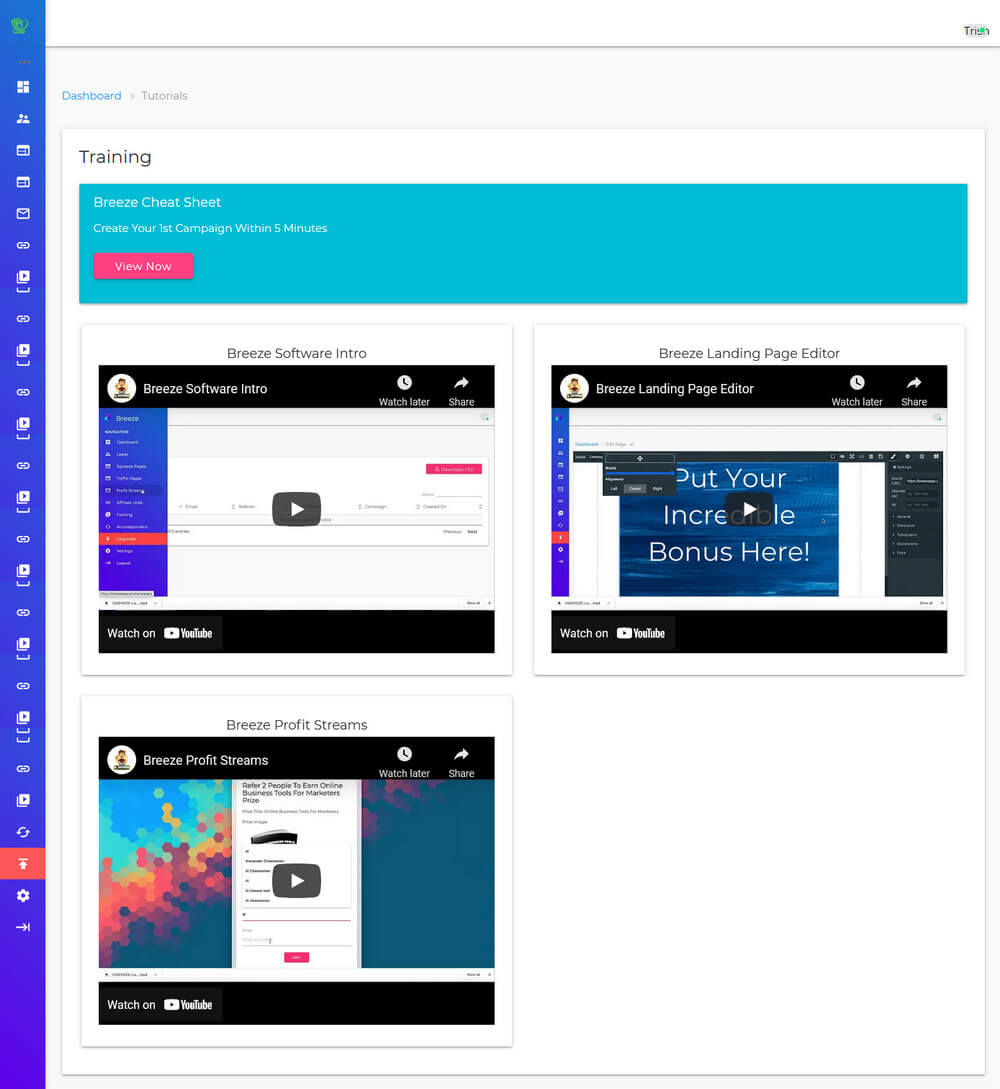 Breeze Cheat Sheet – which is a Google doc, which provides users with the following instruction. Please note the paragraphs that I have highlighted as I will be referring to those later.
When you first open the software you will be presented with the user's dashboard which gives you a quick overview of everything that is happening behind the scenes.

To build your first campaign, you need to start by linking your autoresponder to the system. The software is designed to link with GetResponse and with aWeber, but by doing a little bit of editing you can actually use any of the most popular autoresponders on the market today.

(To do so, you will need to request the custom integration code from your AR provider first. Then on the page you wish to collect your leads, you need to create a custom code field. In this field you will enter the code that you got from your AR provider. Easy peasy!)

Now you want to build yourself a squeeze page. This is the page that your leads will land on where they enter their information.

You can either use one of the preformed templates or you can create a landing page from scratch. After you have created the page you can edit it to your liking under the "editor" button.

Your next step is to create a traffic page. This is the page that those who wish to promote your offer will signup on will do so. Again you can edit this page under the "editor" button.

Next on our list of things to do is to grab your affiliate link from Warrior Plus for one of the products being offered within the software by clicking on the affiliate links tab. (Or if you so wish you can choose any affiliate YOU might have on hand.)

Now it is time to put it all together. So goto the Profit Streams tab and hold on tight!

Choose "create new" > name your campaign > choose the type of offer you want "make money" or "freebie" (and choose one of the templates) then on to step 2

choose the prize that you will give to the people who promote for you from the drop-down list, then on to step 3

if you have the upgrade oto2 you will choose the start and end dates of the campaign; otherwise, you will choose your referral page that you created above and the number of referrals they need to make before receiving their prize.

when you press submit you will be taken to a page where you will be given a "join link" this is the link you give it to get people to help promote for you.

when someone signs up as a promoter they will be given a special "referral link" that they use to promote your offer.

And that is it. You have now created your first campaign inside of Breeze within 5 minutes.
The videos are as follows:
Video 1 – Breeze Software Intro, which is 2 minutes and 31 seconds in length.
Video 2 – Breeze Landing Page Editor, which is 3 minutes and 33 seconds in length.
Video 3 – Breeze Profit Streams, which is 6 minutes and 27 seconds in length.
The next page in their software is Autoresponders.
Which is followed by the Upgrades or rather their upsells.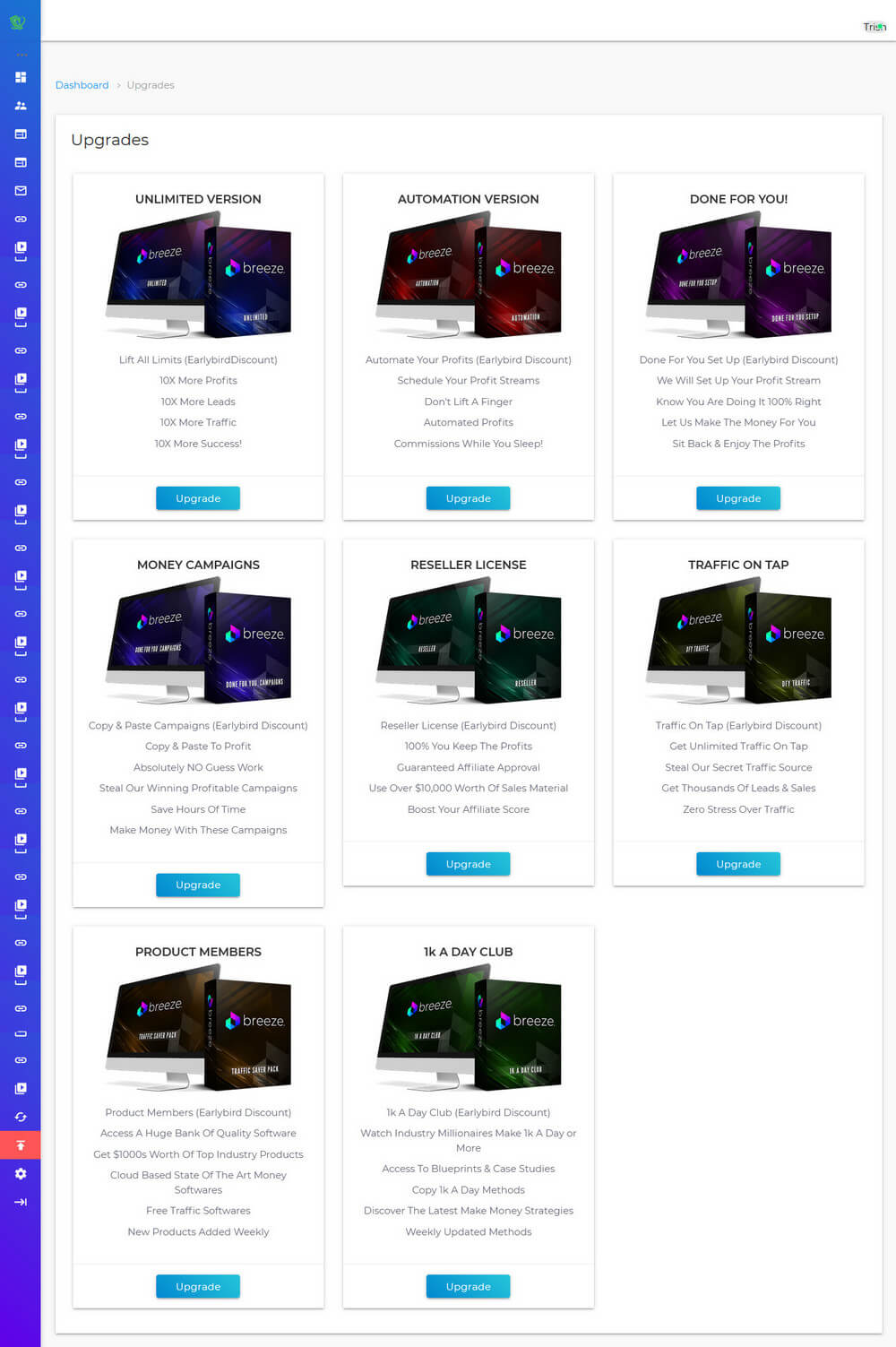 And last of all is the Settings page, which is actually a user's Profile page.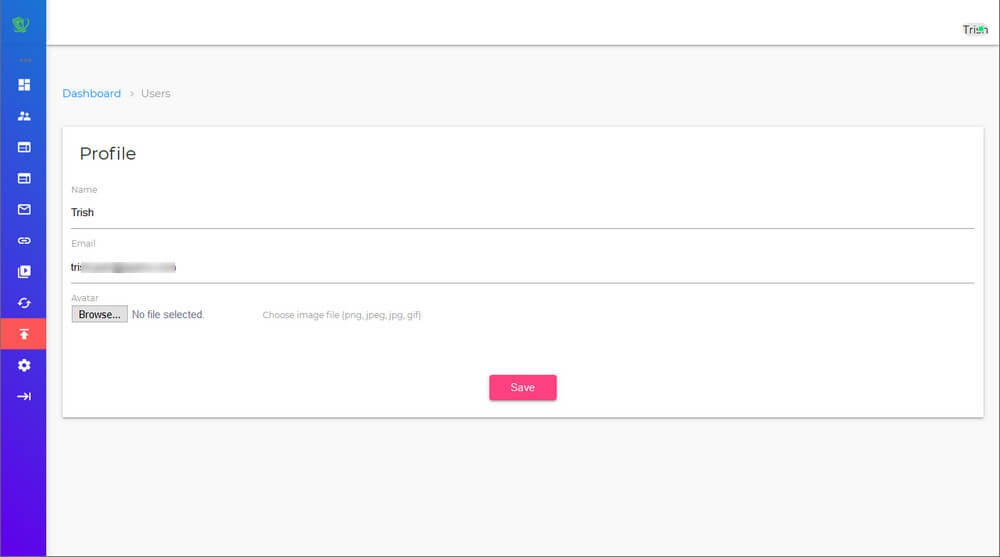 PROS
I could find NONE.
CONS
This software is sold promising buyers that "Eezeytraffic is an amazing newbie-friendly traffic software that allows anyone, regardless of their experience, to effortlessly get buyer traffic on demand to generate huge profits online." Yet nowhere inside the training is there any means offered to a user to actually get the buyer traffic promised.
Could not find proof anywhere of the promised "buyer traffic in just two simple steps", nor that Eezeytraffic is as simple as a push of a button.
This software is anything but newbie-friendly due to the total lack of proper training provided by the vendor.
Where is the 24+ sources of buyer traffic we are promised over and over again on their landing page?
There were only 4 bonuses, not the 5 promised, and you will receive links to those in an email sent to you once you have paid.
---

My Take on Eezeytraffic

This software is but a shell of a website for users to work with, and the training is sadly lacking, so I do NOT recommend EezeyTraffic as 1-click software, nor do they provide their main promise of buyer traffic anywhere inside their training.
The vendors have simply tried to reinvent what appears to be their interpretation of a funnel system.
My Honest Review on Eezytraffic


Summary
I do hope that you realize by now that the answer to "Is EezeyTraffic Really a 1-Click Software That Auto Blasts Free Buyer Traffic to Any Link in 60 Seconds?", is an absolute NO!
There is no magical 1-click software that will get you there. So, when you see promises like these vendors promise their buyers… RUN!
If you want to learn to make money online, it truly takes work.
Having full support and talented coaches 24/7 are vital assets, especially for a newbie, right?
If you answered yes, then be sure to get my free guide and discover how you can start learning right now, for FREE!
You won't even be asked for a credit card.
The owners of this training platform are so confident that you will enjoy learning that you will have full access for 7 whole days of FREE training simply for signing up and completing your free membership.
Should you have any question(s) in wondering is Eezeytraffic really a 1-clidk software that auto blasts free buyer traffic to any link in 60 seconds, then please leave them in a comment below, and I will respond in a timely manner.
Learning is Fun,