Branson Tay is the vendor or GooglyPay, which apparently is a trademarked name. In his video, Tay claims that he made a total of $2,024, in just a mere 24 hours.
He goes on to say that you might think he had to work hard for this money.
But apparently, all he had to do to make this money was open up Google, and make a few simple searches, and each search he made, he claims that he got paid $49 in cold hard cash.
Tay says that he knows that $49 many not seems like a lot but it quickly adds up into a generous amount of income… and that you are to remember that he had to do barely any work.
He explains that he got paid for something he already was doing on a daily basis, which is searching on Google.
He acknowledges that this might all seem far fetched but he asks you to assume for a moment if it were possible… would you like to start doing the same?
Then Tay asks you if you would like to receive $49 every time you do a simple search on Google.
He says that if you answered "yes", then he wants you to let him show you exactly how it's done.
He claims that after months of research, his team uncovered a little known, $1.7 trillion-dollar loophole inside one of the largest companies in the world, Google.
And apparently, they have figured out how to exploit it, and receive $49 payments over and over again, every time they search on Google.
Tay states that it's a brand-new opportunity that's proven to work as all 29 stone cold newbie beta testers have made money within 24 hours.
To date, Tay claims that a whooping $189,324.04 in PROFIT has already been generated with GooglyPay.
According to Tay, that this doesn't cost them anything, and that it's all PURE profit.
My review of GooglyPay will cover the following:
If You Don't Want to Waste Anymore of Your Time on Scams,
See My #1 Recommended Way of Making Money Online:


What is GooglyPay?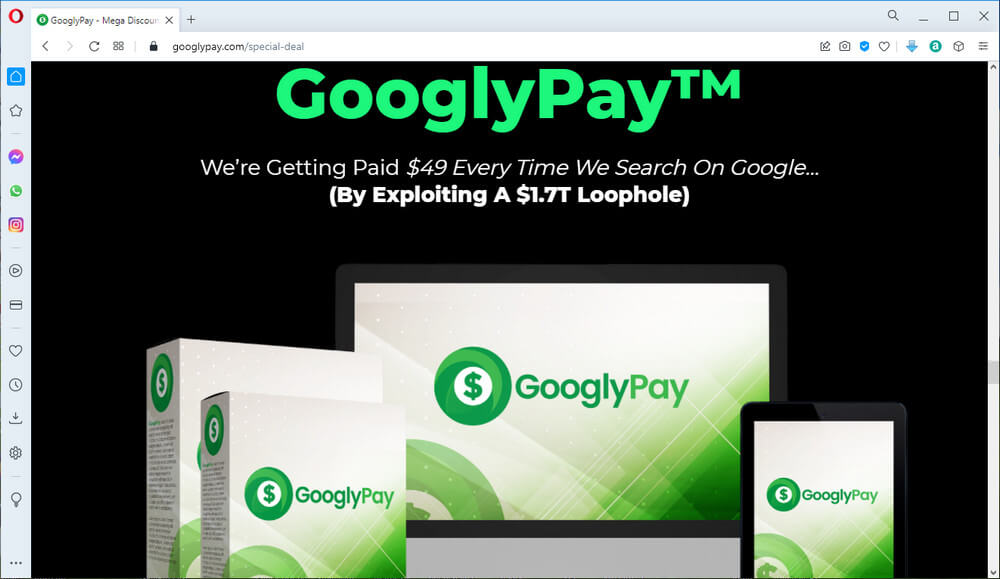 Program Name: GooglyPay
Website: https://googlypay.com/special-deal
Price: $19 US funds + 7 Upsells and 7 Downsell popup offers
Recommended? NO
Rating:
---
Branson Tay claims that every penny they make they get to keep, and that all of this has been made possible by their new APP GooglyPay.
He goes on to explain that GooglyPay lets them cash in on a $1.7 trillion-dollar loophole found inside Google's servers that pays them $49 every time they do a search.
No hassles,
No paid ads,
No email marketing,
No list building,
No headaches,
No nonsense.
Tay says that all they have to do is fire up GooglyPay in just 3 easy steps.
Step #1: Access GooglyPay. Click their buy button and get a copy. He claims that you need to hurry as there is a limited availability.
Step #2: Turn on the "Paid2Search" technology inside the GooglyPay Dashboard, which apparently, takes just 1 to 2 minutes to do.
Step #3: Search.
He then repeats his previous claims that they are getting paid $49 every time they search on Google, while showing you a screen print of scrolling, what appears to be income on $49 commissions paid.
Tay says that the more they search, the more profits they make, and that you are to remember that you don't need to buy any expensive, fancy pants tools.
No domains
No hosting
No autoresponders
No tracking software
No paying for traffic
None of those expensive headaches.
Tay claims that as long as they are searching Google, they're getting paid.
However, he says that you might be wondering home much will GooglyPay cost you.
And, Tay is quick to state that it cost them $67,320.26 to develop GooglyPay, so it would be reasonable to charge $297 monthly.
Tay then asks you, "Isn't that a small price for a system that can pay your for searching Google?"
But he continues with, however, they understand that maybe you've been burned by other opportunities before, and you've worked hard this year.
So apparently, for a limited time only, they will be slashing the monthly price to a low one-time investment that is the same price tag as a dinner.
And apparently, in addition to all of this, you will receive thousands of dollars in fast action bonuses if you pick up a copy of GooglyPay right now.
Tay stresses that you don't have time to wait, that if they let everyone use GooglyPay, it could become saturated, and he says that they'd hate for that to happen.
To guarantee that GooglyPay continues to work, Tay claims that they can only allow so many customers, which means that they will be closing their doors at any moment.
Tay claims that if you don't act now, you could forever miss out on getting GooglyPay, and that you could miss out on joining the thousands of other GooglyPay members who are getting paid to use Google, right now.
So, he says that if you don't want to feel the pain of missing out, then the best thing for you to do right now, is to pick up a copy of GooglyPay.
Tay adds that it gets even better stating that if you are one of the first 150 people to buy GooglyPay, you will get access to the GooglyPay "Double Your Cash" exclusive edition. He goes on to claim that their average user doubles their profits with this.
Plus, according to Tay, there is a 365-day money back guarantee. He states that if you feel for any reason this wasn't worth your money, they will refund every penny back to you.
On top of that, Tay says that they will throw in $250 as a good measure for wasting your time… so what are you waiting for?
Tay says you have no risk, and for you to buy GooglyPay now and get all of the exclusive bonuses at the lowest price, and he'll see you on the inside.
---

How GooglyPay Actually Works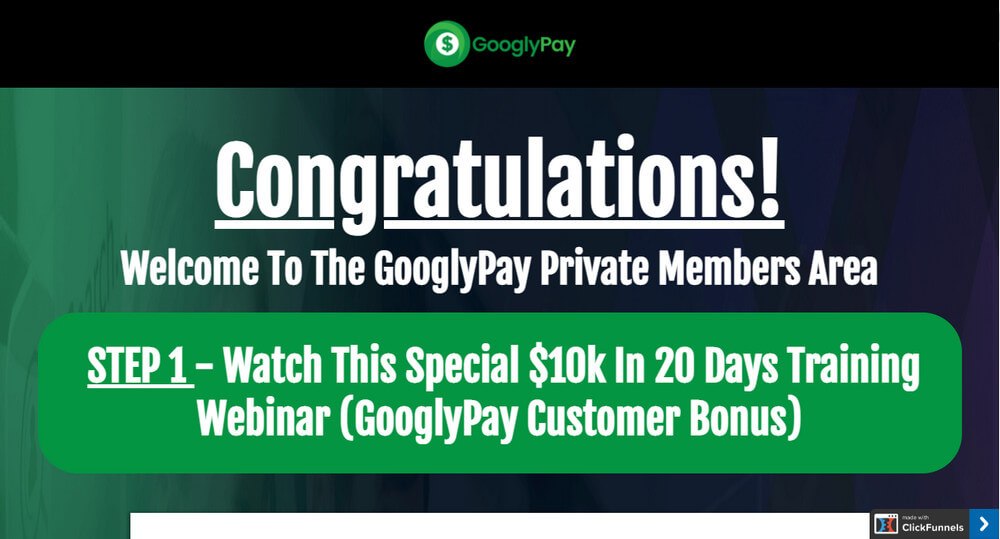 Inside the Private Members area, you will find the following:
Step 1: Watch This Special 10K in 20 Days Training Webinar (GooglyPay Customer Bonus), which is simply a replay of a webinar.
Below this is a letter from Branson Tay, thanking you for purchasing GooglyPay, and explaining about the webinar noted above, to "guarantee your success" with GooglyPay.
He claims that they are going to talk about some insider secrets to earn daily $500 to $1,000 per day in commissions, and that it is important that you watch this training first before proceeding to access your software.
Tay claims that you will learn exactly the 3-part blueprint to go from zero dollars to $10,000 in just 20 days even if you are completely new, because there are no tech skill or knowledge needed.
He says that this webinar usually sells for $497 is free today and will be taken down without any prior notice due to tech limitation.
You are then provided with a large button titled, Click Here To Watch The Webinar Now *Limited to First 250 People Only – Act Fast*
When this button is clicked on, your browser opens up to another website (appears to be an affiliate link!), displaying a webinar replay (2:24:08 minutes) by Jono Armstrong, titled "Watch Us Build a $10K Per Month Business LIVE in 20 Days and Then Hand You The Exact Blueprint to Replicate It".
Below Armstrong's webinar replay, you will find a large button titled, "Get The Details On MOF and See More Results BEFORE The $4,000 Price Increase".
Which once clicked on, your browser is taken to another affiliate linked offer for their product for a one installment payment of $1,497 US funds or three installments of $797 US funds to create an account.
This webinar shows you how from a vendor's landing pages you can find demo videos to use, and how to hijack other's YouTube review videos.
Then, using Mass Video Blaster Pro (which is said to be, The Ultimate YouTube Marketing Automation Tool), Armstrong claims this software will change the hijacked video review, making it look unique in they eyes of YouTube, so that you don't get any copyright strike, and you don't get scolded for duplicate content.
Oh… Mass Video Blaster Pro costs money, so Armstrong claims to have made a clone of this exact software, and he's making it available for his customers to download completely free of charge.
Then you would simply upload the copied, and apparently altered video to your YouTube account, and then in the description you would put YOUR affiliate link to be used by your viewers.
Step 2: Access Your GooglyPay Software. Which is where you will register and login to your new GooglyPay account.
You simply click the large button titled, "Click Here To Register Your GooglePay + $97 Per Google Search Add-On", which when clicked on will take your browser to another website where you can create your account.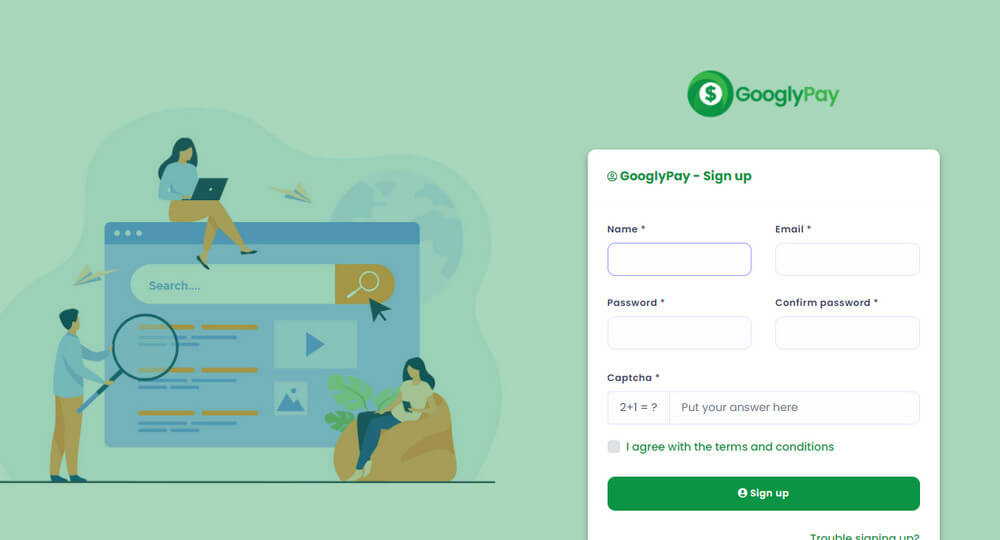 Below that button, you will find a PS message to buyers, which you can see in my video review, if you so wish.
Below the PS message is another large button that is titled, "Click Here To Login Your New GooglePay Account – Login Using Your Username & Password That You Registered Using The Link Above" and it is suggested that you bookmark this page so you can revisit each time.
Below this button, you can Access Your Other Complimentary GooglyPay Bonuses Below.
There is a large button titled, "Click Here To Access Your Bonuses", which when clicked on takes your browser to a Google doc titled, GooglyPay – Premium Bonuses (Launch Specials), where you can view and access the bonuses.
FREE Bonus #1: 1k A Day LIVE Masterclass – $1,997 Value



) Congratulations! Special Exclusive: GooglyPay "Double Your Cash" Exclusive Edition (Worth $1997) – FREE For First 150 Customers, which is a Google doc with links to 21 zip files.


) $247 In 24 Hours Real Life Case Study – $197 Value


) 7 Ways To Make $500 Daily With GooglyPay – $297 Value


) Mastermind Community Group – $497 Value



FREE Bonus #2: 30-Second FREE Commissions – $997 Value



) 30-Second FREE Commission (WarriorPlus Edition)


) 30-Second FREE Commission (Clickbank Edition)



FREE Bonus #3: $513.07 Per Day Viral Traffic – $497 Value


FREE Bonus #4: GooglyPay Commercial License- $1,497 Value


FREE Bonus #5: $1M A Year Blueprint – $1,997 Value



) Millionaire Business Blueprint


) 7-Figure Product Launch Mastery


) $1M Product Launch Secret
Step 3: Additional Special Offers. Last Chance To Grab The Upgrades If You Haven't Already! (Available For A Limited Number of Spots Only).
OTO 1: GooglyPay – Unlimited
OTO 2: GooglyPay – Done For You
OTO 3: GooglyPay – Hands-Free Automation
OTO 4: GooglyPay – Income Multiplier
OTO 5: GooglyPay – Limitless Traffic
OTO 6: GooglyPay – Franchise License
OTO 7: GooglyPay – Emergency Cash
Below their list of Upsells is an "IMPORTANT PLEASE READ: Need Help & Support?" warning that if you contact PayPal it will void their money-back guarantee. [PayPal always states that you MUST contact the vendor and have TRIED to resolve issues BEFORE reaching out to them, so that shouldn't be an issue.]
The support for GooglyPay is Blue Soft Desk LLC. Apparently, support responds within 48 to 72 hours.
Then links to three of Branson Tay's are offered for you to subscribe to, plus a link to his Customers' Facebook Community Group, so that you can join there (the same link as is shared in his bonuses that are listed above).
Now Let's Take a Look at GooglyPay
Once you create your GooglyPay account and have signed in, below is a screen print of the GooglyPay software.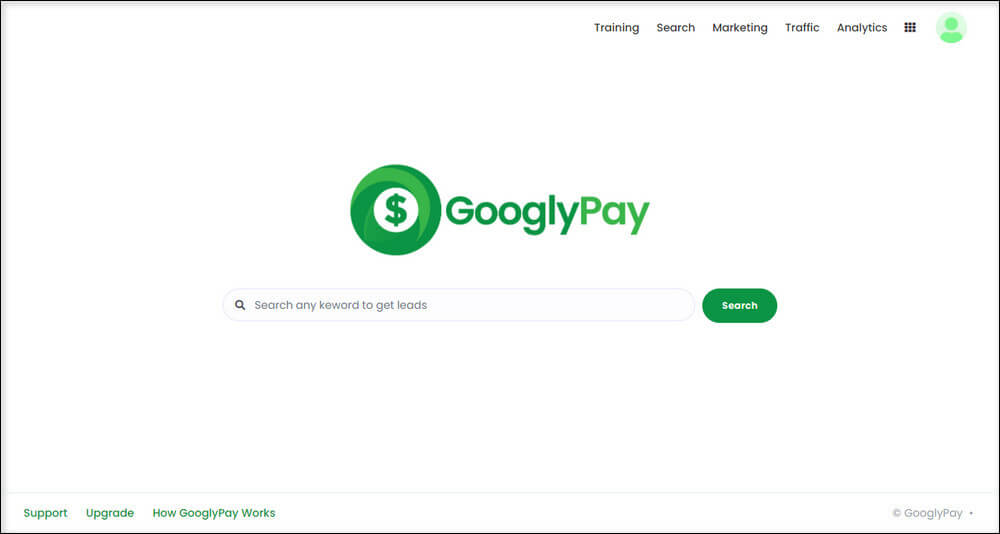 Note the training is offered as a link in the upper, right-hand corner.
When clicked on… the screen print below is what I got…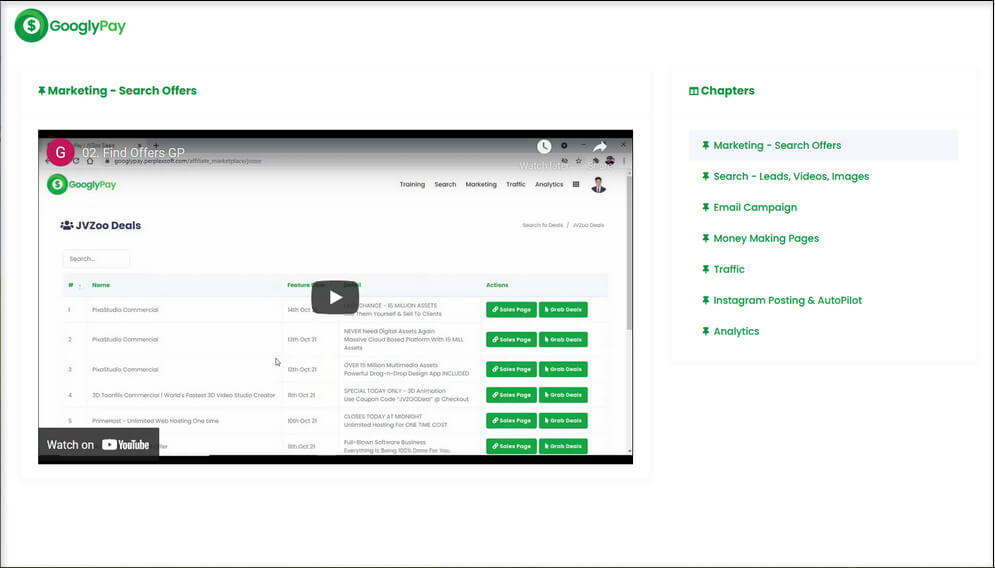 There are 7 videos, 1 for each label (or chapter) that is shown to the right of the video, in the screen print above.
Marketing – Search Offers (00:02:05 minutes) – [lots of noise in the background]
Search – Leads, Videos, Images (00:03:14 minutes)
Email Campaign (00:05:47 minutes) – [lots of noise in the background drowns out part of the training]
Money Making Pages (00:02:45 minutes) – shows you how to create a campaign page, such as landing page.
Traffic (00:11:30 minutes) – shows you how to post on Facebook, which includes auto-posting and auto commenting [lots of noise starts in the background mid-video, drowning out most of the training]
Instagram Posting & AutoPilot (00:08:42 minutes)
Analytics (00:05:01) – shows you how their platform analysis the data from your GooglyPay account.
The following video, I discovered embedded on another person's web page, and it provides better instructions than the Training page videos on GooglyPay.
PROS
If you have lots of time to tinker with setting your GooglyPay account up, it MIGHT work but I urge you to use with caution.
CONS
The GooglyPay training is anything but professionally presented, and a good portion of the training is drowned out with a lot of background noise.
The training should make it easier for users to understand what they are doing when using GooglyPay; I found that is not the case.
Jono Armstrong's cloned software will cost you $1,497 US funds to access in order to alter other's video reviews that he teaches you to use.
While Mass Video Blaster Pro is not even available to be purchased anymore.
In fact, the developers of Mass Video Blaster Pro have now created an even BETTER software in its place, and that software helps YOU create your own unique videos, and is selling for $37.50 US funds.
Jono Armstrong's webinar appears to be an affiliate link, and is repeated as Bonus #1.
Before you can create your GooglyPay account, you MUST agree to their terms and conditions, of which one of then are stated as follows: "DISCLAIMER FOR HARM CAUSED TO YOUR COMPUTER OR SOFTWARE FROM INTERACTING WITH THIS WEBSITE OR ITS CONTENTS. VISITOR ASSUMES ALL RISK OF VIRUSES, WORMS, OR OTHER CORRUPTING FACTORS."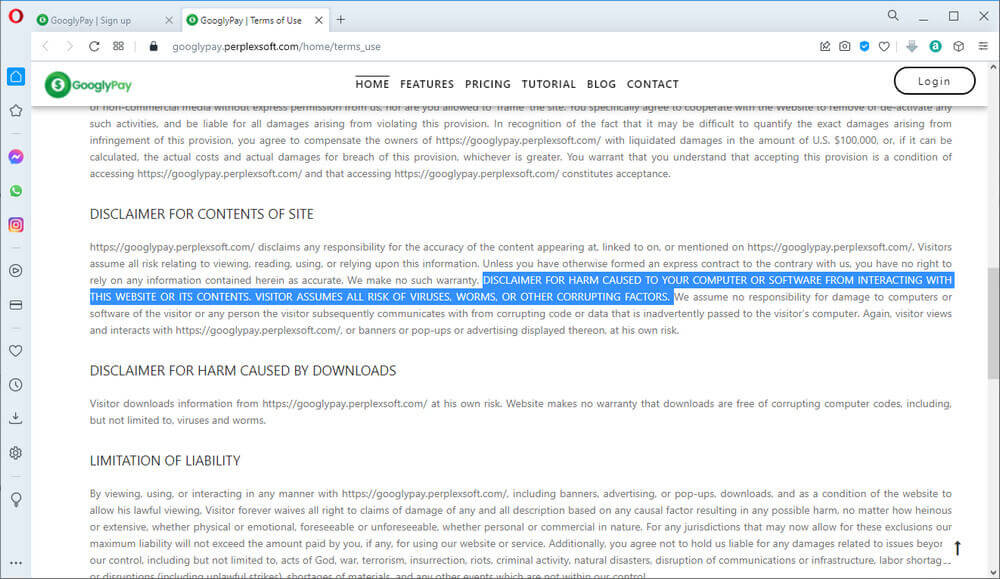 The bonuses are mostly zipped files of what appears to be a LOT of obsolete and some new PLR products… and, some of those files had missing parts to them as well as one that was so contaminated that Google drive would not allow it to be downloaded.
Bets this is why that all users of GooglyPay must agree to the terms and conditions as they are spelled out in the screen print above.
The support for GooglyPay is Blue Soft Desk LLC, which I had to use when attempting to try the software for the first time, as their entire system crashed causing an Internal Server Error 500, which has delayed my reviewing their software several times now.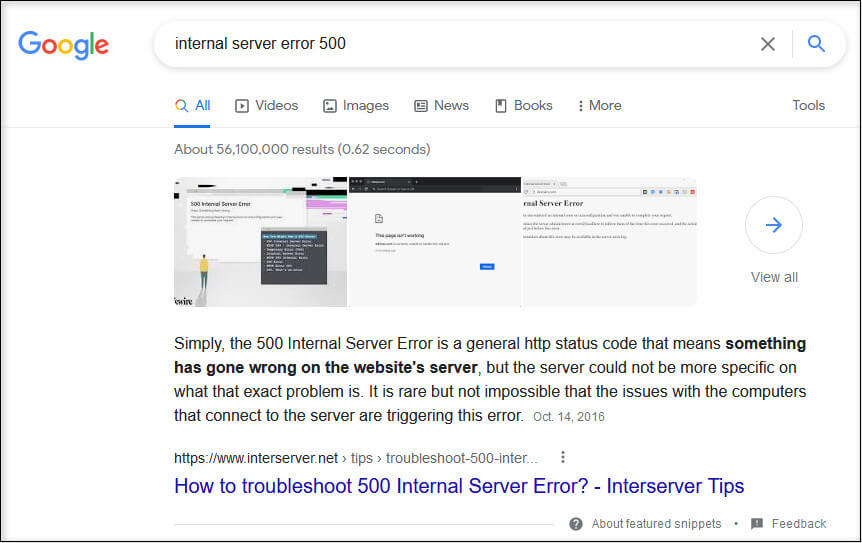 ---

My Take on GooglyPay

Due to the poor quality and lack of proper training provided for GooglyPay,


and the fact that their server has now suffered outages so many times whenever I have tried to take it for a test run,
I was unable to test their platform. It was mostly reliable at NOT being available in the evenings.
Because of these issues, I do not feel confident enough with their offerings to even attempt taking the necessary time in setting anything up in what appears to be an amateur attempt to offer an "autoresponder plus" type of software.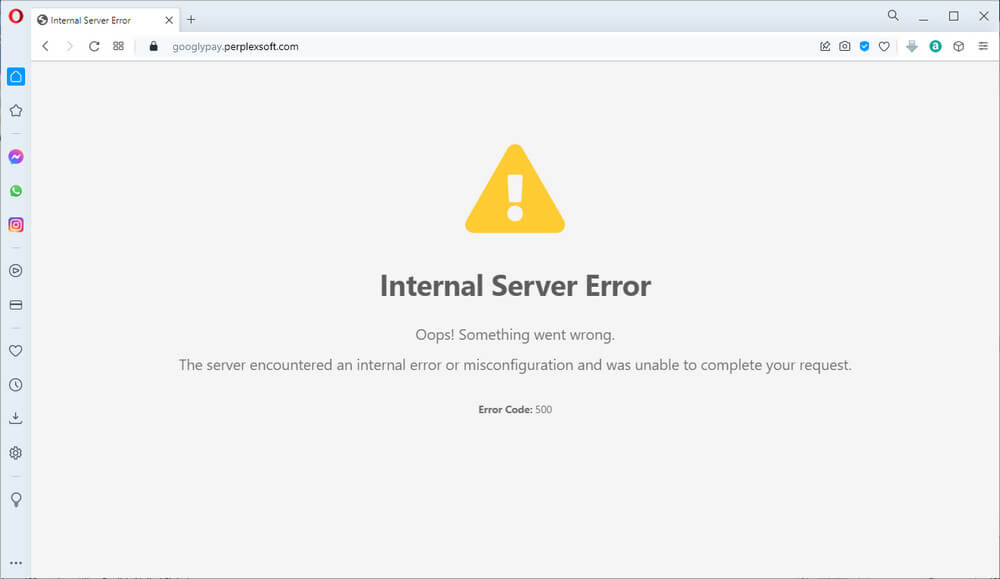 Sadly, they've missed the mark on what might have been a great product simply because it was poorly executed or maybe just not developed completely enough before presenting to the public to use.
So, "does GooglyPay truly expose $1.7 trillion dollar Google loophole?"… I doubt it very much.
Below is my video review of GooglyPay by Branson Tay
Autoresponder companies like Aweber allows their users to create landing pages with great tutorials made available. And, so does GetResponse.
Yes, they both have FREE offers to those starting out, so you won't have to worry for a short time about money.
However, both of these autoresponders will be available for you to work on at YOUR convenience with zero outages.


Summary
From what I have witnessed since the 1990s, when I first got involved with publishing on the internet, there is now magical method to instant wealth anywhere online or offline.
Creating an online business that will earn you income for the long term takes work, but that work should be enjoyable or else it is not for you.
Should you decide that you would like to start a business online, then I would like to introduce you to a learning platform that provides world-class training and all the necessary tools you will need to use while starting to learn.
The great part about this learning platform is that you can start for FREE.
And… you won't even be asked for a credit card.
To top that off, as a starter member, all you need to do is complete your profile with a brief introduction to yourself, upload a recent image for your profile and then scroll below your profile and READ the comments in which you will be directed in where to start.
You will have 7 days to learn from the very first 10 lessons FREE!
You won't find THAT offer anywhere else on the internet.
And, if you're wondering WHY this platform makes this offer to you, it's because the owners are certain that once you experience for yourself:
how great the training really is,
how beneficial all of the inclusions are,
PLUS how awesome the community of members are…
Well… that you will want to stay a member.
If you want to know more about it, click here for my free guide that explains to you in detail, what all you can expect as a member.

Should you have any questions regarding: does GooglyPay truly expose $1.7 trillion dollar Google loophole, please leave them in a comment below and I will respond to you in a timely manner.
Learning Can be Fun,