Rudy Rudra is the vendor for VidVoice, and he claims that this is something you've never seen before.
He then asks you if you've tried to spend a lot of time making a video and voiceover, and getting stuck nearly every time.
He says to imagine if you get everything in just one product without paying any monthly recurring fees.
Best thing is, Rudra goes on to explain saying that you can save thousands of dollars, and that you need imagine no longer because they've made it possible.
Rudra goes on to claim that what he is offering is loved by millions of entrepreneurs, business owners and everyone.
He claims to be the top internet marketer and that he has come up with a solid product that lets you instantly convert any text into 100% human sounds and that it creates stunning videos in 60 seconds; that it is:
100% newbie friendly.
Zero tech or marketing skills are needed
And no monthly fees
Rudra states that this is brand new, 2-in-1 A.I based technology to instantly convert any text into 100% human-sounds and create stunning videos in 60 seconds.
He claims that you can:
transform any text into speech in just 3 clicks
create unlimited high-quality videos for any audience in any niche
convert any image into super engaging videos like a pro
kick out expensive and money sucking freelancers forever (commercial license included)
sell your videos and bank in big without any hassles
step-by-step training with videos
You can see screen prints of third parties who create and sell their videos and, according to Rudra, they earn millions by selling videos to tons of hungry clients.
My review of VidVoice will cover the following:
If You Don't Want to Waste Anymore of Your Time on Scams,
See My #1 Recommended Way of Making Money Online:


What is VidVoice?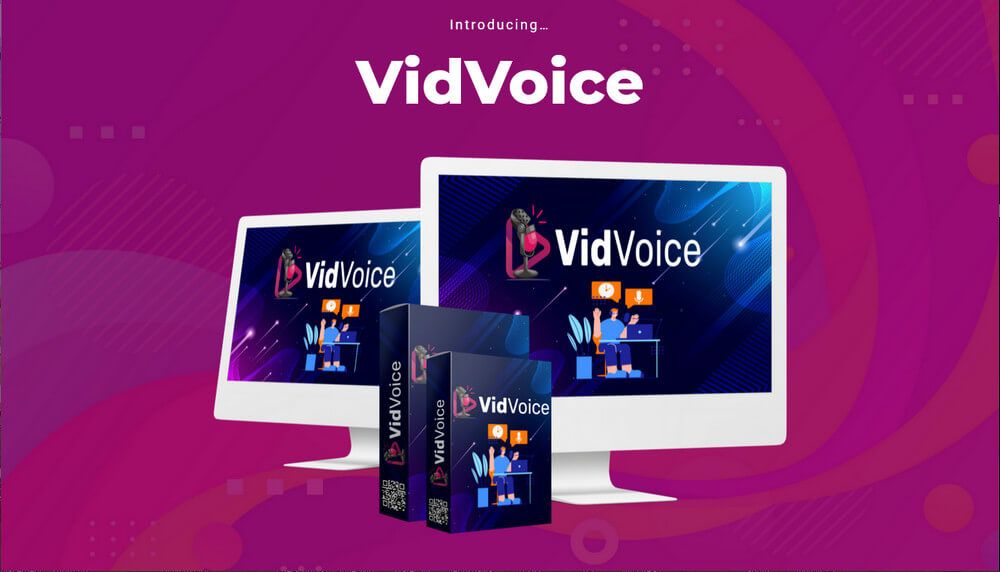 Program Name: VidVoice
Website: https://www.vidvoice.org/fe
Price: $17 US funds + 4 Upsells and 4 Downsell popup forms
Recommended? NO
Rating:
---
Rudy Rudra explains that VidVoice is a 100% cloud-based software. He says this is how it works:
Step 1: Grab a copy before the price increases
Step 2: Login and access the dashboard
Step 3: Great, you're all set. Sit back and relax while we focus on driving real results for your business
He goes on to say that VidVoice is making life easier for thousands of people globally every single day.
And he says that the possibilities to profit with VidVoice are totally endless.
Rudra adds that when you act now, you also get 5 custom, money making bonuses worth thousands, absolutely free.
Bonus 1: Stickly Password + CoolMuster [Premium], which apparently is a password manager, claimed to be worth $1,997.
Bonus 2: Instant Logo Design Software [Premium], said to help you create logos for your clients too, and claimed to be worth $2,997.
Bonus 3: $100 Day Income System, apparently a step-by-step video, the exact system Rudra has been using to generate $100+ a day in NET profit. Claimed to be worth $997.
Bonus 4: Internet Download Manager [Premium], said to be a tool to increase download speeds by up to 5 times, as well as resume and schedule downloads. Claimed to be worth $997.
Bonus 5: Stock Media Massive Package [Premium], apparently high quality high-definition stock videos, video motion graphics, stock photos, web graphics and royalty free images, with a claimed worth of $1,997.
Rudra states that they are totally removing all of the risk by offering a 30-day money back guarantee.
He says that you should act fast because the price goes up every 60 minutes, so if you wait that you will pay more.
You can get VidVoice at an amazing one-time price, and he says that he'll see you on the inside.
---

How VidVoice Actually Works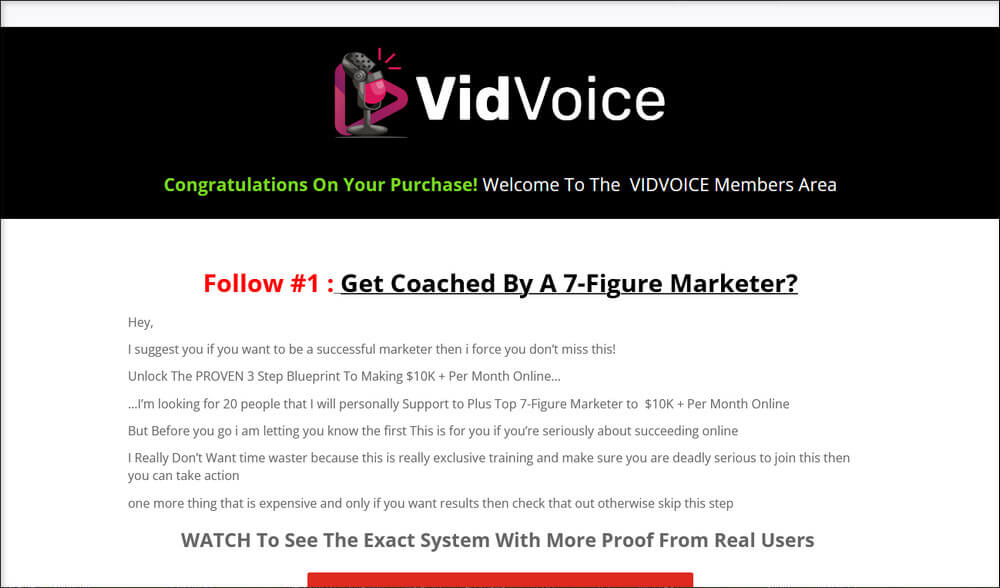 On the Congratulations On Your Purchase or Members Area page, your provided with the following:
Follow #1: Get Coaching By A 7-Figure Marketer? Where you are provided with a large button titled: CLICK HERE TO GET TRAINING NOW, which is an affiliate link to another vendor's landing page… Jono Armstrong's product.
Follow #2: Win $500 Instant, where you will see a text message explaining that if you share the following link with text on Facebook, Twitter or Quora, then take a screenshot of the post and send it to a specified email address, that you MIGHT be selected as the random lucky person.
Follow #3: Access Your Purchase VidVoice Account Here, with a large button titled: CLICK HERE TO CREATE VIDVOICE ACCOUNT that when clicked on takes your browser to the sign-up form, as shown in the screen print below.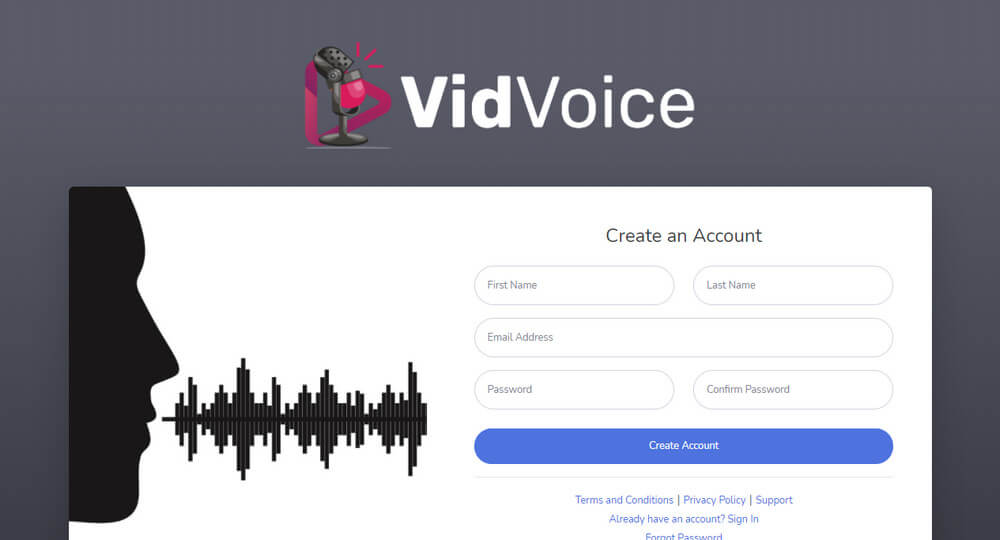 Follow #4: We have Done For You Business Solution, with a large button titled GET DFY EDITION RIGHT NOW, which is a broken link at the time of my reviewing.
Follow #5: If You Buy Reseller Licence Then Only You Can Do, with instructions to Request Your Link Here.
Follow #6: Additional Discounted Offers For You, as shown in the screen print below…
But there are no links provided to these.
Follow #7: Download VidVoice Bonuses Here, with a large button titled: CLICK HERE TO Download Exclusive Bonuses that when clicked on takes your browser to a Google doc with links provided to the bonuses.
Below Follow 7, are instructions that you need to follow if you need help, and you are warned about the followings:
If you open a dispute, it will automatically void their money-back guarantee.
If you have a support query kindly don't go to PayPal it will void your guarantee. Use support desk and open a ticket instead.
An assurance to respond within 24-46 hours.
The support URL is provided below these warnings.
---

My Take on VidVoice
At first, I was so impressed with the likelihood of this software actually doing as promised that I actually asked Rudy Rudra for an affiliate link for this product. But I won't be sharing an affiliate link to a product that I do not recommend.

This one is a total disappointment given that once I FINALLY had time to take the software for a test drive (one full week after purchasing access!), well… the software doesn't even work!
It's as though it was thrown together, untested, and launched for sale of access.
Besides this, the landing page loads super slow… which I found to be annoying.
So NO, VidVoice does NOT work, making it impossible to be a brand new 2-in-1 A.I based technology. Thus, I do NOT recommend it.
Below is my video review of VidVoice by Rudy Rudra


Summary
The best way to learn how to create videos is to jump in and start creating them. It wasn't long ago now that I started making videos myself.
At first, I was very reluctant to do videos of any sort.
However, over the years, I've made short videos whenever asking support staff of various sites for help. It was always easier to provide a short video on what I was experiencing, so I did those, and they were easy for me to do.
After all, only one person would be viewing those videos and not the whole wide world. So, I had confidence when creating those.
Fast forward to 2016, when I joined a membership website to learn more about marketing, I soon discovered that it was easier to create short videos to help other members in whatever issue(s) they were experiencing.
And, a lot of times those videos helped other members too. Voila! I gained more confidence, and I continue to create helpful videos whenever necessary.
PLUS, I get paid for them once enough members have gained help from my videos. That makes for a nice bonus.
In 2020, I signed up for more training, it was a course on gaining more traffic that was created by a marketer whom I gain a lot of respect for, and whom I met on the membership site that I am still a member of today.
That marketer ended up teaching his students about creating videos.
Not wanting to look silly, I did as I was instructed and jumped right in and created the type of video that all of his students were instructed to create.
Hah! I even had to upload it to my YouTube channel for inspection.
After passing inspection, I set that video to go LIVE.
Also, I committed to creating one video EVERY week for one full year, without fail, which I am still working on (only a few more months to go).
Today, I now have well over 30 videos created to help others with the advice offered.
If I can do it, you certainly can too.
You can start creating your very first video using PowerPoint, if you wish.
Or, you could use a very inexpensive software like FastStone Capture (my fav!) or a free version of video software like Monosnap.
Shop around, your software doesn't have to be expensive.
Now, I'd like to share with you about the membership site that I mentioned earlier. It's a learning platform where you can learn all about marketing online. They teach you how to go about setting up your very own online business.
And, you can start for FREE. You won't even be asked for a credit card!
Try finding that type of offer ANYWHERE else online today. Bet you can't!
If you want to know more about the learning platform, click here for my free guide.

Should you have any question regarding; is VidVoice a brand new 2-in-1 A.I based technology, please feel free to leave them in a comment below, where we can discuss this topic further.
Love to Learn,