Mark Hess and Michael Thomas are the vendors of WP Fast Dash, and Mark promises that he's going to show you this really awesome software that he claims they developed from scratch, and that apparently allows you to increase the speed of your WordPress website administrator dashboard.
He claims that this is a problem with WordPress since day one, that the WordPress back-end area loads slow for many, many people.
Then Mark demonstrated how his test site sections are loading slow, while explaining that you can see how long all of this takes to be brought up [loaded].
"Pages for instance," he says, "takes forever, comments and all these little pieces of time really, really add up. You have no idea how much time you spend actually going through and waiting for all these things to load."
Mark then explains that the software they developed called WP Fast Dash, it changes all of that.
He promises you that your stuff will load much, much faster than it did before.
And, the best part is, Mark claims that all you have to do is add it to your WordPress site, click three boxes and save changes, then you're good to go.
Then he demonstrates how quickly the different areas in his test site's dashboard now load, once he added his software to the site, stating that now you see how fast everything loads, it's like instant.
And, Mark goes on to say that it's awesome and it's just from installing WP Fast Dash software.
He then proceeds to demonstrate how you can install this software on your WordPress website, and he takes you through the setting up process.
My review of WP Fast Dash will cover the following:
If You Don't Want to Waste Anymore of Your Time on Scams,
See My #1 Recommended Way of Making Money Online:


What is WP Fast Dash?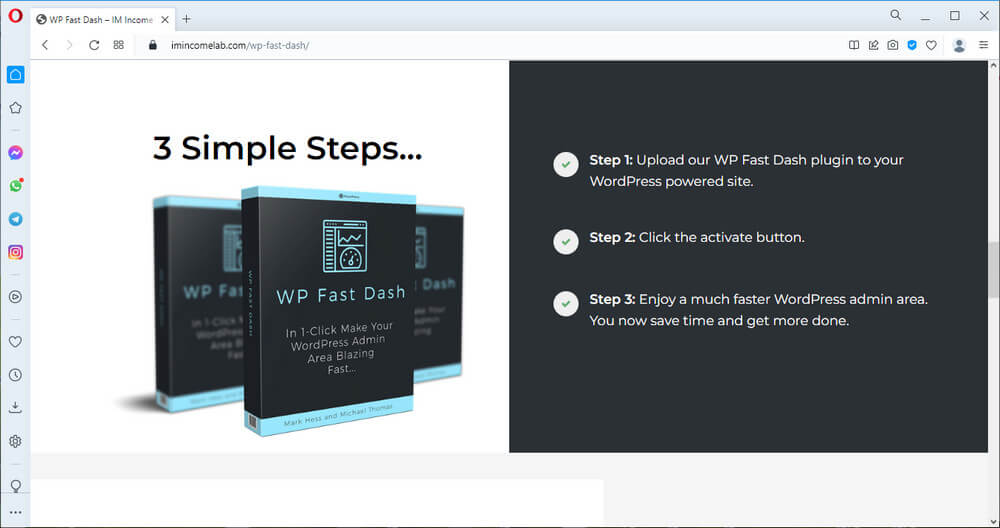 Program Name: WP Fast Dash
Website: https://imincomelab.com/wp-fast-dash/
Price: $12 for single site license and $12.97 unlimited site license US funds, PLUS 4 Upsells
Recommended? NO
Rating:
---
Mark Hess and Michael Thomas created this WordPress plugin in hope of helping you speed up your WordPress Dashboard.
In his demonstration, Mark shows you the three settings he wants you to click on:
Enabled
Image Acceleration
RPC Optimization
Before clicking on the Save Changes button.
Below that is another large button that Mark explains that you click this button [which is titled with Test OPcache] and then he shows you how his test site provided a prompt stating that OPcache Is Not Enabled.
Mark stated that they added this in because this is a really slick way, and super, super easy way to boost your WordPress speed even front and back-end up to three times.
And what they did, he says, is they give you the text that appears in a textbox which is included in this OPcache Is Not Enabled prompt, when it appears.
This way, Mark says that all you need to do is copy and paste this and put it into a support ticket for your web host support, and they'll know exactly what it is to get this activated [the Zend OPcache module] on your web server.
He assures you that the minute they do that, that you're going to see "a three times increase in speed", in the front end and the back-end.
It's absolutely awesome and this is not something that a lot of people talk about, but Mark claims that they built this into this plugin as extra value, so that you can do an additional thing to increase the speed of your website.
Mark claims that their plugin "right out of the box" will increase your website back-end site speeds so that you can go through the different areas very, very quickly,
He goes on to say that it will save you a ton of time so that you can focus on making money and getting more done instead of waiting for all these different things [areas] to load because it doesn't have to be slow, that you can speed up your entire back-end with WP Fast Dash.
Mark makes it clear that if you are not happy with his plugin for any reason, just hit up their help desk and they will gladly give you a refund but this is something he feels that you need to try and install on all of your WordPress powered sites.
---

How WP Fast Dash Actually Works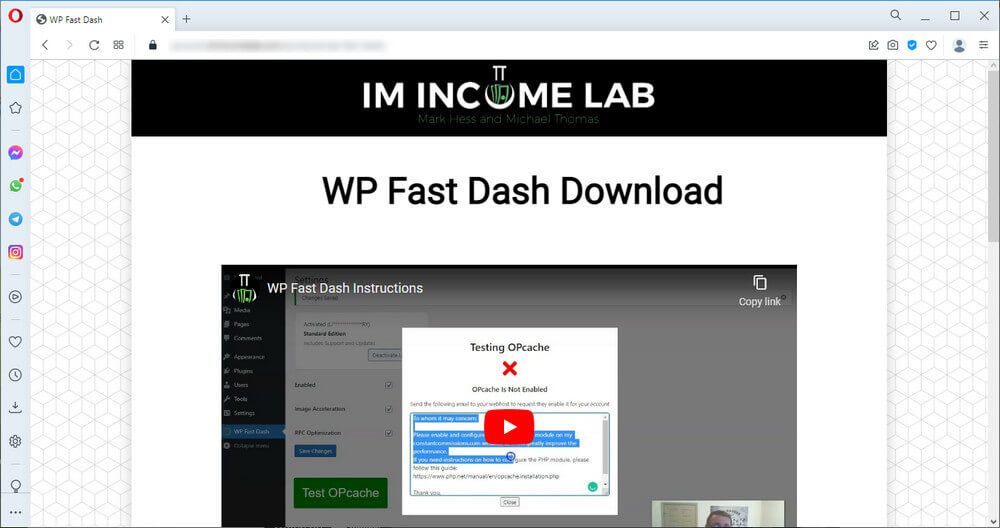 On their product page, you will find video Instructions (02:45 minutes) explaining how to install, license and setup their WP Fast Dash plugin.
Below the video is a large button titled: Download The WP Fast Dash WordPress Plugin Now, which is a zip file.
Below the button is his message explaining what they want you to do should you have problems accessing your purchase or need help, and a link is provide to their support forum.
PROS
If this were to work as Mark demonstrates on his test website, it would be awesome indeed.
This plugin DID make it known to me that ONE of my WordPress websites (my hobby site!) did NOT have the Zend OPcache module enabled, and so I put in a ticket to my website host's support staff requesting their help in doing so.
CONS
However, I already have all of my images optimized on all of my WordPress websites and so I did not want to click on his Image Acceleration or RPC Optimization options, as that might have forced me to have to restore my entire website due to the images becoming over optimized and not looking clear once loaded.
Google searching Image Acceleration, it was explained mostly as optimizing images, and an explanation to Site Acceleration was offered in case that is what I meant to ask in my Google search.
When scrolling down my search results, I noticed the following, shown in the screen print below.

The RPC Optimzation, Google explains here: https://patents.google.com/patent/US7669209B2/en
Only ONE of my WordPress sites caused the OPcache Is Not Enabled prompt to display. So, I issued a ticket requesting help, and I reworded the textbox message this prompt provided, as I trust my web host support staff.
Below is the response I received from my very knowledgeable web host support staff.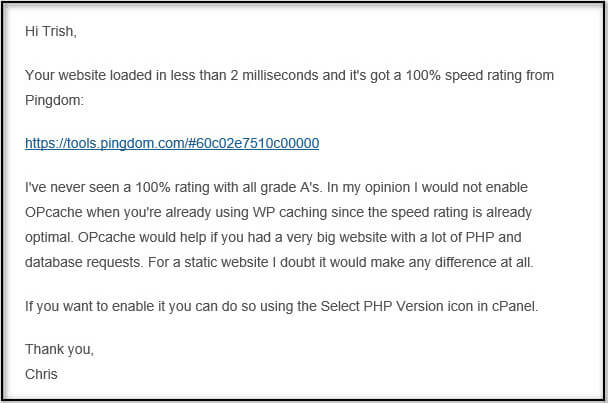 Simply enabling WP Fast Dash made NO difference to any of my sites, rendering this plugin of no use to my sites whatsoever, and so I deactivated and deleted it from all of my WordPress websites.
---

My Take on WP Fast Dash

Does WP Fast Dash really make your WP admin area 10x faster?
No, it does not.
And, Mark clearly states that using their plugin will get you three times the speed. Never once did he say that you would get 10x the speed using the WP Fast Dash plugin, as his landing page title shows.
I'm certain that Mark Hess and Michael Thomas meant well in offering their WP Fast Dash plugin as a resolution for a rather slow WordPress administrative Dashboard, but I do not recommend WP Fast Dash.
My reasons for not recommending this plugin are explained in my list of PROS and CONS noted above.
Below is my video review of WP Fast Dash by Mark Hess and Michael Thomas


Summary
Searching for more information, I checked out the web page that is offered in the OPcache Is Not Enabled prompt textbox message that users can copy and paste to your web hosting support staff. Here's that page now: https://www.php.net/manual/en/opcache.installation.php
Then I started wondering if there was ANYTHING I could do to speed up the WordPress administrative Dashboard without using a plugin.
And, Google's search results offered several posts with suggestions users could follow in order to increase the speed of your WordPress Dashboard.
This way, if your WordPress Dashboard loading speed irritates you to the point of your seeking help, I would suggest you read through these posts to see what is suggested.
Then, only with the advice of your web hosting support staff, you may be able to resolve your particular issue.
Should you have any question(s) regarding WP Fast Dash making your WP admin area 10x faster, please leave them in a comment below so that we may discuss this topic further. I value your input, so there's no need for you to be shy.
Stop Wasting Money,