Mark Hess is the vendor and creator of the Ultimate Facebook Traffic Trick, and he claims that he earned $295 in recurring commissions with the method that he teaches in the Ultimate Facebook Traffic Trick.
He says not to worry when he says "trick", you're not going to be doing something shady, this isn't some weird loophole that's going to get you banned or in trouble with Facebook.
Mark claims that what he's showing you how to do is take advantage of the Facebook algorithms by setting up assets that he calls traffic magnets.
Now, you don't need Facebook friends or followers to do this, he says, you don't need to show your face, use your voice, you don't need to contact or engage people on Facebook at all.
Mark says that he can honestly say that he earned this money from a side-Facebook account with zero friends, zero followers, and spoke to absolutely no one… and, this requires practically no skill.
He explains that you literally set this up and post on Facebook, and then he shows you all of the commissions that he earned from this one affiliate program, and the total commissions that he earned were $295.92.
Mark goes on to say, that's going to be recurring each and every month.
He claims that he actually sold over $2,000 worth but this affiliate program, after it's like in tiers, so after you sell a certain amount, then they increase your commissions, so now he's at the next level.
So then Mark states that he's going to be getting something like 25% commissions for each sale.
That's over two thousand dollars worth of stuff, he says, using exactly what he teaches in Ultimate Facebook Traffic Trick.
My review of the Ultimate Facebook Traffic Trick by Mark Hess will cover the following:
If You Don't Want to Waste Anymore of Your Time on Scams,
See My #1 Recommended Way of Making Money Online:


What is the Ultimate Facebook Traffic Trick?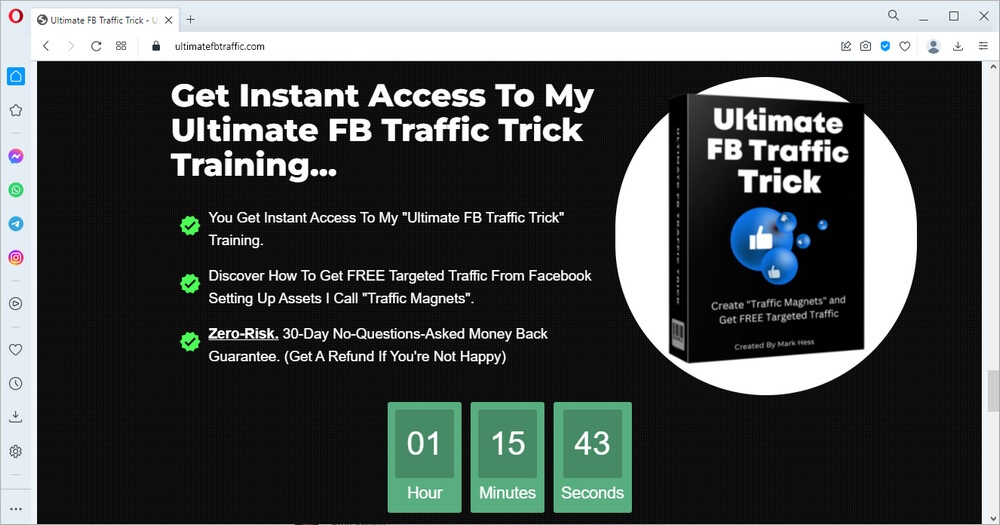 Program Name: Ultimate Facebook Traffic Trick
Website: https://ultimatefbtraffic.com/
Price: $12 US funds + 2 UPSELLS
Recommended? YES – with reservations, explained below…
Rating:
---
The Ultimate Facebook Traffic Trick is a video training course.
Mark says that he's using his method [that he teaches you inside his training] to promote one specific affiliate program but you can use it for absolutely anything.
If you wanted to build your list or drive traffic to your blog or your website, he explains that absolutely anything you want to promote and drive traffic to, you can, using his method.
Going back to his commissions report, Mark claims that a lot of this traffic came from the United States 395, 109 from the United Kingdom… so this is a lot of tier one traffic… it's good quality traffic on Facebook, using his method.
The best part is, he says, you could set these up like 25 minutes from now.
Marks says that he shows you everything, step-by-step, and that he's going to set one up live for you, and you're going to watch over his shoulder as he does everything and set this up from start to finish.
And then, he says that he'll tell you exactly what to do to get traffic and take advantage of Facebook's algorithms.
Mark says to buy now and you will get instant access to his Ultimate Facebook Traffic Trick and you can learn to do this for yourself.
---

How the Ultimate Facebook Traffic Trick Actually Works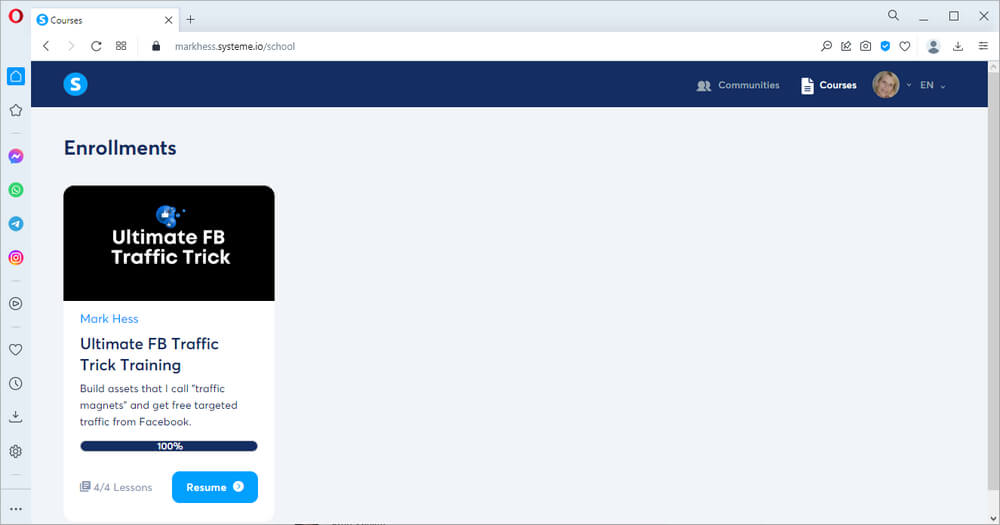 Once you log in, you will see that you need to click on the button that my screen print now shows as Resume (as I've already gone through this training), which then takes you to the Dashboard for Mark's training.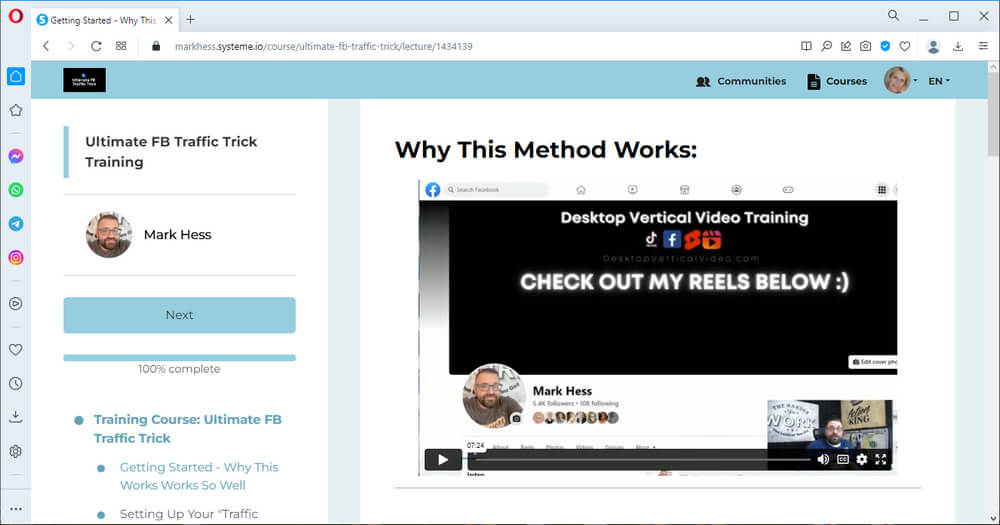 Why This Method Works:
Getting Started – Why This Works Works So Well video (07:24 minutes) – transcription notes offered below this video.
Setting Up Your "Traffic Magnet" video (13:14 minutes) – transcription notes found below this video
"Juicing" The FB Algorithm video (07:10 minutes)
Using The Power Of AI To Make Life Easier video (13:49 minutes)
PROS
If this works, it could be amazing.
CONS
Mark's attention is difficult to get when submitting a support ticket, and he has failed to supply URLS that he promises to provide viewers with, under two of his four videos.
Sadly, Mark failed to explain how to setup a SMM panel account, and I'm STILL trying to figure that part out… and, I'm NOT a newbie.
---

My Take on the Ultimate Facebook Traffic Trick

Because I've purchased Mark Hess' products and training in the past, and they've been perfectly fine for the most part, I assumed this one would be great too.
However, I cannot recommend the Ultimate Facebook Traffic Trick for newbies, due to the lack of proper training and the lack of this actually working.
I setup a new Facebook group using Mark's method in anticipation of this working for me too, as I did not foresee a reason that it wouldn't work; failing to realize the difficulty in setting up a method of payment that I would be faced with inside any SSM panel.
Because I love ideas for getting traffic to ANY offer, especially one where I do NOT need to pester my Facebook friends and followers… I truly had hoped this would work.
With Bill C-11 now looming over Canadian marketers, it is causing MAJOR issues with Google dropping a LOT of Canadian blogger's sites from search results; this method would DEFINITELY help revive some of that lost traffic, providing you FOLLOW Mark's training, without deviation.
UPDATE: This failed to work. The 2 thousand followers I paid for came through… and some new members trickled in but did not stay. I have since, quit posting in the group.
Below is my video review of the Ultimate Facebook Traffic Trick by Mark Hess


Summary
Mark Hess has offered some of the most amazing ideas for products but this time, he's come up a bit short with this training which might be a great way to get traffic to ANY offer that you want, legally and all without pestering anyone.
How cool would that be?
This could be the best traffic generator so far this year but that remains to be seen.
Should you have any questions regarding can the Ultimate Facebook Traffic Trick produce recurring affiliate commissions, please do leave them in a comment below, so that we may discussed this topic further.
I value my website visitors and I make it a habit to answer all questions in a timely manner.
Gotta' Love Traffic,