Mark Hess claims that he has 100% proven results that WP Traffic Up works great for all of his sales pages, squeeze pages, landing pages, and blogs.
Hess also states that this is an easy way to get more subscribers on your list, as he built a list of 1,170 using WP Traffic Up on one of his sites and 936 on another site.
He goes on professing that he has made thousands of dollars in extra sales using WP Traffic Up, and he guarantees this to work for you too.
Claims are made that you can use it to get sign-ups for webinars using this too… that all you need to do is copy your sign-up page link and paste it into a box, click save and you're done.
Use it for your replay too, if you want, as this too Hess says, is great for evergreen webinars too.
Hess says this is one of the easiest methods you will ever use, as it doesn't matter what level of experience you have when it comes to technical stuff in WordPress.
He states that absolutely anyone can use it and make more money.
My review of this product will cover the following topics:
See My #1 Recommended Way of Making Money Online:


What is WP Traffic Up?
Program Name: WP Traffic Up
Website: https://imincomelab.com/wp-traffic-up/
Price: $24.95 US funds + 1 upsell
Recommended? Yes
Rating:
---
Mark Hess and Michael Thomas claim to be the developers or WP Traffic Up, which is a WordPress plugin.
Hess claims that you can use this plugin for the following:
Add to sales pages – as they've done this and made thousands of extra sales with their own websites.


Add to squeeze pages – you could even use your affiliate links and make more commissions when someone is about to leave your site.


Add to landing pages – you could use this to provide your bonus pages.


Add to blog posts – you could use this plugin to get more subscribers to your website.
And, Hess claims this is one of the easiest plugins that you will ever use, and that absolutely anyone can use this and make more money.
The video on their landing page clearly demonstrated using WP Traffic UP so that you can see for yourself what having this plugin installed and setup on your website will look like.
Hess claims that this is a great way to prevent your wasting traffic to your website, as it gives your visitors a second chance to take action should they not take action on the first visit.
You are also provided with a 30-day money back guarantee that if you are unhappy with WP Traffic Up for ANY reason, all you have to do is submit a ticket to their help desk and your refund will be granted. Easy-peasy.
---

How WP Traffic Up Actually Works
Looking at your WordPress Dashboard, under Settings, you will find WP Traffic Up listed. Clicking on that will bring you to the WP Traffic Up Settings page where you will need to add your license.
Their upsell offered more animations which, if you purchased, you will also need to add your license for THAT too.
Scrolling further down the settings page, you can find the options that allows you to Enable site-wide. I choose not to do that as I would find this annoying if I were visiting a site that had this on EVERY post and page.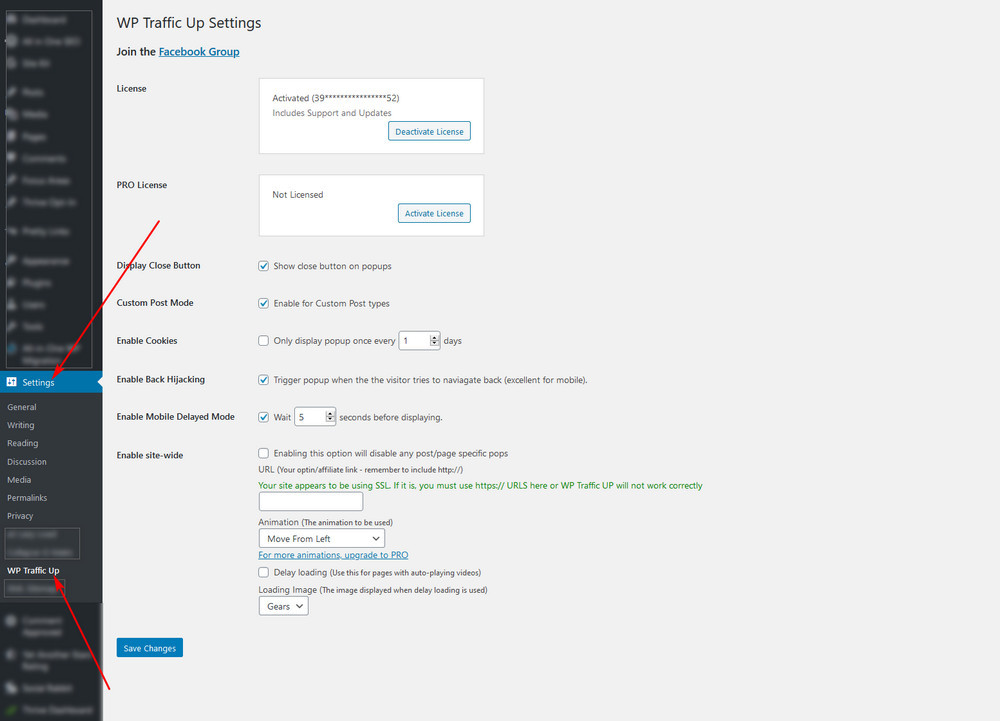 As you can see in the screen print below, you have options as to the Animation you want to use. This screen print only shows the animation options that come with the standard WP Traffic UP plugin.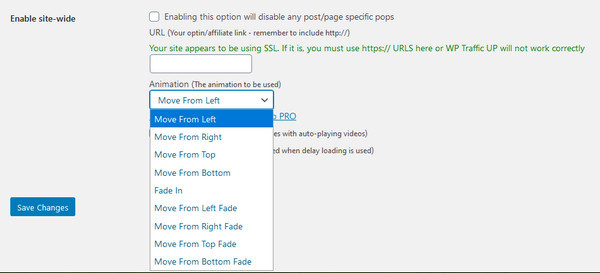 There is another option other than using this plugin site-wide as shown under your WP Dashboard > Settings > WP Traffic Up Settings, and that is to be used if you are NOT check marking the Enable site-wide option.
Instead, you can fill in the WP Traffic Up area that appears below the Edit window of your WordPress posts and/or pages as seen in the image below.

Next, you can see for yourself in the animated image below this, the WP Traffic Up animation in action when trying to leave one of my reviews that I have posted on this website.
PROS
Easy to setup (and I prefer this animation as opposed to a pop-up offering a free eBook for my email address).
This plugin does improve your visitor's attention, thus reduce bounce rate, though only moderately at first.
CONS
Could not find any.
---

Is WP Traffic Up for Real?

Yes, WP Traffic Up is for real and I DO recommend it.
Like I have already stated, I prefer the option of providing my website visitors with MORE information that they may find useful, rather than present them with a popup form asking for an email address in exchange for an eBook.
Too many website visitors tend to leave an email address they seldom (if ever) use.
---

Making Money from Home
If you really want to learn the best way for making money from home, I would like to introduce you to a learning platform that is truly world-renowned.
This platform, I have been a member of since 2016. And, though I have been certified as an Internet Specialist since 1998, I find STILL myself learning new things on a regular basis.
This happens simply by being an active member on this platform and being kept "in the loop" regarding updates, new goodies becoming available, etc.
Some of these changes are vital issues that could affect my website.
The help that you will receive from the members on this platform will truly amaze you. They are a lot more helpful than many business owners have ever found on any other platform online today.
And, you can join this platform right now for FREE!
Once you create your free membership, you will be given 7-days FREE access to the first 10 lessons. This way, you can get started creating your brand-new online business right away.
You will be provided with FREE business tools too… so, what is keeping you here. Click the button below and get reading through the details offered in my free guide.

Once you join, you will soon discover all of the necessary tools for you to begin building your new business.
Near the end of your 7-days of free access to the first 10 lessons, you will be issued an email offering you a substantially reduced fee for your first month as a premium member, where you can then complete the other 40 lessons provided… AND, have even MORE goodies made available to you.
Please DO understand that this is NOT a get rich quick scheme.
You really will be required to work on building your online business in order to start making money from home. Only those of any age, and from any skill level who also have:
perseverance,
patience and
determination
…will be able to build their very own successful business.
Joining right now as a FREE member of this platform will help you determine if you are one of those people. FREE really does mean that you do NOT have to pay to be a member, and… you won't even be asked for a credit card.
So… what are you waiting for… click the button below?

Thanks for joining me here today, and I do hope that you enjoyed my review regarding is WP Traffic Up for real.
Should you have ANY questions… or even if you only want to add to the conversation here, I do hope you will feel free to leave me a comment below.
Comments are always responded to in a timely manner.
Making Money at Home,