Torsten Mueller promises that his quick and easy way to setup a SSL certificate for free is legitimate.
He claims to share with you what he did to make three of his websites display the "https" in the address bar of all browsers.
As of 2017, Google forced all website owners who want to receive visitors from Google search results to secure their websites with a SSL certificate.
Either that or suffer the consequences of not only NOT being listed in mobile searches but that Google would also warn mobile users that your site is UNSAFE if a mobile user tries to visit your website using Google's Chrome browser.
Which as we all know by now, is the browser that comes loaded in mobile devices by default.
Mueller states that he hears you saying that your hosting company offers a SSL certificate for $40 US funds.
However, having several different websites covering different niches (hobby site, local business site, maybe even an affiliate website), this additional cost can easily turn into hundreds of dollars or more YEARLY.
Once you have a SSL certificate your website will be 100% compliant, and your visitors will be more apt to trust you. And, Google will be more apt to list your site higher in their search results.
Mueller claims he can save you hundreds of dollars each and every year because you don't need to invest in a SSL certificate.
This review will cover the following topics:
See My #1 Recommended Way of Making Money Online:


What is How to Set Up SSL on WordPress for Free?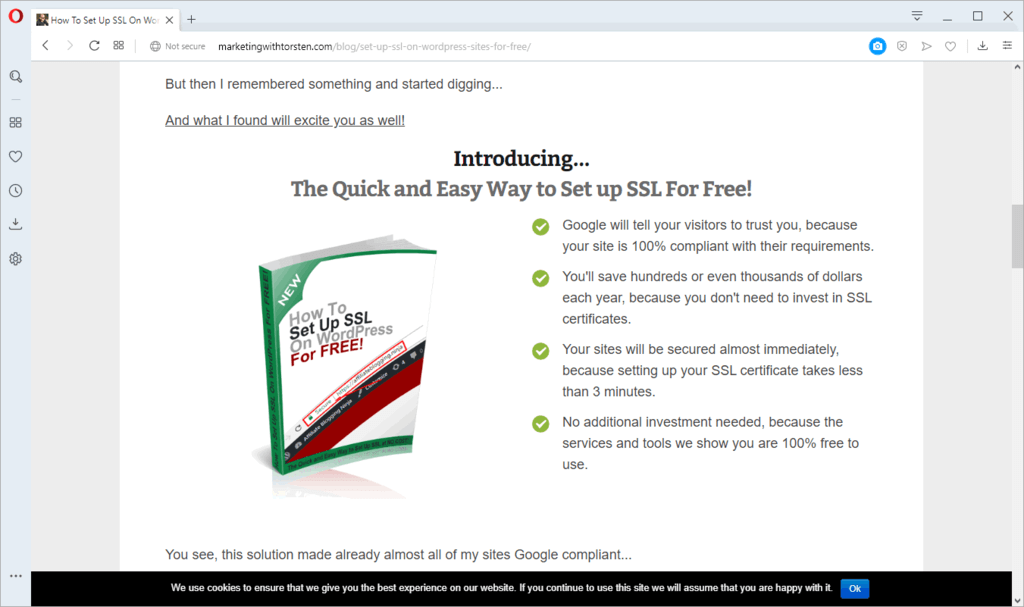 Program Name: How to Set Up SSL on WordPress for Free
Website: http://marketingwithtorsten.com/blog/set-up-ssl-on-wordpress-sites-for-free/
Price: $4.95 US funds + 3 upsells
Recommended? NO
Rating:
---
Torsten Mueller claims that your sites will be secured almost immediately, because setting up your SSL certificate takes less than 3 minutes.
No additional investment is needed because the services and tools he shows you are 100% free to use.
He claims that he used this solution on ALMOST all of his sites to make them Google compliant, and it did not even cost him a lot of time. It took him all of 3 minutes.
Mueller even tosses in a bonus eBook if you take action "today".
The eBook is titled Simple 2 Minute Hack Made Google Love My Blog, apparently will "literally force Google to send up to 4 times more traffic overnight."
He claims that his case study shows exactly what he did to quadruple his Google traffic, that it is easy to implement this 2-minute hack and no additional link building or SEO work will be required.
By following his method, you will see up to 4 times more search engine (organic) traffic.
This offer comes with a guarantee that lasts for 15 days from date of purchase, so if you are not 100% satisfied, you can receive a full refund.
Mueller says now you know how important it is for your business to have a secure website address… and, that it is not just about the green padlock that your website visitors will see either, as Google will confirm that your visitors can trust your site if it IS secured by a SSL certificate.
---

How Set Up SSL on WordPress for Free Actually Works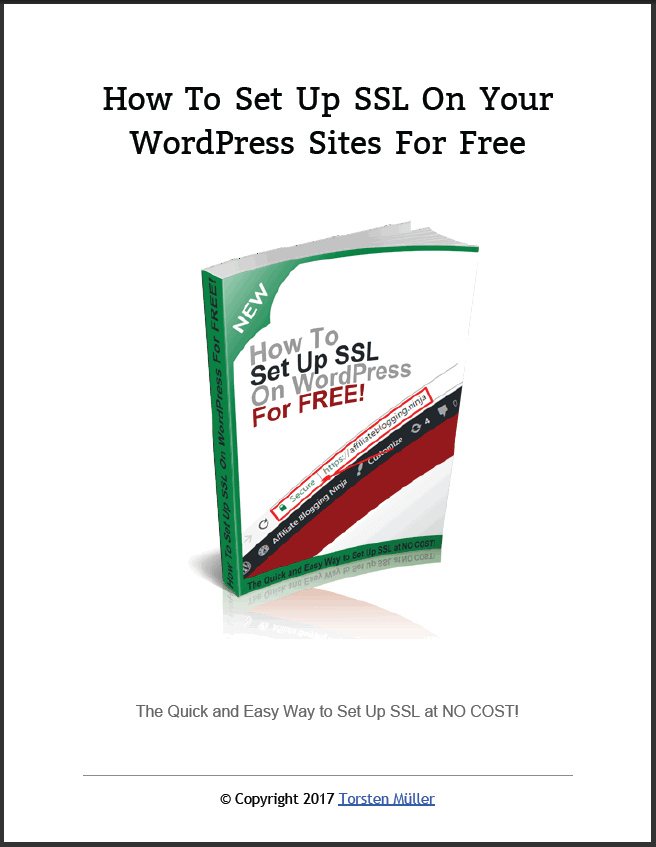 Mueller's eBook is 28 pages in length, the information starts on page 5 and ends with his conclusion on page 25.
The how-to information to setup a SSL on WordPress sites for free starts on page 7.
The big secret… is to host your website on a hosting server who includes a SSL certificate in their hosting package listed as FREE SSL certificate, and to use the Really Simple SSL plugin for older sites moved to the new server so that once you have your SSL certificate in place the Really Simple SSL plugin will fix your content for you.
None of the included Bonuses exist any more as all of the shortcuts and links sent my browser to web pages announcing, "Ooops the link no longer exists".
Plus, the free bonus eBook, the hack Mueller mentions will cost you $24.95 US funds at the time of my writing this, when you buy this from another vendor. I intend on purchasing and using his suggestion, and once tested, I may even create a review on that product.
PROS
Found none in the initial product to date.
CONS
Far too many dead links.
The information charged for would have been so much better published from a web page and offering the bonus eBook as a thank you for providing my email address to Mueller's email list.
---

Is it Possible to Set Up SSL on WordPress for Free?

Yes, it is possible to setup a SSL on WordPress for free. As I have already stated, you can look for and find web hosts like Bluehost who provide free domain name and SSL certificate to their paying customers.
Due to the CONS listed above I cannot in good conscience recommend this product.
---

Learn to Earn Money Online by Helping Others
You will need to be a certain kind of person for this training, as you will be an entrepreneur once you have followed the training.
All you need to have is a burning desire to change your way of thinking by learning how you can help others.
And yes, each one of us CAN do this, as we EACH are specialist in our own right with something. All you need to do is think about what you are passionate about.
So, if you are a person who can follow instructions, and implement what you have learned without deviating, then you will be in for one heck of a ride as you go.
Don't get me wrong here… this is NOT a get rich quick scheme, so it that is what you are looking for then you can leave here right now.
The training platform that I would like to introduce you to, I have been a member or since 2016. And, you can start your membership for FREE!
Yes, that's right… I did say for FREE. You won't even be asked for a credit card.

All you need to do once you sign up, is complete your user profile and add your image so that all members will be able to learn who we are speaking with.
Then, get ready to take the first 10 lessons for FREE!
Yup, they are FREE too… for 7 whole days.
The owners of this training platform are so sure that you will come to discover the training here is truly world-class that you will want to stick around and take all of the lessons so that you will be better armed to succeed.
Soon you will see just how many business tools that are included in the training platform, and how you can start building your new business as you are going through those FREE lessons.
The website you build while following the free lessons can be done for FREE too… plus a SSL certificate for that free site is included.
What more can you ask for, right?
So, what are you waiting for? Click right here for my free guide and discover all of the awesome benefits for joining this training platform today.

You can even find out how YOU can have ME as your premium coach inside my guide, so be sure to read it over thoroughly, so not to miss anything.
Hope you have enjoyed my review of How to Set Up SSL on WordPress for Free.
Should you have any question regarding this product, please do leave me a comment below and I will answer you as quickly as possible.
Please, feel free to share this post with your friends.
See You on The Inside,