The easiest way to design a website on WordPress means users need to look for a fully optimized, well coded theme.
But the story doesn't end there, because sometimes premium theme developers simply walk away from their paying customers.
And, many of those themes that became well-known for great quality were sold by a very well-known European developing agency.
BUT… that agency's themes no longer hold a candle to many other themes being created today.
Now, the easiest way to design a website on WordPress is finding that one great WordPress theme developer and their designs.
Luckily, I was fortunate enough to have found one such developer. And, low and behold, he too is a Canadian.
Yeaaaaaah Canada!
With my website speeds being decreased like they were, Google punished my sites by lowering the posts ranking in SERPS, and I lost a lot of great, free traffic.
It wasn't until I noticed the drastic drop in traffic that I started investigating as to what was causing this that I discovered my site speeds had dropped from their previous 90 for both mobile and desktop to as low as 23 in mobile, in one of my websites; The one site that suffered the greatest loss of traffic.
Then I started testing all other sites where this developer's themes were being used. Six websites in all… and EVERYONE of them were suffering from very poor mobile speeds.
The only thing that I can be thankful for is that I never used any of their themes on ANY of my customer's sites, even though I did contemplate doing so a few times, thinking these themes MIGHT do better for my customers too.
My customer's sites remain unharmed.
Now I am worried about an online friend who owns her own website design business in Florida who was the one to talk me into trusting the European agency.
Years before, that agency had sold me a useless plugin that made me hesitant to ever trust them again.
But Kate (not her real name) convinced me that their themes were so well optimized and inclusive that I just had to give the Luxe version a try.
That theme DID work great… until early 2020.
Now?
Not so great, as that's the theme that brought my sites down to a mere 23 for mobile speed. I truly pity my friend Kate, as she built her entire business around their themes.
Anyway… in checking my records, I discovered that the European developer's themes were first purchased and used by me on 3 October 2016.
So, I didn't even get 5 years of usage out of that ONE theme, never mind the other 2 that I had purchased at a later date.
The European developer's themes were all inclusive and they truly WERE fully optimized… once upon a time.
However, early in 2020, they literally appeared to have ignored optimization of their themes, as they had turned their attention to focusing on their pagebuilder.
This I was informed of by one of their tech support staff. See screen print below of the email explaining this.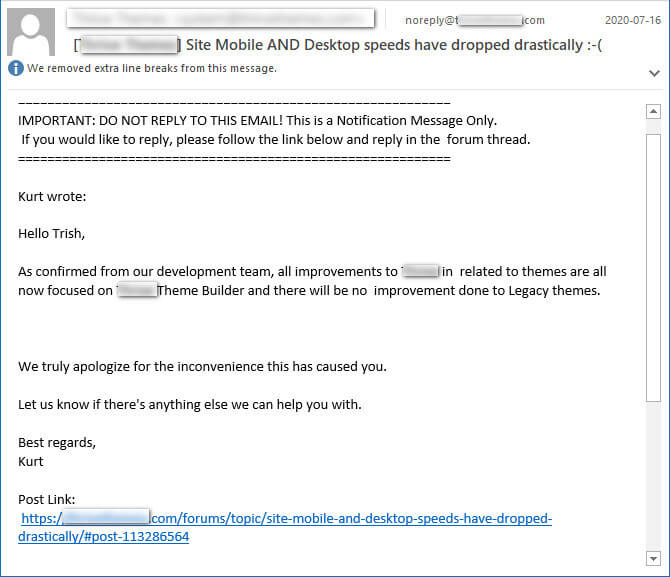 Not only is that an unwise move for their agency (in my opinion, of course), but also an unnecessary move.
A well coded and designed WordPress theme does NOT need a pagebuilder, which mostly serves to only slow a site down.
Not only that but, who among the customers of their premium themes would ever trust their pagebuilder to be properly serviced three years from now?
I sure wouldn't. Would you?
Anyway, after unsuccessful attempts to find a better theme, I was coaxed into trying GeneratePress; a clean, sleek looking WordPress theme.
Turns out, I had purchased that developer's premium version of GeneratePress back the same year as the European developer's theme.
Not sure why I never did use GeneratePress Premium, but I sure am GLAD that my good friend and adviser (and owner of a major website design training platform in Vancouver, BC) persuaded me as long and hard as he did, in order to get me to TRY GeneratePress.
Well, don't ya' know… GeneratePress Premium not only preformed circles around the formerly optimized European developer's themes but also requires about 6 MORE plugins then theirs did …and yet STILL provides my website with awesome speeds of 85-90 mobile…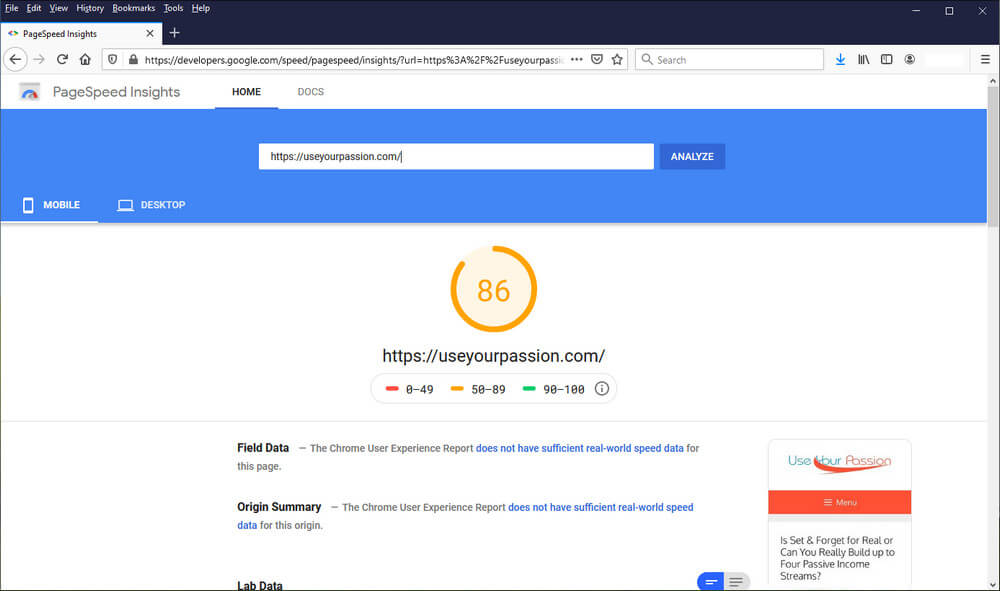 …and 95-100 desktop.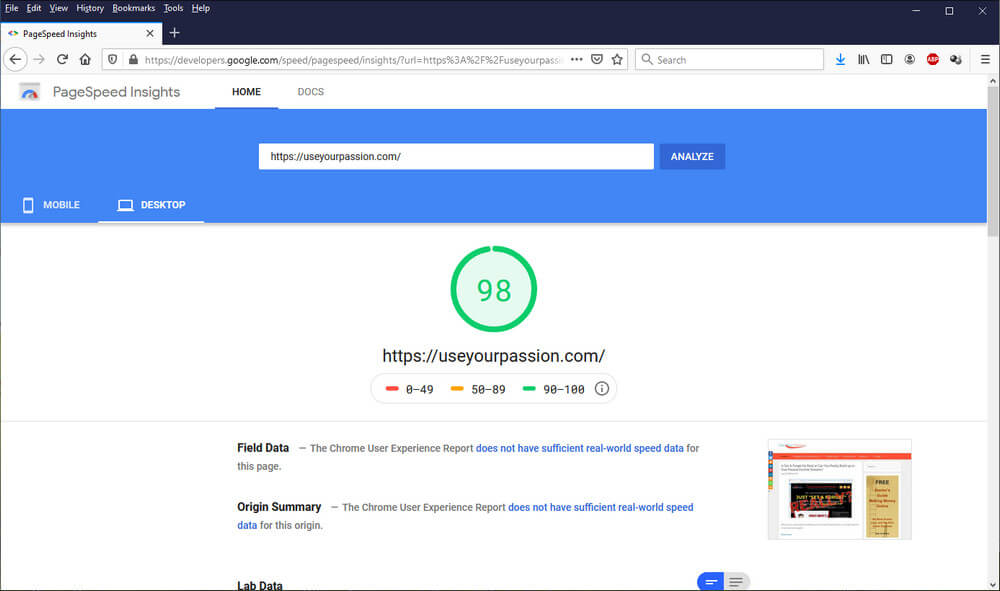 And, as I'm sure anyone who has worked with WordPress will tell you is that the more plugins you use the slower your site will load.
Soooo… then why does GeneratePress Premium load this site this FAST?
Because it is CODED properly and updated regularly, as are the extra plugins that are being used; Easy-peasy.
Not only did the GeneratePress Premium theme speed up my mobile and desktop loading times, but I've also been able to EASILY tweak the site without having to create a child theme, nor did I have to add loads of CSS scripts.
Folks, I promise you that the FREE version of GeneratePress will not serve you anywhere nearly as nice as the measly $49 US funds that are required to buy the premium version.
So, don't deny yourself purchasing the premium theme, as the developer seriously deserves the money he makes… and a whole lot more… and, YOU deserve all the options that comes with the Premium version.
WOW, what a difference GeneratePress has made on 2 of my websites now.
At the time of writing this, I am in the middle of merging three sites into 1 using GeneratePress Premium, due to the ease of using this theme.
Before… using the "other" theme… I had to use two separate installations of WordPress in order to get the layout that I wanted for each one (though, I did add a 3rd installation that is no longer necessary to keep).
I now can merge the three installations and retain the look (though the main landing page is totally improved!) that I want to keep.
The "other" theme, I was compelled to use their shortcodes to embed my videos. And folks… I used LOTS of videos, believe me I did.
Thankfully though, I was able to simply search for part of their shortcode (shown below…)

…which displayed on the web pages once I changed the theme being used.
Then I had to replace that code with YouTube's embed code; where I was able to move the width (and height accordingly) tags in YouTube's script up to width the previous developer had me use as the max-width in the DIV tag they supplied to me that was used to surround their shortcode (shown above).
Don't think I will ever be so quick to use another developer's theme that forces their users to use THEIR shortcodes. This experience has taught me that much for sure.
Whenever I wanted to know how to do ANYthing in GeneratePress Premium, all I had to do was simply Google search for it, and POOF! …the answer was provided (most times by the developer himself too!) so that I did NOT have to constantly reach out to their support staff.
The European developer's theme offered no easy means of finding helpful information on ANY of their themes online.
Their users are forced to sign into their forum and ask for help.
Most times the help would take 24 or more hours and NEVER on weekends, which is not convenient for those of us working with a deadline.
With GeneratePress that is NOT an issue, as the support staff and developer are located in BC, Canada!
To top all of those differences off, even the tables in GeneratePress look the way they should and the way I wanted them to in the "other" theme.
Should you take my advice and buy GeneratePress Premium, I truly feel that you will be as pleasantly surprised as I am with the EASE of using this theme, as well as the clean overall look that this theme provides their users with.
And… I have some advice for you should you decide to buy the Premium version. Here goes:
Install and Activate the plugin as directed. You'll understand once you have made your purchase.


Click on Configure under the plugin's name… or go to Appearance > GeneratePress


Under Modules, click Activate on as many items as you think you might need. I Activated all but Secondary Nav, Site Library WooCommerce and Backgrounds.
When I Google searched for help, all of the instructions that I found all assumed you would have Activated those items already.
If I was given those instructions then I missed them because it took me a bit to "clue in" as to why I couldn't see what the instructions were telling me were there.
Daaah, LOL… I had to Activate the option FIRST.
Don't forget to insert your license too, so that you receive updates when they are issued. You're going to want to keep this theme for years to come, I'm sure of it.
Would LOVE to hear your comments on GeneratePress Premium. This theme certainly has "blown me away". Be sure to leave me a comment below so that we can chat.
So now you know the easiest way to design a website on WordPress and why you don't need a pagebuilder to create a great look for your website.
My rating of GeneratePress Premium:
Credit for Header: Photo 70313777 © Denisismagilov – Dreamstime.com