What is a proofreader and what do they do?
A proofreader finds and corrects errors in spelling, grammar, syntax, punctuation, language used, formatting and other such errors for their client's content.

Proofreaders are language legends; in that they adjust the syntax and language of their client's work in order to ensure their client's meaning is easily understood.
In today's world, proofreaders will proof read things like blogs, web pages, emails, internal communications, eBooks, etc. And, they do this for clients such as:
businesses,
entrepreneurs,
authors,
digital marketers, or
anyone who writes or produces documentation in writing.
This makes working online as a proofreader quite feasible nowadays.
What can a proofreader charge?
According to the US Bureau of Labor Statistics, the mean hourly wage is about $20.77, or $43,200 annually, as of May 2019 calculation (2020 has not yet been calculated).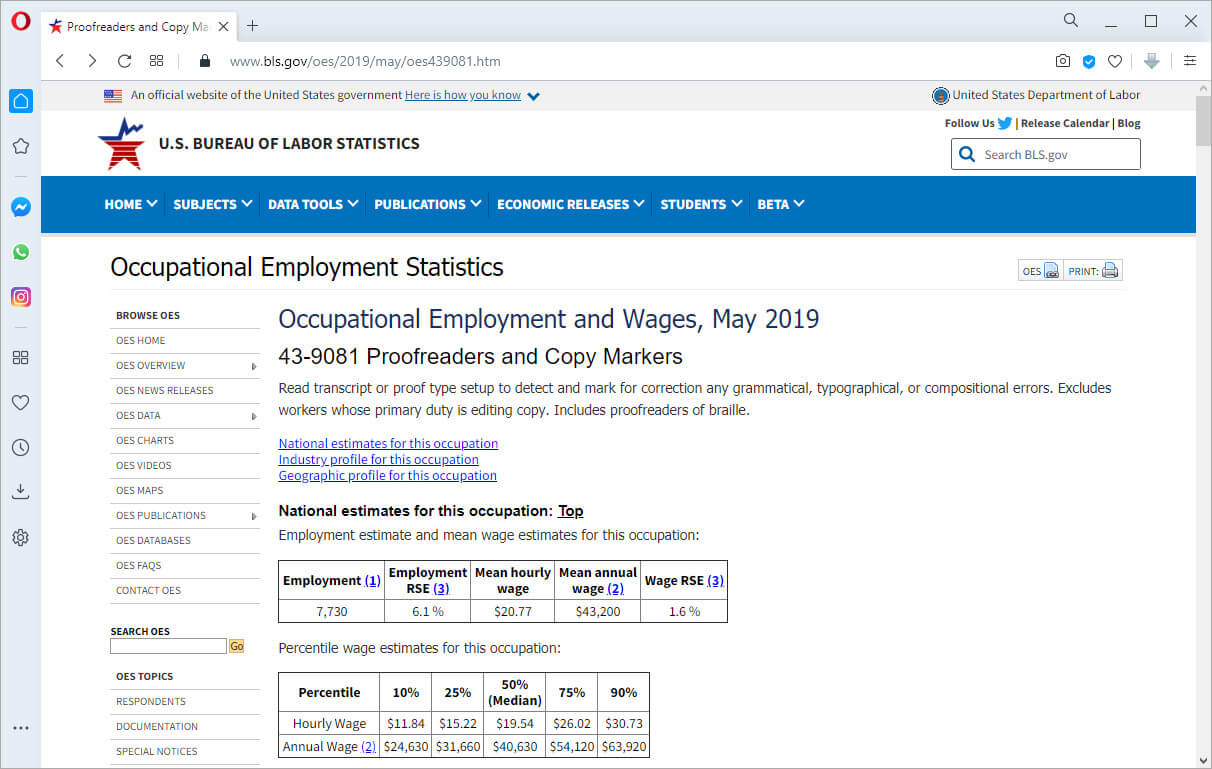 However, a proofreader isn't just a proofreader, as you can focus your specialty on such things as:
legal services,
securities, commodity, contracts, and other financial investments and related activities,
specialized design services,
management, scientific, and technical consulting services or
business, professional, labor, political, and similar organizations.
And scrolling down the government's web page will show you the differences in the top paying industries for this occupation, as shown in the screen print below.

NOTE: The annual mean wages dropped for Legal Services between 2018 and 2019, when all others increased.
Yet, according to Upwork.com, a Luka Karsten B. has earned $200k+, charging $32 an hour, doing 41 hourly jobs, for a total of 422 hours worked.
While Francine R. has earned $80k+, charging $50 an hour, doing 88 hourly jobs, for a total of 1065 hours worked.
However, it is NOT stated as to how long a period of time it has taken any of the freelancers to earn the amounts of money that have been stated.
Plus, there are several other proofreaders on Upwork who are charging a variety of different rates.
As a freelancer, you must realize that you will not be billing for every single hour. So, you need to understand that it may work out differently for you.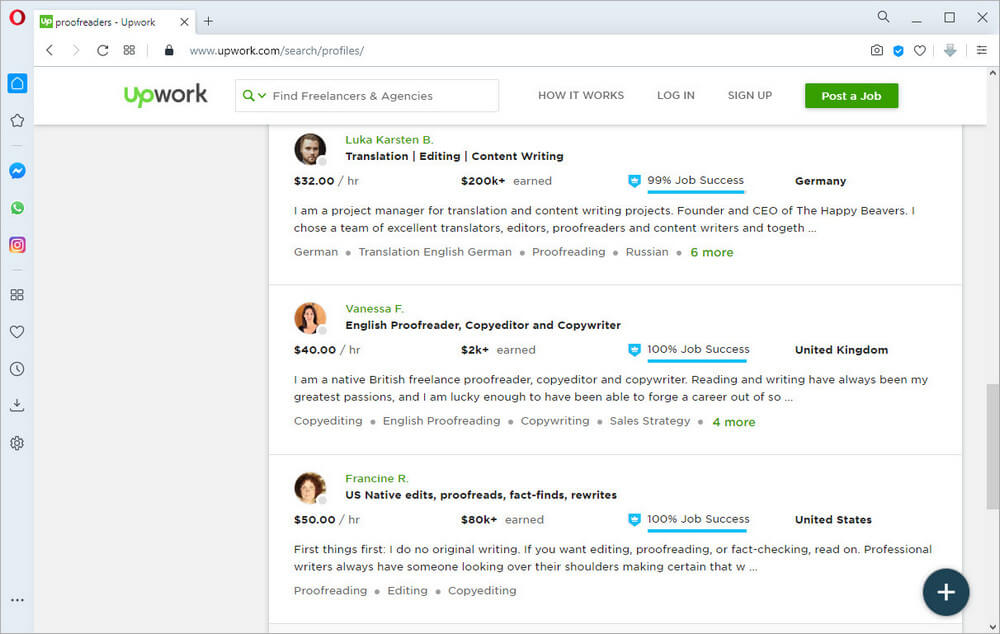 Another site to consider looking at incomes for proofreaders is salary.com.
This site shows that the average income across the US to be $52,391 annually as of June 28, 2020, though the range falls between $45,970 and $59,823 (see screen print of their chart below).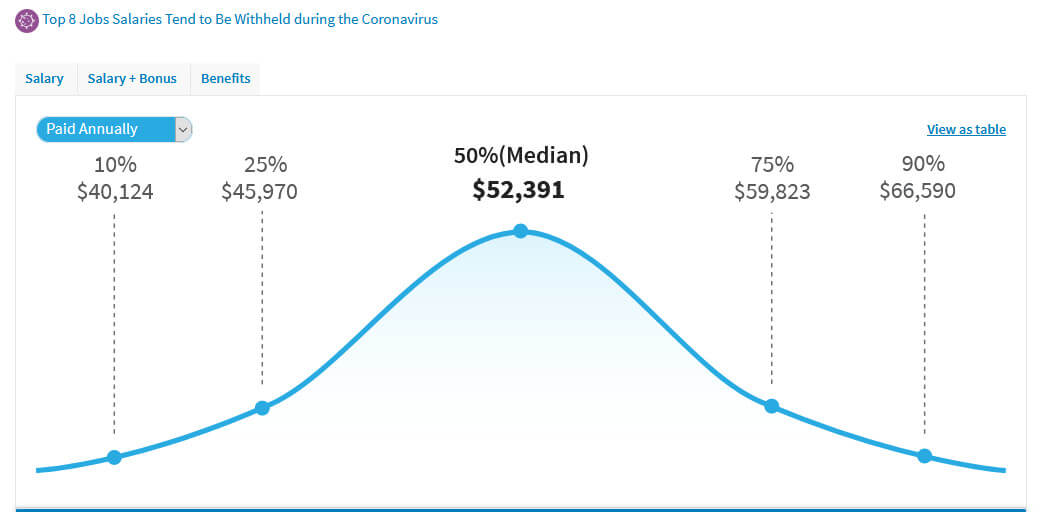 And of course, the major income factors depend on your:
education,
certification,
additional skills,
and the number of years you've worked in this profession.
Then, of course, there is Scribbr.com, which is a website exclusively for proofreading and editing services.
As you can see from the screen print below, I have highlighted what this site claims… that you can earn 20 to 25 Euro dollars an hour, which when converted to US dollars is $23.32 to $29.14. A pretty handsome sum indeed.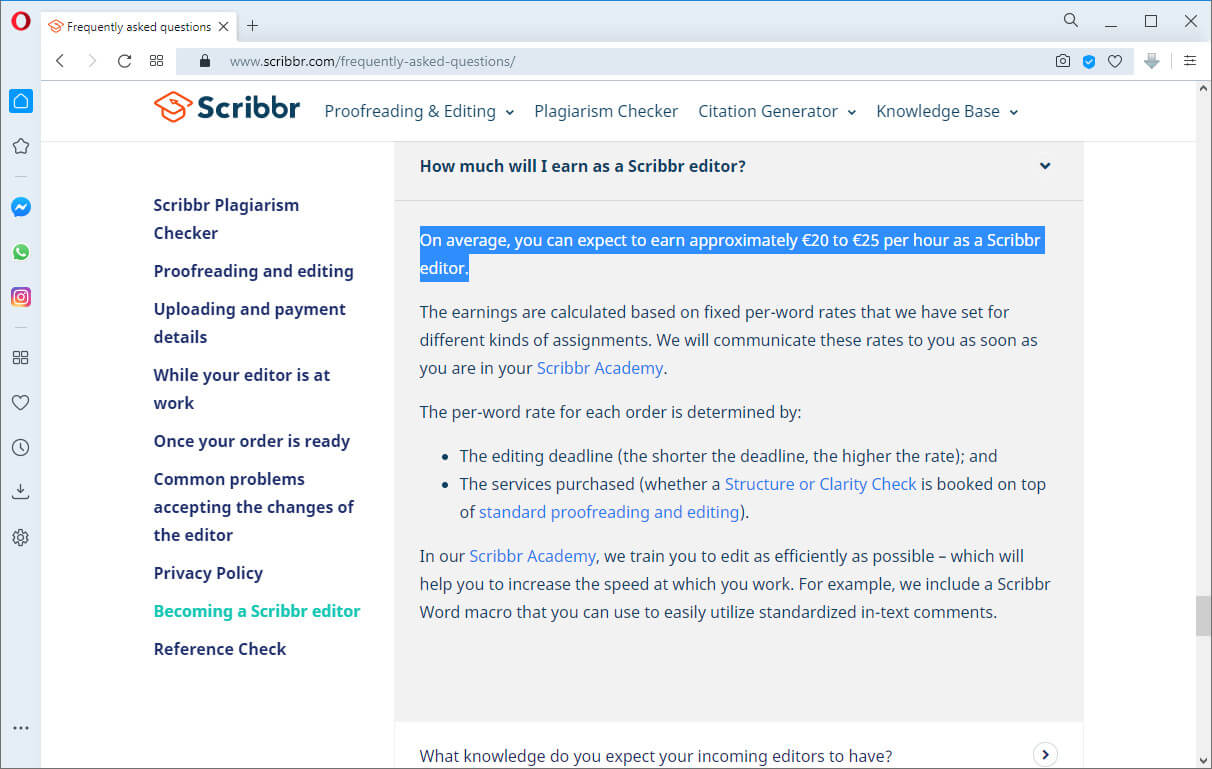 How Can You Become a Freelance Proofreader?
Sites like Scribbr.com and Scribendi.com require that their freelancers have a university degree in a relevant field.
So, if you want to be your own boss and be more of a freelancer, then it is recommended that you take at least an online course… or perhaps even two.
6 Tips on How to Start as a Beginner Freelance Proofreader
1.) As a beginner, you really need to learn and hone your skills. If you think you are ready to start proofreading right now, then a great way to test your skills are with such websites as:
– the Society for Editors and Proofreaders… https://www.ciep.uk/resources/test-yourself/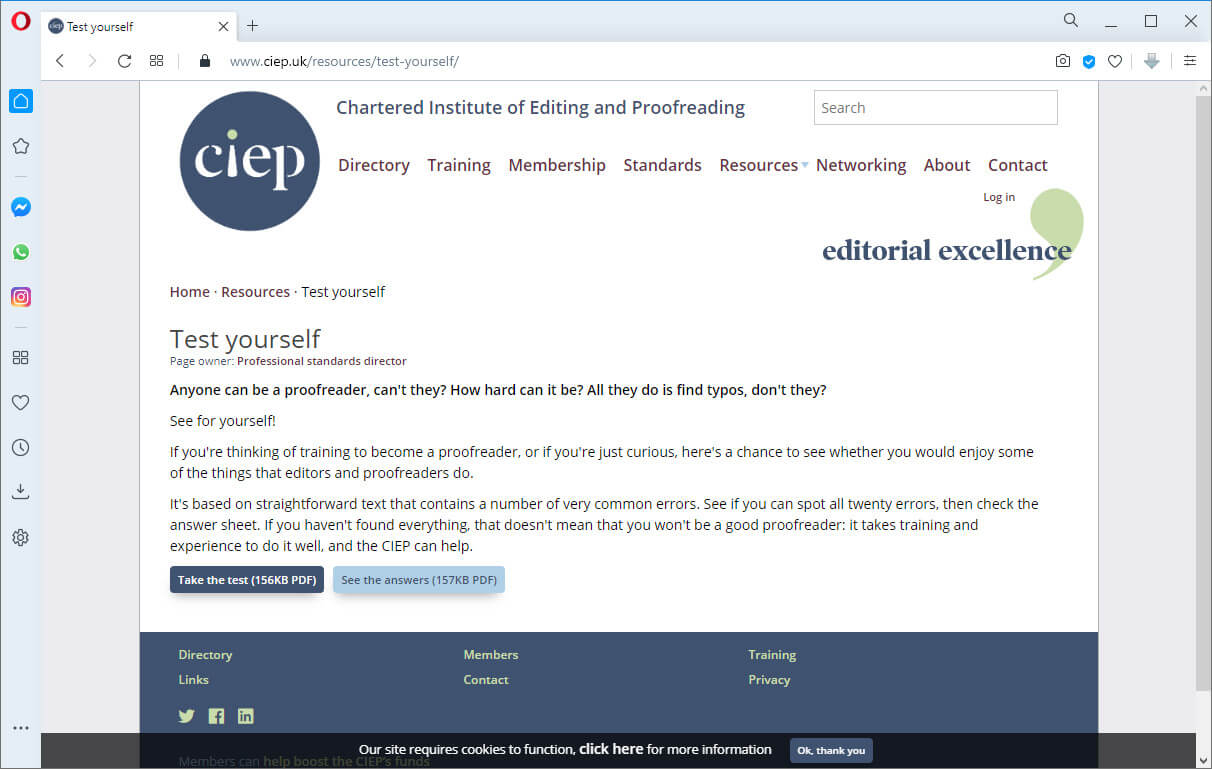 – and/or, the authority pub… https://authority.pub/proofreading-test/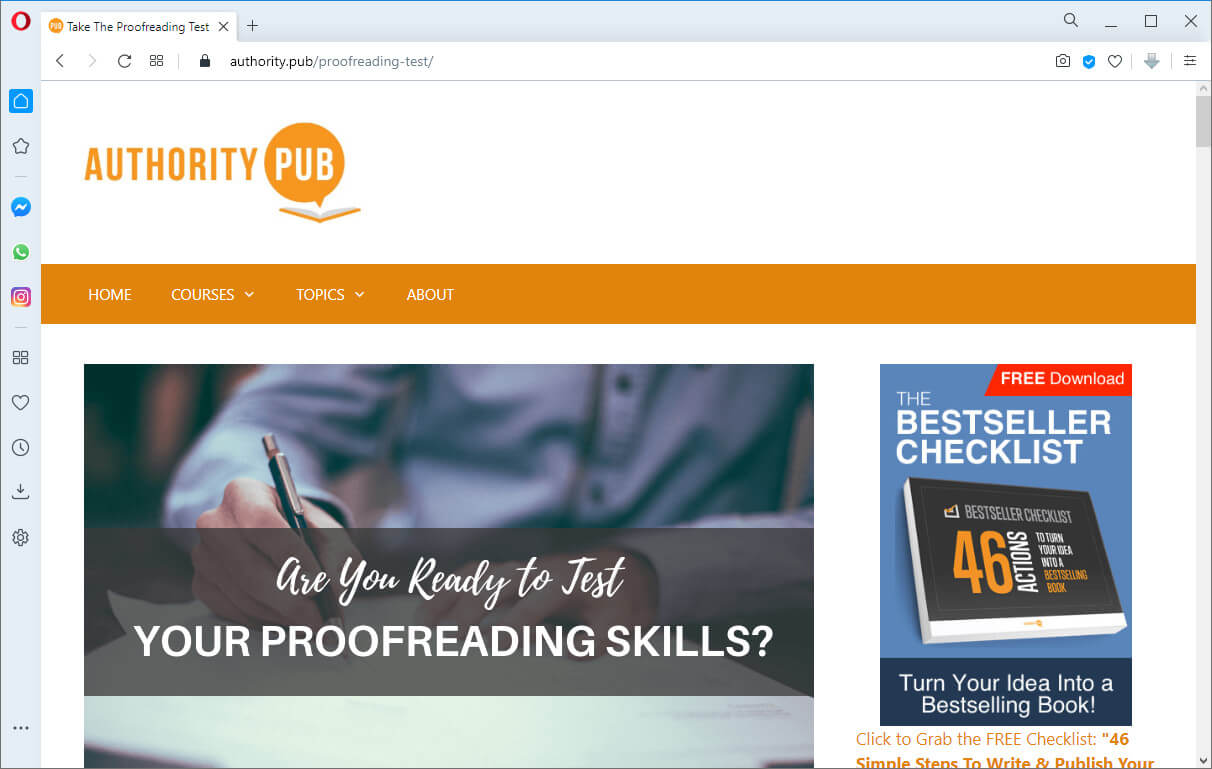 2.) Once you are ready to work, sign up as a member of sites like UpWork.com or Indeed.com that list the work you are looking for. Then be sure to refresh the page every so many minutes or whatever time suits your schedule.
3.) When a job appears that suits you, be sure to have a short script prepared and ready to simply copy and paste… and then EDIT accordingly. This way you will get in front of that person very quickly.
DO make sure that your message to EACH person looking for a freelancer is tailored to THEIR needs. Be sure to address the person using their name, and that you are addressing ANY special requirements they may need.
If the platform allows for you to private message them, then be sure to do so. I have learned that many times the person who sent a private message and got in front of the potential client straight away, was the one that got hired.
4.) Be sure to FOLLOW the potential client's instructions to the letter. One of the quickest ways for many seeking work to be done for them will know when a freelancer has NOT actually read through their requirements is by the way they respond to the job.
Their scripts do NOT sound specifically tailored to the job listed.
NOTE: What I do when seeking to hire someone is about two thirds the way down my list of requirements, I will slip in instructions that only those who have read that far into my requirements will even see.
And only those who follow that one requirement will even be considered for my job posting.
5.) Make sure that you have created a great profile on the platform(s) of your choosing. Be sure to talk up your skills because those looking to hire WANT to learn what your skills are.
So, don't be shy, be sure to let potential clients know that you are the one they need to hire.
Chris C.'s profile on upwork.com is a good example of what I am referring to.
See screen print below, where I have highlighted different areas, and circled and pointed to others…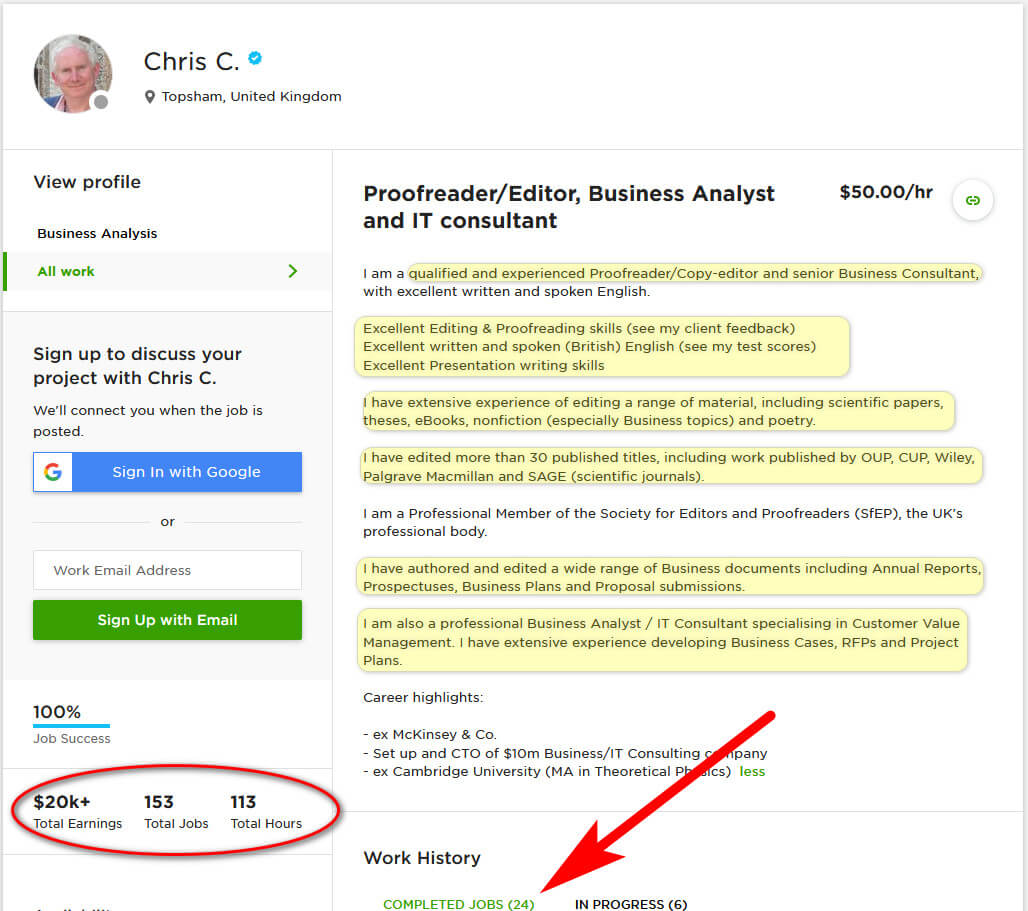 6.) Make sure that you always add value to each and every job that you do. When you offer a little extra over and above what others offer, you make your skills stand out from the other freelancers, and word soon spreads.
Where Can You Learn Proofreading Online?





Requirements Needed for Taking Proofreading Courses Online
An updated computer with an internet connection. Broadband access is recommended for viewing many videos.


An HTML 5 compliant browser. Three of which are: Mozilla Firefox, Google Chrome and Apple Safari.


Javascript needs to be enabled on your chosen web browser.


Cookies must also be enabled on your chosen web browser.


A student must be able to verify a working email address they check regularly.


Access to a printer recommended should the student want to print out any course materials to study offline.


Required books will be listed on the learning platform.
Requirements Needed for Taking Proofreading Courses Online
An updated computer with an internet connection. Broadband access is recommended for viewing many videos.


An HTML 5 compliant browser. Three of which are: Mozilla Firefox, Google Chrome and Apple Safari.


Javascript needs to be enabled on your chosen web browser.


Cookies must also be enabled on your chosen web browser.


A student must be able to verify a working email address they check regularly.


Access to a printer recommended should the student want to print out any course materials to study offline.


Required books will be listed on the learning platform.
A Brief Proofreading Tutorial
I hope you have found this post helpful with informing you as to what a proofreader is. My aim in providing this information here is to help you decide if proofreading is your passion.
Have a question… or you simply want to comment?
Please do so, using the form below and you will be notified once I have responded.