Kevin Fahey says that he wants to save you a decade of your life, and help you get life-changing results with online marketing faster than you ever thought possible.
He claims that the things he is about to share with you took him fourteen years to figure out, but that he is going to reveal it to you in the next couple of minutes.
Then Fahey goes on to say that he has been in the internet marketing space for over a decade, that he has built countless successful businesses and that he has generated multiple seven figure online.
Apparently, over the time he has been making a living online, Fahey claims that he noticed that 90% of people trying to make money online; even though they have been through countless courses and trainings, they can't seem to find a way to build a stable and reliable online business.
Fahey goes on to say that most people just keep on chasing fancy methods trying to make money, but just end up falling flat on their face, over and over again.
He claims that while everyone wants to make a lot of money, live life on their own terms and bring their wildest dreams to life, the reality is that it's not as simple as most marketers make it seem to be.
He says that it's not because making money online is hard because, Fahey claims it is NOT.
Fahey goes on to explain that it has to do more with the fact that the REAL information is NOT being shared.
He says that unfortunate truth is that the market is littered with sub-par training programs that give you information that's based on theory of what is SUPPOSED to work.
While the REAL information of what is ACTUALLY working is kept close to the chest, out of fear, out of greed, Fahey says that he's not sure, but it is just not being shared.
He says that he's not just talking about information that you can easily find online either.
Fahey says that he is talking about practical information and strategies that come from years of experience that you can use to flood your bank accounts with cold hard cash.
My review here will cover the following:
If You Don't Want to Waste Anymore of Your Time on Scams,
See My #1 Recommended Way of Making Money Online:


What is The Easy Repetitive System?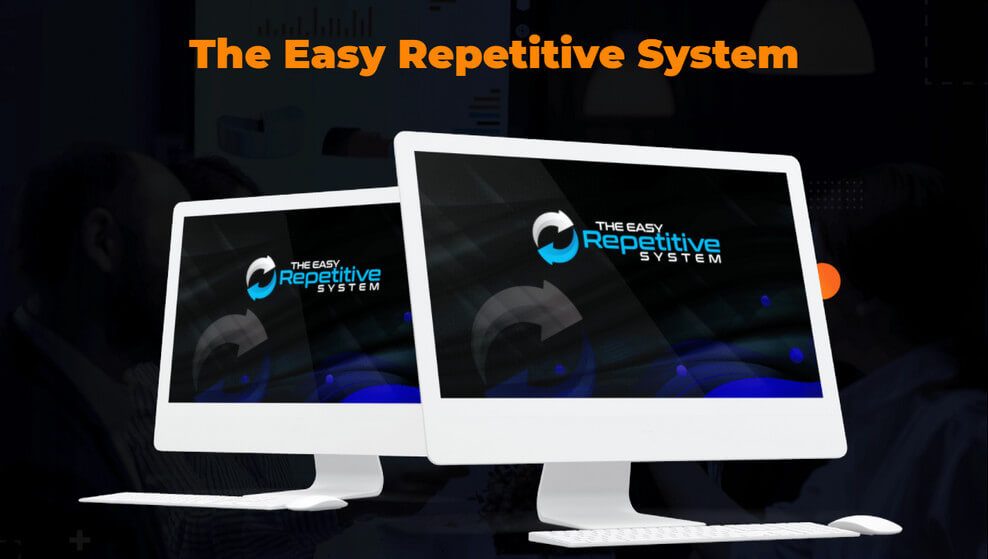 Program Name: The Easy Repetitive System
Website: https://resultswithkevin.com/ers-fe/
Price: $26.41 US funds, PLUS 3 upsells and 3 downsells
Recommended? NO
Rating:
---
Fahey claims that the true information that you need to shortcut the process and build on top of somebody else's knowledge and experience instead of trying to figure everything out on your own.
And, Fahey claims that's the type of information he is talking about.
And, Fahey says that's the type of information he wants to give to you, without the hype, fluff or theory-based assumptions of what is supposed to work.
Fahey claims that over the years, he has been testing different approaches and strategies with led him to come up with a system that today is responsible for his millions of dollars in online sales.
He than shares a screen print of what appears to be affiliate sales, and saying for you to look at some of the results this system got him.
This system, Fahey claims is the backbone of his entire business, and that he has been using it for well over a decade, each year improving it and making it better and better.
And today, Fahey says that he wants to share it with you.
Fahey claims that he doesn't care if you have been marketing online for years, or it you are a complete beginner, if there is one strategy you absolutely need to understand and be aware of to have real success online, then his system he says is it.
What Fahey is about to share with you inside, he claims has nothing to do with theory or speculations.
The strategies he is sharing inside he claims are the same rock-solid strategies that he has been using to build a multi 7 figure business, and that he still uses it to this day to keep on growing his business.
Fahey then says that this system is very simple yet super powerful.
That it doesn't need any technical skills or marketing experience whatsoever to use.
And, Fahey promises you that it is like nothing you have ever seen before.
The absolute best part is, Fahey claims that it allows you to build on top of a decade of knowledge and experience and start making money in the shortest space of time imaginable.
In other words, Fahey says, what you will discover inside will change everything for you, your business, your income and your life.
Fahey says, if you're tired of wasting your time and money on methods and strategies that never seem to work; today you will be able to get your hands on this powerful system that will finally put you on the right track to build a reliable and stable business in the shortest space of time possible.
He goes on to say that inside, you will have access to step-by-step training that he claims shows you everything he does to build and generate millions of dollars in online sales.
Fahey claims that by following his unique fail-proof system that has been proven by him to work over and over again.
And when you get this now, he is also including a THE ERS PLAYBOOK that will cover EXACTLY how he thinks, what he does, and the steps he takes to get the most out of The Easy Repetitive System.
He claims that the way this training is presented makes it easy for you to follow along, implement The ERS strategy to a "T" and get results fast for yourself.
Here are some of the things Fahey says that you will discover inside The Easy Repetitive System:
His bulletproof approach that he has used to build several multi 7 figure businesses from the ground up, and generate millions of dollars in online sales.
Why this method is different than anything you have tried and seen before.
And, the simple steps to follow to unlock the secrets of online marketing and build a real lifestyle business you desire.
Besides all of that, Fahey claims that he is going to make this deal even sweeter by giving you access to some exclusive bonuses valued at over $361 in real market value for free when you get going right now.
For a limited time, Fahey says that you can get your hands on The Easy Repetitive System at a massive discount. And, to lock in your discount, all you have to do is click his buy button now.
Fahey says that he has been building online businesses for over 14 years, and that he has seen and used a lot of different strategies and tactics over the years.
But over the past few months he claims that he was able to break it all down to a complete science and create a proven blueprint that works every single time.
And… Fahey claims that he decided to put everything into his training.
He says that he doesn't want to toot his own horn, but what he has put together here blows every other little tactic and system right out of the water.
Then he says to imagine, getting results like these in your business… and he shares more screen prints that look like sales made, and Fahey claims these are life changing results.
Fahey says that The Easy Repetitive System is extremely powerful. And, he honestly believes that it will finally help you get the results online that you truly desire.
In fact, Fahey is so sure of it that he is also going to take away all of the risk by giving you a full 14 days so that you can test this system for yourself.
If for any reason you don't think this is worth many times your investment, just send Fahey an email, and he claims that he will give you a quick refund.
Fahey says that you know this works, that he has shown you results that this system generates, he's shown you the value, an he has made it a no-brainer offer by giving you a no-questions asked money back guarantee, and that he has added bonuses that are $341 in real market value.
He says that all there is left for you to do is click his buy button, that seriously it is decision time.
He goes on to say that you are at a crossroads right now and the way he sees it you really just have two different options.
Your first option is to do nothing, leave his landing page without getting access to The Easy Repetitive System and stay exactly where you are now.
But Fahey says this only makes sense if you already have a thriving business and your bank account is flooded.
If that's you, Fahey says then maybe you don't need this blueprint, because you are already doing fine.
However, Fahey says that if you are not the person he just described and building a business and generating sales online is a drag for you, then you should seriously consider taking the second option.
He says to just say "YES" right now, click his buy button before life gets in the way.
This way you will get access to the exact blueprint and strategies Fahey claims that are responsible for building a multi 7 figure business online and generating millions of dollars in sales.
Fahey says to please, do not wait. The price is going up with every sale, and if you wait and come back later, you will end up paying way more for this money-making system.
Buying now, he claims you will lock in your copy, bonuses and your discount while you still can.
---

How The Easy Repetitive System Actually Works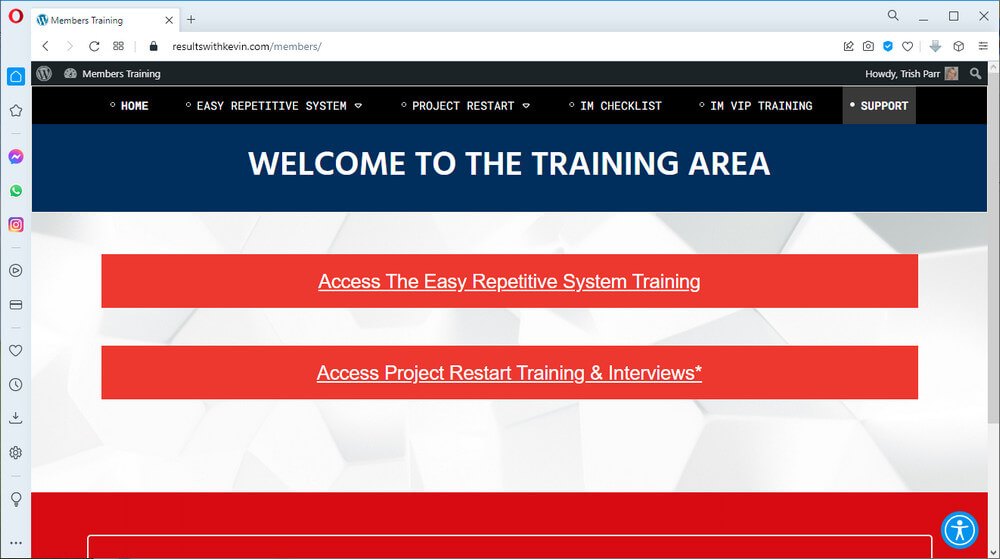 Access The Easy Repetitive System Training – which has 11 different modules… PLUS bonuses.
Introduction video (00:05:21 minutes) – Kevin Fahey thanks you for purchasing his training and claims that you will be blown away with his training. Then goes over the modules briefly explaining what to expect.
He also talks to those who have purchased the upsells and what they can expect to receive.
Module #1 – Introduction To The Easy Repetitive System – Launching a new product is briefly discussed.
Fahey claims that he has reduced the launch time down to one day's work, and this method can work with any industry, any niche, any topic and market and at any price point.
Module #2 – Niche Research & Ideas – Niches are discussed, along with why you should pick one you like/enjoy to focus on.
Module #3 – Planning Out Your Funnel – This topic is discussed and Fahey provides you with an option to a free to join funnel account.
Module #4 – Organizing Your Team & Work Environment – This module is heavy reading, so you will definitely need to take breaks in order to digest all that is shared here.
Module #5 – The Complete Easy Repetitive System Funnel Setup – video (00:40:39 minutes) in which you get to watch Fahey over the shoulder setting up one of his launches.
Module #6 – Market Research – Fahey walks you through an example of a chosen niche and shows you how to do your market researching when creating your product.
Module #7 – Staying Ahead With New Offers – In this training, Fahey talks about the importance of a follow-up plan, and he walks you through the necessary steps in repeating your next product.
Module #8 – Traffic & Promotions – Fahey talks about how you can use launches to your advantage to gain the necessary traffic and promotions you require, as well as paid advertising.
Module #9 – Evergreen Marketing Methods – Fahey refers to repurposing your previously paid for content and introducing it as new, along with discussing the advantages of firesales, birthday sales, bundle packages, offer bumps, Black Friday Specials, etc.
Module #10 – Case Studies – Two videos are provided:
Premium PLR Reports video (00:10:25 minutes), in which Fahey shows you how you can easily repeat his system month after month, and he claims that it works.
IM VIP Training video (00:05:44 minutes), in which Fahey talks about the training that he has created over the years, and he shows you how he is now offering his older products and training by creating a membership site that he claims is profitable.
Module #11 – The Easy Repetitive Training Presentation video (00:46:49 minutes) – appears to be a replay of a webinar where Fahey talks about this training that he is planning to setup and offer in the near future.
PLUS:
Fahey's slideshow with notes from this webinar replay, which is a PDF file.
A PDF file of niches and sub-niches you could consider.
And a link to access Funnelytics website for you to begin creating your funnels with.
Bonus Training – Steps To $2,000 Per Month video (00:40:21 minutes) in which Fahey shares a training webinar.
Access Project Restart Training & Interviews* – Sorry! No Access – Your Upgrade Options
Access Our IM Newbie Training Course – You will need to register as a new user and refresh the page to be able to log into this portal.
The Seven Figure Book Bundle – Access 4 Top Selling Reports Here – 4 bonus reports:
11 Questions to Success – 6-page PDF file
Open Rate Explosion – 27-page PDF file
Solo Ad Escaper – 29-page PDF file (2015)
Dropout Entrepreneur – 135-page PDF file
How to Profit with PLR Training Webinar (01:11:22 minutes) which premiered on 17 Jan 2020, and is available on YouTube.
Click Here to Join Our Facebook Group – link is as described
Click Here to Subscribe to Our YouTube Channel – link is as described
PROS
Kevin Fahey appears to offer his secrets for repeating his system that he claims works for him and several of his students.
CONS
Kevin Fahey's training has several grammar and typo errors that could cause confusion and hinder a beginner's understanding of his training.
Most of the training may scare away a newbie, and I feel this training may be more beneficial to intermediate IMers at best.
It appears that Kevin Fahey has split up an original report (as he refers to "this report" throughout his different modules). Some of the advice seems to be good.
Fahey tends to recommend creating new products monthly, where profitable IMers recommend you create great training and share ALL aspects honestly with your students so you gain a quality reputation.
This way, you won't have to be creating new sub-par products monthly that don't really provide your customers with complete training.
---

My Take on The Easy Repetitive System

Though I do not agree with Kevin Fahey's advice regarding recreating or repurposing old content and making it appear to be a fresh idea every month, I do like how he has literally walked students through the process of creating your very own product.
Can The Easy Repetitive System build a 7 figure online business is anyone's guess, though I would rather doubt that many IMers would be able to do so when following this training.
My video review on The Easy Repetitive System is offered below.


Summary
Most newbies need a LOT more training than what is offered in Kevin Fahey's training titled The Easy Repetitive System.
What I would like to do is introduce you to a training platform that offers all levels of learning, by providing members with world-class courses on creating your very own online business.
PLUS, you can start for FREE!
You won't even be asked for a credit card.
Once you create your profile by talking a little bit about yourself, uploading an image of yourself, then be sure to check out the comments you will receive below your profile.
Those comments will show you EXACTLY where you can start taking the world-class training for FREE!
The owners of this platform are so confident that you will enjoy learning from the lessons that you will have 7 days of FREE access to the first 10 lessons, so don't delay at getting started.
You will even be allowed to create your very own website FREE.
To top this off, you will even be able to turn on your SSL certificate for your FREE website.
This certificate will provide your website with the very important HTTPS status that will protect your visitor's devices.
SSL certificates makes Google very happy because they deem their users (those searching for information) very valuable and worthy of protecting their devices when offering websites in search results.
You will be able to learn how to get your new online business ranking organically!
If you're ready to learn more about this amazing training platform, get my free guide now!

Oh, and before I forget to tell you… I have been a member of this training platform since 2016, so am looking forward to meeting you there.
You will have access to professional IMers who will be able to assist you by answering ANY technical questions you may have.
You won't be left alone unless you want to be.
Come, learn how to build a profitable online business for long term income.
Like I said, you can start for FREE so you can see for yourself as to what all my raving about this platform really is about.
I do hope I have answered the question, can The Easy Repetitive System build a 7-figure online business to your satisfaction.
Should you have any questions regarding The Easy Repetitive System, please do leave them in a comment below and I will respond in a timely manner.
See you on the inside,