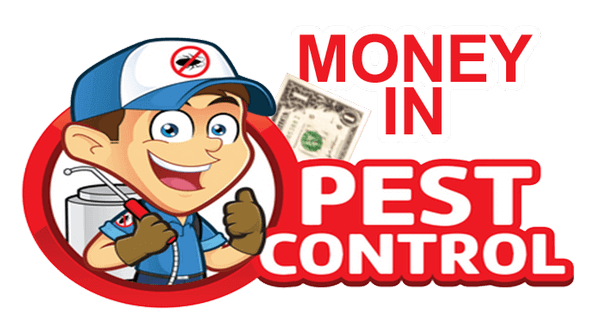 Starting a pest control business can be quite a lucrative idea if you do it for the right reasons. However, if "how much money can I make doing pest control" is your first question then perhaps this may not be a good business plan for you but maybe a job idea instead.
When considering starting any business, you need to look at options that you are passionate about; ideas that make you want to help others. That is the only way any business owner can possibly consider becoming profitable.
If your only focus is to see how much money you can make than a j-o-b is probably your best option, as money hungry attitudes invariably fail in business, and that is not what I would want to see happen to you.
So, if you are passionate about helping others control pests, than let us move on to the many things you need to consider when thinking about starting a pest control business.
How Much Does it Costs to Start a Pest Control Business?
Starting your pest control business from home will help you reduce your cost of starting your business straight away. However, you will still need equipment such as dusters, bait traps, sprayers, etc.
When searching for an exact figure on how much it costs to start a pest control business, I found the following $10,000 to $50,000 range offered by the well-known American Entrepreneur website.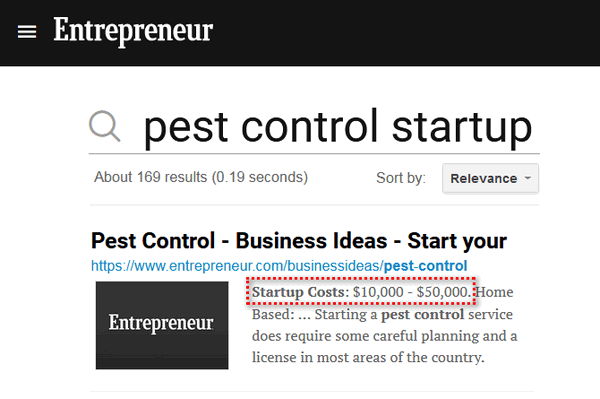 However, I have a means of helping you potentially reduce your startup costs and getting your business up and running sooner that I will be sharing with you here, so do keep reading.
According to Nate Heller who has been involved in pest control for over ten years, a pest control business has a very low start-up cost when compared to other types of businesses.
What is Required to Start a Pest Control Business?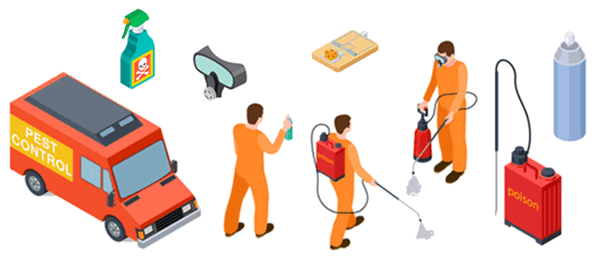 To start a pest control business, a reliable vehicle (preferably a van or pickup truck) that is fully insured is a must-have as you will need to be moving different types of equipment and supplies from site to site.
You may discover that leasing a vehicle as opposed to owing one to be more feasible for a business owner, as it is my understanding that you gain more when writing off a leased vehicle than a loan for such a vehicle.
Yes, you will need a pest control license depending on which state you intend to operate your pest control business in. You MAY also need training and to pass a test, according to netwrox.com.

Checking with your local Chamber of Commerce or local college you may learn of the best type of pest control training required to obtain your license, as well as where to find the qualifying training, either locally or maybe even online.
Remember too, if your area is bordering the state you live in and you want to offer your services in the other state(s) nearest your location, you will need to seek out a license for EACH state you want to run your pest control business in.
Besides, having acquired proper training and obtain licensing for starting a pest control business, these can obviously make the next must-haves less expensive. Not only that but make your business a lot more professional, as most potential customers will want to know that you are fully licensed.
The next important requirement is business insurance, which ANY and all new businesses starting up must have, along with a legal advisor.
There are inexpensive legal services available such as Legal Shield, who can be ready and willing to protect you and your business from potential lawsuits. So there is another cost cutting option you can consider.
You could also go all out and purchase local website hosting service (domain registrations are usually included), then create a website for your new business, and even have business cards and pamphlets created and printed for your business.
However, these options would depend on how much money you have available to start.
Business cards can be easily purchased online inexpensively from printing companies like Vista Printing, but local hosting services should never be sacrificed for cheap hosting in other states.
Your website will NEED to be hosted within the same area your business will be operating in… that is IF you want your website to rank in local searches for your type of business.
Is Pest Control a Dangerous Business?
Pesticides are chemicals and without the proper protective gear can be very toxic as they may cause irritations to skin, eyes and throat or worse, burns, poisoning, etc. Some chemicals are very flammable when they are not handled and/or stored properly. This is why it is that most (if not all) states require proper training and passing their test in order to be licensed as a pest controller.
Now to answer that all important question…
Is Pest Control Profitable?
There are a lot of benefits for starting up and operating your own pest control business.
As I'm sure you are already aware, you would be allowed to write off the cost of owning or leasing, insuring, servicing and the gas for your vehicle, the cost of your equipment, as well as your other business costs.
Starting from home, you would also be allowed to write off the area of your home used to run your pest control business from.
Most of these options are NOT available to those who simply earn wages. Not only that but when working for pest control businesses, you will be fortunate to receive an average salary from between $24,000 to $36,000 yearly, according to recruiter.com.
According to Entrepreneur.com, as an owner of a pest control business…
Overall, a pest control service can be a very profitable business venture and can easily generate profits in excess of $75,00 per year.
Now for what I promised you earlier, for the means of helping you potentially reduce your startup costs and getting your business up and running sooner… Nate Heller's Pest Control Profits.
But before we go any further, it behooves me to inform you that if you use my links here that ultimately I may earn enough money to buy a couple of cups of coffee. That said, feel free to continue…
This is where you can learn from a person who started his very own pest control business after learning about a profitable segment of this market that was being totally left untapped.
Heller calls it the "secret market" and he will share that with you in his course. As he started his business is in Birmingham, Alabama where there is a LOT of pest control companies providing his business with LOTS of competition; this is a business owner you want to learn from if you want to start a profitable pest control business.
A pest control business following his system apparently will run from anywhere. Heller goes on to say that after only 3 months from starting their business he and his partners had thousands of accounts on their books, simply by using this untapped segment.
PLUS… this course offers you a full MONEY BACK GUARANTEE for 60 days!
The course is detailed as including the following features:
The module you should be starting with
3 mistakes to avoid
The secret market that has virtually been left untapped
How to gain the sale from those simply seeking information
A tactic that could make you a BIG profit in your business
The payment method to avoid using cheques all together, bad debt, and customers who don't pay
The one thing most big pest control companies get wrong that will make customers trust you instantly, without your having to say anything
How to turn your business cards into sales-generating machines
Easy things to do that work wonders that most large pest control companies still neglect doing
A great tip on your first office space to save you thousands of dollars
An easy software to save you several hours and automate the most mundane portion of running your own business
Tools and resources that you will need to make managing your business a lot easier
How to avoid ever getting complaints
How to offer extra services so customers feel you are giving them special treatment… which will gain you REFERRALS
A technique for gaining new customers that most pest control companies never use (these apparently work like gangbusters)
A method so that your accounts in each service area will be on the same schedule year after year
And more
By taking this course, you will certainly have your customers becoming your biggest fans, bringing you in more and more referrals.
NOTE: This is a Clickbank trusted retailer. If you are not completely satisfied with your purchase, let them know and they will make it right. Your satisfaction is GUARANTEED!
Hope you will feel free to ask me a question regarding starting a pest control business or simply leave me a comment below.
Header Image: by ID 90895243 © Dian Permana | Dreamstime.com