Tai Lopez states right up front that results may vary and that testimonials are not claimed to represent typical results.
He states that all testimonials are real and that they are meant as his showcase of what the best, most motivated customers have been able to do.
Thus you should not take them as average or typical results.
Lopez goes on to state that you SHOULD assume that products or personal recommendation made by him may result in compensation paid to him by those he recommends.
He even goes so far as to offer a telephone number that you can contact "us" at, though I'm sure that you would actually be reaching a help desk and not Lopez himself.
But still… how many products offer a contact phone number on their landing page?
None that I know of.
Lopez claims that the more you learn the more you earn. Wow, he goes on to state that the "average American makes $51,017 a year yet is $223,238 in debt." OUCH!
Imagine, Lopez says, if you could get back all those years that you wasted dating the wrong people, get all the money back that you lost on bad investments, and gained back all those lost years that you used following the wrong career path.
My review will cover the following topics:
See My #1 Recommended Way of Making Money Online:


What is 67 Steps?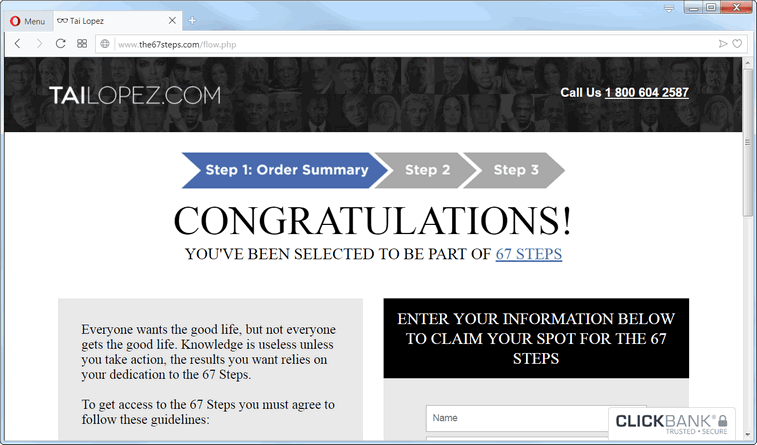 Program Name: 67 Steps
Website: https://www.the67steps.com
Price: $67 US funds monthly + 1 Upsell
Recommended? NO
Rating:
---
Lopez stated that the University College of London did research and discovered that it takes over 66 days to form a new habit, so he added one more step to his coaching for good luck.
He claims that his teachings come from famous and powerful people like Gandhi, Charlie Munger, Bill Gates, Peter Drucker, and his own personal mentors, as well as his own personal experience as an entrepreneur.
His 67 steps, Lopez claims will help to guide you from wasting your life. In his teachings, you will have access to the following:
The 67 Steps program to the good life – to help you save years of wasted time and shorten your learning curve.


His video archive vault – over 100 hours of videos Lopez recorded where he reveals key secrets found in 150 most important books on achieving the good life.


VIP membership to Lopez's twice monthly live coaching calls – providing you with direct access to Lopez where you can ask him questions.


Bonuses – immediate access to investment secrets, speed reading wizardry, access to a private Facebook group, and Lopez's APP list.


60 day money back guarantee – 100% no questions asked money back guarantee
Lopez clearly states that this is not a get rich quick scheme and that you won't lose weight overnight (tongue in cheek, I'm sure), but his steps can be used to get yourself in the best shape of your life.
He quotes Warren Buffet with "The most important investment you can make is in yourself."
These 67 steps, Lopez claims, is designed to rewire your thinking.
---

How 67 Steps Actually Works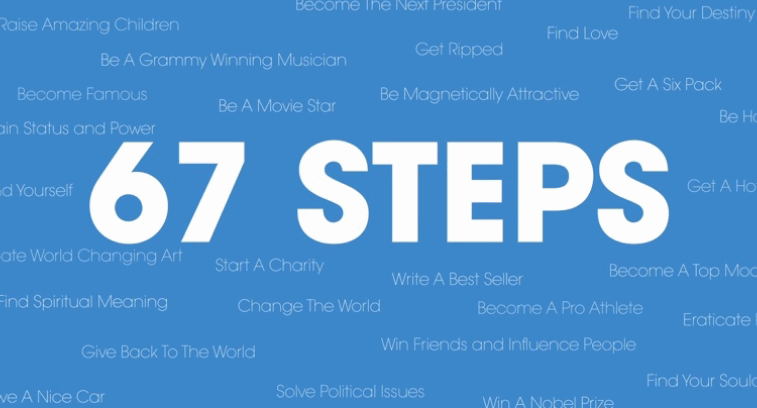 First thing after signing up, you will receive an email, subject line, "Welcome to the 67 Steps" in which Lopez will provide you with your login details, and a brief list of what you can expect and how his program works.
Plus you will be informed that you will receive access to a new step EACH day for the next 67 days and that you should watch and follow the steps asked of you each day… after which you will be asked to answer a question.
Your answers will go LIVE once you click on the Submit button (like a comment), so be sure you answer the question accordingly, and it is recommended that you do not skip answering any questions as this Lopez says is meant to help you.
And… there will be six links to the bonuses Lopez promises you:
Access to Smart Reading (6 short videos)
Access to Speed Reading Wizardry (link not sent to proper page)
Access to Premium Book Summaries (14 videos)
Access to Investment Secrets of the Ultra-Wealthy (2 videos)
Access to Lopez's APP list (1 video)
And a link to his Facebook Group
Over 50 hours of calls previously recorded (88 videos)
PROS
Lopez's advice is excellent and I can only say that I wish he had setup this course when I was a lot younger. However, that would have been a bit too difficult considering how much older I am than he is. 🙂
CONS
Two days after purchasing the 67 Steps, when clicking on one of the BONUS links offered in the original Welcome email, my browser did NOT get sent to the promised Access Speed Reading Wizardry. I emailed the support email address given to us to use, and here it is… three days later and I still have not heard back from anyone.
Using my Firefox browser, I was pushed to log back into Lopez's website again after trying to submit my answer to his question after I had finished watching many of the videos that were over one hour. Several videos show in my profile as "(IN PROGRESS)" even though I was able to listen to/watch the entire video.
Whenever I would take a break and pause a video that was over an hour long, it would refuse to start playing again once I came back to my computer to continue watching it where I left off, forcing me to either log back in or click on the link in the first email issued to me, and then I could click on it and it would play from where I left off.
That was fine for the training but not so good for "The Vault" videos. For those videos, I would need to log in once again (most times literally reboot my browser), and then hunt down the video I had been watching, though it would start where I left off. There were many videos I could not watch as this became a bit annoying.
NOTE: These issues MIGHT be due to my holding out updating to Windows10 as I am still working with Windows7, hoping and praying that Microsoft will tweak Windows10 so that I can use it much like Windows7 which they allowed me to use 7 like WindowsXP (which was THE BEST OS ever!).
---

Is 67 Steps for Real?

Yes, I believe that 67 Steps is definitely for real but given the technical issues experienced and then the lack of attention I received from support promised, it appears this site is not being focused on as it once was.
Do to my experience with this product, I do NOT recommend 67 Steps.
---

Learning to Make Money Online
For those of you, who are interested in learning to make money online, please read on.
How would you like to be able to start learning for absolutely NO MONEY at all? You won't even be asked for a credit card.
All you need to do is simply sign up as a member, create a profile, upload your profile image (optional!) and get started with your FREE lessons.
There are 10 of them and in these lessons you will be able to start learning how you can make money online.
You will even have access to the necessary tools too.
Whether you simply want to add to your present income, provide yourself with a part-time income, replace your current j-o-b or even subsidize your pension… this training platform can offer you the quality tutoring that I deem as priceless.
The training platform that I refer to here, I have been a member of for going on three years, benefiting from the many rewards of being a premium member of a community of like-minded people where I can discuss whatever topic regarding the training that I want to, daily.
If you would like, why not take a few minutes now and discover exactly what this training platform is all about.

This training platform does NOT offer you a "get rich quick scheme" either, in case you are wondering.
What the lessons will teach you is how to set up your very own online business and have your customers come to you without a need of paying for advertising.
Yes, you read correctly…
You will be taught how to draw your potential customers like a magnet to your business without paying so much as one red cent for advertising. The method I am referring to is similar to the one that brought you here to my post now.
If learning to make money online is what you really would like to do then you can start today for FREE!
Not only that but you will find an entire community who are compatible with your goals who are willing to help you all through your training (and even after!) should you have any questions.
As a member of this training platform, I can assure you that we all work together to help each other succeed in our given online businesses. How many business courses would offer you this option alone… right?
Time to get my FREE guide.

Oh…. before I forget, I have a bonus waiting for you to learn all about in my FREE guide, where I will show you how YOU can have ME as your premium coach.
In the event that you have a question or simply want to make a comment regarding if 67 Steps is for real, I do hope you will feel free to leave your comment below.
All comments are responded to in a timely manner, as it is my intention to be as helpful as I can to as many people as possible.
Looking forward to meeting you,