Every since the early days of watching The New Yankee Workshop on TV, I have itched for my very own woodworking shop, so that I could begin to learn carpentry, even if only on a tiny scale compared to his awesome two-car garage-sized workshop.
This article is intended to share with those of you who, like me, want to learn to work with wood, and don't have time to search for the necessary information on setting up a small woodworking shop of your very own.
So… let's get started.
In the following video, I'd like to introduce you to Natasha and Colin who will guide you through setting up your very own woodworking shop.
Setting Up Your Woodwork Workshop
Things to Remember
A 32" entrance door to your small woodworking shop is vital, as you will need at least that width in order to fit the average piece of equipment that you will need to get, so that it can be moved into your shop with ease.
Colin explained why it is important to have natural (or ambient) light coming into your small woodworking shop. He says it helps to augment the internal, florescent-daylight-equivalent lighting that should be used, so you won't have two different types of lighting in your shop.
The proper amount of power available in your small woodwork shop is the next important thing you will need to seriously consider. So, you may need to have a licensed electrician determine exactly what extra power and/or outlets that you will need in your new workshop.
Table saws and other similar sized equipment require extra power, beyond what may be available to you in your small workshop, so please be safe and check with a licensed electrician BEFORE you begin.
Keeping your workshop clean of dust and safe to work in is vital, so be sure that you paid attention to the suggestions that Natasha and Colin provided to you in the video above.
Three Small Woodworking Shop Layout Ideas
) Compliments of FineWoodWorking.com – here is PDF document showing you a layout for small woodworking shops (link opens in a new window) that you might find helpful in setting up your small woodworking shop.
) 48 Square Foot Woodworking Shop

 


Stephen will show you around his small 8' x 6' woodworking woodshop. You will want to pay close attention to how he has great space saving, easy accessing ideas for all his tools.




No dead space in his workshop, that's for sure.

And… here is that link to his homemade dust extraction system that Stephen promised to share with you in the description of his video (above): https://www.youtube.com/watch?v=4QgHnYNExPs (link opens in a new window).

) Tiny Woodworking Shop Tour

 


Surprise, us girls can be carpenters too, now!

Anne shares some of her projects, as well as how she organized her tiny workshop, so that you can see for yourself how you can organize your small workshop.

Though, I wouldn't call her workshop as tiny as some of you will have, it is tinier than The New Yankee Workshop is (which still has their episodes available on YouTube, in case you are interested).
5 Keys to a Small Shop Layout
Jared is an engineer by day and enjoys working with wood in his small woodworking shop by night. In another of his videos, he explains that he is using one stall of a 3-car garage for his workshop.
Summary of Jared's video
) Using graphic paper, keep EVERYTHING to scale. Jared uses a ¼" graph paper square = 1 real square foot.


) Design around your material flow – think about what you will be building in your workshop, like the sizes and types of woods you purchase regularly.

Then imagine the flow of your working inside your shop, starting from where your lumber will be stored… until your project is completed.


) Keep things mobile – whenever possible, have wheels installed on your equipment, depending on the size of your workspace.


) Plan for future growth – as Jared said, every shop is a constantly evolving workspace.


) Utilize dead space – then figure out what you could use the unused space for… things like old cupboards, or corner shelving.


) Store your hand tools where they will be USED – easy access is the best way to keep your workspace organized and easy to work in.


) If you will be working on a concrete (cement) floor than be sure to get yourself anti-fatigue mats.

Like Jared, you may find the interlocking mats work best in your small woodworking shop.
And, every bit as important… is dust collection; So, without further ado…
Introduction to Dust Collection
Shawn Graham has a lot of great information to share with you on the subject of dust collection, and I would advise you that it would be wise for you to listen to what he has to say before you make your decision as to what to use as your dust collector.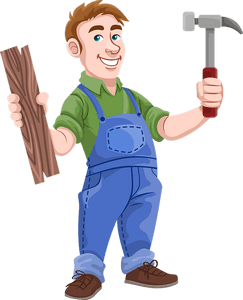 Now, if you are wonder as to what types of projects that you could do in a small woodworking shop, there are many.
It certainly will depend on YOUR interests. As Stephen (with the 8×6 workshop) stated when working with larger pieces of lumber, on a good weather day, he works with his table saw outside of his shop.
And now, for those who feel confident enough with setting up your small woodworking shop, you may find the next video very helpful.
Kreg Tool provides the video (below) that will show you how to master the basics so that you can apply those skills to all of your projects in the future.
The Basics for Building
If you are wanting free plans, you may find Woodsmith Shop's website helpful in providing you with several: https://www.woodsmithshop.com/episodes/downloads/ (link opens in a new window).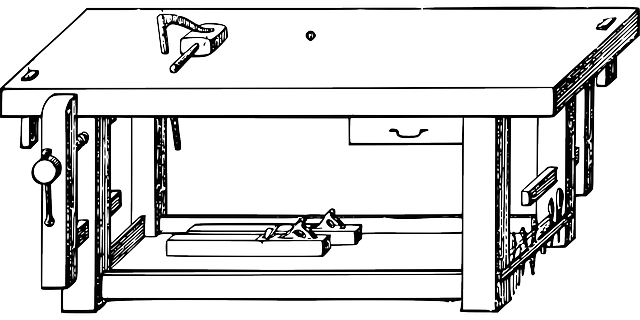 After watching a few episodes of the Woodsmith Shop workshops on PBS, I have to admit, I'm hooked!
If this doesn't provide you with enough free plans, you can always Google search "wood workshop plans free" (without the quotation marks, of course) for even more.
Now, the best part I have to share with you… this deeply discounted guide + audio book + bonuses to help you make money with your small woodworking shop!
(opens in a new window and is my affiliate link)
Credit for Header: Image by Free-Photos from Pixabay