Your landing page is most likely the first thing visitors to your website will see, usually because they have been directed there through an internet search result.
This page says a lot about you and creates the first impression of your website … and possibly you business too. So, you will want to make sure you follow landing page best practices.
Give careful consideration to what you want your landing page to state, and what you would like your website visitors to do.
By the way … squeeze pages, lead pages, list building pages; these are a few of the names others have given landing pages in order to gain a new focus on this topic.
Don't kid yourself; they are virtually the same thing.
What is a Landing Page?
It is a page which may be either separate from your website (a standalone web page) OR it could be a dedicated page on your website. What truly defines a landing page is its goal … and, the chief goal really should be conversion.
Therefore, your landing page should be designed with features to encourage your website visitors take an action that you want them to.
Landing pages are valuable marketing and advertising tools to help you make sales, generate leads, or build relationships with your site visitors … and hopefully potential clients.
There are two main types of landing pages: lead generation (or lead capture pages) and click through landing pages.
Lead Generation Pages
The main goal of a lead generation page is to get contact information from your website visitors, requiring at the very least, their name and email address.
This information will enable you to make future contact with them and hopefully foster a working relationship.
Lead generation landing pages which require more information usually make use of a form for collecting the data.
You may choose to use a landing page builder or landing page template that contains a form to help you with this process.
By following the best practices listed below will help you to learn how to effectively implement this method for boosting your conversion rate.
Click Through Pages
These landing pages encourage your visitors to take another action by "clicking through" to get to a new web page, which may provide additional information to make them more comfortable, prior to making, say, a purchase.
This method can help to establish your credibility by not bombarding them with a "buy it now!" button straight away, and it can also help to build their confidence in you.
Many website owners use this method with success. If your potential client follows through your call to action then your probabilities for conversion using this method should also be increased.
A direct sales page is a good example of a click through landing page.
If you want to see some landing page examples simple search using Google and you may even find some being offered free.
You may even see expanded classifications for the different types of landing pages, but they all generally fall into the two previously mentioned categories.
Creating a landing page is really not that difficult, but if you feel that you need help, you could consider getting help from a web designer.
Key Elements of a Landing Page
Developing an effective landing page that actually converts comes down to using the best practices. There are some essential elements which must be given attention to in order to have a properly targeted landing page. For instance:
What is your goal?
Is it lead generation, relationship building or direct sales?
What you would like to accomplish will determine the type of features you need to use on your landing page.
11 Best Practices for an Effective Landing Page
1.) The first and foremost rule you need to adhere to is to have a singular purpose and focus for your page. This will mean that you have to think about what you would like your site visitors to do before creating you page.
Example questions to ask yourself:
Are you using this page as a lead generator?
Do you want to make a sale?
Or would you like them to click through?
2.) Next, you will want to create a catchy headline which will speak to your visitors. How you say it is almost as important as how you present it. Use appropriate font size and colour in order to gain their attention.
Research has shown that over 60% of people prefer to see every first letter in a title capitalized.
Some websites which have conducted A/B testing on their landing pages have discovered that a change in the landing page title to a more effective one has boosted their conversions very as well.
To support a catchy headline, you may also want to make use of a secondary headline which clinches the basic point of your purpose. For this too, pay attention to the font style, size and colour you use.
Example:


3.) Another extremely successful tool is an explanation video. Some landing page tests have revealed that the use of these videos have boosted their conversion rates to close to 150%!
4.) You should give serious consideration of including a telephone number in a strategic location on this page.
This lets your website visitors know that there is an actual person (or persons) behind the business offering this page, and this in turn helps the confidence of your visitor and can boost your credibility.
5.) Including trust indicators is another good practice to incorporate. Information such as trust and security seals … for example from the BBB or testimonials, ratings and reviews, can be very helpful in achieving conversion.
Trust indicators are such things as seals of approval, a privacy policy, a money back guarantees, return and refund policies; In other words, anything that adds to your visitor's ability to trust your business.
This is beneficial whether you are reaching out to individual customers or trying to accomplish lead generation through B2B. Trust indicators have been proven to enhance internet lead generation, boosting conversion to between 40 and 60%.
6.) Using bullet points when explaining. This makes it much easier for your visitors to read and understand quickly.
7.) If you choose to use an explanatory paragraph, it is of great importance that you give attention to proper grammar.
If your message contains grammatical and spelling errors, it is very likely that your site visitors may become skeptical of your credibility, which will cause you to lose business.
8.) Many lead pages have chosen to remove the navigation bar, eliminating all unnecessary distraction. By removing these temptations for your potential client to navigate away from your page, they are more likely to follow your call to action.
9.) Another distraction can come in the form of links. Greatly minimize the use of links on your landing page to prevent visitors from becoming frustrated with having to visit too many other pages or websites before making their decision.
If you must include a link or two, they must absolutely contribute to your objective. However, if you are getting visitors from several sources, you may want to use extra landing pages instead of links.
10.) Formatting is the final landing page practice we will look at here. This takes into consideration the placement of the information on your page. It must be visually appealing and flow.
11.) Consider placing your call to action button above the fold on this page to prevent your visitor from having to scroll down to get to it. The button should also have good visual impact.
TIP: If you are including images ensure that they are "spot on" in terms of relevance, and that they are appropriately positioned.
By following the best practices for an effective landing page stated above, you only need to be concerned with what you will be offering, and your landing page will do the rest!
Sharing this post will help us to help you with more great posts in the future. All comments will be greatly appreciated.
How to Create a Landing Page FREE
You've been told that your website needs a landing page and you have no idea what a landing page is much less how to build a landing page that converts lookers to buyers, right? Well then, let me start by explaining to you
what a landing page is so you will be able to understand … and then you can easily learn to build a landing page in WordPress.
What is a Landing Page
The term "landing page" ( sometimes called a lead capture page) is defined as a web page that a visitor will land on that consists of a form and was created explicitly to capture that visitor's information when they use the form.
Why do I Need a Landing Page
Generating new leads is what any business owner dreams of, right? Well, using a landing page can do that for you.
As Bree stated in the video above, landing pages remove all other distractions from this page, guiding your visitors to your call to action, making it so that you could capture leads at a much high rate than, say, sending visitors to your website home (or loading) page.
You could even go so far as to create several different landing pages, tracking the performances of each one until you find the one that works best for you. This seems to be the most recommended method when asking anyone "in the know", how to build a landing page that converts.
A landing page is where you offer BIG value to your website visitors by giving away something relevant to YOUR business … and … valuable to your visitor(s), for FREE!
This will be your lead generator (or magnet, if you prefer), however this freebie MUST be relevant to your specific business.
So if you're an electrician, your lead page might offer, say, 6 things you should know that will help you not get ripped-off when you have to hire an electrician.
This give-away you should offer must resolve a particular problem for those looking to find your business. For example, if you are a plumber you might offer 10 tips or easy solutions to preventing common issues that cause leaks in plumbing.
You will be offering this valuable information to your visitors for them sharing their name and email address with you.
Now that you know the "What" and the "Why" for landing pages, I would like to offer you several options at being able to create your very own landing pages … FREE! So, here goes:
WordPress users can use plugins . . .
How to Create a Stunning Landing Page on WordPress In 10 Minutes or Less
WordPress Landing Pages (considered among the top 5 BEST landing page plugins)
Here are even MORE free WordPress landing page plugins you could try!
Landing Page Landing Page plugin to create responsive Landing Pages or Coming Soon Pages easily in minutes.
Landing pages Create a landing page or coming soon page and collect emails.
WP Lead Plus Free Squeeze Page Creator/Lead Page Maker Create stunning squeeze pages, newsletter pages, lead pages, capture pages with ease. Simply point-click-edit and your squeeze page is ready in less t..
Free Landing Pages Builder by Wishpond which claims their builder is easy and flexible to use. For fully details, please visit their site.
Then of course, there are premium WordPress themes that come WITH landing pages.
In my humble opinion, if you are serious about making your business profitable a.s.a.p. … then a premium WordPress theme that comes packaged with a means of creating great landing page IS a MUST HAVE!
Ways You Can Improve Your Landing Page Conversions?
Use great copy … in other words, use verbiage that generates leads by understanding (and using) psychology to trigger your visitor's emotions. To do this, you need to understand Heat Map Tracking, and the psychology behind the use of colour used to convert.
Removing all distractions from your landing pages, making it crystal clear what your call to action is every bit as important. By testing different styles of landing pages, you should be able to find the BEST one to use in generating leads for you business.
More great tips on how to improve your landing pages … offered by others (as slideshows):
How to Optimize Landing Pages for Conversions
Advanced Landing Page Optimization With Conversion Centered Design
Copywriting for Conversion Webinar with Joanna Wiebe
Top 10 WordPress Plugins for Creating Landing Pages that Convert
… and one PDF doc
Landing Page Optimization: What You Should Be Testing and Why
If you have found this post helpful, please share it with all of your friends … and be sure to leave a comment, won't you?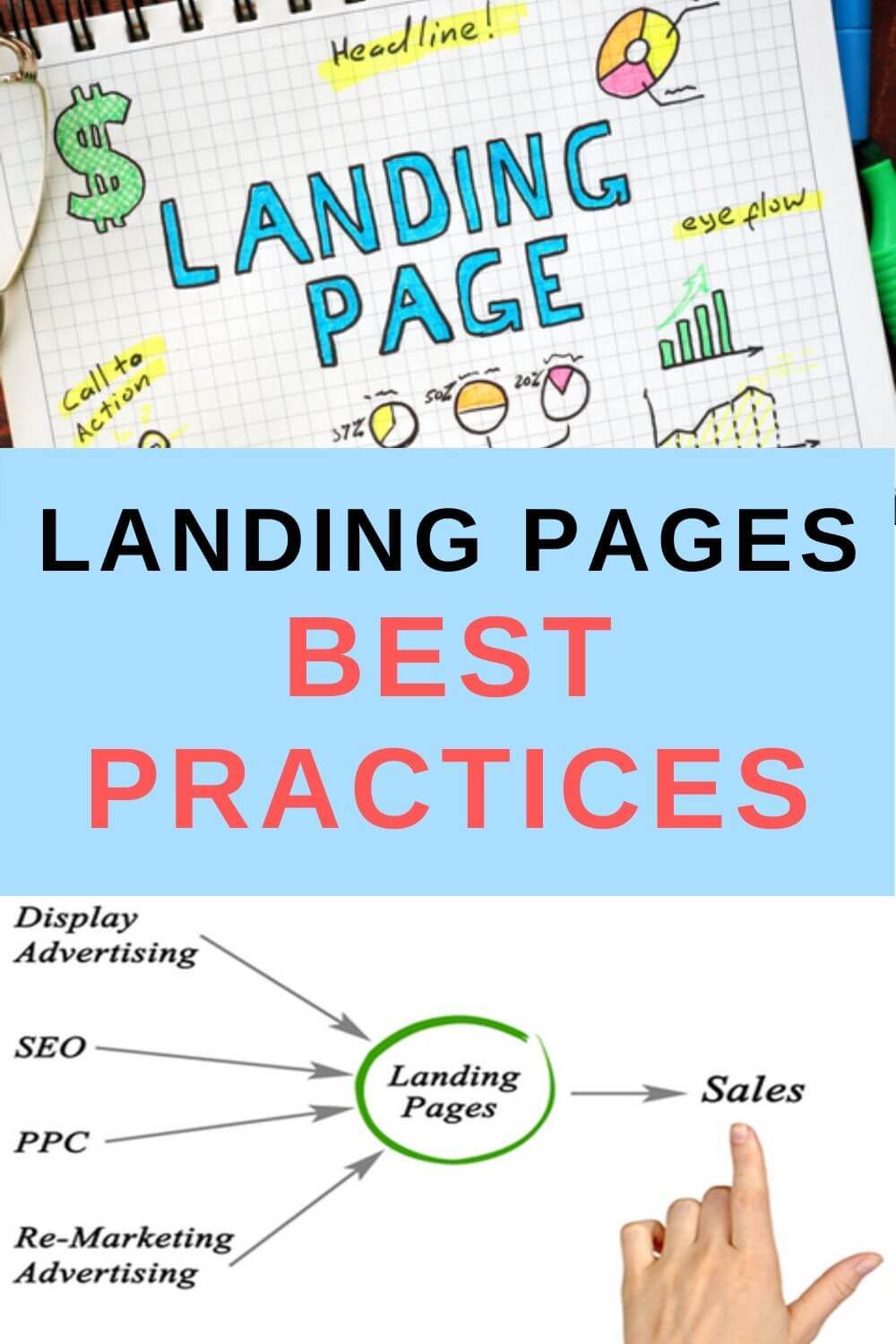 Credit for Header: image by © Designer491 | Dreamstime.com – Landing Page Written In A Notebook. Photo