What a great question, right? Crossing guards employment is a very vital for every community.
And we need more people doing this as a profession; people who love doing this and are good at it are in need indeed.
It is my intention with this post to shed some much-needed light on this question, as to whether you can really make money working as a crossing guard… or not.
The safety of our society's young children is very important and their safety needs to be everyone's priority.
However, we all know that most drivers need to be reminded of this on a constant basis.
Thus the necessity of school crossing guards have become more and more important and necessary over the years.
Once a school crossing guard has been deemed necessary in your area, you could apply for the job.
For example, in the city of Toronto, you can discover who to contact by knowing your ward, as school crossing guards are hired by what is known as a vendor for the wards.
In Toronto, there appears to be two main vendors:
ASP Inc., which serves North Your and Etobicoke York wards 1, 2, 3, 5, 6, 7, 8, 15, 16, 17, an 18. And they can be reached by telephoning (437) 244-8740.
Carraway Inc., which serves Toronto and East York as well as Scarborough wards 4, 9, 10, 11, 12, 13, 14, 19, 20, 21, 22, 23, 24 and 25.

And they can be reached by telephoning (416) 723-0451, or by applying online.
Like Toronto, your area may even provide the necessary equipment: a jacket, safety vest, whistle, and a stop sign.
To qualify as a crossing guard, you will need:
to have a friendly demeaner,
have an enthusiastic personality,
be able to work unsupervised,
love and respect children by having a need to protect theirs and others safety,
have a desire to learn, and
be comfortable using a smartphone.
Previous experience with handling customers and/or volunteering to help children and/or seniors is an asset.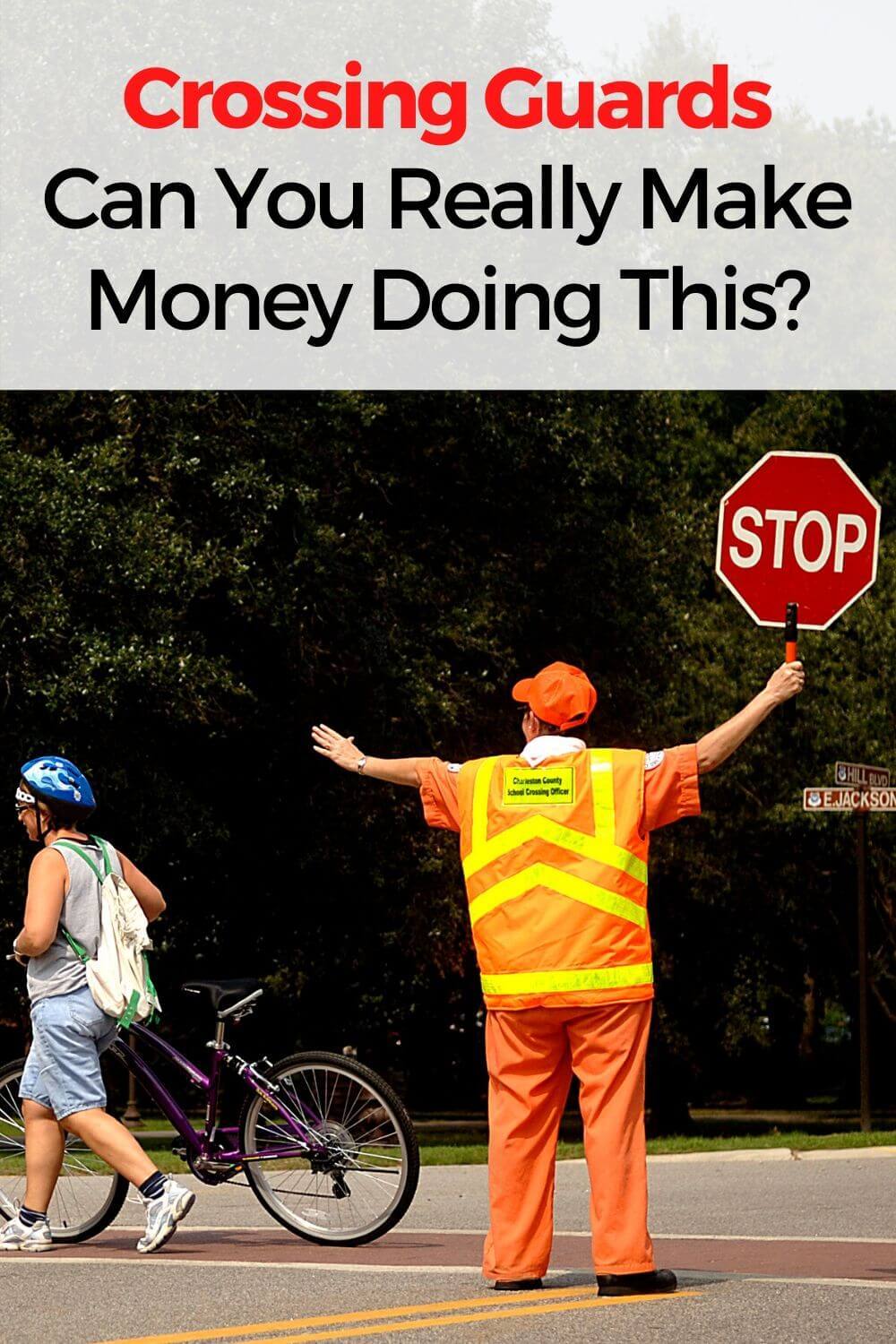 Crossing Guard Job Requirements
) You need to display and use the official school crossing stop sign issued to you, making sure it is visible to the approaching traffic from all directions.


) Be able to hold the weight of the official stop sign which is approximately two pounds, in an upright position while you are extending your other arm out parallel… all at one-minute intervals.


) Must be able to stand and/or walk without sitting for long periods of time.


) Must own your own smartphone and be proficient using it with Apps that the company who hires you will be using to track your daily time and your attendance.


) Be prepared to assist pedestrians across intersections ensuring alertness of all concerned to the surrounds for everyone's safety.


) Must not be impaired visually and audibly, as you will need to be able to recognize traffic at a safe distance, which is said to be about 300 feet.


) Must be able to work weekdays, on a daytime rotation during the normal school year and summer school times.


) Be able and capable of working in extreme weather conditions such as: heat, humidity, cold, rain, sleet, snow and wind.


) Be professional and be able to communicate properly with the public.


) Be able to supply a Criminal Reference/Vulnerable Sector Check upon being hired.


) Have passed the training and/or required certifications, which in some cases may be gotten within the area you are hired, upon your hiring.


) Must be able to handle emergency/crisis situation in a calm and proper manner.
Most areas require training, so you will need to be prepared for that.
In Toronto, you will learn about the Highway Traffic Act, Occupational Health and Safety act and your area's guidelines.
The training that may be required is as follows:
Crossing Guard Theory and Practical training
Active Attacker Awareness training
S.P. Orientation Training
First Aid, CPR and AED (Automated External Defibrillator) certification
AODA (Accessibility for Ontarians with Disabilities Act) – provides knowledge, skills and thus confidence to crossing guards when interacting with people with disabilities.
Health & Safety
WHMIS Training
Customer Service Training
A career as a crossing guard is only for the active, energetic, dedicated and motivated individuals.
Crossing Guard Training Program Video
School Guard's Duties
You will find that each area has their own list of Duties and Responsibilities.
And, it is your responsibility to become familiar with those in the area you are working as a crossing guard.
Such responsibilities may be among the following:
Supervise all children as they are crossing your intersections.
Obey all traffic regulations.
Writing incident and/or accident reports whenever necessary.
Wearing the proper uniform and having the proper safety equipment while on the job.
Be prepared to respond with kindness to questions pedestrians may have about the area.
School Crossing Guard Wages
Checking online in my area, the wages for a school crossing guard appear to range from $15.68 an hour in Toronto, and anywhere from as low as $14 to as high as $22.27 an hour outside of Toronto.
See the chart below for a sampling of the extreme ranges in rates paid (the following rates taken from ca.indeed.com) in some of the main areas in southern Ontario, Canada.
| | |
| --- | --- |
| Toronto, ON | $15.69 |
| North York, ON | $16.68 |
| Pickering, ON | $14-$15 |
| Ajax, ON | $17.48 |
| Whitby, ON | $18.37 |
| Oshawa, ON | $16.16-$22.27 |
| Stratford, ON | $17.10 |
| Oakville, ON | $15.54 |
| Brampton, ON | $15.74 |
| Waterloo, ON | $14.25 |
| County of Brant | $17.05 |
| Windsor, ON | $16.24 |
| Kincardine, ON | $21.41 |
Ninety minutes is usually required for crossing guards to be at their stations for children to cross busy intersections on their way to school, and than another ninety minutes for the students to get home safely at the end of their school day.
Some areas may even require a crossing guard to be at their designated stations during lunch hours where students go home for lunch, and then return to school.
So, looking at these rates, from as low as $14 an hour for 3 hours daily, you would then receive $399 weekly, or for as high as $22.27 an hour for 3 hours daily, you would then receive $468 weekly.
And for those who work during the student's lunch hours, you would be making more again.
However, many school crossing guards are now unionized, which means you would be paying union dues on those weekly wages, if your area enforces union membership.
That is not a lot of money if you were anticipating living on those weekly wages.
But hold on a minute.
With your only having to work 3 hours daily… 1 ½ hour in the mornings and then 1 ½ hour in the evenings… why not simply consider another career that you could schedule your own hours for.
Why not seriously consider working during rush hours for Uber Eats?
Like I said previously, a crossing guards employment is definitely not for the lame. But then, no business where you want to make money will work without you actually applying yourself to that business.
I do hope this article has provided you with enough information for you to consider becoming a school crossing guard, as great guards are priceless to say the least.
Do hope you will share this with your friends, and if you want, I would love to discuss this career with you in a comment below.
Credit for Header: image by Charleston AFB crossing guard