Yes, dreams really can come true and you can be your own professional investor.
So, why not train to become a professional before you start investing with no experience.
In this post, I will show you how you can learn from the pros and then get to work investing for yourself.
Those of you with a passion as well as an understanding of investing stand to make great gains providing you do their researching first, before simply diving in.
In Canada, there is a Canadian Securities Course for Investors, which at the time of writing this listed as starting at $495.
By taking such a course, you will be better armed to make those necessary decisions and maximize your potential investments.
Do understand that by completing their course this does NOT lead to your being licensed in any way.
There are other courses available to those wanting to gain a license and registration requirements, which could legally lead you into a career to becoming a professional advisor for others.
In the personalize course, the following topics will be covered:
In-depth quality content
Online learning
Unlimited use of interactive learning exercises
Access to CSI's expert academic support
Access to course-taker discussion boards
1-year enrolment in course
You may even want to take a serious look at taking more certification courses.
More information on available Canadian investment courses can be found on the IIROC website.
If you only need enough information to help you know better how to invest wisely, then you may not want to take the time to become an accredited investor.
The Canadian IFSE website is another source of great training that may have courses available that interest you in knowing how to invest wisely.
Though this site seems more for those seeking to become an accredited investor.
In the USA, I am certain that similar courses would be available to you, and you should be able to find them in a simple Google search.
My point is that there is lots of training out there, and some of it even available online, so you won't even have to leave the comfort of your own home in order to learn to invest wisely.
Consider Joining the Professional Investors Guild
You can subscribe to their YouTube channel so that you will be notified whenever a new video becomes available.
Joining their LinkedIn group will help you connect with other like-minded individuals too.
Once you have the basic understanding of investing then you can decide what you wish to invest your money and time in to learn and focus on to make money, enough for you to live on.
Different Methods for Investors to Consider
There is the stock market and real estate investing that comes to mind straight away.
If you are seriously considering investing in the stock market as a career, then I recommend you listen to Warren Buffet's tips offered in the video below.
Investing in the Stock Market for Beginners

Books talked about in Nate O'Brien's video are as follows:
Flipping Real Estate as an Investor
In real estate, house flipping is once again fast becoming a popular means of making money quicker, then say, investing in stocks and bonds.
Though it also depends on your having a larger cash flow to start investing with.
As one professional house flipper put it, if you can make a $45,000 net profit flipping a house, then you are doing great.
Not all flips will be that successful, and some may even be disasters; so, you will need to be ready to have failures.
And that is after purchasing the home and fixing it up… bringing it up to today's standards.
Scott McGillivray is a Canadian real estate investor/contractor, and the following are Scott's 5 tips for those who are interested in starting into flipping houses:
1.) Ask yourself if you are a good fit to flip homes.
"The best way to make money with a flip is to do some of the work yourself, if not all of the work yourself, and the best people at this are contractors and designers."
2.) Look for homes that need work done so you have the opportunity to create equity.
"If it's already completely renovated, there's no room to appreciate the value or force any equity into it, so the first thing you're looking for is a property that is not necessarily obtaining its full potential."
3.) Be sure to calculate all potential expense once you have viewed the property. Then have your chosen contractors go through the house to get their quotes before you close the deal.
"You're supposed to be focusing on doing the work, not pre-planning the work, when you had 60, 90, 120 days to close.

That's all your preparation. Timing is everything, so pre-plan — you're going to save time, you're going to save money, you're going to profit on your flip."
4.) Once your deal closes and you have the house, start the renovation work immediately.
"What you have to be careful of in a flip is time. Time is your enemy. The longer you hold it, the more carrying costs you have, so flipping properties, there's a huge sense of urgency. You should be starting your demolition on closing day."
5.) Don't cut corners on quality and do not over quote your listing price. Today's home buyers are smarter than you may think.
"It's about the more quality you put into it while still being frugal, the more money you're going to make. And if you compromise quality, you're going to get stuck with that house yourself — nobody wants to buy it."

List either appropriately or a little less, get your offers in there, get it sold quickly.
How to Flip a House for Beginners
How to Get Started Flipping Houses
Jerry Norton provides you with two options: get started learning to flip houses. Or… if you are an American, send Jerry a great deal that meets his criteria and he will pay you $10,000 for each lead.
He is even willing to teach you for free as to how to find those deals.
Norton will provide you with the tools to find those great deals, training on how to find them, and he will give you deal analyzer software, and everything you need to find those deals.
If you have absolutely no skills on housing prices, then I highly recommend that you sign up for and take training in order to do this properly without losing your shirt on your first attempt at buying and flipping a house.
So DO NOT DO THIS type of INVESTING ON YOUR OWN and without experience.
Training on Flipping Houses
The following are options that you can check out and decide who you want to learn how to flip homes for a profit from.
Learn How to Renovate and Flip a House for Profit
Listen to Ian Szabo – http://www.flipschool.ca/ – Price $699
Flipping 4 Profit – provides special live training from Canadian experts with proven records. This training takes place in Toronto, Ontario, at The Weston Prince, 900 York Mills Rd, Toronto, ON M3B 3H2. Price for this is $1,000 and guarantees you to do at least one real estate offer within 3 months.
Other higher priced coaching options are available.
Learn to Fix & Flip Step by Step – this is an online course available from Udemy.com.
You could use this course to help you decide whether investing in flipping homes is for you… or not, as the price for this course is very reasonable, but by far not as detailed as other available courses. Price $13.19.
Or… if you can learn from books, you could check out considering to buy all of Mark Ferguson's books or his individual courses. For more details on both, you can visit his website by clicking here.
If you would prefer to purchase all of his books from investfourmore.com (8 paperback books) you can do that ($155 US funds) using a credit card only.
Mark Ferguson's books on Amazon (my affiliate link).
5 Mistakes that Can Make Investing a Flop
Lack of Funds – learn when, where and how you need to be able to borrow, and from where to get the best rate of interest charged.


Lack of Time – some investment careers require more time than others. Example, flipping your renovated houses takes time depending on the amount of renovations required.


Lack of Skills – know when to get your hands dirty by doing things that you are skilled at doing or get the skills required so that you can "get your hands dirty".


Lack of Knowledge – get the necessary training required to do the investing that you wish to focus on. Your success will depend on your knowledge of the field you choose to invest in.


Lack of Patience – being a professional, you will have learned to wait for the profits to appear. Only an amateur would think investing is like magic.
Summary
Don't you be that person with a lack of ANY of the above. Learn slowly and be aware that most of us learn our best lessons from our mistakes.
I do hope this article has helped you decide if investing is for you and if so, which form of investing that is best for you to focus on.
Feel free to share this with your friends and family.
Would love to learn of your questions and/or your comments regarding whether you have decided to be your own professional investor, or to hand that job off to someone else for you.
Source:
https://www.durhamregion.com/whatson-story/4641212-scott-mcgillivray-explains-house-flipping/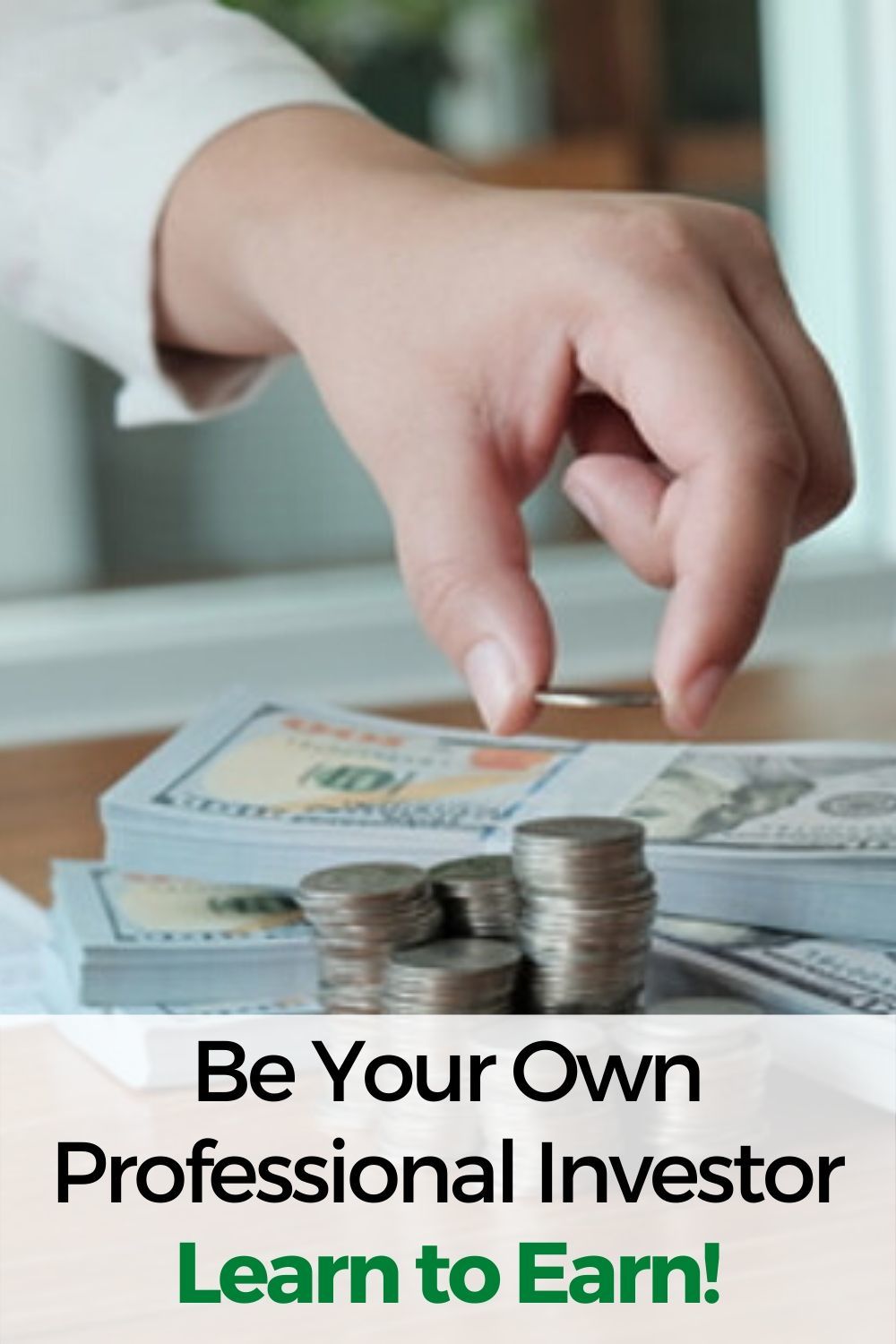 Credit for Header: image by ID 143790012 © Ri luck | Dreamstime.com