For those of you who are new to the web… websites can be a major pain, not only to create but constantly having to update, backup and so on… right?
This is how most who want a website become frustrated because they don't know how to make their site attractive.
And then there are problems that may arise when updating, along with the cost of hosting, domain searching, creating new and unique relevant content, understanding keywords, etc.
Then there's the issue with getting traffic…
So many newbies simply give up trying… some merely before they have even really given their site a chance to rank. While still other's may end up 'tossing in the towel' if their site's search engine optimization (SEO) is bad.
All these things truly are necessary in order for your website to become successful. All successful businesses have a website … right?
Well, that's what most would have you believe, yes.
But they are not technically correct!
All you really need for affiliate marketing is a focused audience. It is now being said that audience is now the new currency, and this truly is right.
Audience can essentially be split up into different pieces. First of all, you CAN have a website which is one way to get an audience, making this one piece. You can also have social media accounts, and you can have a YouTube channel.
This article will be focusing on YouTube, as YouTube is considered one of the BEST ways to start out with affiliate marketing.
However, if you want to be a millionaire affiliate marketer then you will want to skip this article altogether and go straight on to learning how to do just that.
In this post, I'm going to only be showing you the basics that could get you making money with affiliate marketing really quickly.
First off, let me briefly explain to you What Affiliate Marketing is… but, if you already know what that is then by all means, do skip over the next paragraph.
Affiliate marketing simply means that you are selling other people's products (or services). Products like those on offered through ClickBank, JVZoo, Amazon, etc., and, you earn a commission for EVERY single sale that you make happen.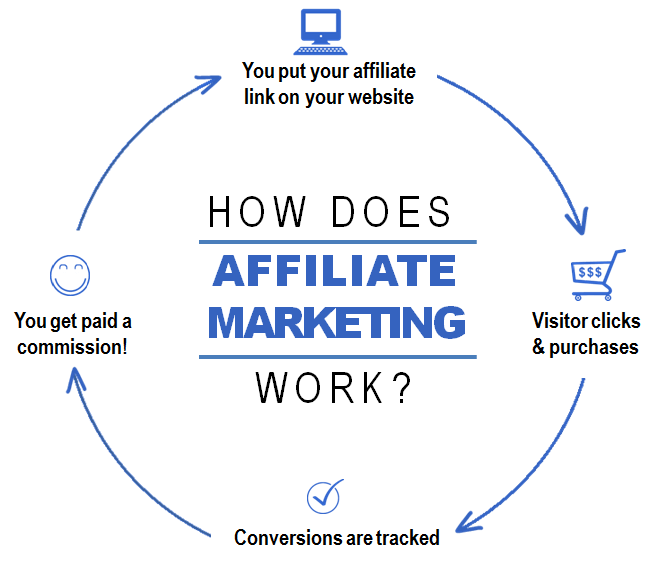 An affiliate puts an ad on their website, the customer clicks the link and makes a purchase, the conversions are tracked and the affiliate … which in this example, is you … gets a commission with EACH sale your links make.
So, as promised… here's the No Website Strategy
As I explained earlier, I will be focusing on YouTube only for this example.
Why? Well, simply because it is easier to get traffic from video than any other system. This is not only my opinion either… take a look at the growing number of people now visiting YouTube as opposed to Google Search.
Videos are considered to be more fun and interactive then articles (text) even with images. There is also a very easy tracking system for YouTube videos, so, let's get started.
Here are the recommended steps you should take:
) Create a niche channel where you can sell products, apps, software, etc. It could even be a product review channel. Check out some of your competition and you will see for yourself, there are lots of these types of videos on YouTube.
) Create catchy titles for your videos as well as eye-catching thumbnails. This will make visitors want to click on your video(s). YouTube is extremely competitive, so if you want to be able to stand out from the crowd, you must do things differently to get views.



An example of a catchy title might be "Best Ways to Earn Extra Money in 2018". Lots and lots of people are going to click on that title. Some people might even label that title as click bait. That does not really matter, as long as you provide VALUE you will be doing great. Exaggerations actually DO get views! Always remember, Value is MOST important.

) Create review videos on products like Amazon, Clickbank, JVZoo, etc. These are the top three most popular affiliate sites that offer a 100% satisfaction or your money returned. This makes these three very trustworthy when it comes to buyer protection. At all times, have your customer's concerns in mind.
) Be sure to provide a link in the "Description" box of your YouTube video using your Amazon, Clickbank or JVZoo affiliate link for the product that you are promoting. Make sure the linked product has to do with what you are talking about in the video … obviously.

Also, make sure the proper affiliate consent is clearly stated in your disclaimer. Money making guarantees, fitness guarantees, etc., are not advisable to mention simply because you do not know how much work a buyer will end up putting into whatever it is they will be purchasing. So, be sure to mention IN your video that the link below is your affiliate link as well as in the "Description" of your video.

By offering a "Disclaimer" and a "Disclosure" no one should get the wrong idea that this is some kind of 'get rich quick' scheme or anything as absurd like that.
The EXAMPLE of a "Disclaimer" and a "Disclosure" in the image below should NOT be copied word for word. This is ONLY an example.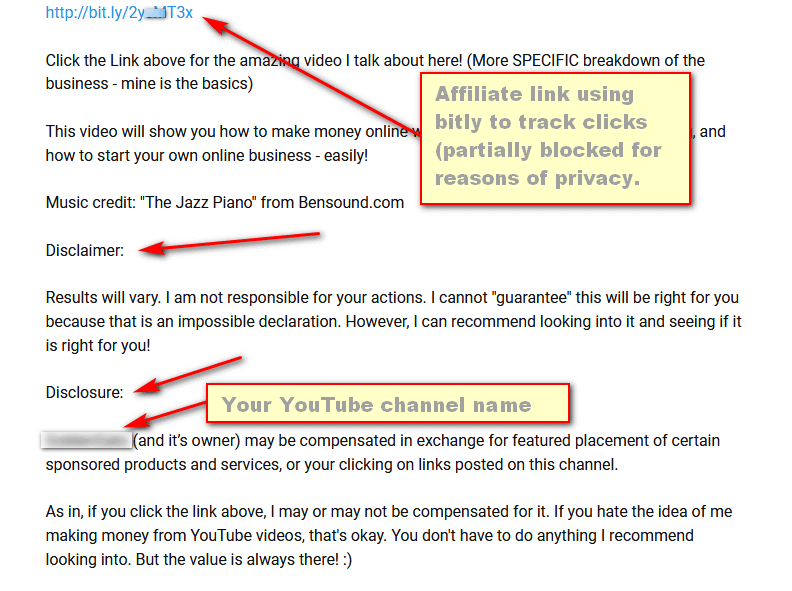 Do make sure you OFFER the affiliate products rather than trying to force your viewers to purchase them.
When providing VALUE in your videos, never be afraid to openly share "secrets" that you have learned during your training.
Always be sure to offer value in your videos … maybe even a means of your viewers to receive a very useful freebie, which you will give them near the end of your video.
Now, for those who Want to Earn 6 Figures, you will want a complete system.
This system shows every step to ways of becoming a full time affiliate marketer, and it is a professional program where you will have contact with other like-minded members.
There are Affiliate Classrooms (5 levels of step-by-step video tutorials as well as text), Live Video Classes, Local Marketing, Video, and Email Marketing Classrooms too!
This system will offer you a complete roadmap to success with affiliate marketing, to you developing your very own business, making money online. Join now – it's FREE for 7 whole days!
You won't even be asked to submit a credit card. Nearer the end of your 7-day free trial you will receive an offer of a REDUCED monthly payment so that you can continue checking out the training to see if this program is to be a good fit for you or not.
Then, if you do NOT want to continue, it's EASY to quit and make sure you are no longer charged because there is even a tutorial on that!
What more could you want, right?
Below are 4 screen prints of snippets of testimonials for you to see for yourself…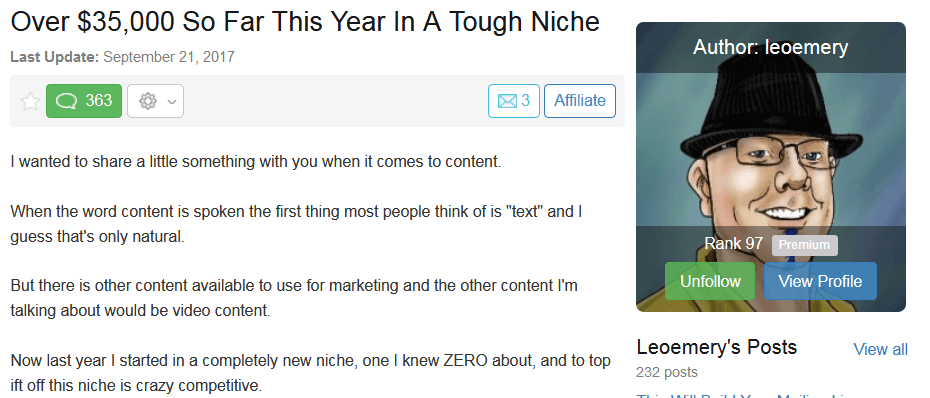 If you are among those who want to earn a 6 figure income, it is a given fact that you are going to need a website, right?
So, in this case … yes, a website is a must-have. But have no fear; you will easily discover how to set everything up. Not only that but hosting AND security certificates for registered domains are included!
It really is the simplest thing on earth, but you have to have someone to show you exactly how to do this and this course shows you how. So, go ahead and click on this link: https://useyourpassion.com/learn-to-earn
DO understand, this is NOT a guarantee or anything even close to that.
However, many people use this program and it really does work. Go on now and achieve the greatness you deserve through affiliate marketing. I think this is the best system available to help you achieve success online.
This is a very simple system that was first discussed here regarding doing affiliate marketing without a website; and, if you do not want a website that's how you could do it.
But, if you want to take that next step, and potentially start earning a full-time income, there are people who earn thousands of dollars a month doing affiliate marketing.
So, if that is what you want, what are you waiting for? Join now for FREE!
Thank you for dropping by. Hope you will share this if you found this information helpful. Wishing you much success in whatever you chose to do.